Well, I almost didn't do it this year.  Believe it or not, about every third year I just can't handle Halloween decorating.  I dread the winter and the cold, so it's hard to celebrate that by making the house look even drearier with dark and ghoulish decor.  I know I could do a cheerier, kiddie-pumpkin and scarecrow version, but that's too cheesy for me (no offense to the cheesy).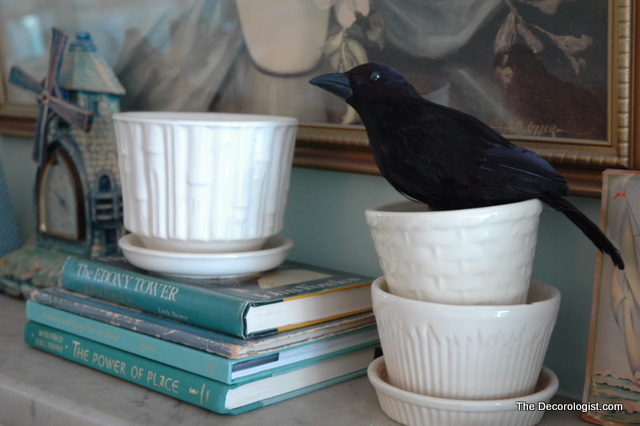 But my kids kept begging, and I felt guilty for not making the house look haunted and creepy.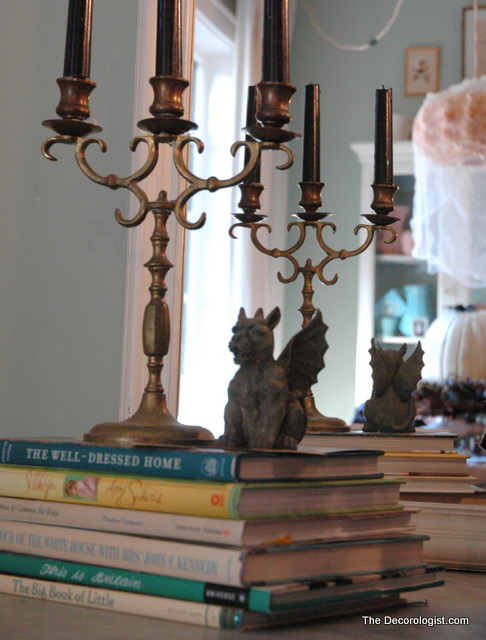 So I decided to keep it minimal and confine the decor to just the entry and dining room (less work, too).   Now I'm glad I caved to the pressure.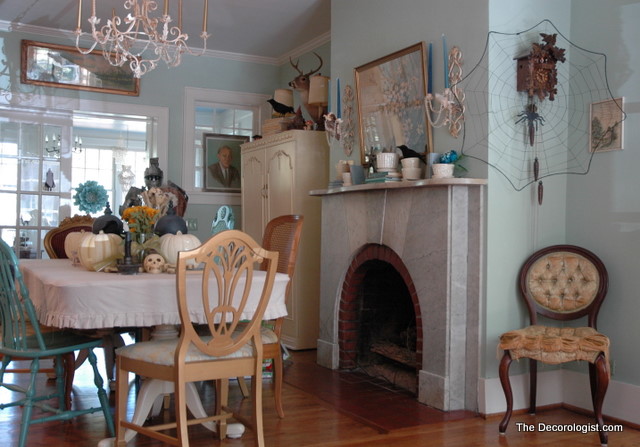 My Halloween tablescape consists of some white pumpkins, a few black crows, some random bones and skulls . . .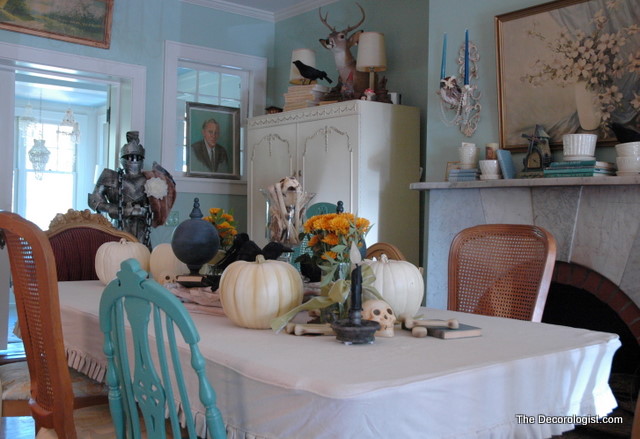 Cheesecloth makes easy spiderwebs to drape over light fixtures and furnishings.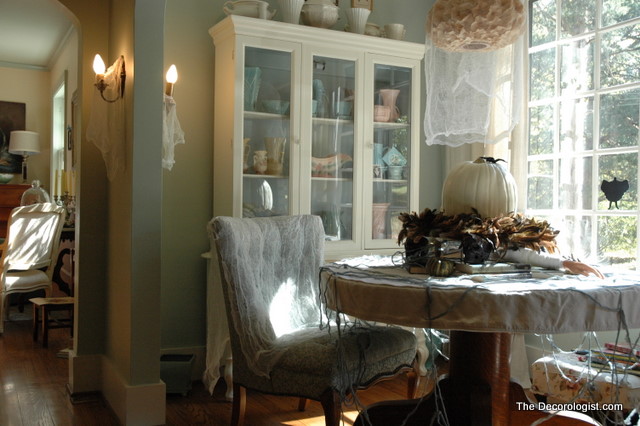 Mystery books with creepy bookjackets, glitter skulls, and a severed hand poke out from beneath a turkey feather wreath on my entry table.  FYI:  placing a wreath of any kind on a cake pedestal enables you to decorate around and underneath the wreath as well.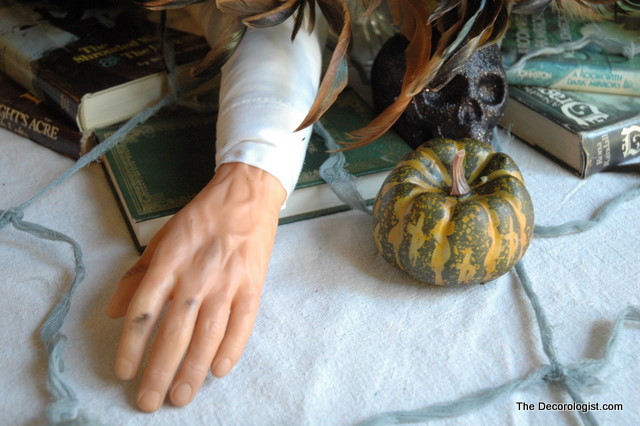 The black crows and spider webs will go back into storage next week, but my owls will hang out with me throughout the winter season.  Can you find the three owls in this post?  There may be a prize . . .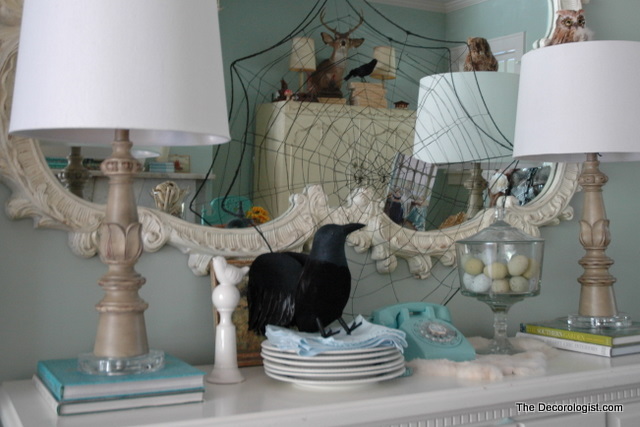 Our tin knight exchanged his vintage jewelry for a spooky chain.  But he's still wearing that fur stole . . .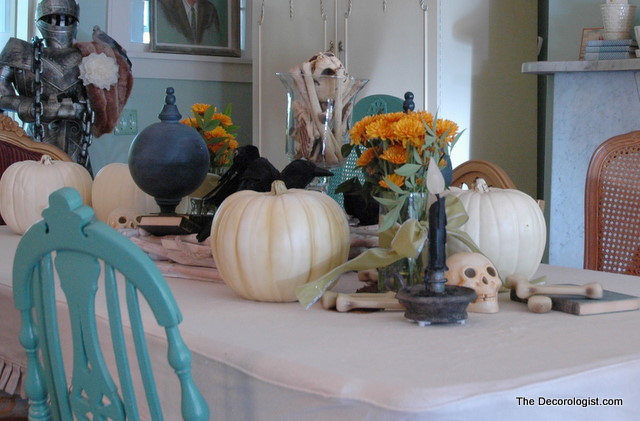 So I'm back on the "good mom" list with my kids, although my 7-year-old said it's just not scary enough.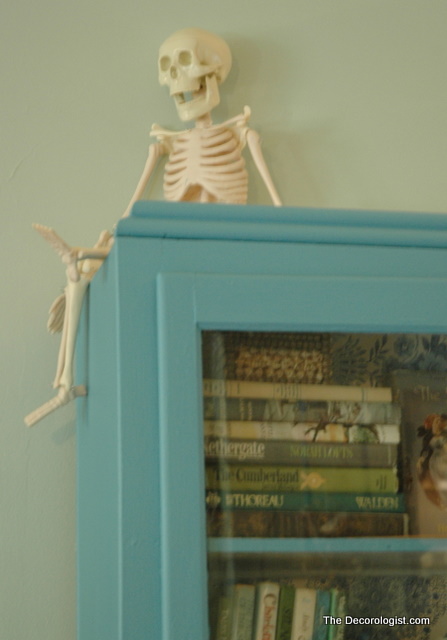 This, from the child who won't go upstairs alone because she's too scared!!!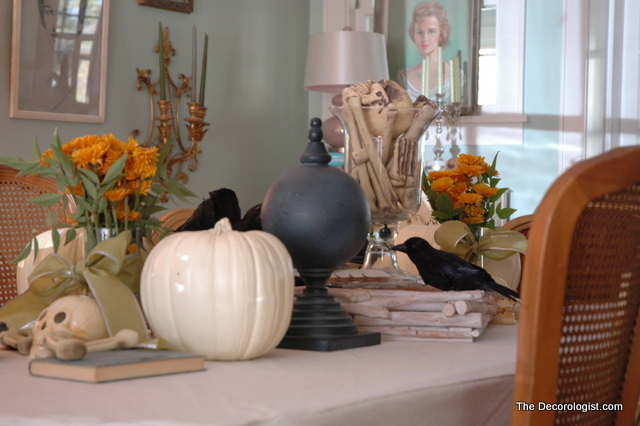 Maybe next year I'll again embrace the whole haunted house look, like I've done in the past.   Here's one last shot I took later in the day – every October, the light does this creepy thing on the walls in the front rooms in the afternoons.  Super-spooky and just in time for Halloween!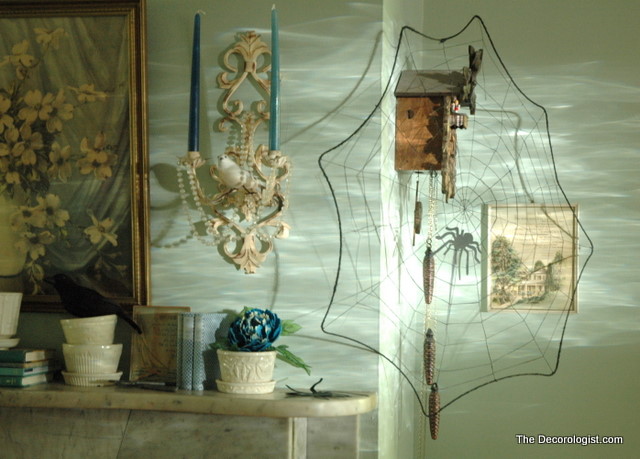 Share this Post