It's really starting to feel like Christmas now that some of my client projects are wrapping up and I can focus on some holiday cheer with my family and friends.  I thought you might like to look around at some of the holiday collections and special vignettes that make me happy as I sit here in front of the fire and write to you.  These photos are from a recent photo shoot of my home: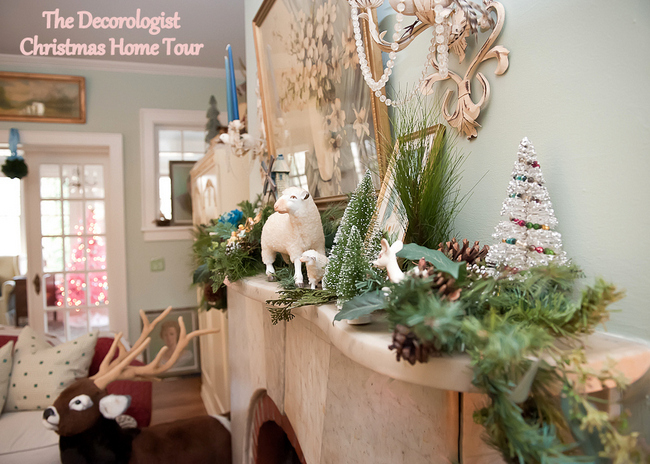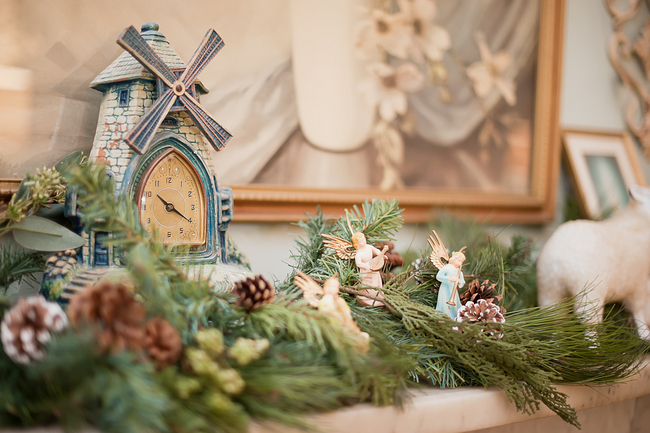 I love displaying my collections during the holidays, like my deer and my vintage ceramic Christmas trees.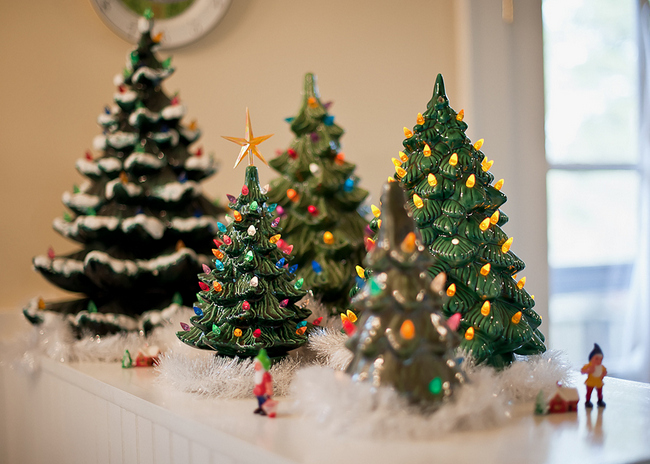 I love this flocked tabletop tree, and I decorate it as if it's out in the woodland forest with snowflakes, owls, pink acorns (why not?) and yes, more deer.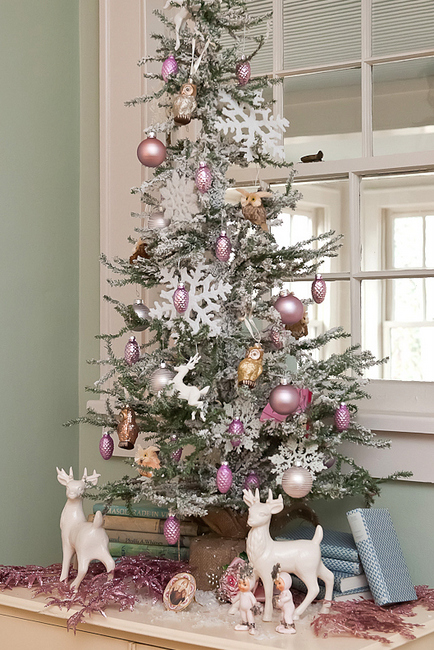 Did I mention that I collect owls?  Many of them hang out year-round in my home.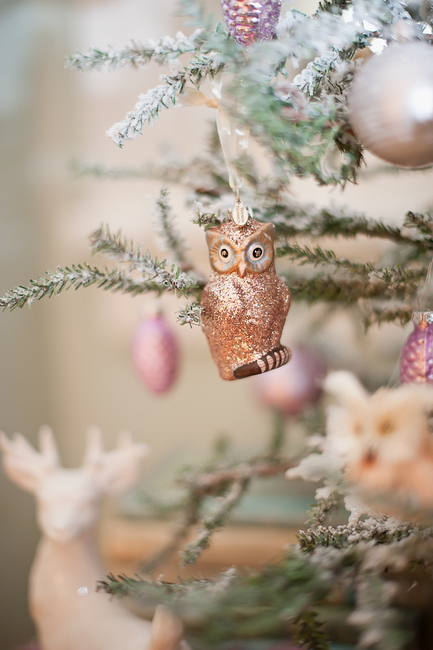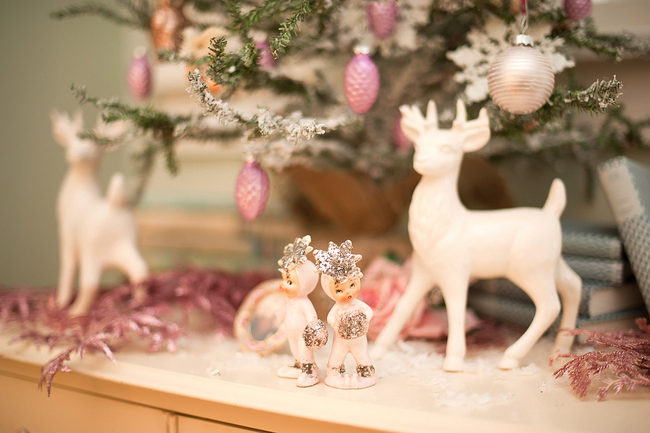 I have used faux sugared fruit in my Christmas decorating in the past, but now I like to use bowls and trays of real fruit.  I always think of Laura Ingalls getting an orange in her stocking and being so grateful! 
Christmas is a great time of year to display my collections of colored glassware and colored candlesticks.  I pick them up at estate sales whenever I can.  They are so inexpensive and beautiful in any tablescape.  I have lots of different colors, but I'm using gold and green this Christmas season.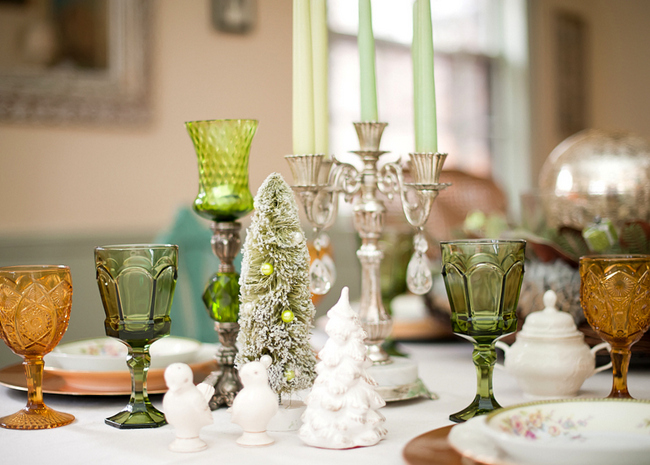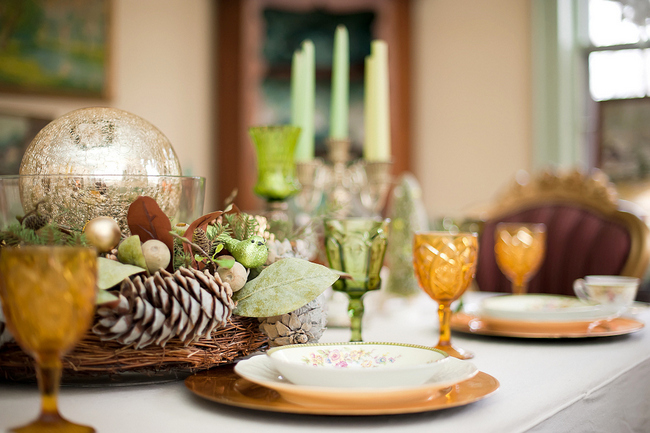 A snowy garland placed around anything on a tabletop instantly creates a winter vignette.   *love*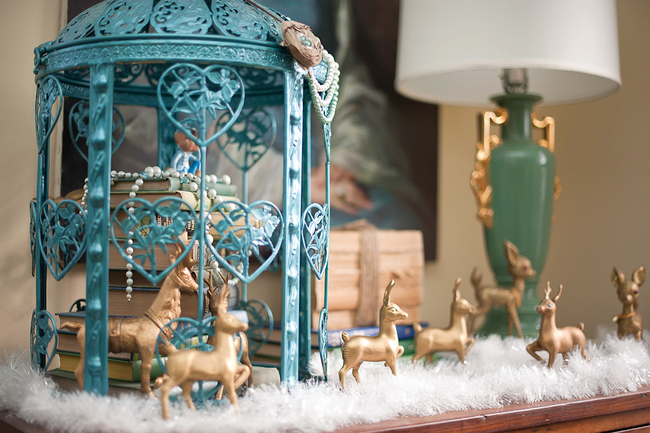 I collect vintage landscapes from flea markets and yard sales, so I get really excited when I find one that is season-specific.  I like to pull out my winter scenes this time of year.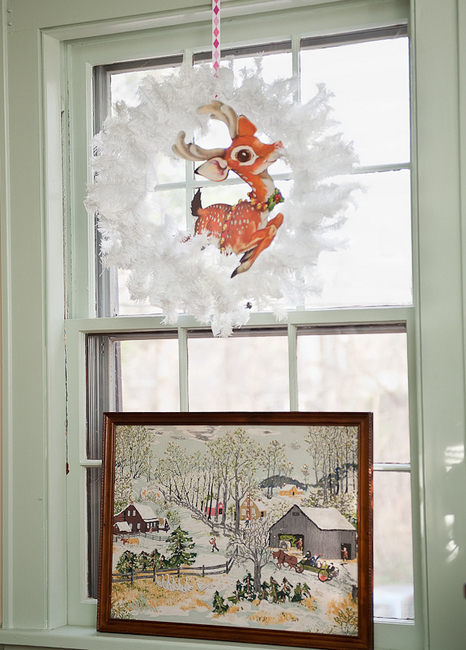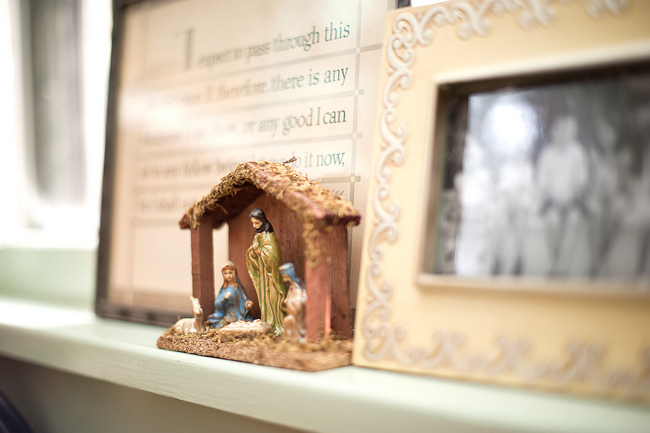 This is the large Christmas tree that sits in our front window.  We've had it for twelve years and all the pre-lit lights are out.  We just keep stringing on new lights!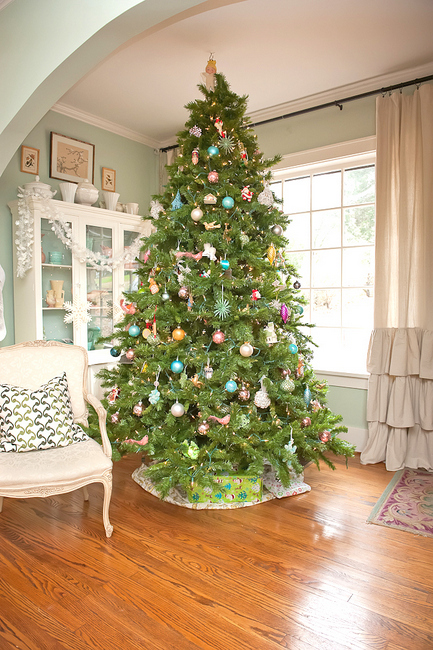 My McCoy pottery collection in the hutch is a nice backdrop to the Christmas tree, don't you think?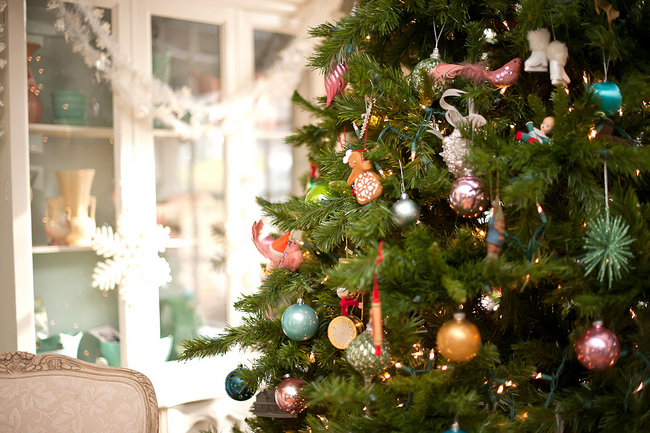 My bird and bird nest collections are present at all times of the year – they are tucked into many of my tabletop vignettes, sitting on chandeliers, and perched on the Christmas tree.  I am NOT a red or orange kind of girl – it's PINK all the way for me.  So I have to get plenty of pink into my Christmas each year.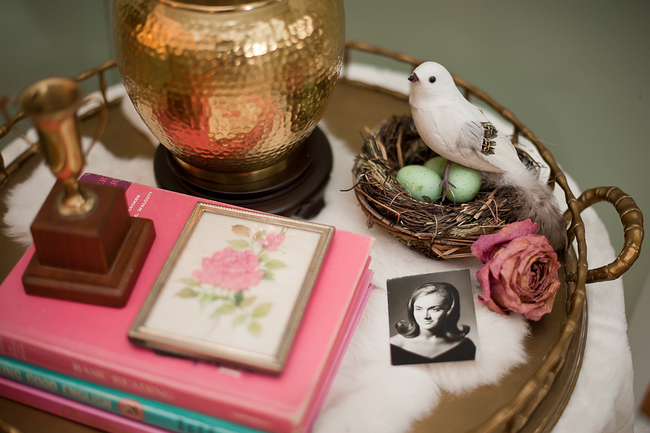 Melanie G Photography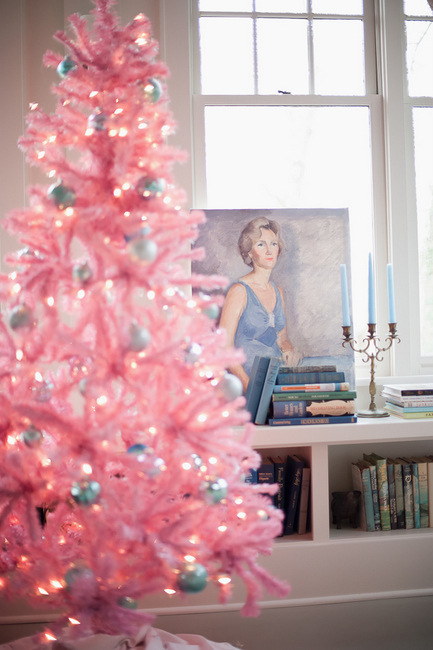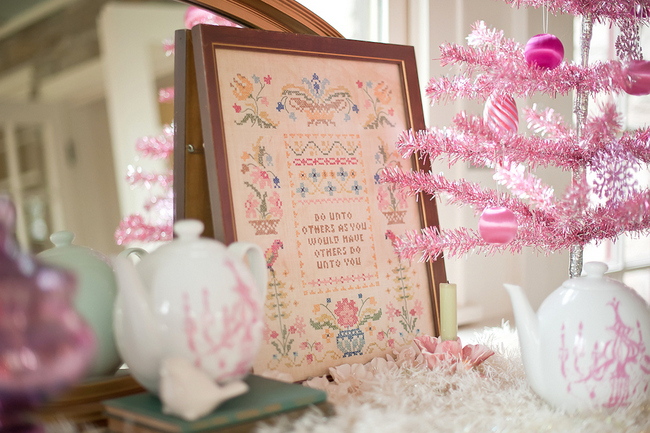 Of course, my ever-present deer and gnomes get into the Christmas spirit with a few flocked trees and another snowy garland.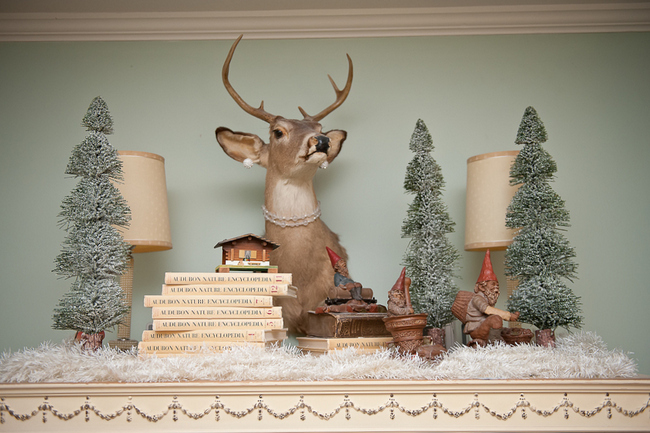 Another favorite color of mine is turquoise, so I had to add this glittered deer from TJ Maxx to spread a little turquoise Christmas cheer.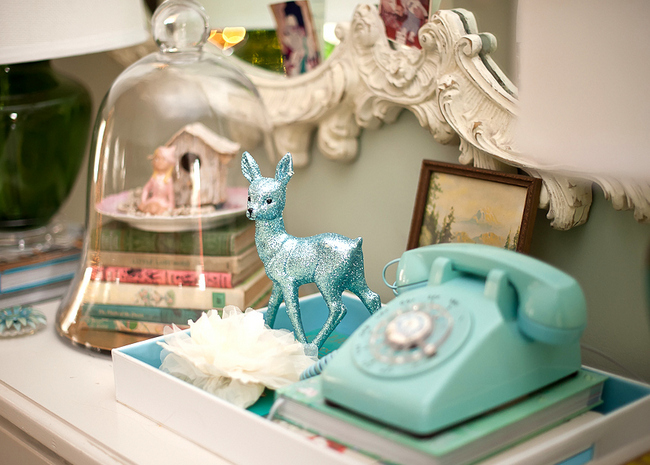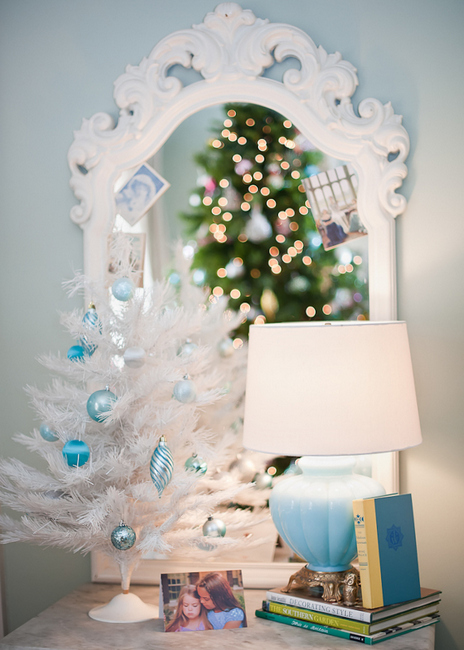 There are so many ways to integrate your collections and favorite things into your Christmas decor. Do you use your favorite color in your Christmas decorating or do you stick to a traditional color palette at this time of year?
Linking to these Christmas Blog Hops:
The Inspired Room
Finding Silver Pennies
The Nester