| | |
| --- | --- |
| I love Anthropologie.   I guess it's the vintage-hip-bohemian vibe that draws me in.  Now, don't get me wrong.  It's not like I buy anything there except for the occasional little decor trinket.  The clothes are way too expensive for me, but I get so much decor and fashion inspiration by just perusing that store.  We'll just focus on the decor inspiration for today, particularly in regards to Christmas styling. | |
I do have to say that I don't really like their catalog.   If you get it in the mail, I'd really like your opinion of it.  I realize they are trying to be arty and avant garde, but it just isn't a very helpful catalog.  But the store . . . it's like a wonderland of ideas.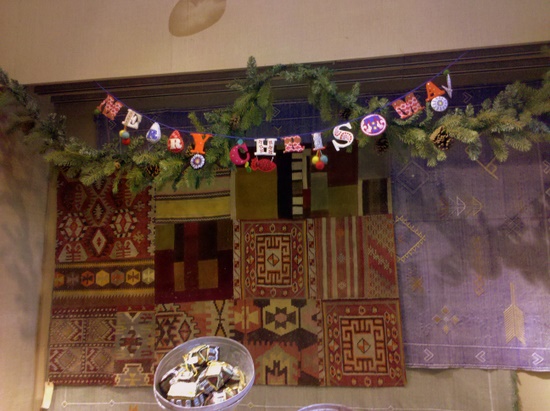 | | |
| --- | --- |
| Is that vintage wallpaper snippets in the back of the handmade fireplace box and in the back of the shelf niche?   Why, I think it is! | |
You could totally make your own version of these candles-in-teacups with vintage teacups or mugs and some crafty wax candle kit from Michaels.  Great teacher gifts for Christmas!  These from Anthropologie are around $10 a piece.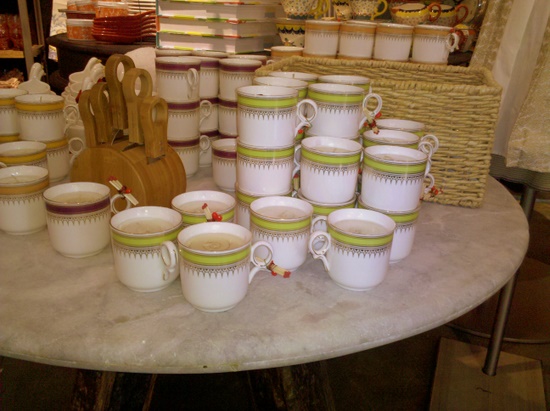 | | |
| --- | --- |
| | These tea towels are $18 and can be used in the kitchen, of course, but why not use them in the guest bathroom? |
| | |
| --- | --- |
| Just look at the details – the embroidery, the color combinations, the textures, the trim!  I could base an entire child's bedroom scheme around one of these beauties. | |
| | |
| --- | --- |
| | I fell in LOVE with this snowy vignette in the Green Hills Anthropologie store.  After snapping these pics, I couldn't stop thinking about it.  The next day, I decided I'd try to apply the inspiration to my own holiday decor. |
| | |
| --- | --- |
| Anthropologie sells the old-fashioned sparkly snow for $10 a box.   Love the retro graphics on the box, but I really didn't want to spend $10 on fake snow. | |
Among my Christmas decor that I wasn't currently using I found a bag of sparkling snow that I had bought at Big Lots for about a dollar several years ago.  Perfect!  I gathered some large vintage children's storybooks, a pink retro Christmas tree, and small fake mini- trees and started to create my own vignette on the top of a piece of furniture in my dining room.   I decided to forgo the globes – I'm not a COMPLETE copycat!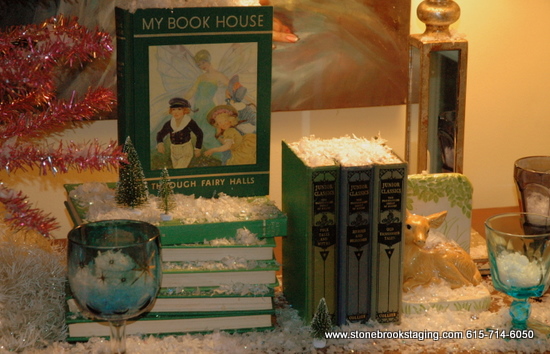 I think the trick is sprinkling the snow from above so that it lays on the tops of your landscape:  the tree limbs, the tops of the books, in the glasses – and then letting it pile up all around your items, like real snow does.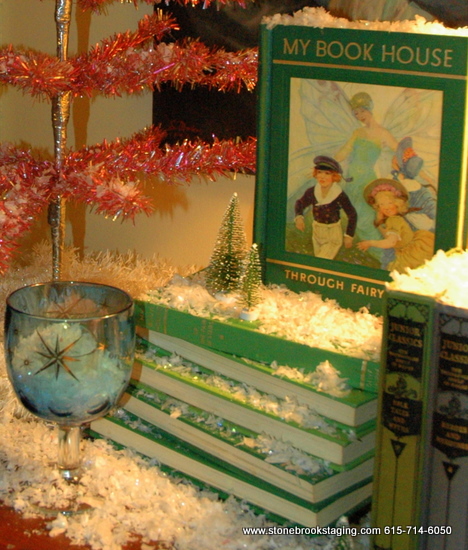 I'll take inspiration wherever I can get it.  How about you?
Don't forget about my December Prize Give-Away!  For your chance to win a set of 5 IKEA votive candleholders, make sure you sign up to "Receive Email Updates" in the upper right hand corner of this blog.
.
.
Share this Post