| | |
| --- | --- |
| | There was a time when taking a ceramics class was quite in vogue among young housewives.  I remember in the 70's when my mother took ceramics and brought home corn-shaped casserole dishes and frog pencil holders. |
| | |
| --- | --- |
| Tabletop ceramic Christmas trees were likely only made by those ladies with exceptional skill.  You can find vintage ceramic Christmas trees that date from the 1940s to the 1990s.  Some are admittedly hideous, others are very attractive and even magical. | |
| | |
| --- | --- |
| | Ceramic Christmas trees are decorated and painted by hand, and are often glazed.  They typically will feature glass jewels.  These glass jewels will glow when the tree is turned on, as they often are hollow with a light bulb inside. |
| | |
| --- | --- |
| I found mine at yard sales for less than $10.  You can definitely find them on ebay. | |
The rarer and more collectible trees, which often date from the 1940s, are always attractively colored and glazed, and usually individually numbered. These can cost from $150 upwards.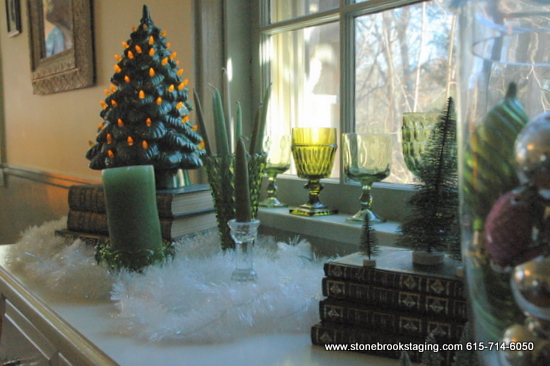 | | |
| --- | --- |
| | I've often thought of getting new bulbs for mine.  Maybe all in the same color, like pink.  You can still buy replacement bulbs for these Christmas trees online and on ebay.  You do need to make sure you get the right size though, as there are variations.  You can even get jeweled lights shaped like little birds. |
If you're feeling nostalgic, keep your eyes open for a vintage ceramic Christmas tree of your own!
.
.
Share this Post