Country Living, the decorating and lifestyle magazine, is returning for the second year to the greater Nashville area with The Country Living Fair, April 22nd through 24th! Some 20,000 visitors from across the country are expected for the annual shopping, cooking, and crafting fair at the James E. Ward Agricultural Center in Lebanon. And I'm giving away tickets!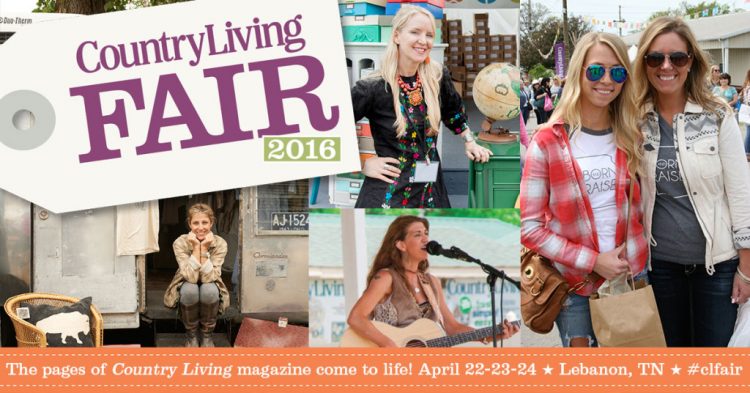 The Country Living Fair will feature more than 200 vendors from 25 states. In addition, guests can meet Country Living editors and special guests, attend cooking and crafting demonstrations, book signings, and sample locally sourced, artisanal food.
I got to meet the darling editor-in-chief, Rachel Hardage Barrett last year. She said, "We're thrilled to be back in Nashville kicking off the Country Living Fair's 2016 season!"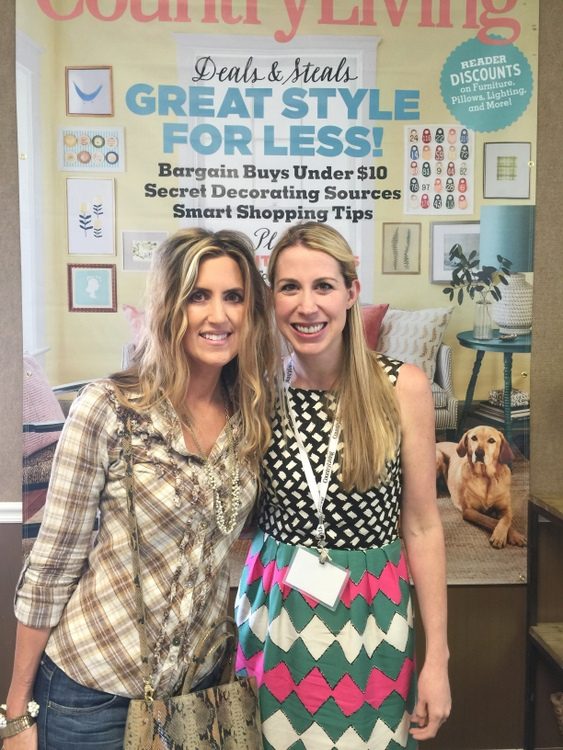 me and Rachel at last year's fair!
Vendors come from far and wide, but local favorites include my friend, Jenni, from JBS Mercantile and the talented Scarlett of Scarlett Scales Antiques. The speakers are going to be really fun, too – both Jenni and Scarlett are presenting, along with some of my other pals:  KariAnn of Thistlewood Farms, Brandy of Make & Model, and Julie of Julie Couch Interiors.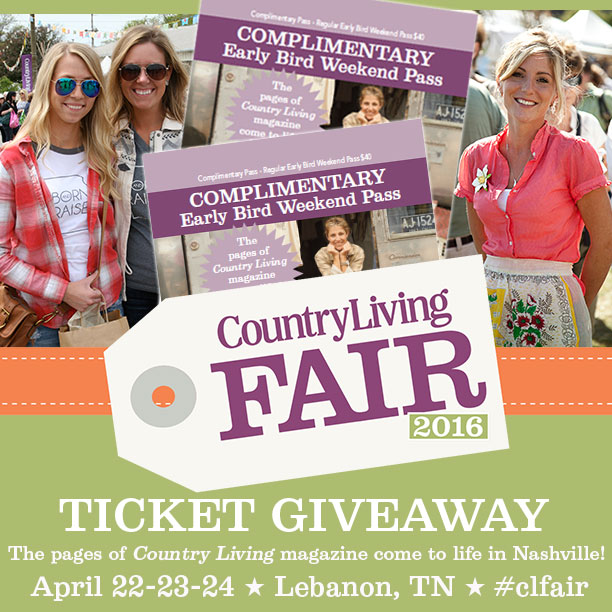 Here's how you can win a pair of tickets:
1) Leave a comment on my FB post about the Country Living Fair telling me what you are interested in seeing at the show.
2) Follow me on Instagram or Pinterest – your pick! I'd love it if you'd do both!
I'll announce the winners this Friday. If you aren't one of my lucky winners, make your own luck by attending anyway! Make sure to look for me there! Below are details – get advanced tickets here.
One-day-admission is $13 in advance and $16 at the door; three-day weekend passes are available for $15 in advance and $20 at the door.
An Early Bird three-day weekend pass is available for $40 and grants early admission at 8:30 a.m. on Friday and Saturday (THESE ARE THE TICKETS I'M GIVING AWAY!!!)
Free admission for children ages 16 and under.
Friday, Saturday & Sunday 10 a.m. to 5 p.m.; gates open for Early Birds at 8:30 a.m. Friday & Saturday.
James E. Ward Agricultural Center, 945 East Baddour Parkway in Lebanon, TN
Rain or shine outdoors under tents. Parking is free and plentiful!
Here I am in front of my favorite finds from last year's Country Living Fair in Nashville – a pair of pistachio campaign dressers.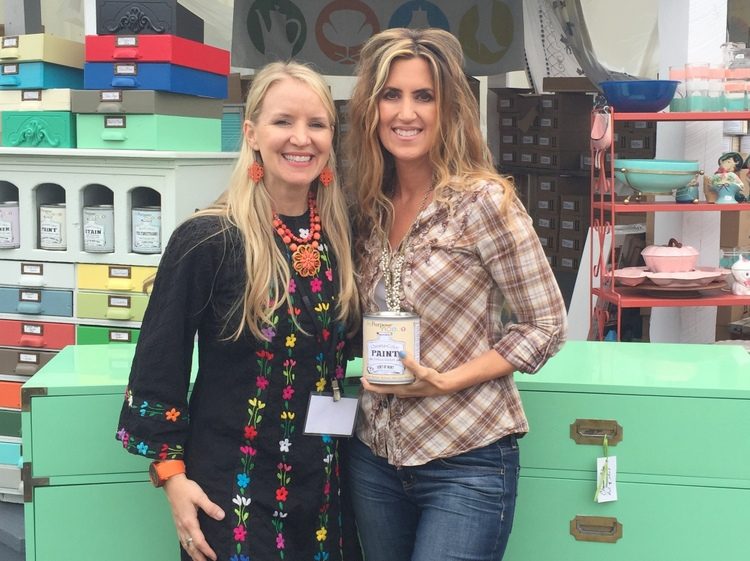 Cari Cucksey of HGTV's Cash & Cari
They are great storage pieces in my home office now: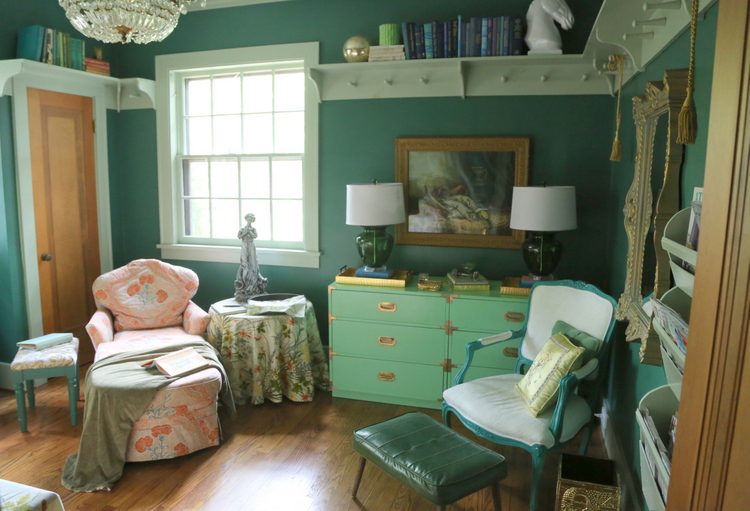 Maybe you'll score something just as fabulous as I did last year – unless I get to it before you do 😉
Actually, there are two things I definitely want this year.
Last year I bought several of Bel Monili's bracelets made of vintage earrings, which I intended to give as gifts. And now I am admitting out loud that:
I loved them so much I kept them all.
Anywho, I should have also gotten this: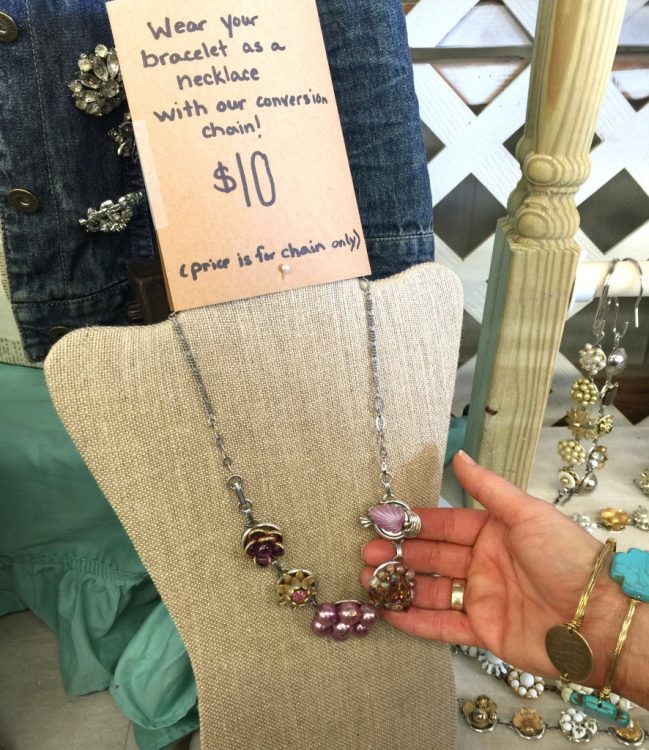 so that I can wear them as necklaces, too, if I want! And the other thing I want? Well, I'm not saying I'm definitely getting one, but . . .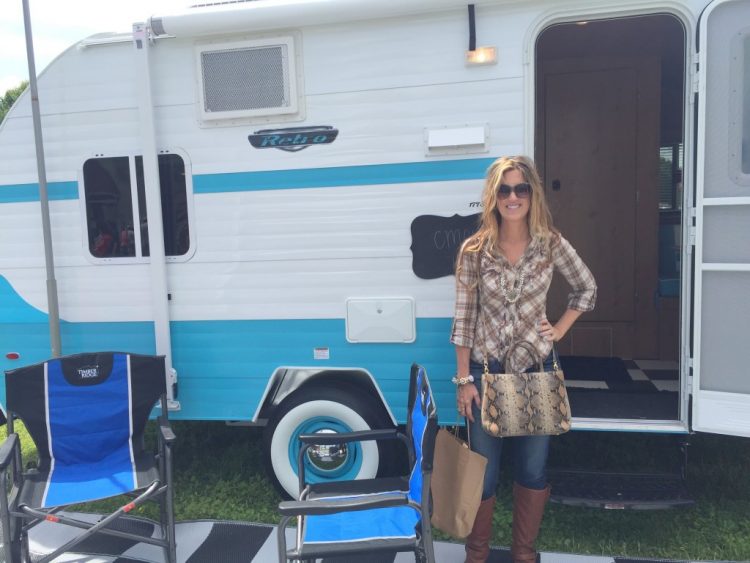 A girl can dream, right???
Don't forget to enter to win the pair of Early Bird 3-Day tickets to the 2016 Country Living Fair!
Share this Post