I recently sat down with Nashville's Brandy Adams, to talk about her vintage decor business and personal style. Brandy lives in a 1972 home with a mock Tudor facade and a mid-century modern interior with neo-classical elements.  The mash-up of nostalgic architecture suits her just fine.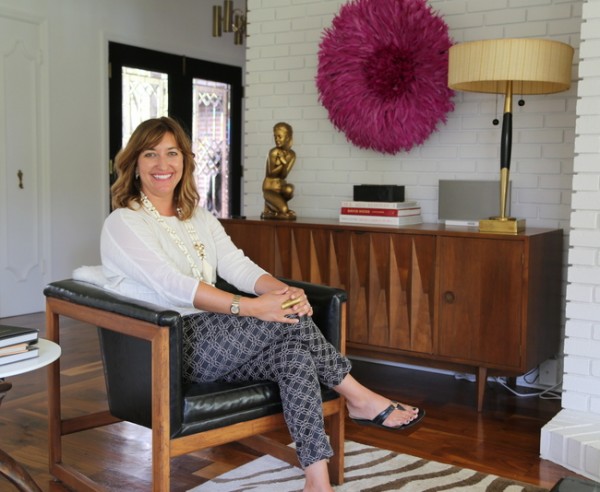 Brandy launched her business a mere two years ago, and she's already making her mark on the Nashville design scene.  Her brain child is Make+Model, a combination style studio and high-end vintage shop. After fifteen years of working in pharmaceutical research, Brandy switched gears and drove full-throttle into her passion for curating eclectic and one-of-a-kind finds.  Her aesthetic is two parts Hollywood Regency, one part mid-century modern, one part Palm Springs chic, and a splash of global style – all stirred up in a cold martini glass and topped with an olive.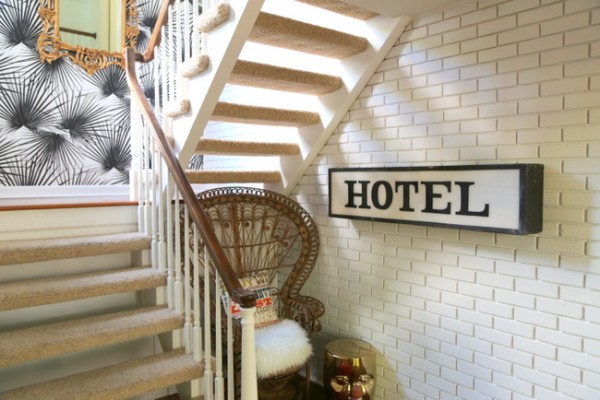 floating stairs in entry
Make+Model sells furniture and decor items on its website, but the quarterly "pop-up shops" are what fuel the success of the business.  Brandy scours estate sales, flea markets, and auctions to find an amazing array of must-haves for the design-obsessed.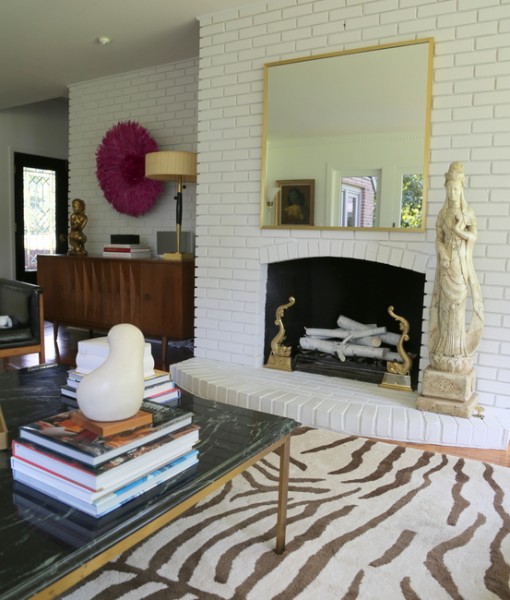 Make+Model's inventory includes an everchanging array of furniture, lighting, art, barware, sculpture, and her currently popular juju hats.  In case you don't know (I didn't), a juja hat is a feather headdress originally designed to be worn by tribal chiefs and dignitaries in Africa.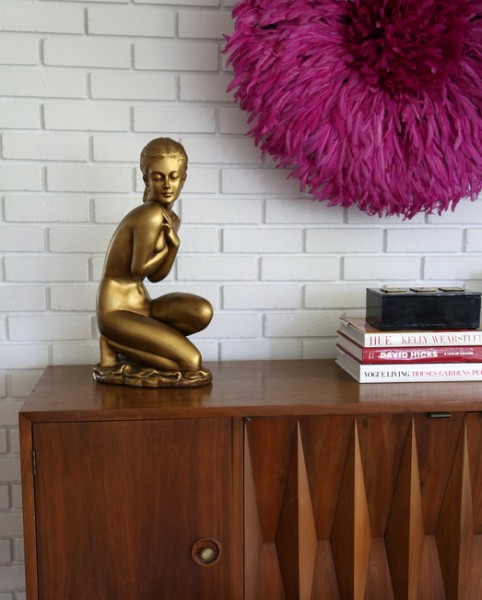 golden statue and hot pink juju hat
Not only does she curate her finds, Brandy diligently researches and studies the items she sells through Make+Model.  "I love the stories behind the pieces, and I really like to share those stories with my clients," says Adams.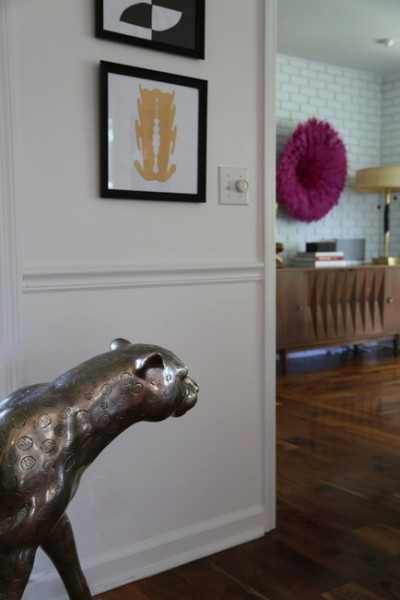 Brandy's influences include legends like Dorothy Draper, Billy Baldwin, and David Hicks, as well as modern designers like Kelly Wearstler and Ryan Korban.  Her home's decor is a mixture of modern, vintage, and global style, but there is a consistency in her "look."  The backdrop for most rooms is white and the spaces are layered with layers of texture, highlighted with the occasional pop of color.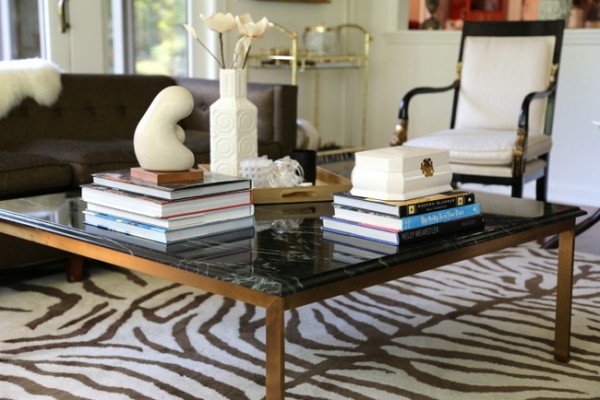 vintage brass and marble coffee table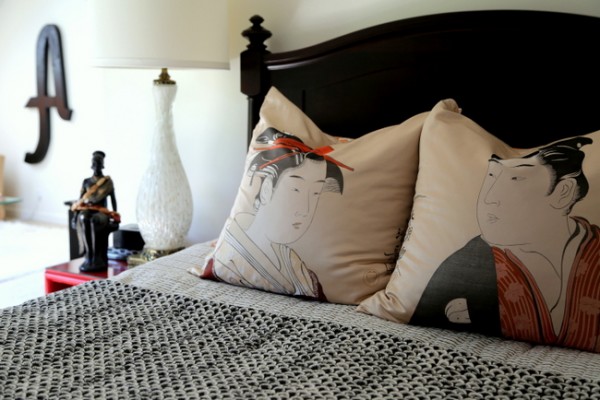 bedroom details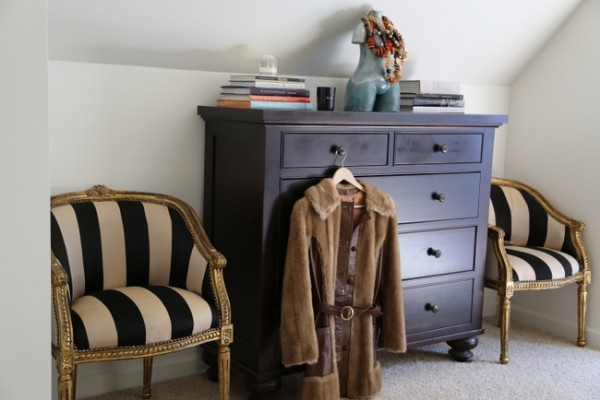 vintage fur and gold leaf chairs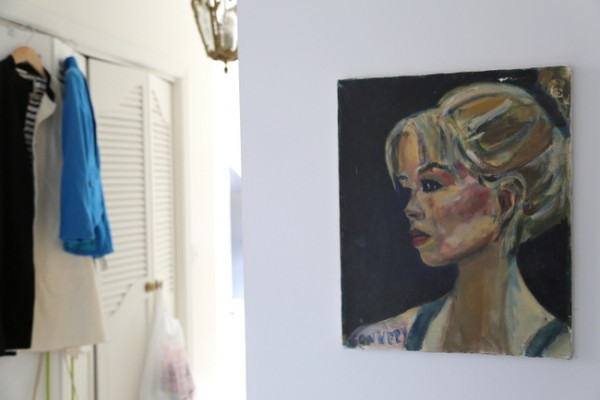 vintage portait 
Her favorite finds that now feature prominently in her own home include a cheetah-print rug, a high-style 1970s dining table made of goat parchment, and a vintage Eames lounger.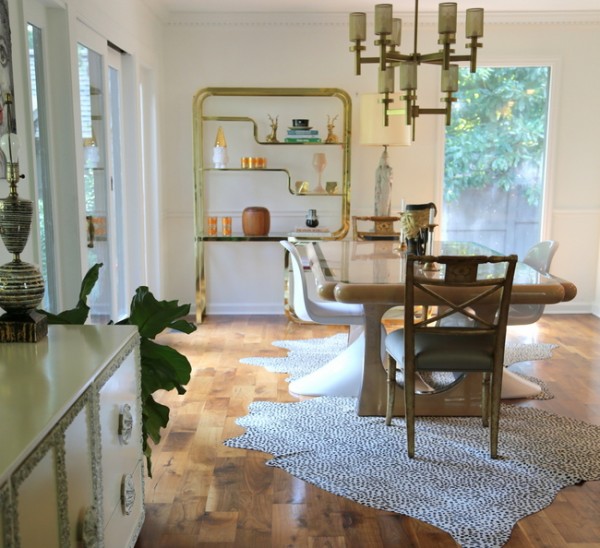 Brandy Adams' dining room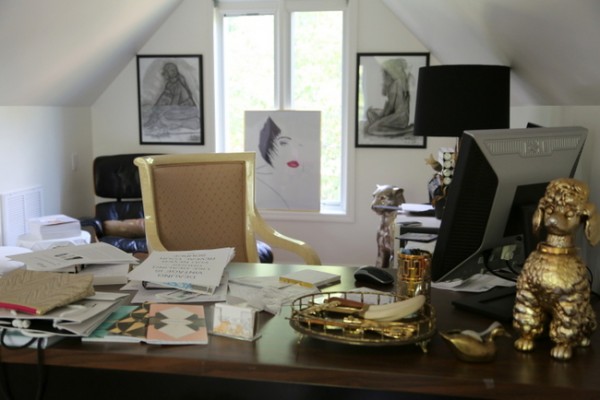 Brandy Adams' glam but functional home office
Here's a temporary stash of a small sampling of Adams' latest finds as she prepares for the upcoming Nashville Pop-Up Shop this Sunday, September 14.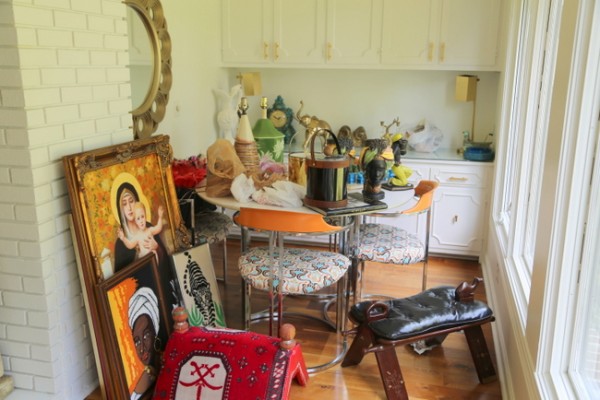 If you don't live near Nashville, you can still get your fill of Brandy's fantastic finds from her online store, here.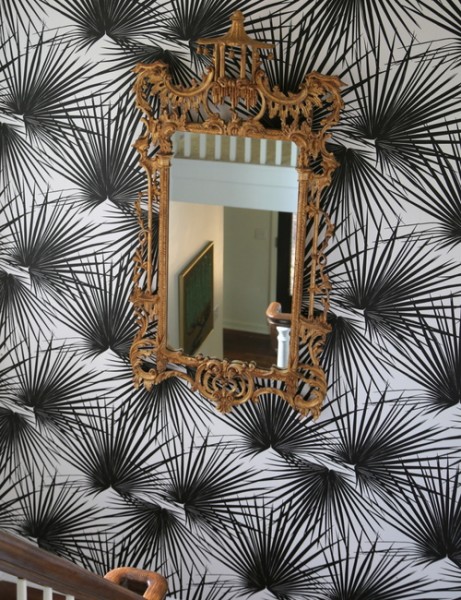 If you live nearby, you won't want to miss her sale this weekend.  And look for me there, of course!  Just please don't take all the good stuff . . .
You must know – I'd rather keep this to myself (I found some amazing finds at the last sale).  But honestly, Brandy is such a great girl and I believe she is going to be a very big deal in the near future. And I'd like to be invited to all her parties, because I'm pretty sure they'd be awesome. I'm totally hoping for brownie points . . .