When hosting a dinner party or get-together, developing a theme is a great way to help guide you through the planning and preparation.  Even Christmas parties can benefit from a theme beyond the expected, like the Downton Abbey dinner party I hosted last week.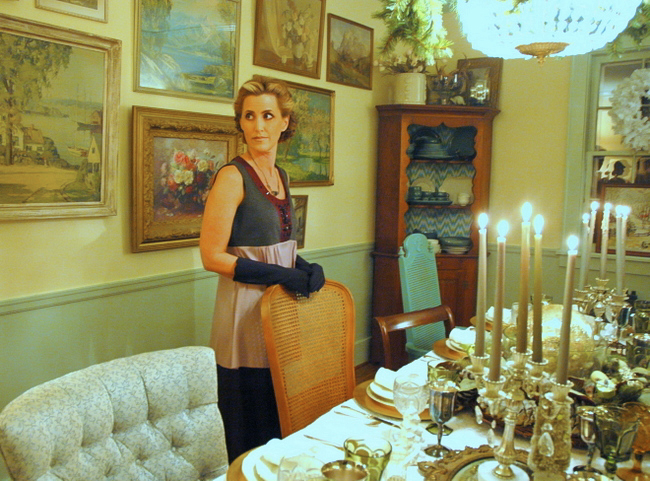 The  Emmy-winning PBS series is set in early 1900's England and focuses on the family and servants that occupy the Crawley's home, Downton Abbey. In order to emulate the Downton Abbey experience, I strove to set a period-appropriate scene with the decor and tablescape set for my guests.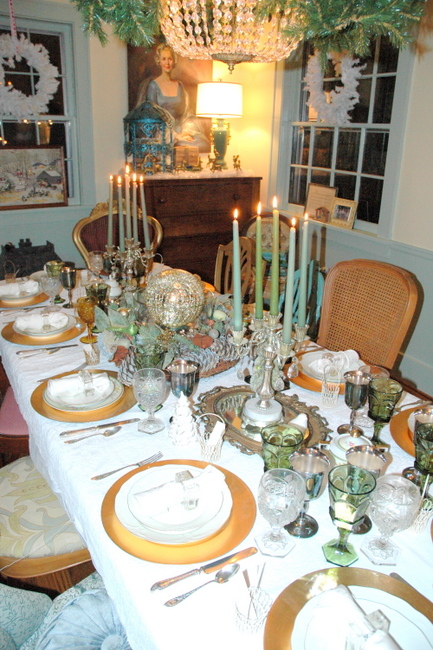 My friends and I dressed the part with dresses and hairstyles in keeping with the 1910-1920s.  I don't care your age – what girl doesn't LOVE to play dress-up?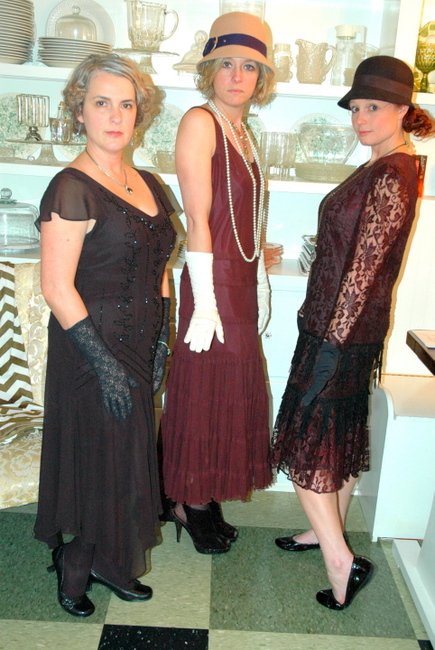 THIS is how you dress for dinner! 
I found a couple of Downton Abbey hairstyle tutorials via Pinterest when I was putting together ideas on a Pinboard dedicated to the party planning.  Here are a few pictures of how my Lady Sybil hairstyle turned out: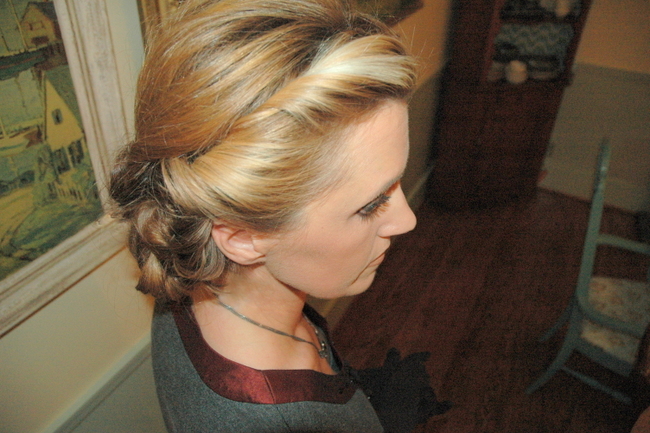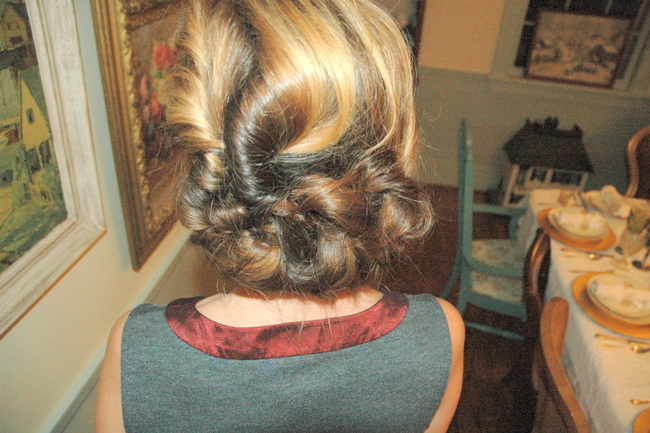 I loved my hairstyle so much, I feel sure I will have to wear it again in the near future!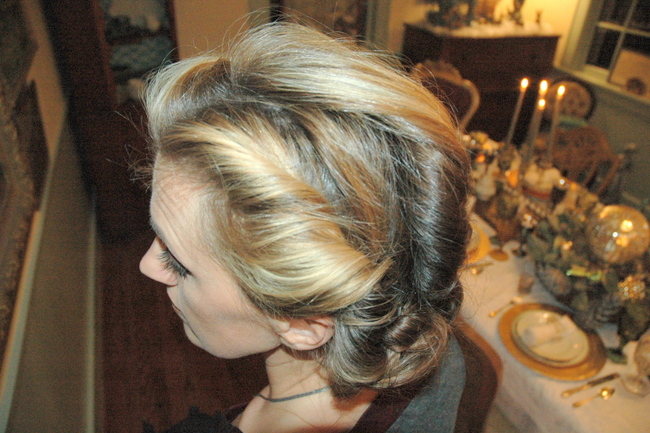 Of course, a Crawley family dinner wouldn't be possible without a slew of house servants.  I worked with a skeleton crew of very dedicated servants, including maids Daisy and Anna (my daughters), footman Thomas (Mr. Man), and head butler Carson (Mr. Man's best buddy).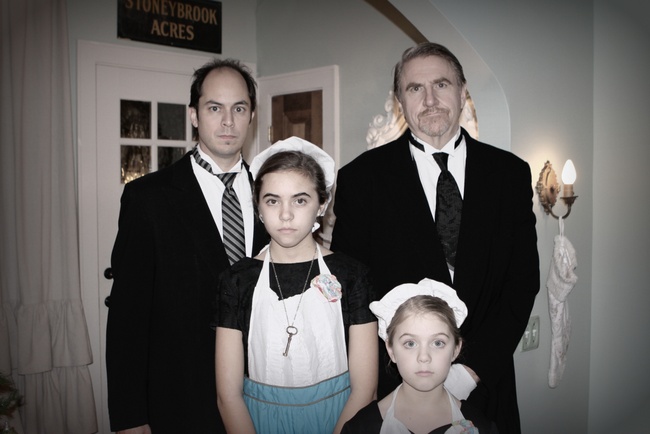 My House Servants 
As the guests arrived, they were greeted by a projection of the real Downton servants.  Mr. Man rigged this up, and had a good time making this happen on the front of our house (he can also make the house look likes it's on fire – it's completely terrifying!).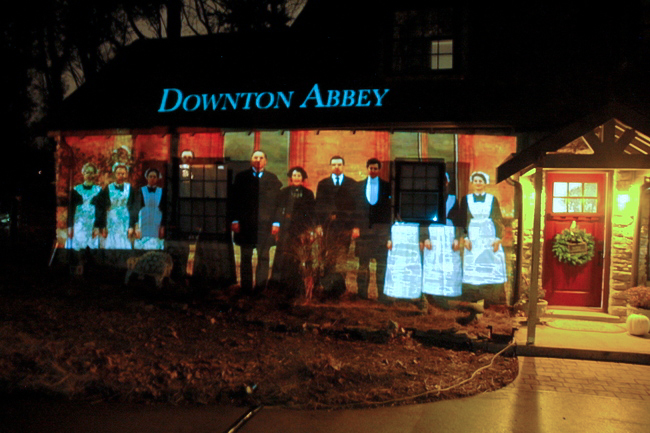 The evening started out with English tea, tea biscuits and cookies, shortbread, and bacon-wrapped scallops.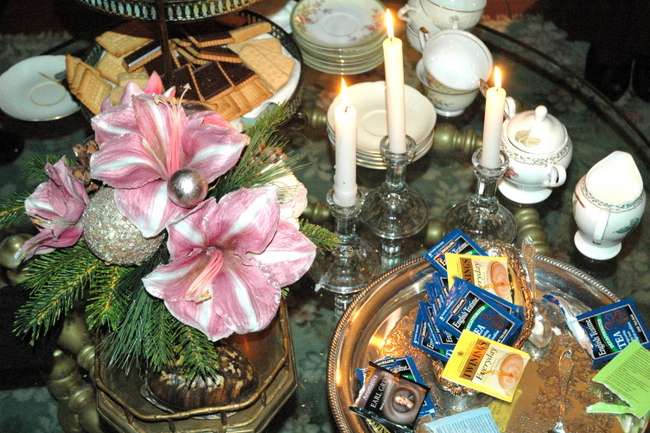 We sat around the tea table, discussing our beaus, the war (World War I), and the parties we would be attending through the Christmas season.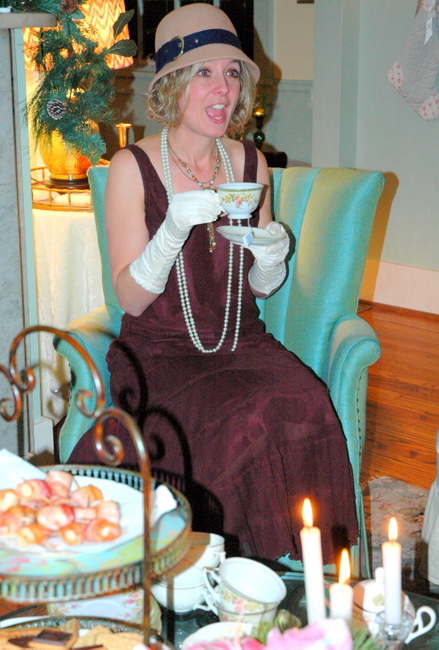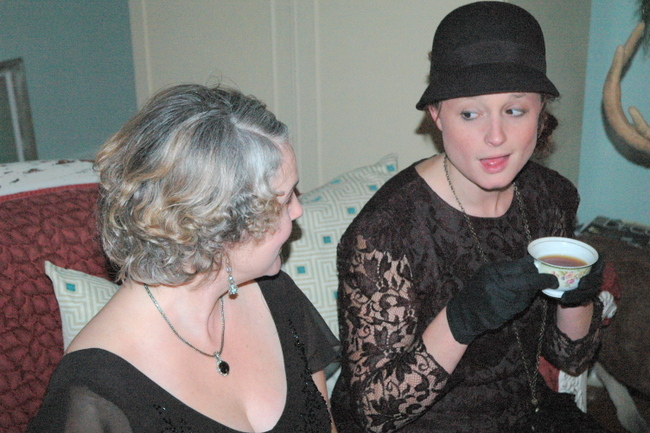 When dinner was announced, our butler Carson helped us to our seats and began serving the guests.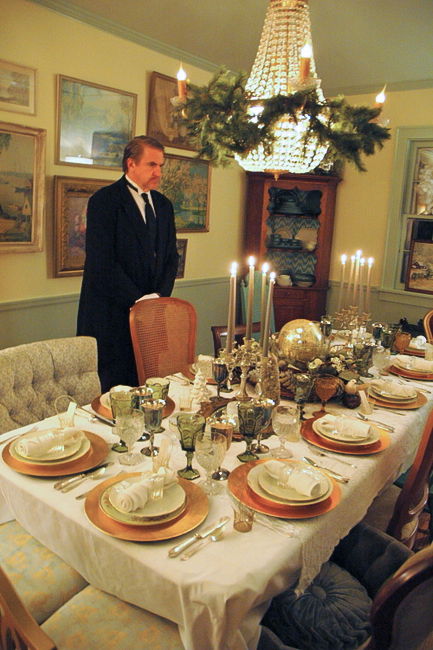 There is nothing more delightful than dinner by candlelight.  It makes the complexion glow!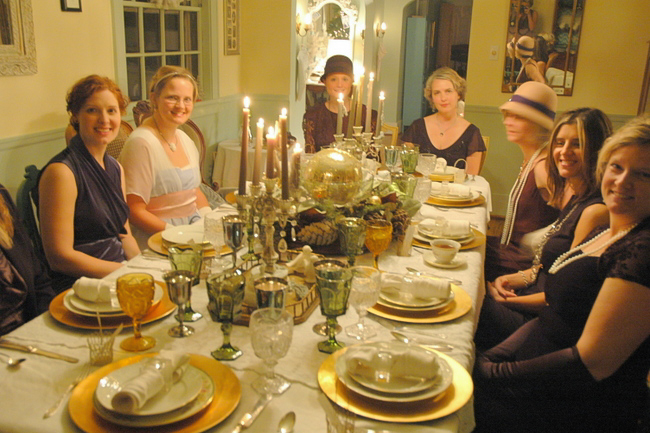 We started with the soup, cream of tomato and basil, followed by the fish course of poached salmon with picatta sauce and asparagus with shallot caper vinaigrette.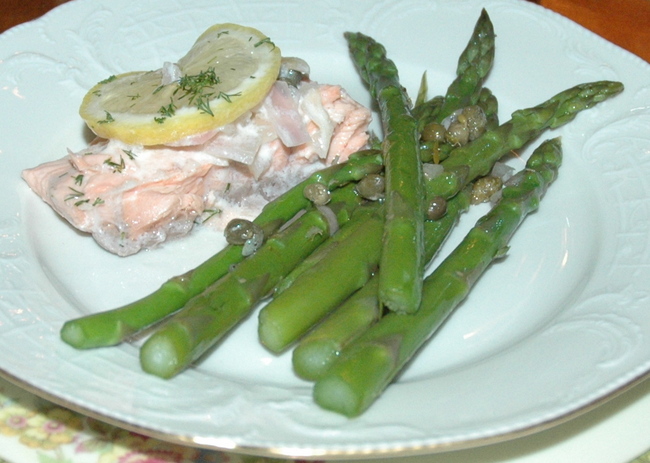 fish course
Next up was mustard tarragon chicken with duchess potatoes.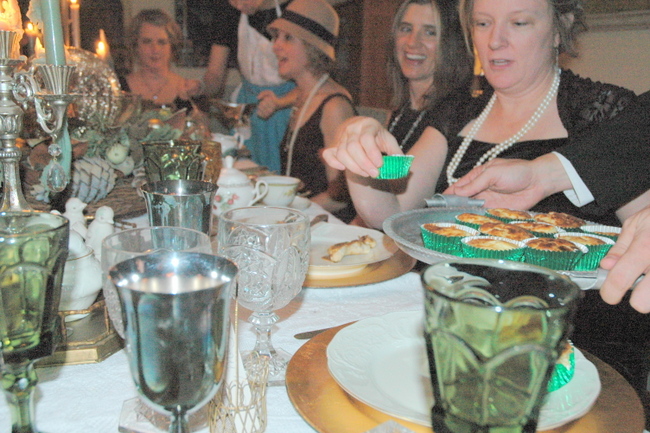 meat course 
A girl could get used to being served dish after dish of sumptious food by a staff of faithful servants.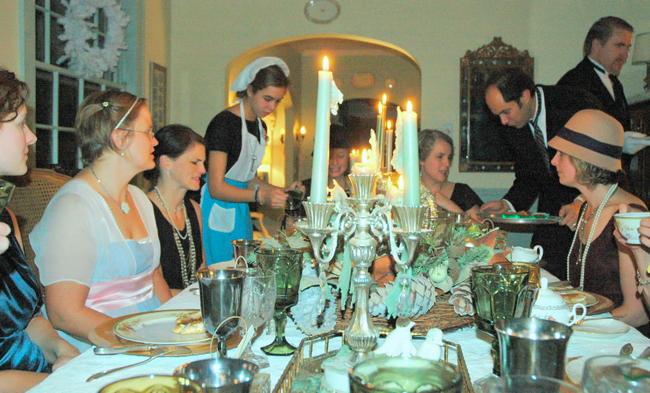 The dessert course included Madeira cake and jellied cranberry sauce with Fuji apple.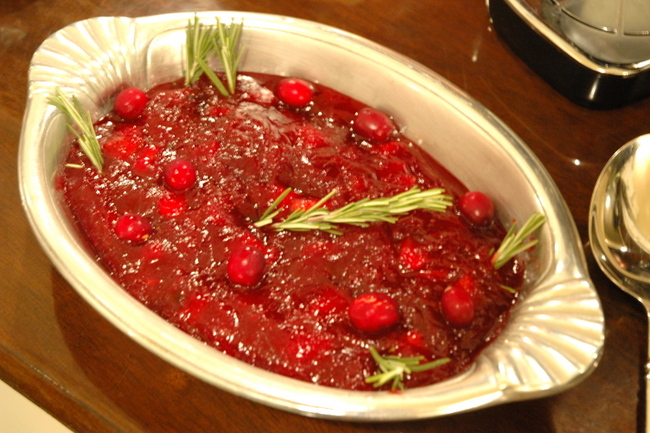 dessert course 
How nice to have your food brought in and your dishes taken away as you continue to enjoy your guests!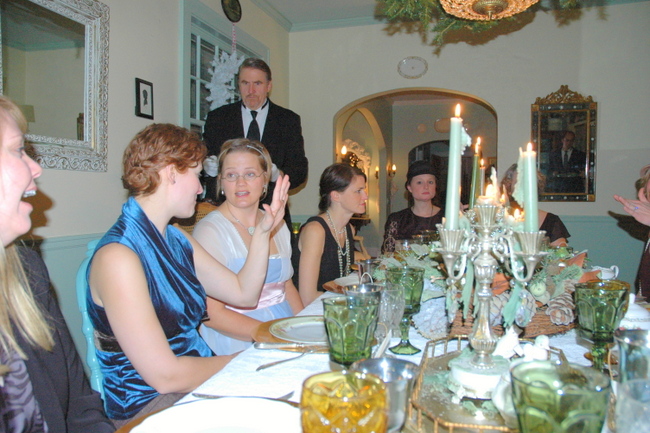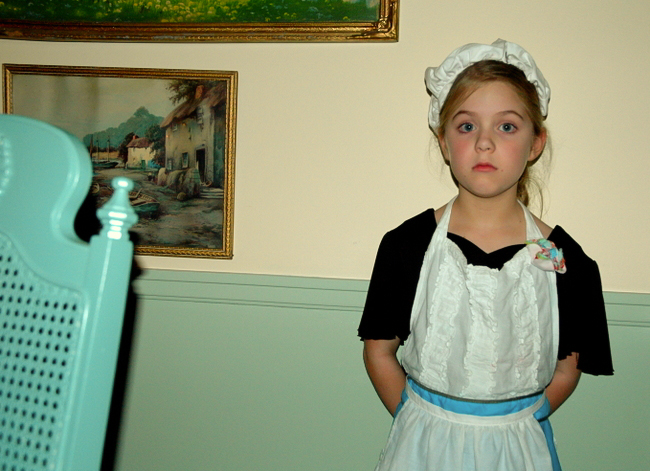 Cutest scullery maid eh-ver 
Here is the menu for Christmas at Downton Abbey.
Christmas at Downton Abbey
My talented friend, Jennifer, agreed to entertain us with a lovely rendition of "If You Were the Only Girl in the World."   Lady Mary Crawley was singing this to the recouperating soldiers when Matthew returned from the war.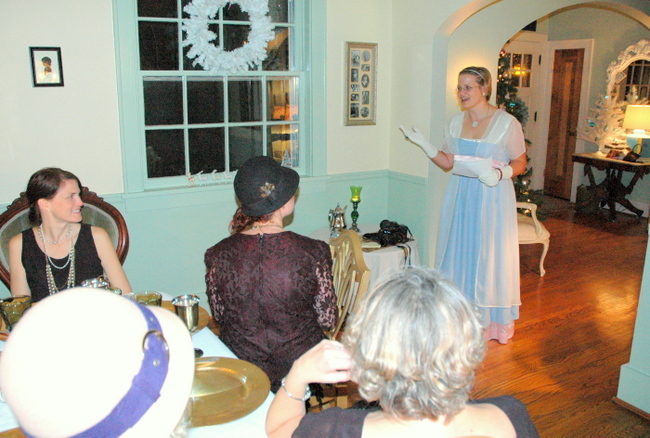 This dinner was so much fun, I would have loved this night to have gone on forever.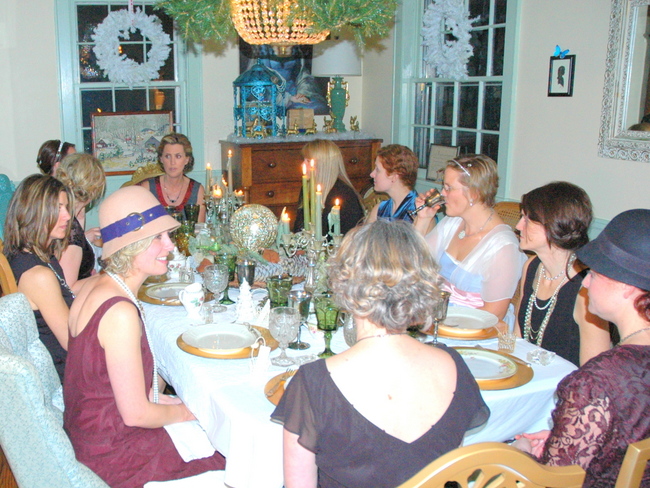 Alas, all good things and all great dinner parties must come to an end.  Don't you know we are already trying to figure out how we can find a way to wear these costumes again?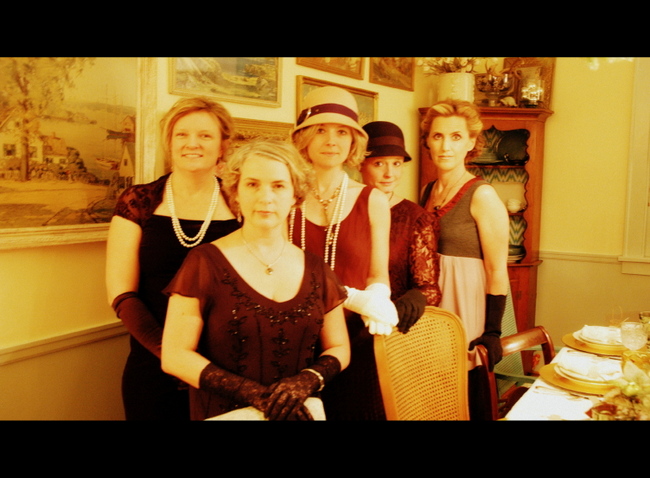 I can't say enough about the servants, who dutifully stayed in character thoughout the entire night.  It was as if they were born to play their parts!
The next time you plan to host a party, just remember that developing a theme can make your special evening even more memorable.  If you haven't been watching Downton Abbey, there's still time to catch up on Seasons 1 & 2 before Season 3 begins in the states the second week of January 2013.
If you'd like to see additional photos from the party, I will be posting more on The Decorologist Facebook Page.  There were just too many to include in this post!