Obviously, if I am writing this post I think the answer is "Yes!"  Some people call it "e-design" or "online design," but I'm sure you've heard about it.  Awhile back, a sweet girl named Emily contacted me about virtually-designing the small older home she shares with her husband.   The only caveat was that she wanted to keep the paint color in her kitchen and dining area, so everything needed to tie in with that.    You may recall the article where I shared the Inspiration Board for the space, but here again is the design I created for her: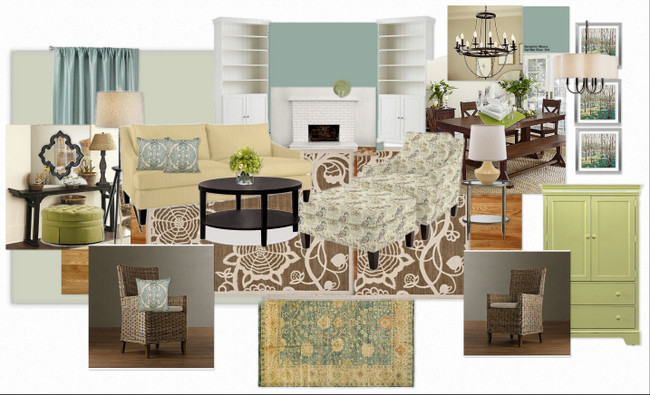 Virtual Design Inspiration Board by The Decorologist
If you want to see the Inspiration Boards that helped us narrow down the options (rugs, lighting, and dining room furnishings), check those out in my prior article here.   What's really exciting for me is when a Virtual Design client sends me "after" photos of the finished design, which Emily did a few months ago.  Let's take a look at the REAL "before and afters."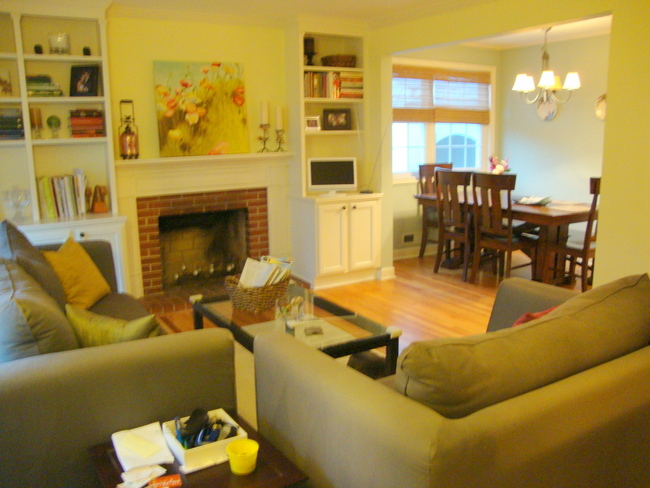 Living Room/Dining Room Before
Remember, she wanted to keep the dining room wall color (Benjamin Moore's Turquoise Mist). I suggested we pull that color throughout the open space and add a richer accent color to the backs of the bookcases and the area above the fireplace.  Emily ordered the new furnishings and light fixtures I suggested for her space, and look at the results: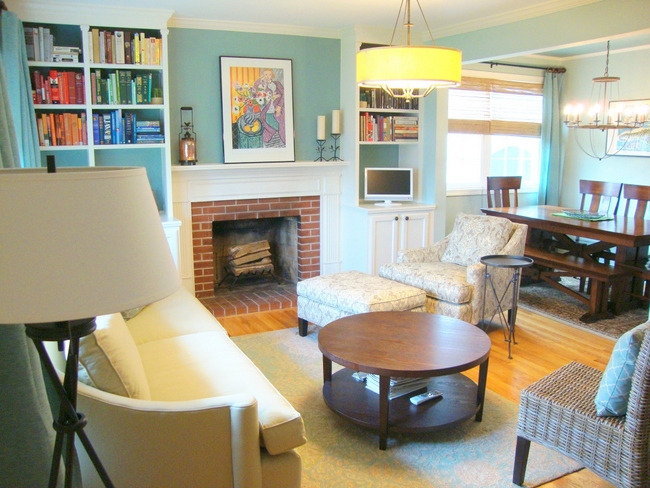 Living Room After The Decorologist's Virtual Design
The walls in this room were previously a light lemon yellow and the previous sofa and large chair were dark and overstuffed.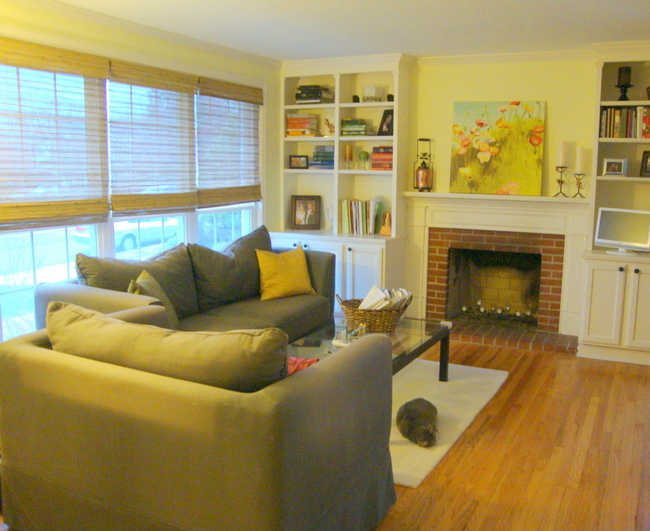 Living Room Before
The thing I'm most proud of is the way that Emily grouped her books BY COLOR!  Doesn't it look smashing?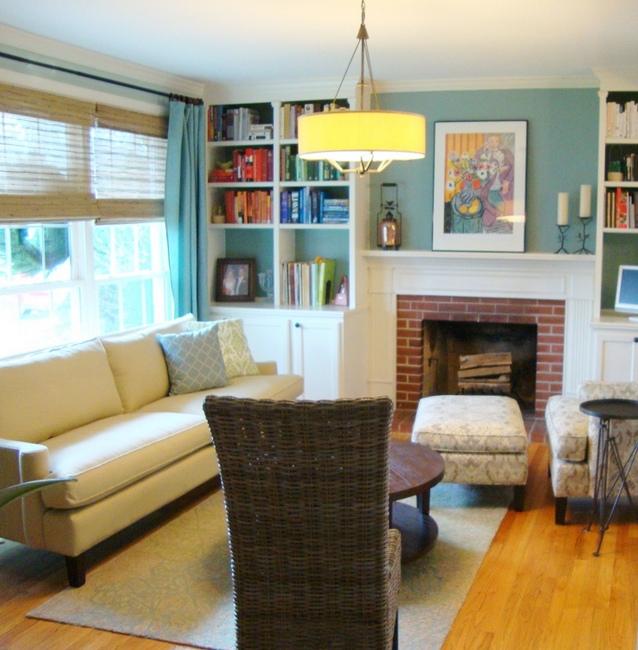 After Virtual Design
While the dining area was cute before: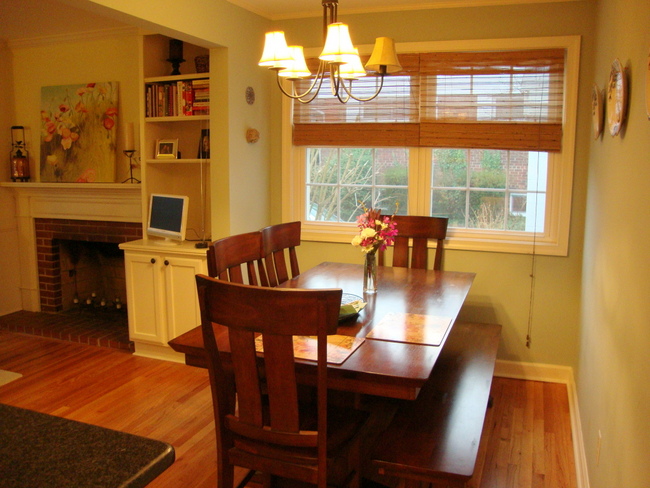 Dining Area Before
But now it looks stinking amazing!  The light fixture, drapery panels and painted ceiling make this room feel finished and fabulous.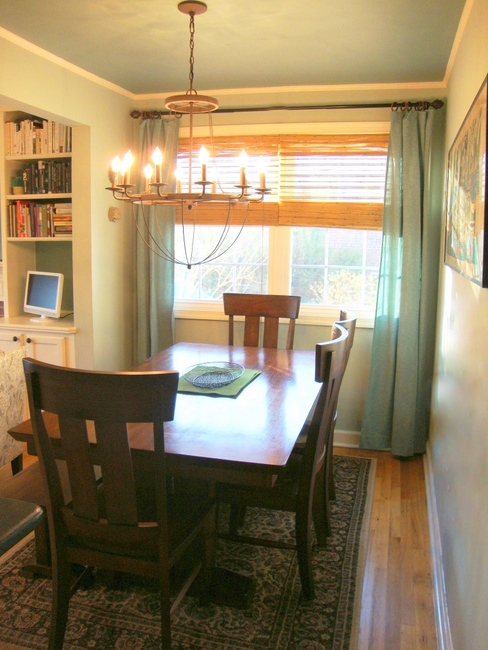 Dining Room After The Decorologist's Virtual Design
Emily did such a great job bringing the design to fruition – I love that she now has a fantastic entry area topped off with this fabulous little quatrefoil mirror (from Lowe's!)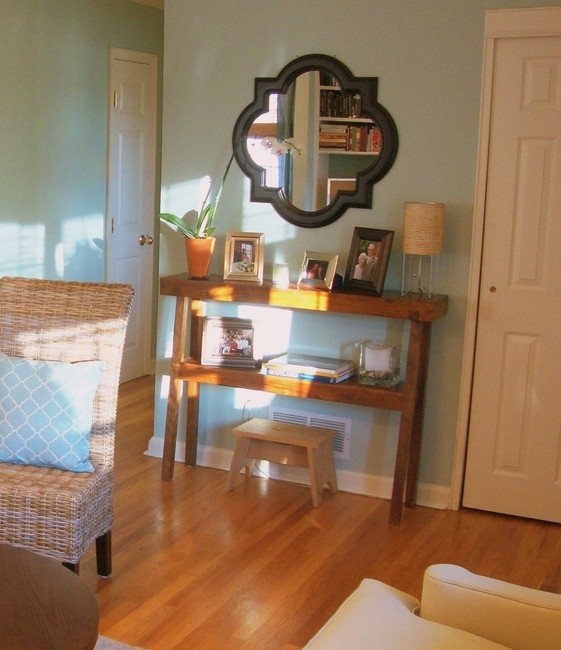 Entry Table + Quatrefoil Mirror
So you can see, Virtual Design CAN work beautifully when your designer knows how to design a space that will work for you – no matter where you live.  Nashville is just a phone call away!