What are your plans for Mother's Day this year?  Instead of waiting for someone else to make plans for you, why not have a Mother's Day dinner that honors your friends who are mothers?  That's exactly what I did with my Cooking Club friends, and today I'll show you how I did it!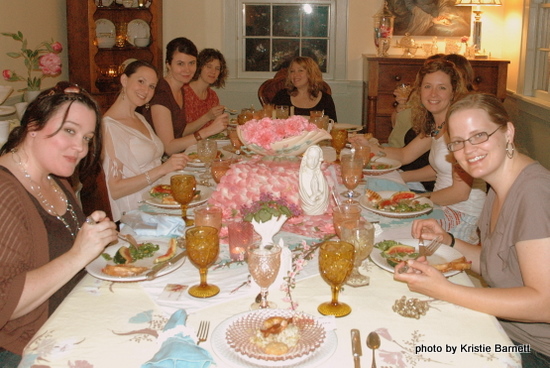 I mainly used girly pastel colors:  pink, blue, and white.   Then I added an unexpected accent:  amber gold glass.  The combination is feminine but unexpectedly sophisticated.  I started with layered smaller vintage tablecloths from the 1950s-1960s over a solid white tablecloth.    White hobnail dinner plates were topped with vintage pink glass.  Pink glass water glasses sat next to vintage amber tea glasses, and vintage silverware and blue linen napkins made the meal extra special.
| | |
| --- | --- |
| | I wanted to be able to talk easily across the table with my friends, so I decided on a low centerpiece.  I draped an inverted punch bowl with a pink petal table runner, topped it with a pink vintage Roseville piece filled with pink carnations.  A white ceramic Madonna and creamware vase with purple flowers from the yard sat in front.  I then placed a few branches of pink dogwood (fake) across the table. |
Oh, wait – there was food there, too!  Really good food.   We had Parmesan & Thyme Crackers,  Shrimp Bacon Appetizer, Grilled Watermelon and Arugula Salad, Creamy Tomato Dill Soup, Strawberry Turkey Brie Panini, Strawberry Fruit Toss with Shortcakes, and Molten Chocolate Surprise.   Click below for all the recipes: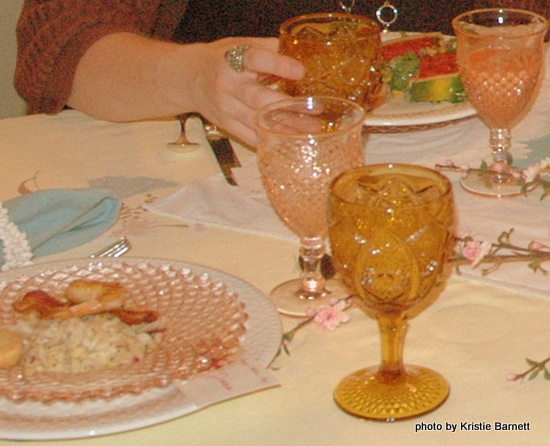 To make it extra special, I secretly sent a "Mother's Day Survey" to my girlfriends' husbands.  The husbands had their children answer the questions,  filled out the survey accordingly, and sent them back to me.  I read aloud each friend's child's responses after dinner.   You wouldn't believe how hilarious some of the responses were.  Here are the questions I used:
 1.  My mom is as pretty as
 2.  My mom really loves to
 3.  My mom does not like
 4.  If my mom had 3 wishes, she would wish for
 5.  The thing my mom likes most about dad is
 6.  I wish my mom would
 7.  Mom's favorite food is
 8. My mom and I are alike because
 9.  I am different from my mom because
10. My mom loves to play
11. I think my mom should
12. My mom always says
13. My mom NEVER
| | |
| --- | --- |
| I hope this gives you some ideas for creating a special Mother's Day dinner for the special ladies in your life!  And you've got to try the Strawberry Turkey Brie Panini, it's my favorite sandwich IN THE WORLD now. | |
.