You've seen how trendy it is to have glass vases, hurricanes, and domes, and cloches on tabletops and in tablescapes, but some of us have difficulty coming up with ideas of what to put into them.  So, here are some ideas for you to try.  I often load them up with fruit like apples or pears when staging homes to sell.  Hemingway Hurricane Vase by Southern Living at Home.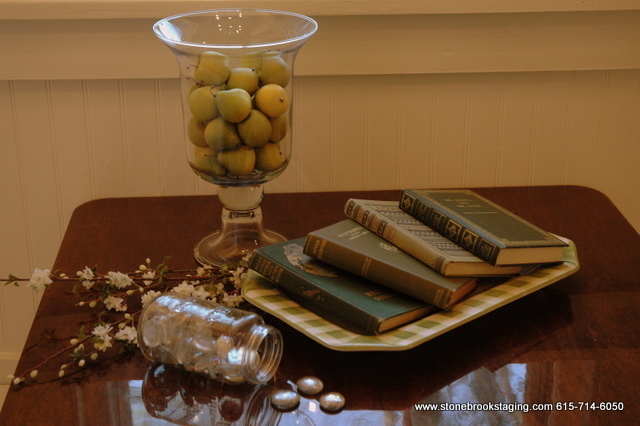 You've probably seen them filled with little brown woven balls and colored rocks – Target even has an aisle full of vase filler material.  But that's a little too easy, if you ask me.  I like to use the opportunity to display small items or collections that you don't want to see scattered all over table.  Fill a fat vase with old jewelry, beads, shell necklaces, shells, holiday decorations, marbles, etc.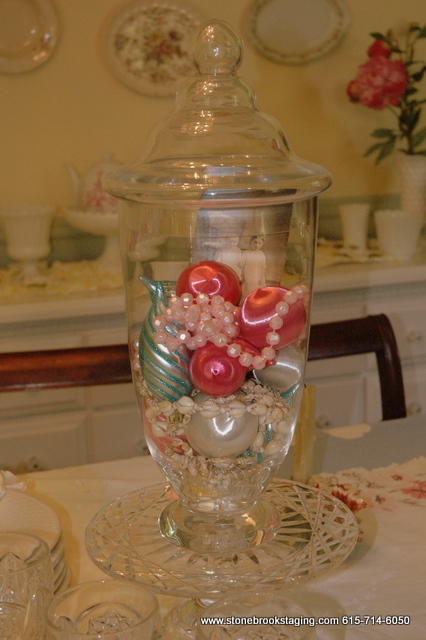 Try using glass trifle bowls, punch bowls, glass kitchen canisters, or other glass containers.   Fill them with rice, beans, sand, pebbles.  I've even gathered chestnuts from the backyard of a client to bring in some browns and texture to the kitchen.  Think in themes – this picture is an example of a nature or spring vignette.  Devonshire trifle bowl is from Southern Living at Home.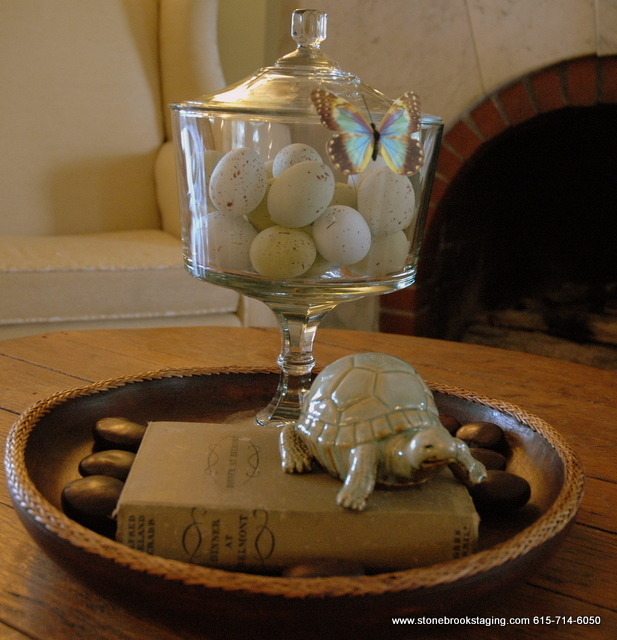 Drop a cloche over any little vignette.  Bird nests and vintage photos are my favorite.  Upon a small stack of books, of course!  If you don't have a garden cloche, how about using a glass cake or cheese dome?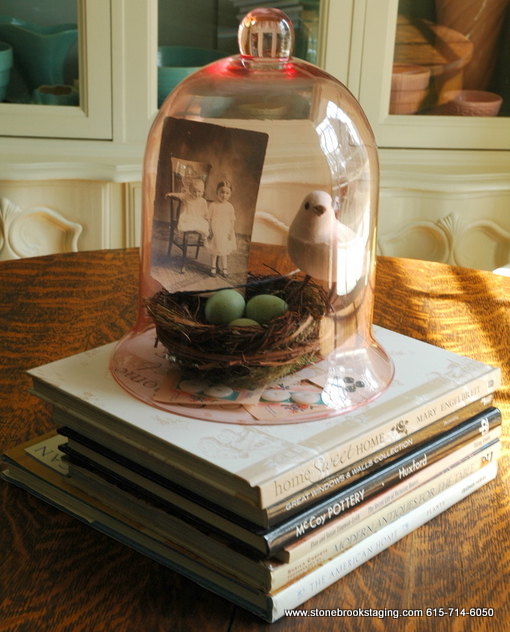 After Christmas is over, keep the wintry decor going with some vases filled silver balls, white and crystal napkin rings, and shell necklaces.  And top them with vintage black and white photographs, like I did here.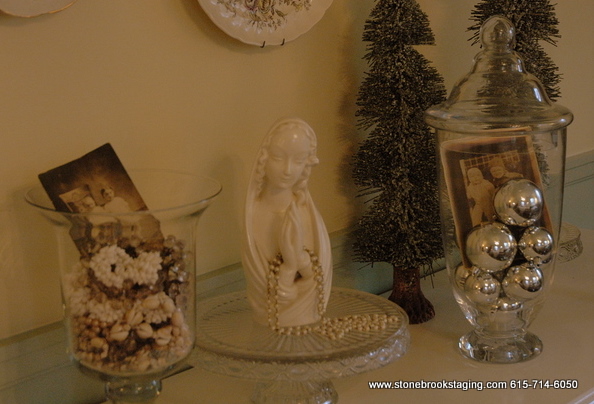 In January, this small punch bowl holds Christmas ornaments that don't scream Christmas – just winter.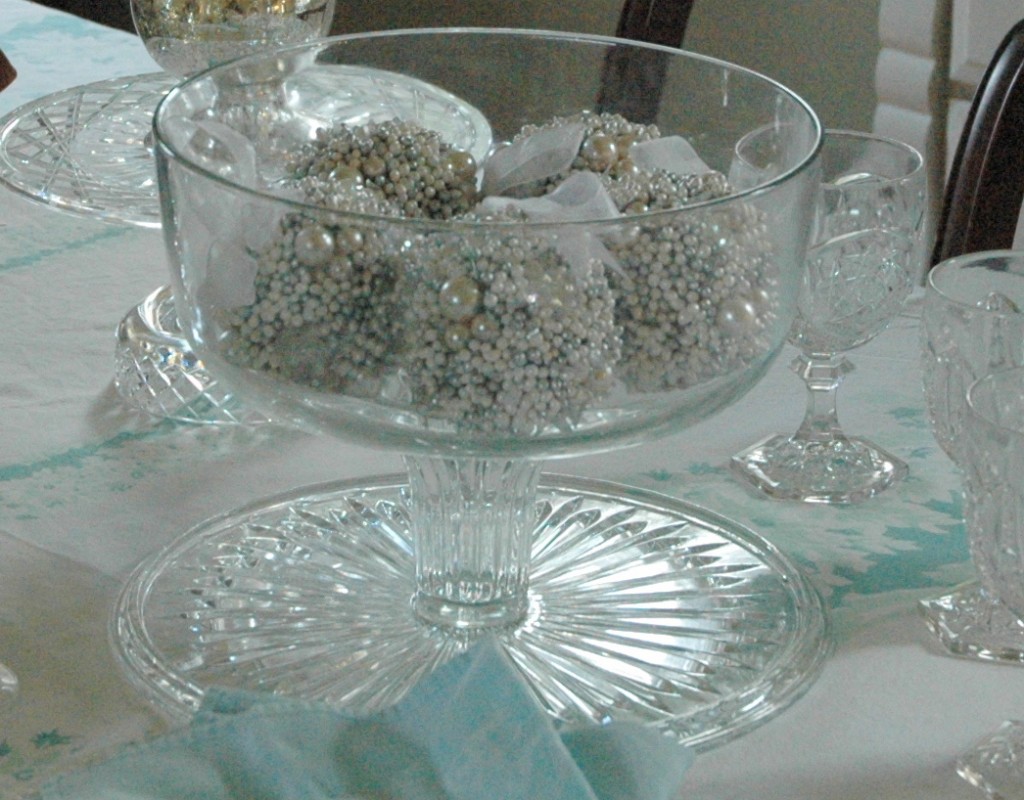 I found a bundle of vintage birthday candles at an estate sale – never used, still in the original packaging.  All for 50 cents.  Who else would want those but me?  But look at the cool retro graphics on these – the colors are so cool.  What a perfect way to show off a quirky grouping of things you love!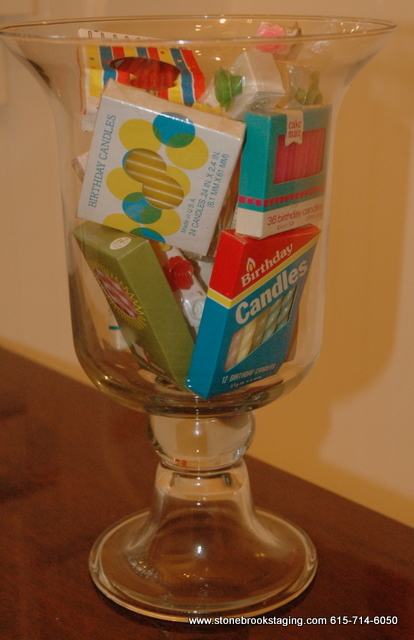 Display things that express what your family loves or enjoys to do.  How about a hurricane full of golf balls, matchbooks from favorite restaurants, vintage silverware, bird feathers, even billard balls for a pop of color?  My husband thought of a few more:  old bills, metal screws,  cigarette butts, and gallstones.  That's why I do the decorating around here.