What little girl doesn't like dolls?  I hosted this birthday party for my youngest's 6th birthday back in the summer.   A classic theme for a little girl, and I had almost everything I needed already in my own house.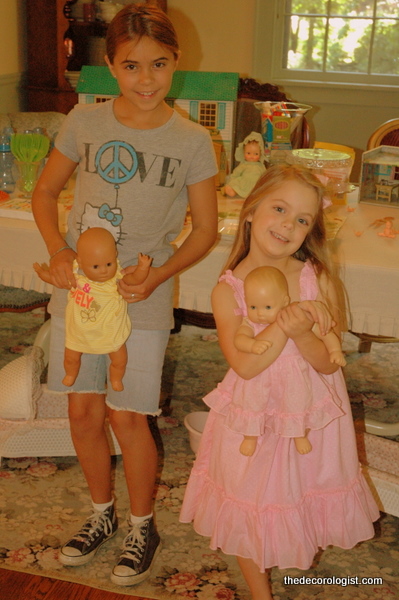 I decided not to be too specific about it.  You could go with baby dolls, Barbie dolls, paper dolls, dollhouses – or you could just invite them all to your party!  I was inspired by this retro-look paper doll set I had gotten my daughter last Christmas.  I decided to keep it sweet, innocent, and a little vintage (imagine that!).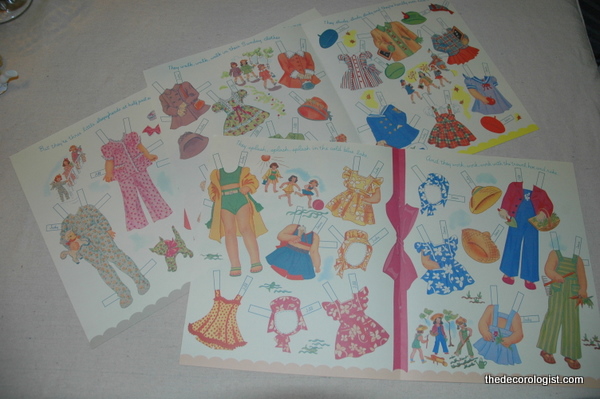 To make this invitation, I found an appropriate scene in a vintage storybook (by Eloise Burns Wilkins – LOVE her!), then I laid the print boxes over the top.  Vintage children's books are great sources for party invitations.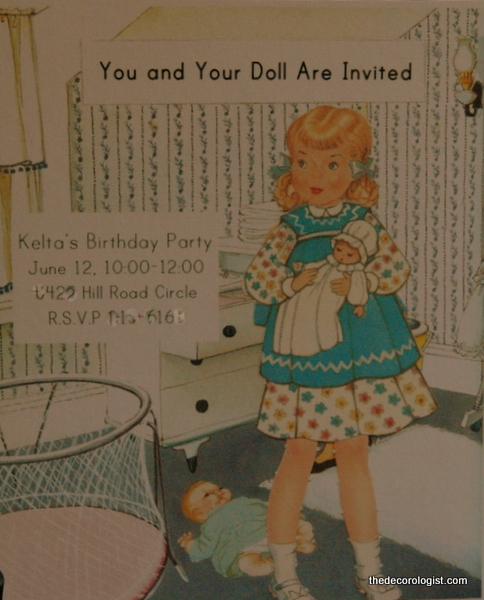 Here is how I set up the dining room.  I began by positioning a couple of vintage tin dollhouses on the table.  These dictated my color scheme, which was green, yellow, and blue.  I used my green Martha Stewart tissue paper balls from Michaels.  Still bummed Martha doesn't make these anymore.  And I scattered paper dolls and paper doll clothes across the tabletop.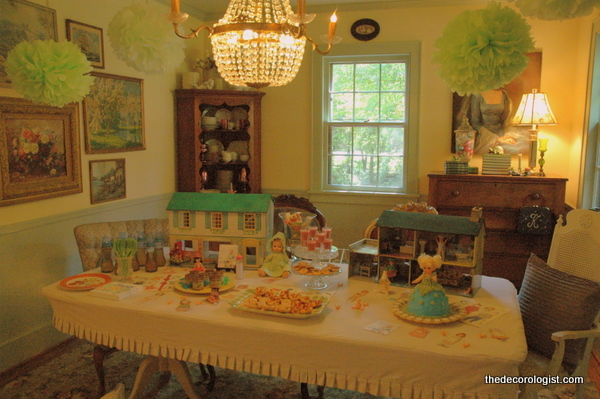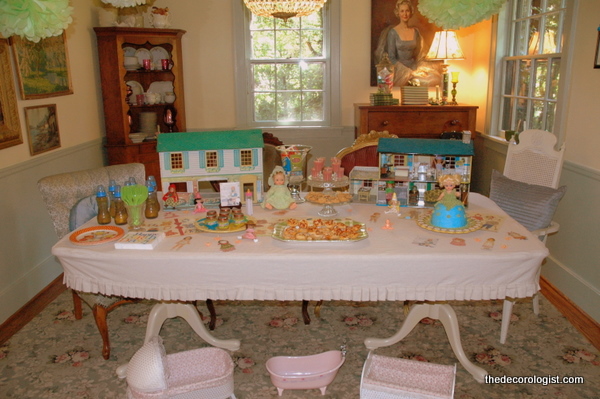 I used a few vintage baby dolls and my collection of  McDonald's Madame Alexander Happy Meal dolls.   For food, I thought baby and I thought miniature.  Babies love those butter cookies with the hole they can stick their finger through.  And baby food applesauce.  I popped some mini pizza bites in the oven and whipped up some strawberry smoothies for the mini doll-size parfait cups I snagged at IKEA for next to nothing.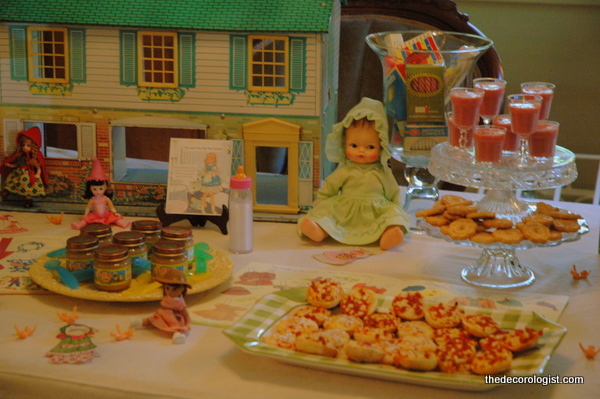 When I was in elementary school I dressed up as a baby for Halloween and had a blast drinking from a real baby bottle.  I bought baby bottles from Dollar Tree and filled them with apple juice for the kids to drink from.  I think that was the biggest hit of the whole party!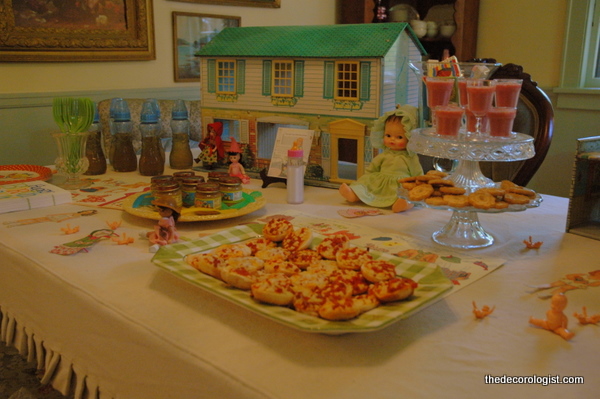 I had long saved some vintage Joan Walsh Anglund paper plates with little girls cutting out paper dolls.   Finally got to use them!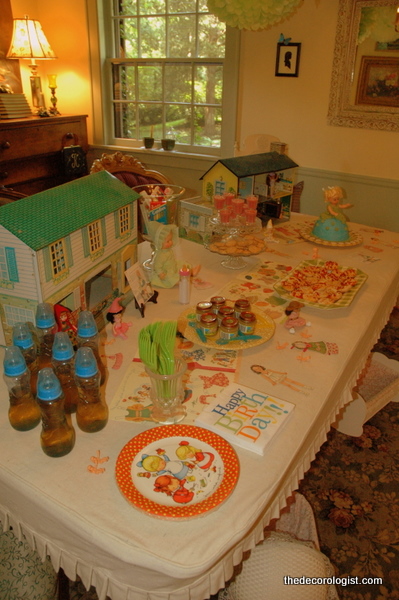 I have to say that this cake was absolutely darling.  I got the vintage-look half doll from a tissue box craft kit from Michaels.  The baby torso and head fit nicely on top of the cake made from a Pampered Chef batter bowl.  Her "dress" was super easy to decorate, and could have been done any number of ways.  Almost too cute to eat.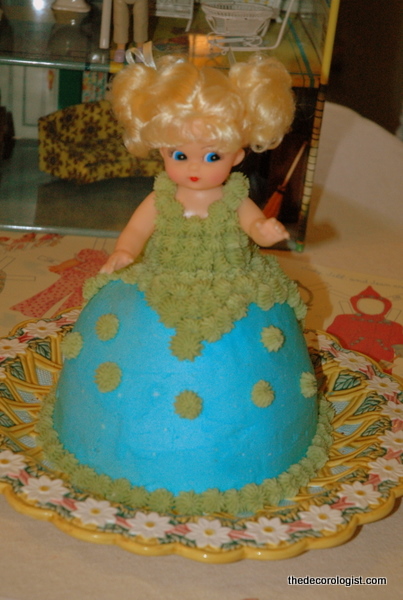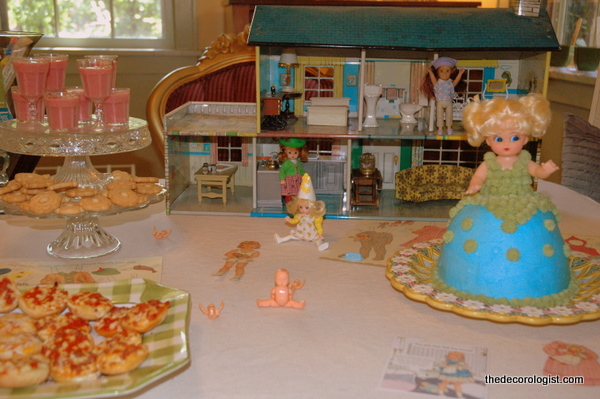 When my friend Cathy moved to Texas, she gave me these jumbo retro-look paper doll sheets she had gotten from the French Paper Co.  I used a few of them for awhile as wall art in my daughter's room, but I knew the girls would love to cut out these huge paper dolls at the party.  It was hard to see them cut up, but the girls loved having such large paper dolls.  The small ones are often difficult for little fingers to cut out easily.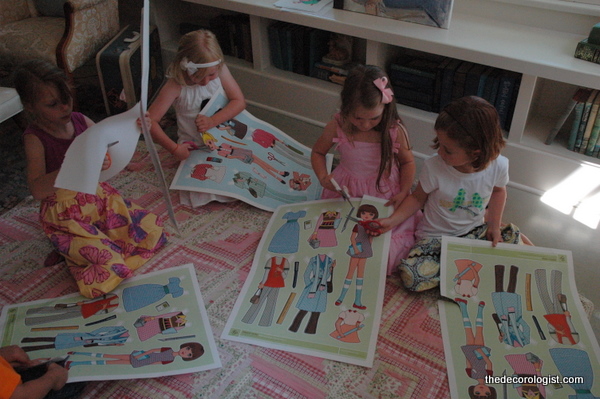 For another party activity, I printed out some vintage doll coloring pages I found online.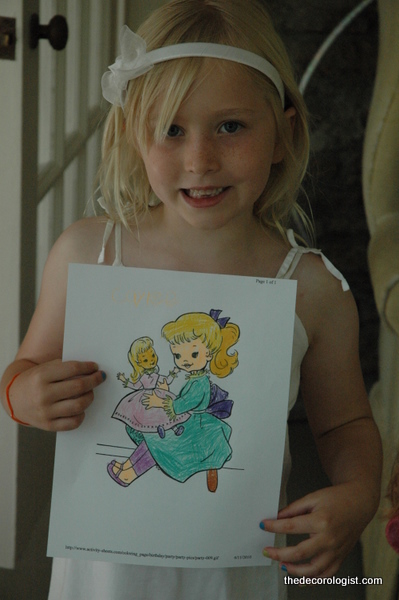 The one game we played was Crawling Baby Race.  The girls took turns racing one another down our hallway.  Pretty silly, but they loved it.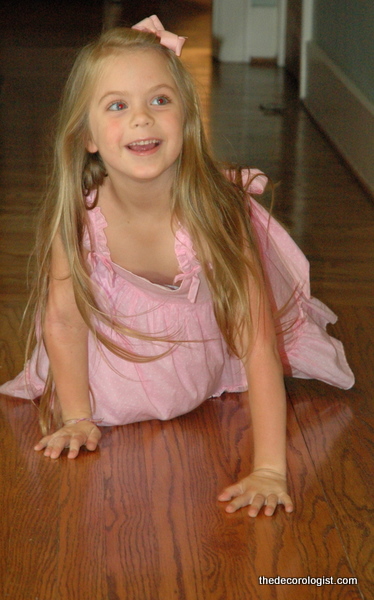 I spread out a quilt in the sunroom so the girls and their dolls could enjoy a picnic.  I made sure each doll had a chair of some sort to sit in.  I'm telling you, those girls LOVED drinking out of those baby bottles!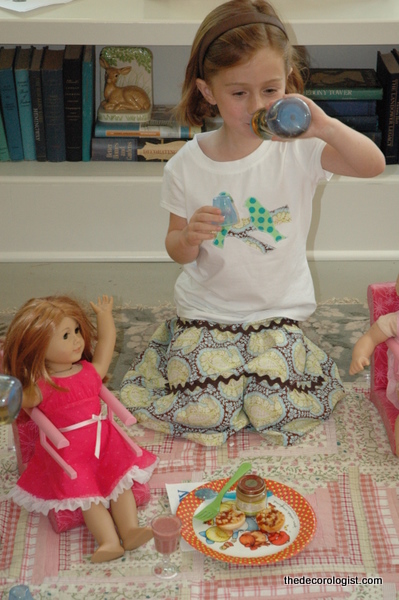 Tiny food rocks!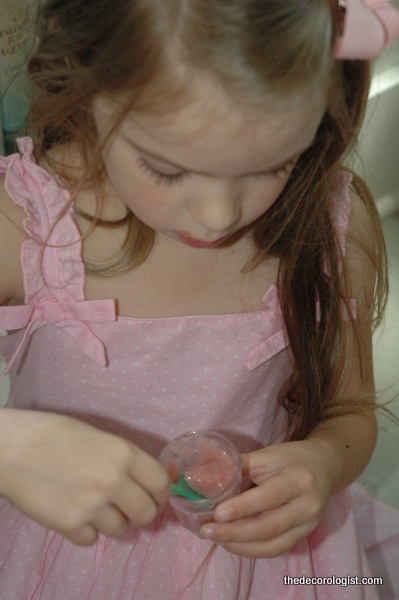 The girls went home with treats in these fabric goody bags I found in the Target dollar aisle.  I included a doll baby bottle from Dollar Tree,  a box of Sugar Babies, a sippy cup with 2 fat lollipops inside, a paper doll sheet from my collection of Mary Engelbreit's Home Companion magazines (they used to include a paper doll insert in every issue!), and a Madame Alexander doll that came out of a McDonald's Happy Meal.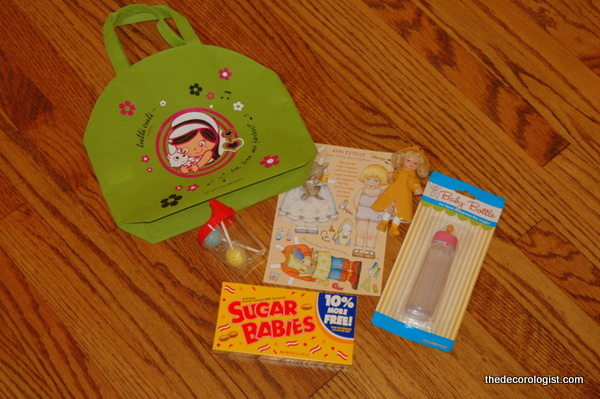 The girls and their dolls had a great time.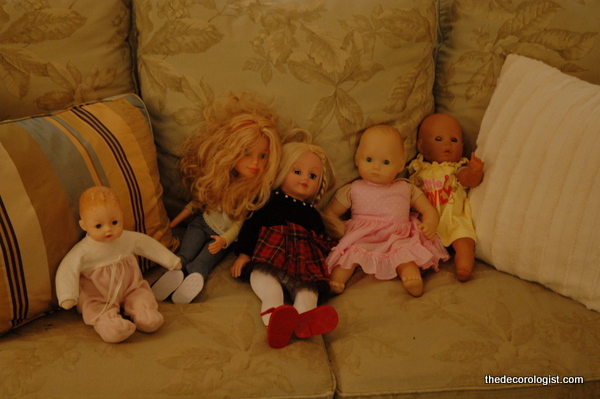 I think the Doll Birthday Party was a great success.  Happy day with sweet friends!