| | |
| --- | --- |
| Did you all have a fun New Year's Eve?  This year I hosted dinners with friends two nights in a row.  You might ask, how did I manage?  I served the same menu both nights, that's how! | |
| | |
| --- | --- |
| | I'll get to the menu – but first, let's talk tablescaping.  Here's an easy trick for a winter centerpiece:  First I took a winter wreath with lots of leaves and pinecones and the pedestal bottom of a cake stand. |
| | |
| --- | --- |
| Then I inverted the pedestal and rested the winter wreath atop it so the stand of the pedestal sticks up through the middle. | |
| | |
| --- | --- |
| | At this point, you can insert a cake dome upside down to sit in the inverted pedestal stand.  I filled my upside down cake dome with silver and white Christmas ornaments. |
| | |
| --- | --- |
| Since I wanted a winter forest theme, I topped the ornaments with another Christmas ornament – an owl made of natural-looking material. | |
My colors were white and blue, with some greens from the leaves and fake trees.   I wanted it to feel like a snowy winter forest, but not like a Christmas table.  I hung white Martha Stewart pompoms available at Michaels to give the impression of snow falling.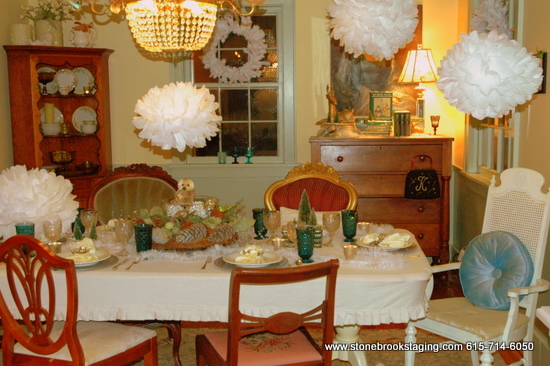 Crystal, silver, and snowy Christmas garland were added to suggest ice and snow.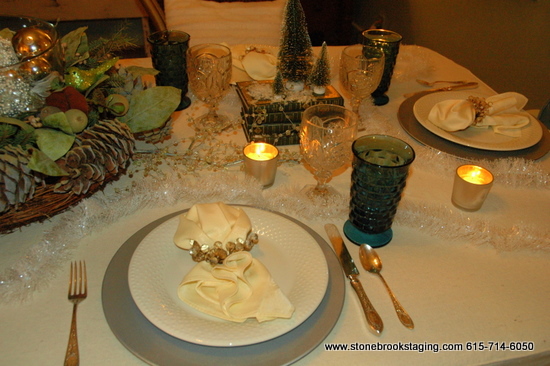 | | |
| --- | --- |
| I wanted the menu to be low-stress and fairly light.  I decided on Strawberry, Turkey, and Brie Paninis.  My guests helped me assemble the paninis:  White Mountain Bread from Publix, sliced strawberries, sliced turkey, fresh basil leaves, a slice of Brie, and red pepper jelly.  Sandwiches were brushed with butter and grilled on my George Foreman Grill.  Simply delicious! | |
We also had squash soup and croutons ready-made from Trader Joe's and a side salad.  For dessert, I baked homemade butter cookies and my Romanian friend, Diana, made a lovely English Trifle.  Very multi-cultural, haha! 🙂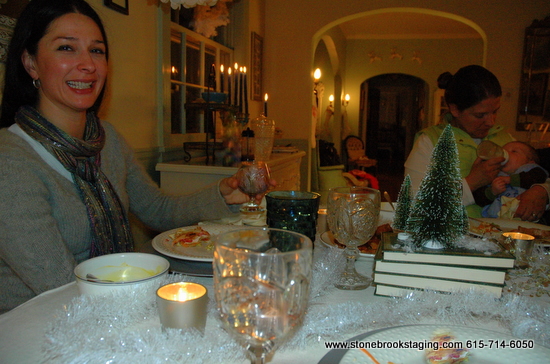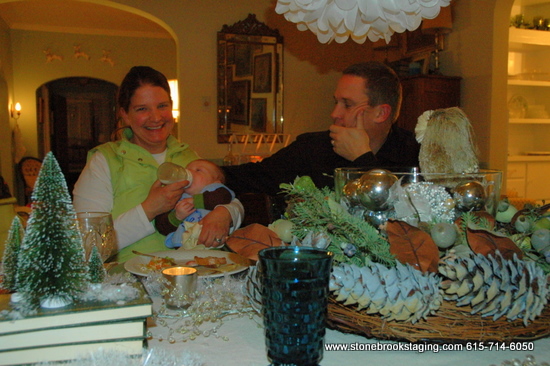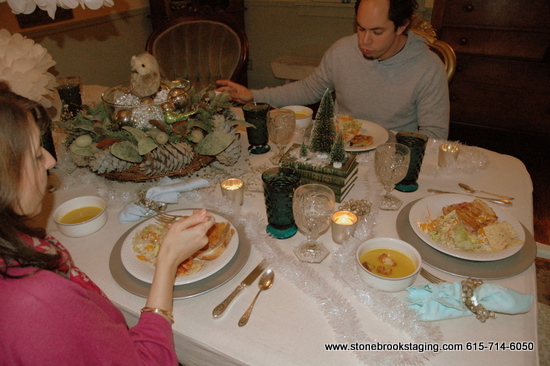 This dinner party and tablescape would work for any wintertime meal with friends.  A little imagination and inspiration can make an ordinary dinner extraordinary!
.
Share this Post