| | |
| --- | --- |
| A while back, I blogged about decorating the foyer or entry to your home.   But what if you don't really have a true foyer or formal entry to your home?  How do you create a sense of entry when your architecture doesn't give you a headstart? | |
| | |
| --- | --- |
| | Some of us have a mere landing strip when we enter our front door – but we can still make the most of that space by differentiated from the rest of the room it occupies.  |
| | |
| --- | --- |
| To make it feel like a true entry, you have to define the space.  Creating a vignette gives significance to the area.  Use a narrow console table, a lamp or two, a mirror, and/or a small entry rug.   A dresser, mirror, accessories, and a chair work well against this entry wall. | |
| | |
| --- | --- |
| | The entry to your home is not only a way station, but the mood-setter for the rest of your space.  Decide what mood you want to set, then carve out the space to make it happen.  This is a "before" of an entry of a home I staged last year.  Notice there is nothing to mark the entry or create a welcoming feeling here. |
Creating an entry required arranging furniture in such a way as to demarcate the area.  By turning the sofa perpendicular to the door, I was able to create a "hallway" effect as you enter the front door.   You could also create that effect with a open-backed bookcase.  The entry vignette consists of a small table with a few books and a plant, with a piece of art above it.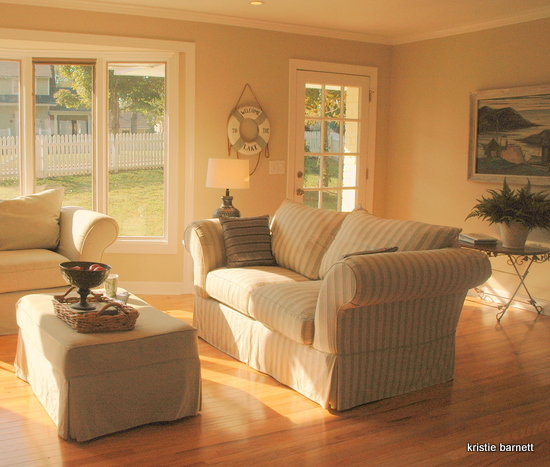 | | |
| --- | --- |
| A mudroom bench/hutch can create a partial wall to one side of your front door.  This gives you a place to pause and set down your keys and such as you enter your home. | |
| | |
| --- | --- |
| | Create a feeling of entry by painting or papering one wall.  This makes the entry space more important and differentiated from the rest of the room. |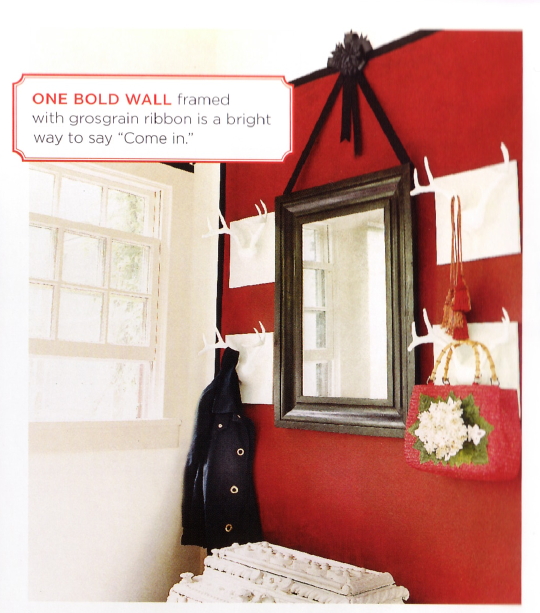 | | |
| --- | --- |
| Hang  one or two pendant or lantern lights to highlight the area, again differentiating the space. | |

 
There are times when it's worth doing something drastic to improve the entry of a home.  We lived in our current home for 7 years with no true entry.  We had a long, narrow living room and the front door sat at one end of it.  It always felt like you were just falling into the living room when you entered the door.  It never felt right.  3 years ago, we added a partial wall and archway to create a sense of entry and match the character of our home.  You can see we flanked the arch with sconces to further add character.  It's one of the best things we could have done to improve the flow of this house.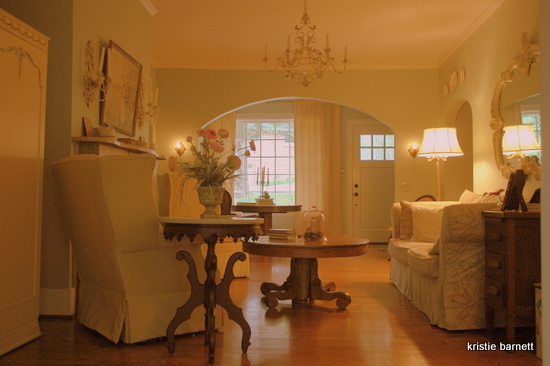 Photo Credits:  Domino (1,9) , Apartment Therapy, House Beautiful, Kristie Barnett (4,5, 11), No Ordinary Homestead, Veranda, Timberlake Lighting.