I'd like to think I'm a realist. And the last year or so? It's been a REAL kick in the pants.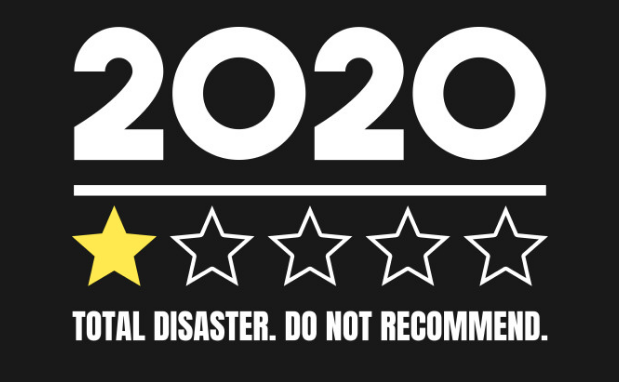 You probably know we bought a house the beginning of 2020. Well, actually it's more of a MANOR. Over 200 years old, with all the charm and all the problems you might imagine come with a property that old. But I was spellbound . . .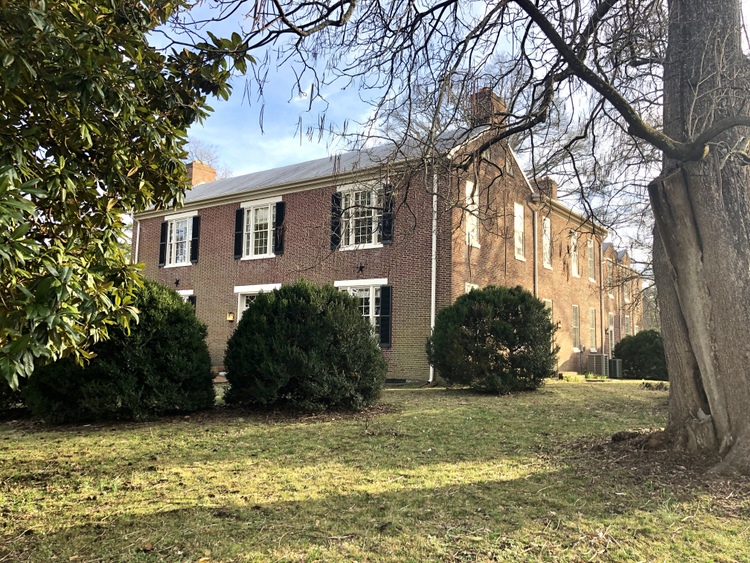 And hey, we save our pennies and were in a position to take on the challenge of purchasing and restoring Granbery Manor.  After 9 months of negotiating (with the seller AND with Mr. Man), we bought it – warts and all. "All" included the centuries-old and leaking metal roof, the 1939 plumbing that dripped more orange rust than it did actual water, a kitchen that can only be described as "charmingly rustic," and an interior that had barely changed in 80 years.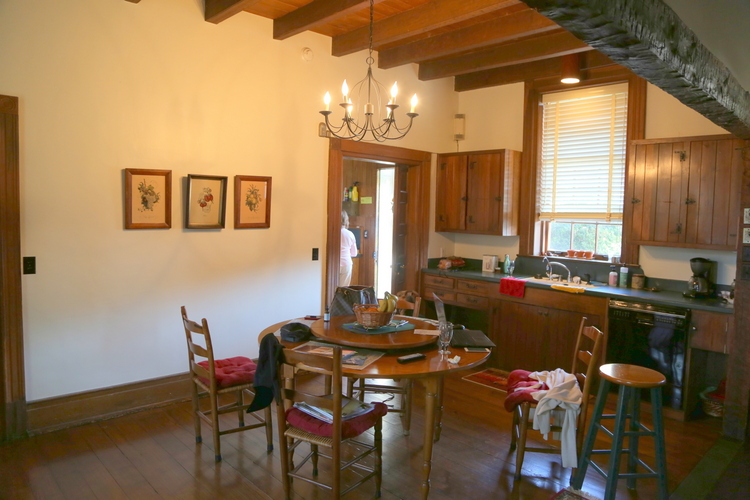 kitchen before
But I had dreams . . . dreams of a historically respectful restoration and modernization of the property that didn't include stripping it of its original features or charm. Dreams of making memories with friends and family, inviting guests and hosting events, and all other kinds of lovely ways to welcome community into this amazing house that had been all but hidden from its neighbors for a century.
But, you know . . . 2020.
Like everyone reading this, 2020 disrupted all of our lives in more ways than one.
The first couple of months of the restoration were ugly, but super-productive. We gutted the plumbing, updated electrical, remediated asbestos, and repaired/repainted the metal roofing.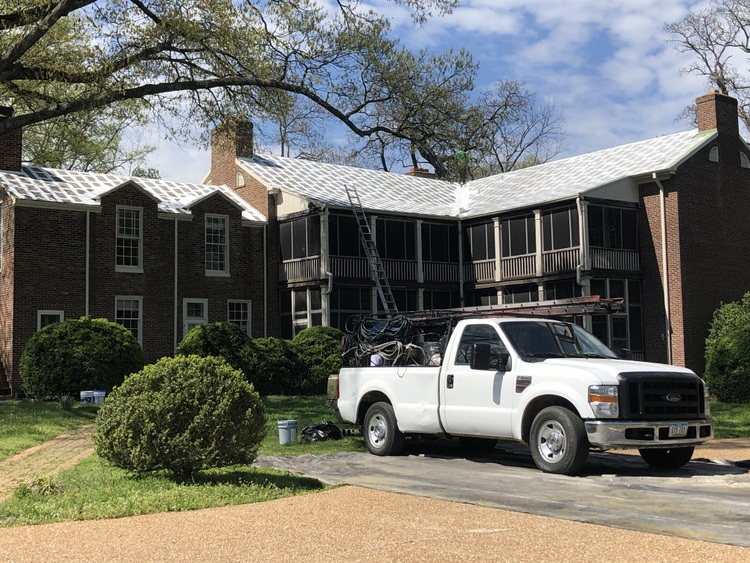 four metal roof leaks successfully repaired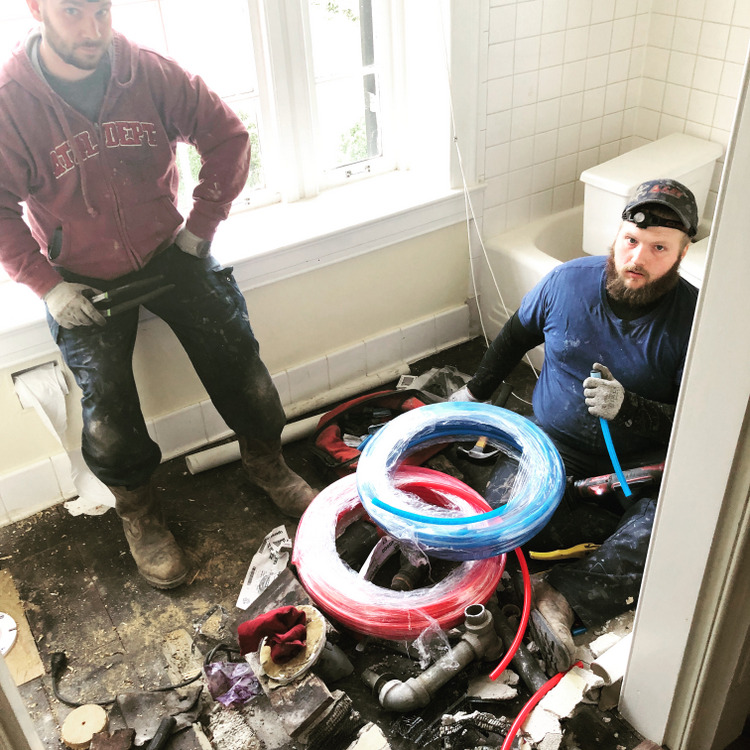 I even hosted my Expert Psychological Staging® course the first week of March in the one semi-finished section of the manor. We had one large room, an entry hall for serving lunches and snacks, a functioning bathroom, heat, and electricity. The rest of the house was in total chaos! That was a crazy undertaking, but it ended up being AMAZING. Days later, we were all in lockdown due to COVID-19. It was very fortunate that we didn't schedule that course one week later – we had women coming from all across the country to attend, and I was thankful it all went off without a hitch.
Expert Psychological Staging® "classroom"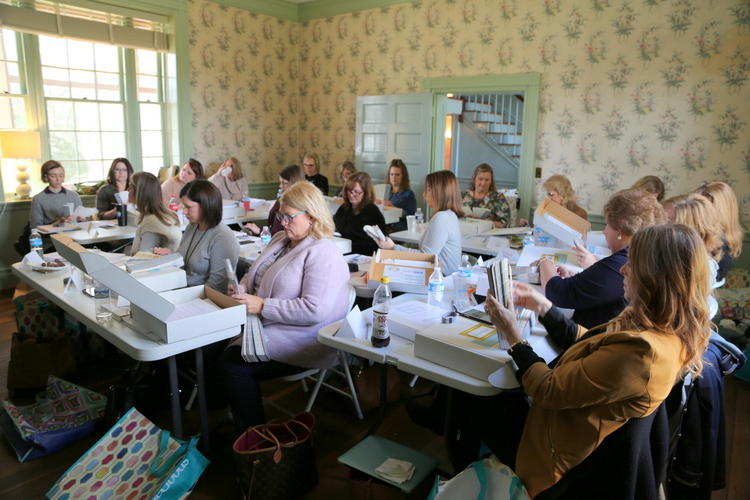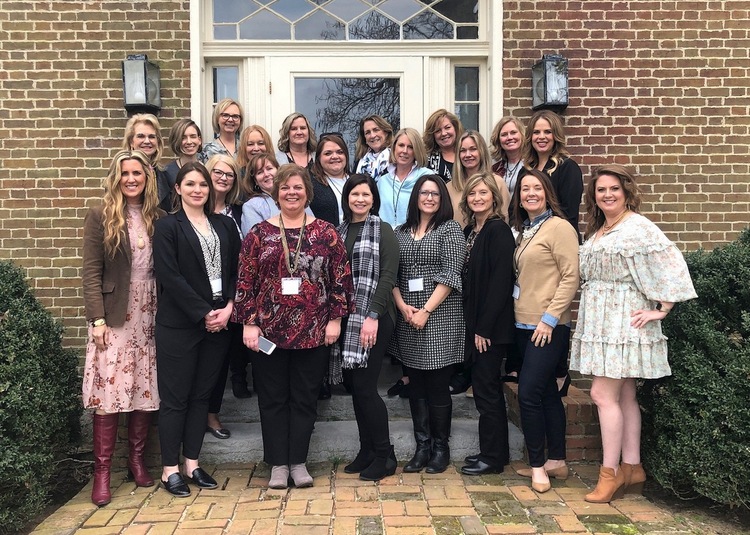 March 2020 EPS™ graduates
But once the lockdown began, the inevitable happened. Mr. Man runs a production company that serves corporate events. So the calls and emails began pouring in – client after client having to cancel their annual conventions and quarterly meetings. After a few weeks, every show on his calendar for 2020 was wiped away. The music and event industry has been shut down now for nearly a year, and many of our friends have been without work ever since. 2021 isn't looking like it'll be much better.
Did I mention we just bought a big ole 1807 money pit???  The upside is that we had plenty to occupy our time while everyone was binge watching Netflix and taking long afternoon naps. We took on the task of stripping wax, staining, rewaxing, and buffing every square foot of hardwood flooring. All by hand. It took a few weeks, but we saved a lot of $$$ doing it ourselves and hey, what else did we have to do?
Because the building and remodeling industry was deemed essential, we were able to continue with the restoration of Granbery but scaling back on the scope of what we call "Phase 1."  The whole interior was repainted in glossy historic enamel and I designed our charmingly rustic kitchen so that we could move closer into actually moving into the house.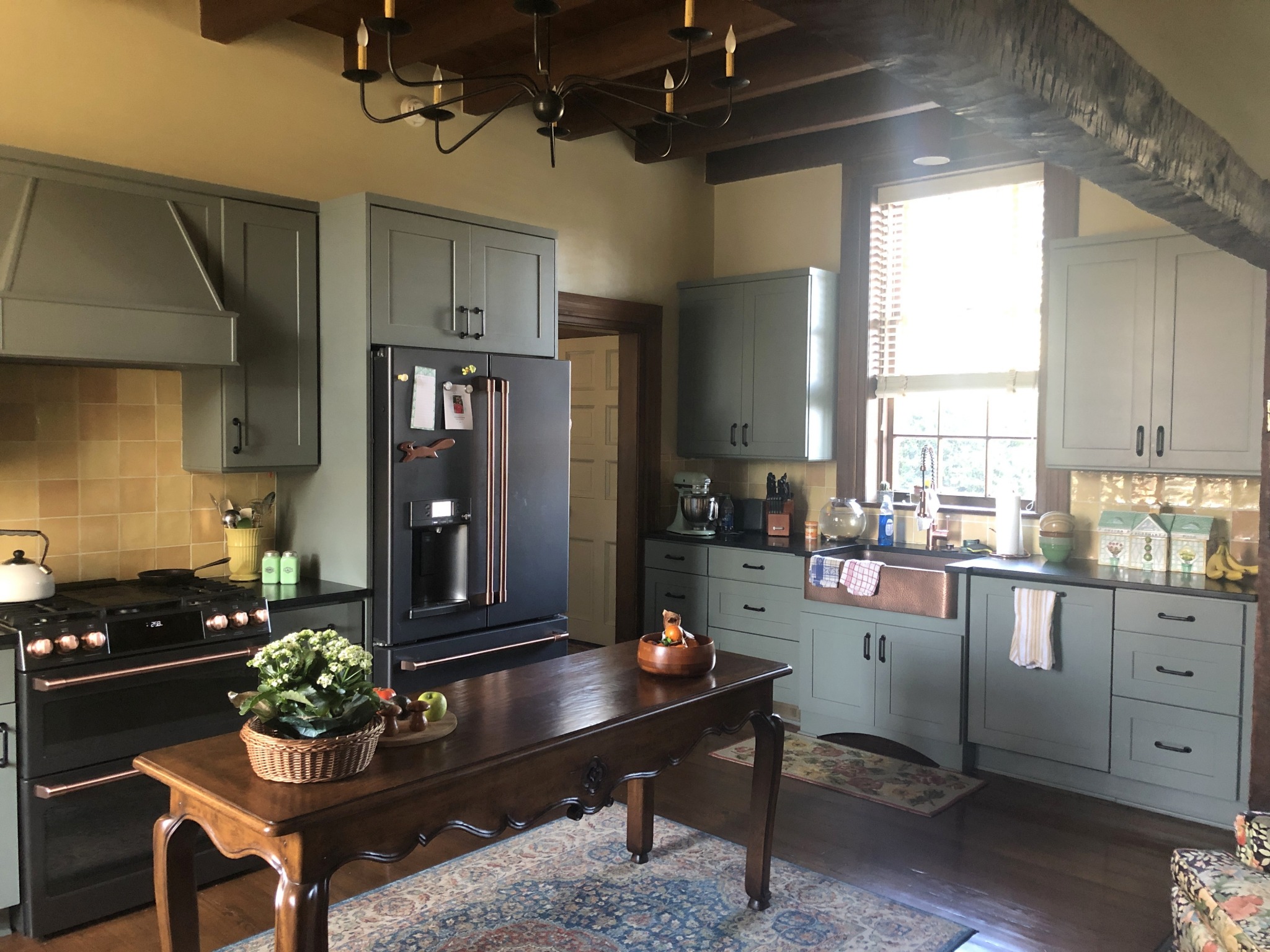 completely unstyled "after" photo of our kitchen
We installed additional bookcases in the library and middle hall, and had 3 rooms repapered (due to water damage or the replacement of plumbing) in historically-appropriate, swoon-worthy wallpaper and additional bookcases to match the original added to the library and center hall.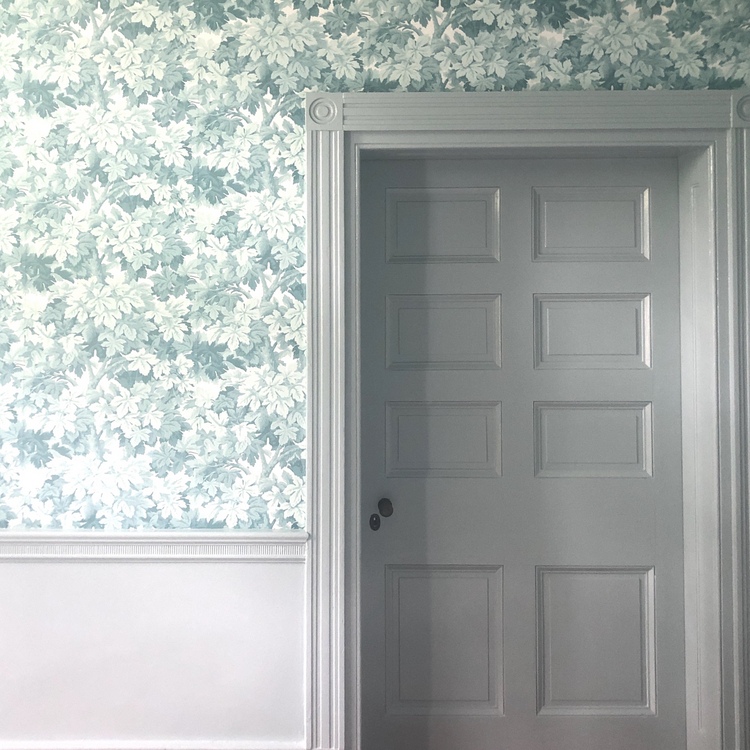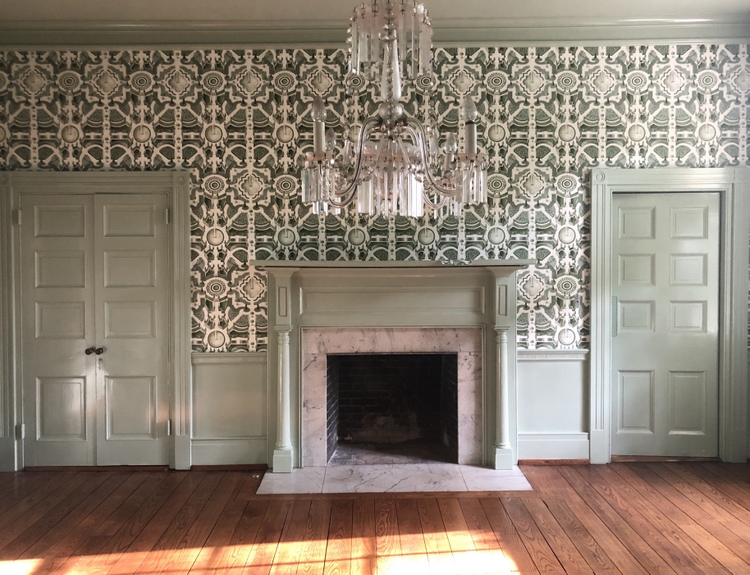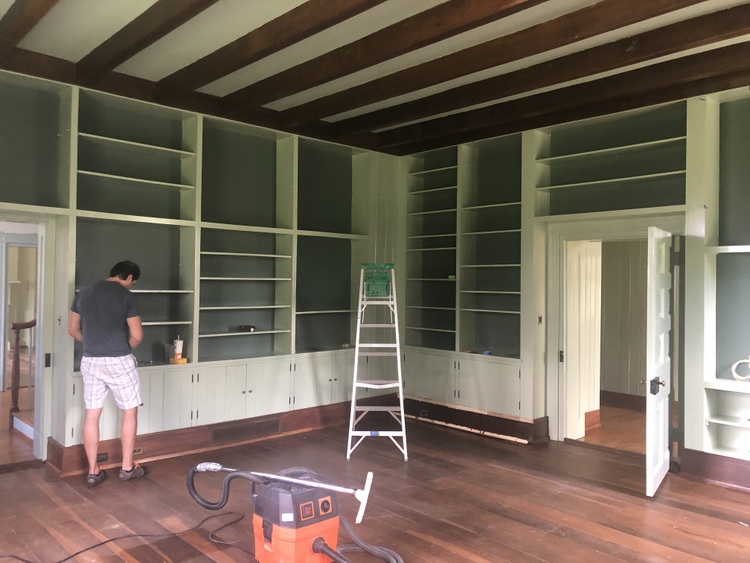 You can check out lots of videos of the restoration on either on Instagram (IGTV) or my YouTube channel.
I continued to have work coming in, as the real estate market actually surged, staging occupied homes and short-term rental properties.  I also did a lot of interior and exterior paint color consultations (much of them online and long-distance). It seems like EVERYONE grew sick of their home in short order and decided to use the time at home to make their environment more beautiful. I totally get that!  And, I was grateful for the work even more as Mr. Man had to "pivot" to keep his company afloat and his people employed at least part time.
Our older daughter moved home from college, so we were blessed with lots of family time we didn't expect to have with both our children. We held a moving sale at our former home, then moved into the new old house in mid-June. Because it is literally two streets over, we made the transition over a 3-week period instead of all at once.
Although that drug out our move, I was able to unpack and decorate as we went so that at the end, everything was pretty much put away and in its place.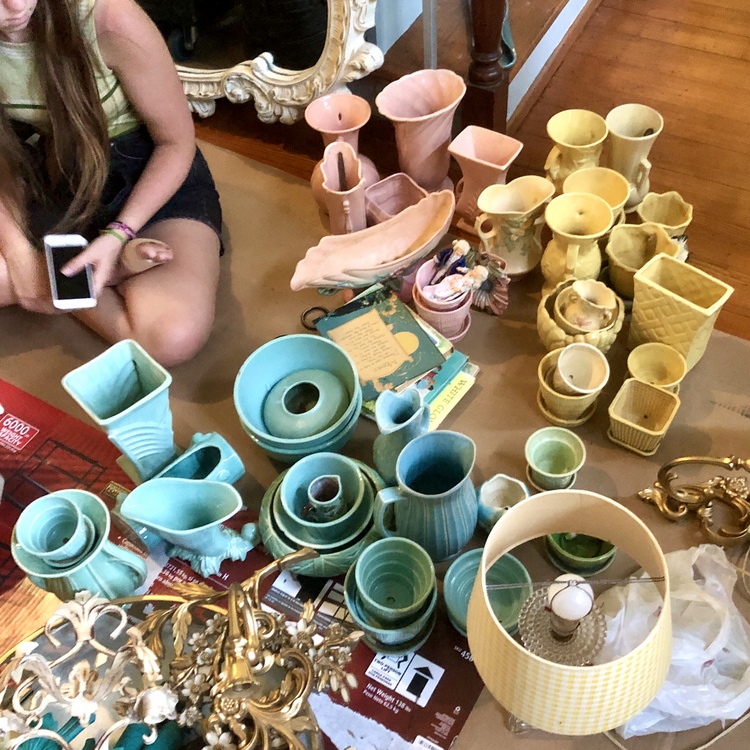 Then we cleaned, repaired, and painted what was needed to get our former home on the market. We were blessed that it was under lease in a matter of hours.
In July, our daughter got engaged to the wonderful young man she adores. In the fall, she went back to college and he moved into the log cabin in our backyard. It's been good having him around (and to lure her back home more often on the weekends). Despite the chaos in the world, we've been planning an outdoor wedding in April and all that goes with that.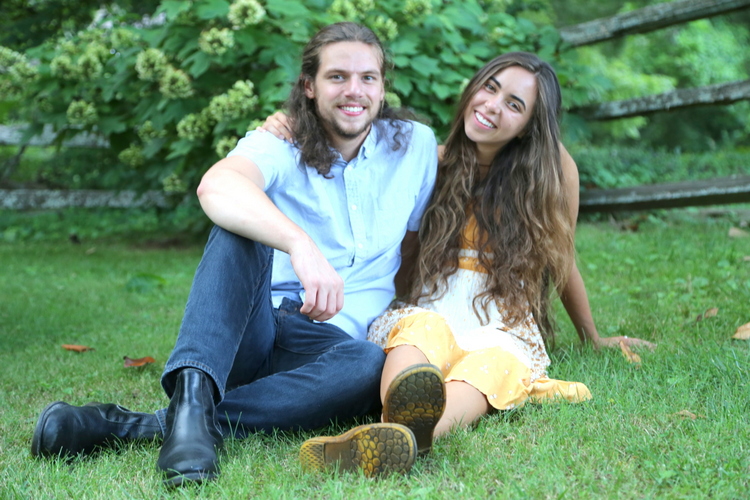 awww, young love!
Although I realize how fortunate I am to have family to hunker down with, I've had a difficult time emotionally with the social isolation of this year. I get energy and inspiration from being around people, and it is just awful to not be able to see people's faces and read their expressions. I've missed all the things. Getting together in groups, going to church, learning and growing with others, and talking/hearing about things other than the virus and politics. And although I've had a lot to do and accomplish, I've had to fight to maintain my motivation and remain upbeat. I rarely sleep through the night anymore and I've been exhausted much of the time, even when I've seemingly done so little. And while I haven't been motivated to cook, I've still managed to gain weight . . .
I've been blogging since 2009. In the early years, I blogged three times a week. That has slowed considerably over the last few years. This year? Well, it was all I could do to get out a handful of blogposts.
While isolated from real life, we've all had more time to be a bit overexposed to online life (which often isn't very real). I've found myself becoming somewhat paralyzed – overanalyzing every blog idea or social media post (to the point of not posting at all), comparing my success to others, and buying into the facade of what I'm seeing on Instagram and FaceBook.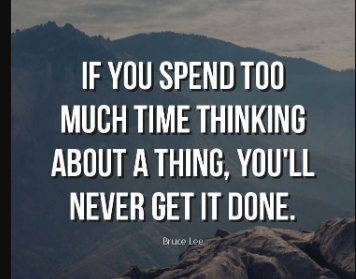 I don't have a large team of people or a marketing department – so EVERYTHING feels personal, and I'm too often psyching myself out. I question whether I'm still relevant or if blogging is still worthwhile. I've had several conversations lately about how this isolation affects different people in different ways.  It can be comforting to withdraw for a period of time to get grounded and recharge. But over time, some of us become increasingly fearful to ever re-emerge, while others of us become despondent over the lack of interaction in a non-technological, human-to-human way.
Speaking for myself, I've learned that when I'm in the midst of people and activity, I'm inspired and motivated. When I'm isolated, I become mired in self-doubt and lack of purpose.
I'm a Personality Type 3 with a 2 wing on the Enneagram, if anyone can relate . . .
When I look back now, I see that I did manage to move forward in 2020, regardless of what I've been feeling. Working with clients is what continues to bring me the most career satisfaction. Throughout the year, I was able to present 14 webinars on specifying paint color to professional stagers and designers via Zoom.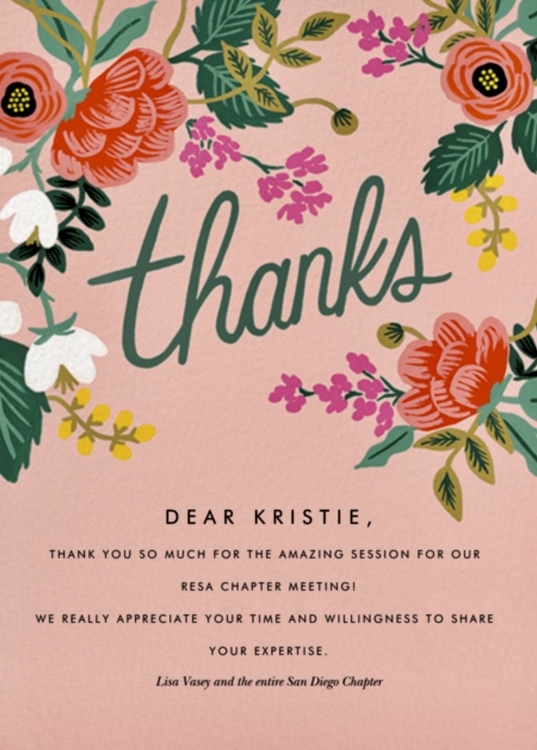 My Psychological Color Expert™ course has been well-received since launching in the fall of 2019 and was even named a 2020 RESA® Innovative Product or Service of the Year Finalist!
I always enjoy attending industry events, but of course, this year there were only a few online things to attend. It just isn't the same as getting to be with people and interact face to face. Despite missing those in-person activities, I was named one of the 2020 Most Influential People in Real Estate Staging and was recognized by IAHSP for Industry Leadership, Staging Excellence, & Customer Care.  Other awards included RESA 2020 Top 10 Redesigner of the Year, FIXR 2020 Top Design Influencers, and Build's Home & Garden 2020 Home Staging Specialist.
I have been teaching my Expert Psychological Staging® course live since 2014 and even before COVID-19, I had already been planning to convert it from live to online for two reasons. There always looms inherent uncertainties in the logistics of hosting a live training, when people travel to attend from across the country. My biggest fear is WHAT HAPPENS IF I GET SICK? One bad stomach virus would be a major disaster for one of the events I spent 3 months preparing for! The other reason for moving to an online format is because of the frequent requests I get from people from across this country and even overseas who want to take the course but (for whatever reason) can't travel to Nashville to do the training in person.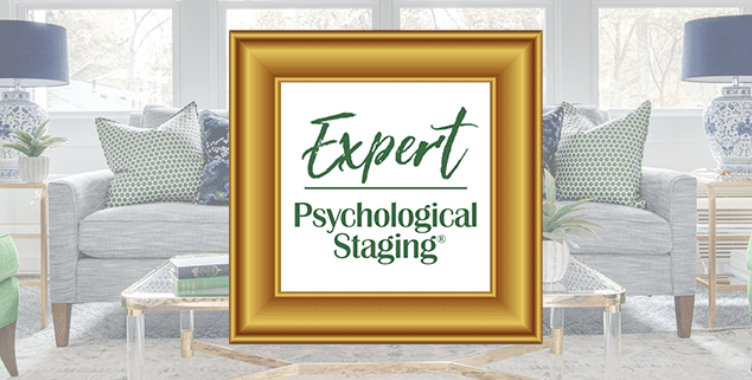 In addition to restoring the new/old house, working with clients, and planning a wedding, my main goal of 2020 was getting my Expert Psychological Staging® course transferred online. It took 9 long months to create a learning experience that would live up to my in-person course, plus we had to virtually rebuild the website to make that work! I was thrilled that the system I developed, Psychological Staging® was awarded a registered trademark by the United States Patent and Trademark Office near the end of 2020. This was timely, as we formally launched the professional course the first of February 2021 and the response has been GREAT! Here are a couple of reviews we've already gotten on the Expert Psychological Staging® course:
"High quality content, deliverables, information, and formatting. This was the most "hands on" online course I've ever taken. Honestly feel like I learned more from this than I would have in person given the ability to stop, rewind, speed up, and other features to go at the learning pace best suited for me. Furthermore, despite all the other million things Kristie probably has going on she was highly accessible and so quick to communicate back to me with any questions or issues I encountered. Truly wasn't expecting her to be so hands on and involved especially with remote learning! I've waited years for this to be offered online and it was everything I hoped it would be and more. Unlike so many other courses, the material is on quality COLORED paper with quality (hand made!) samples and other extremely useful tools. By far the best certification class I've taken to date."

– Julie M.
"I've just taken Kristie's online EPS course, and cannot rave enough! She is a fantastic instructor. I am in the beginning steps of learning all about staging, so I was definitely looking for an in-depth, complete overview, and her course was all that and much more. She covers not only the design, emotional, hands-on aspect of it all, but even the layers of the business portion which is priceless. I'm so happy I heard about this and took the class. I would highly recommend this to anyone wanting to further their path in the staging world."

– Cindi L.
I hope some of you are now able to take the course and become a part of the ongoing mentoring program I offer. Please take a moment to check out what this RESA-accredited course offers! Actually, the Expert Psychological Staging® and the Psychological Color Expert™ courses are a perfect pair. If you'd like to take both, I offer a special discount for purchasing them both at once (you can get that offer here).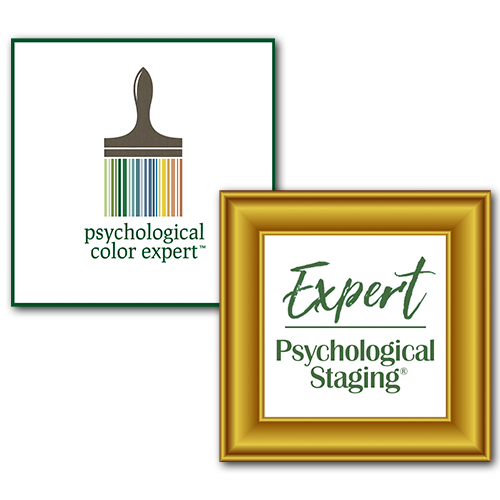 We're currently iced in here in Nashville (like many of you!), and I've have had to cancel all my appointments for the week. As I write, cold air is streaming through the single panes of the huge picture window behind my sofa (because reglazing windows, adding storm windows, and restoring seven inoperable fireplaces had to be nixed from Phase 1). But my refrigerator is relatively full and the electricity is on, so I'm not complaining! Maybe I'll get out and sled tomorrow.
Friends, I am hoping and praying for a brighter, more hopeful 2021 for us all! My main goals are growing deeper in my faith, enjoying my family, reconnecting with friends, and mentoring many more home stagers and paint color consultants in 2021.
And adding insulation and storm windows by next winter!