As much time as I spend helping clients choose new furnishings, I rarely buy them for myself. Part of the reason is because I like to decorate my 1939 stone home in period furnishings, so that means lots of flea market and estate sale finds rather than brand-new retail-type furniture.  But when I saw this amazing tufted sofa at Merridian a few months ago I simply had to make it mine!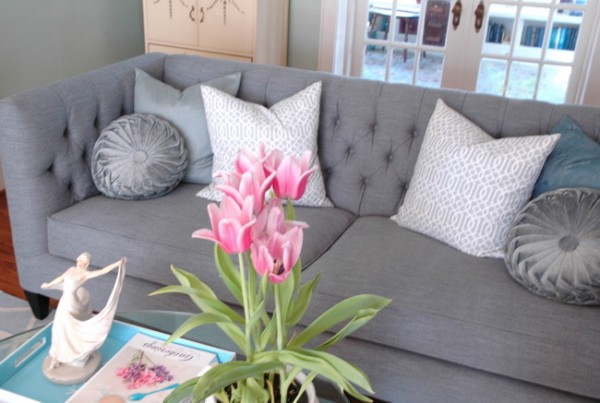 Tufted Sofa from Merridian Home Furnishings
Of course, it wasn't in this fabric.  It was in a lovely yellow velvet in the store, but velvet gives me the heebie-jeebies to sit on.  I love the look of velvet, but for some odd reason I can't stand to touch it – so no velvet sofas for me.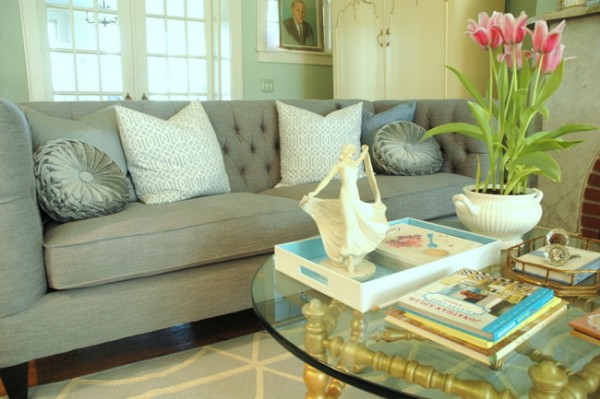 blue velvet would have been lovely, but . . . 
Instead I chose this grayed-blue upholstery that I recently spec'd for a client's sofa pillows.  I knew this color would work well with my minty green walls and my butter yellow furniture.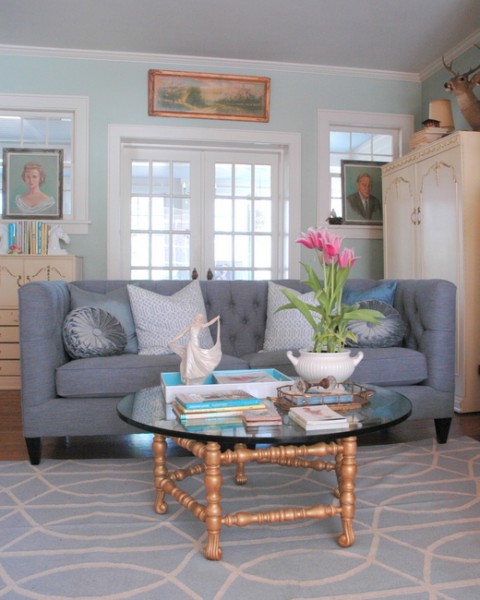 blue tufted Bernhardt sofa
Because I LOVE color so much, I have a tendency to go a bit batty with lots of color in my own home.  I was feeling the need to pair down the color palette in my living room a bit, so this is a good balance of colors for me:  shades of blue, the minty green, and butter yellow.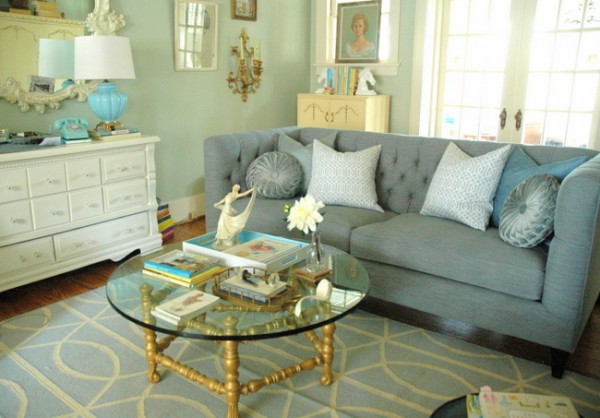 can you tell I really love my new sofa??
After ordering the sofa from Merridian, I also purchased a contemporary rug from Dwell Studios for half price.  This is as contemporary as you've ever seen my house, right??  It really does make the room feel fresher and younger (I could use that myself!)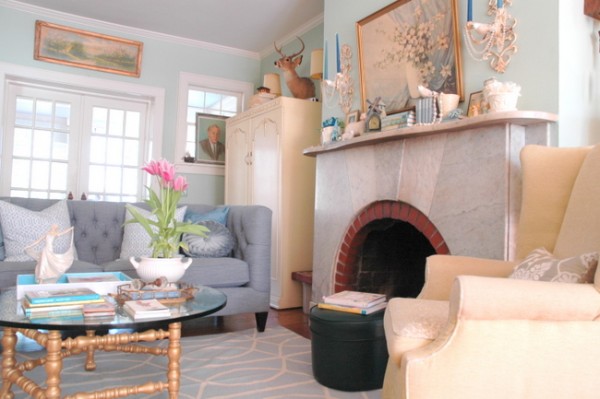 yet another angle
Remember those turquoise lamps I snagged at Bella Rustica last year?  Now they look great in this room.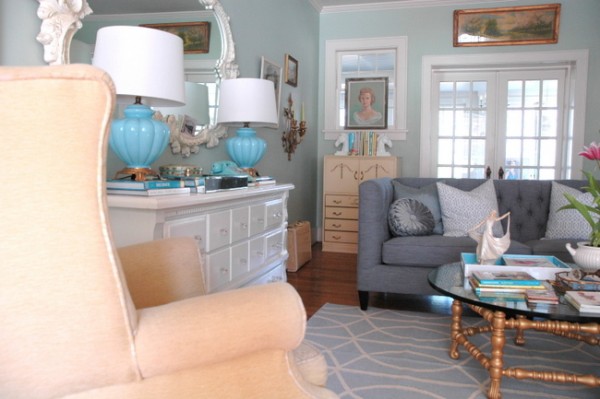 Not only is the new blue tufted sofa beautiful, it's so comfortable and incredibly well-made.  And it looks nice all the time – the last sofa I purchased had down cushions that tormented me into fluffing their squished selves every time someone sat on them.  The cushions of this sofa are firmer, but more comfortable to sit on for long periods of time (like right now as I write this post).  A sofa is typically the largest and most expensive piece of furniture in your living room, right?  Never doubt that it sets the tone for your entire space, and its size and style can make or break a great living room.
Subscribe to my emails for information about an upcoming workshop I will be offering in early May at Merridian Home Furnishings  (2711 Franklin Pike, Nashville) about arranging furniture/accessories and choosing just the right fabrics and upholstery for your space!  If you want to learn more about how to choose the right paint colors for your home, check out my Color Workshop Video.