After months of hard work and inspired design, the Nashville  Southern Living Idea House  is officially open to the public!  I was honored to be invited to a preview showing last week with a selected group of successful bloggers from the area.  The concept?  Southern style and historic tradition.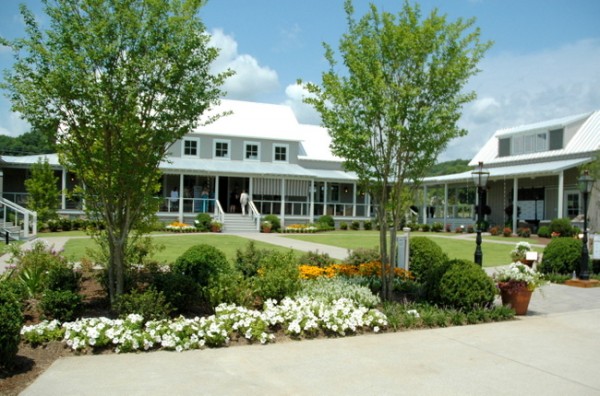 The Southern Living Idea House at Fontanel, Nashville 
This Southern Living Idea House (the third one for Nashville) is more of a complex than a single home – it's a farmhouse that connects to several small guest houses, or "bunkies," by covered porches for easy access in all weather conditions.  Built by Nashville-based Castle Homes, the main house boasts a large barn-like living room.  Rustic ceiling beams, sliding barn doors, and dark wood floors and entry doors are softened with lots of patterned fabrics and upholstery, happy greens and blues, and white-washed wood slat walls.  Unfortunately, we weren't allowed to photograph the main house before the interiors are showcased in the August edition of Southern Living magazine.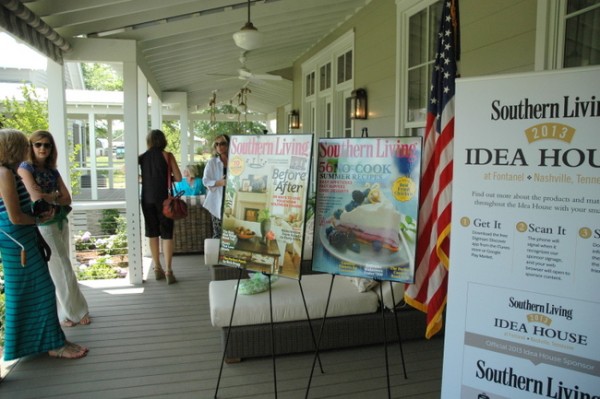 I was able to photograph other parts of the property including the surrounding porches and guest rooms of the beautiful Idea House. Southern Living editor, Lindsay Bierman, and interior designer Phoebe Howard, took us on an exclusive tour of the home.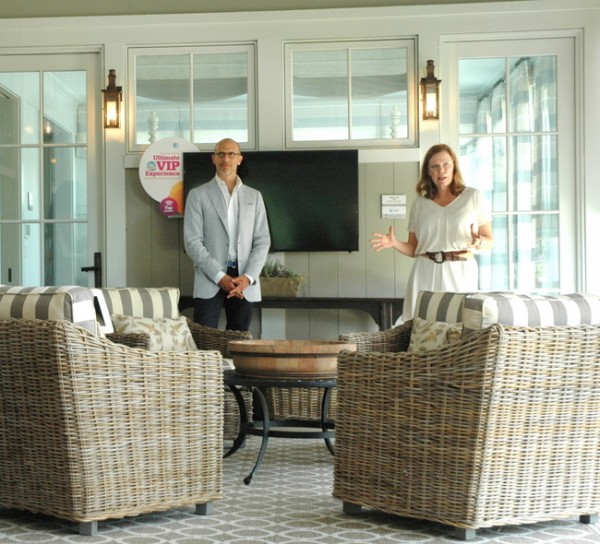 Lindsay Bierman and Phoebe Howard 
The porches were designed with furnishings from Ballard Designs, one of my favorite online sources for furniture and accessories.  The property will ultimately be used as a bed-and-breakfast and a venue for weddings and other events.  It's already scheduled to host the Biscuit and Jam Concert Series this fall.  Here's a shot of one of the fabulous guest suites: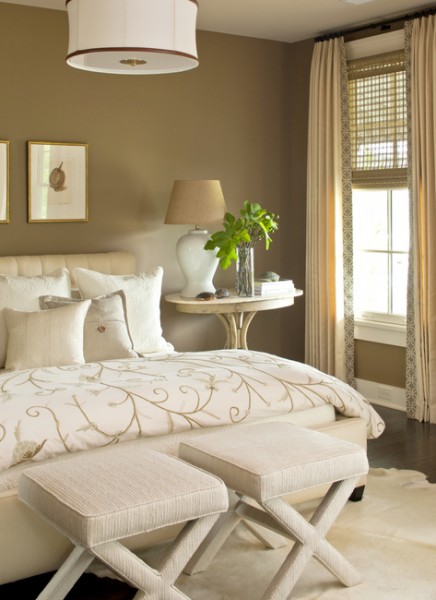 Southern Living Idea House Guest Room – photo by Laurey W Glenn
For those who didn't know, the Southern Living Idea House is located on the property of Fontanel, former home of country music legend, Barbara Mandrell.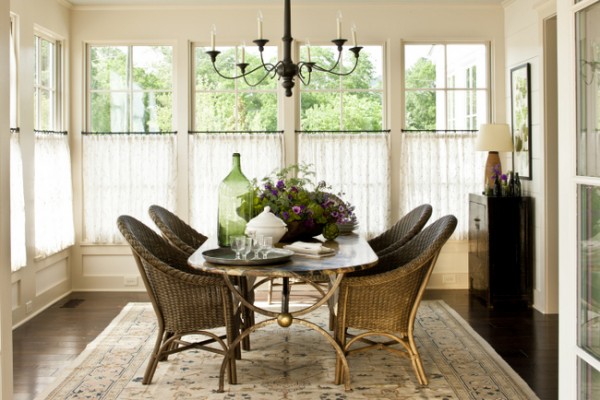 Dining Room by Phoebe Howard – Southern Living, photo by Laurey W Glenn
Barbara Mandrell's daughter, Jaime Dudney, and sister, Louise Mandrell, dedicated the Family Rose Garden yesterday at the Southern Living Idea House garden.  The gardens are an important design element that complements the beautiful interiors, as Southern Living magazine has always been known for its coverage of exquisite gardens and landscaping.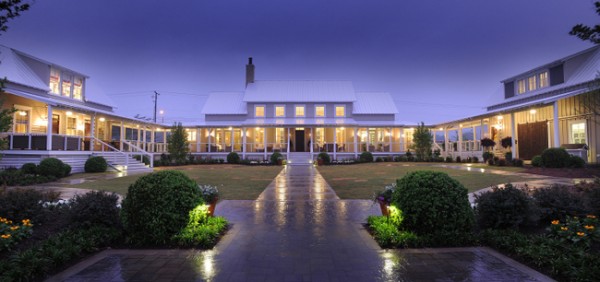 If you live in the Nashville area, you really MUST tour this home.  It's open Wednesdays through Sundays from 9:00 a.m. until 3 p.m. until December 29th.  Tickets can be purchased on site for $12, a portion of which will be donated to St. Jude Children's Research Hospital.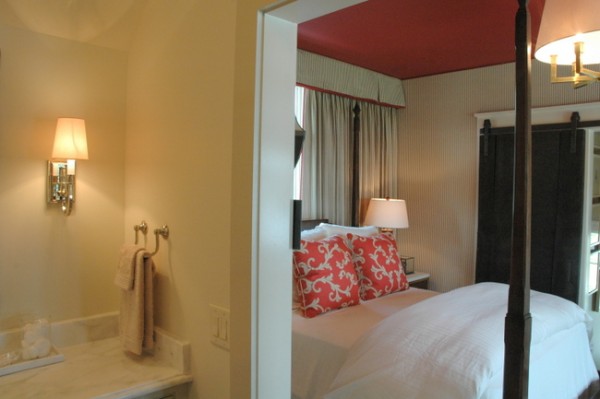 The Southern Living Idea House is located at 4133 Whites Creek Pike in Nashville.  Not only is a gorgeous site, but the drive there is lovely as well!  If you can't make it, be sure and pick up August's edition of Southern Living Magazine where the home will be featured in detail.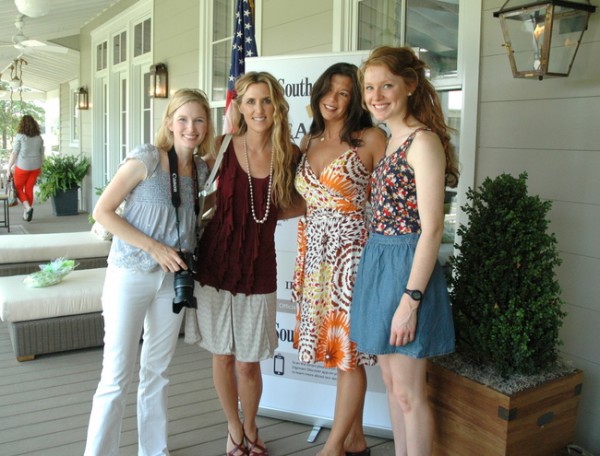 Blogger Linsey Hasenbank , me, reporter/blogger Angela Folds, and design intern Laura King
In the meantime, stay tuned to The Decorologist – I've got lots more to share about the design trends and paint colors I spotted at the Southern Living Idea House at Fontanel.  Later in the week, I'll share Phoebe Howard's insight into her beautiful designs for this space.  It was such a pleasure to get to meet her in person and to receive a signed copy of her book, The Joy of Decorating.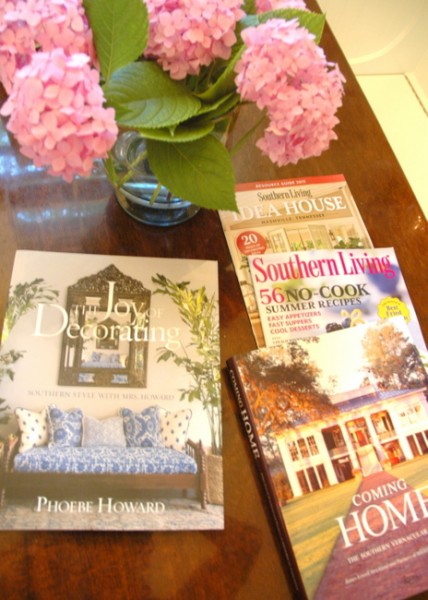 there's no swag like design swag!
To find out how I was involved in a previous Southern Living showcase home in Nashville, read my post about that here. 
All photos without photo credits belong to Kristie Barnett, The Decorologist.  You are welcome to use them provided you give proper credit.