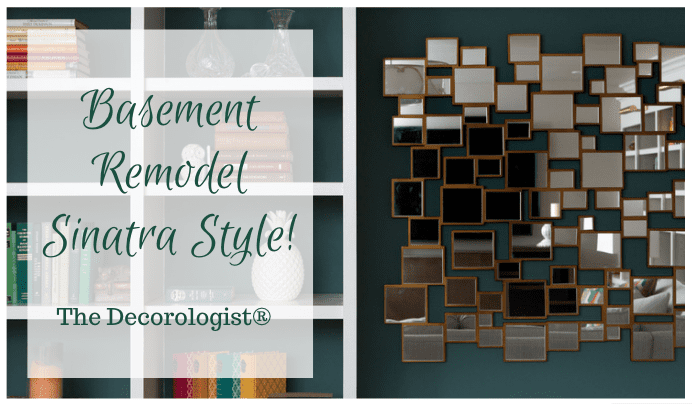 When my client first asked me to help her with her basement remodel project, my mind went to the typical requests for a dark media room with theatre seating and a ginormous movie screen . . .
After all, the basement had no windows. No, not even one!
Then she told me this space would be all about entertaining (like, real entertaining – not just watching movies),  She and her husband wanted a space to play cards and games, watch movies, host wine tastings, and display books, albums, and their favorite band posters.
My wheels began turning, and what kept coming to me was . . . Frank Sinatra. Not so much Frank himself, but a place where Frank might like to hang out with his glamorous friends. A place where you could dress to the nines, but feel comfortable enough to kick off your high heels and relax with your guests. Where you could lay down some vinyl, play a few rounds of canasta, and laugh at your crazy pal Mitzi's impossible stories all night long.
Or something like that.
The one finished area of the basement was a large living area that included a nook in the back with a dining table and chairs. The husband's desire was to have somewhat of a Pub Room – a separate space for playing cards/games with a beverage fridge and maybe even a beer tap.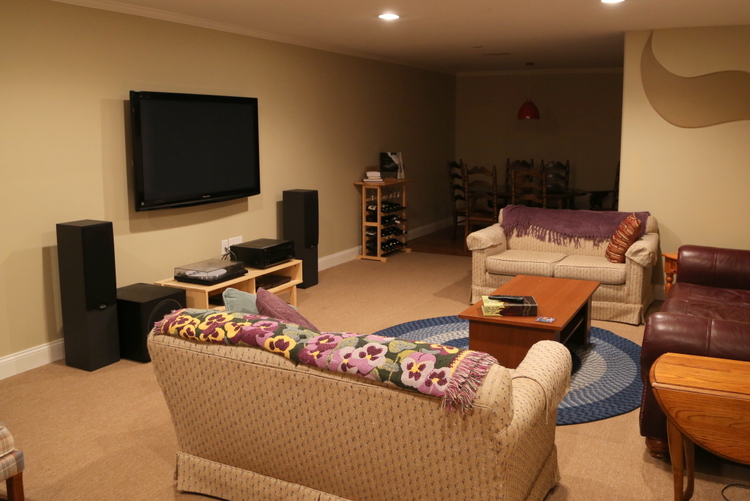 basement before
Former owners had installed this dimensional swoopish thing on the walls of the basement. Looks kinda like a handlebar moustache that got wayyyy out of hand . . .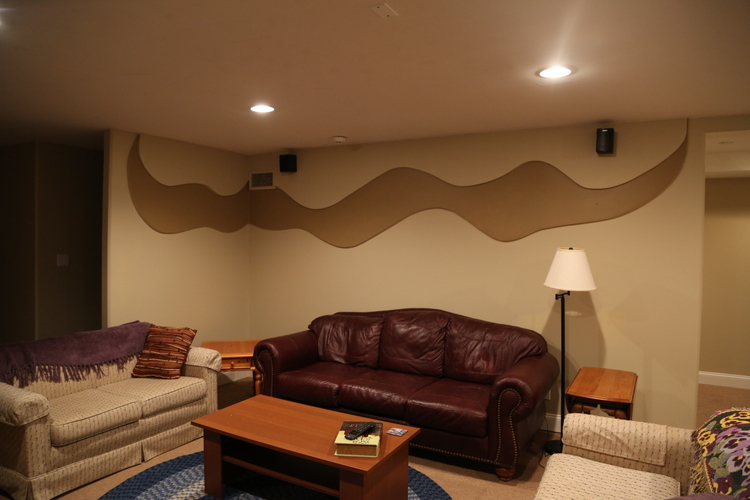 basement before
Because there were already two entrances into this room, they decided to close off the dining nook area to create the Mr.'s new Pub Room. Crane Builders set about reworking the space for the Sinatra-style design.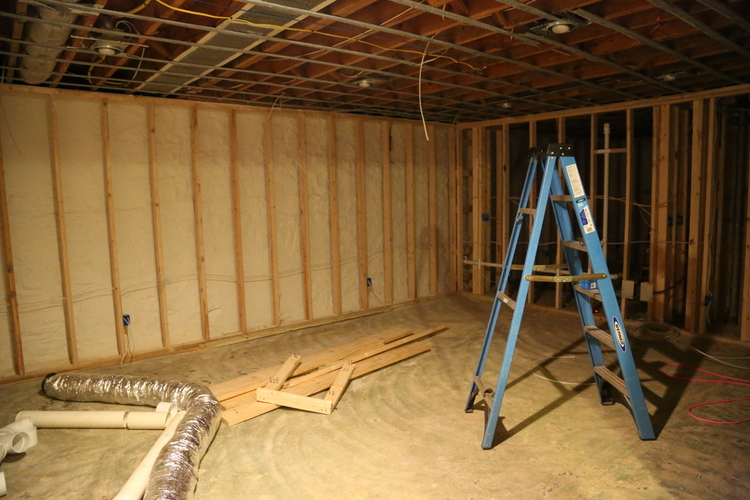 in progress
We decided on creating built-in bookcases with closed cabinetry at the bottom and large spaces for art. New hardwood floors, lighting, and upholstered furniture were selected and installed. I chose a rich, dark green paint color as the backdrop for my client's books, album collection, and art.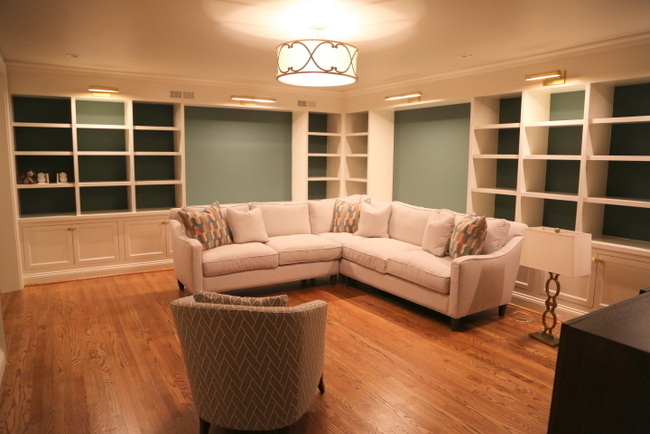 Next door in the Pub/Game Room, the same rich green from the backs of the bookcases went up on the walls of the cozy new space. I had their favorite band posters framed and hung them in a grouping for better effect.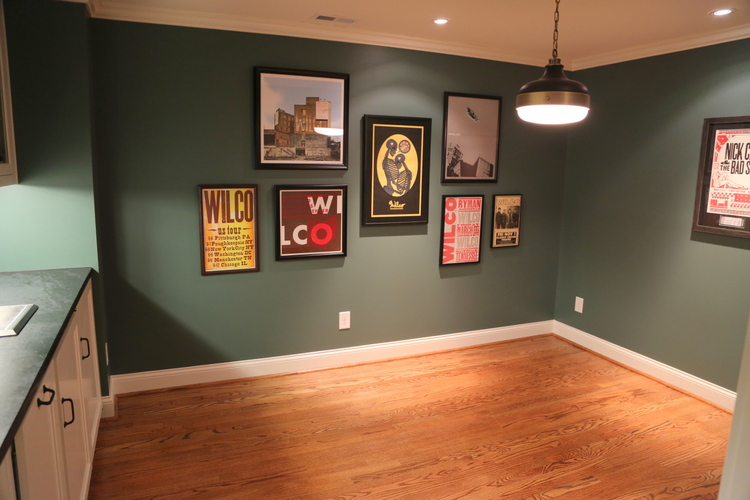 Here comes my favorite part – the BEFORES AND AFTERS! You'll remember where this basement remodel began. An artful moustache wall thing-y and a hodgepodge of old family furniture.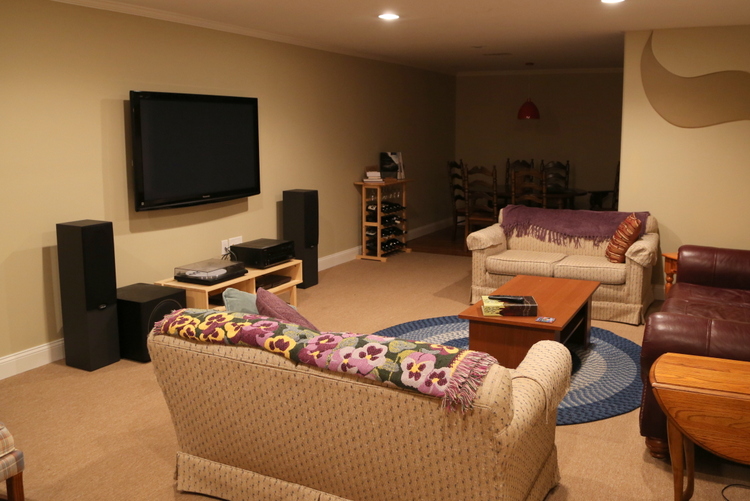 I think this one deserves a drumroll, so just imagine you hear one before scrolling down to the AFTERS of this basement remodel.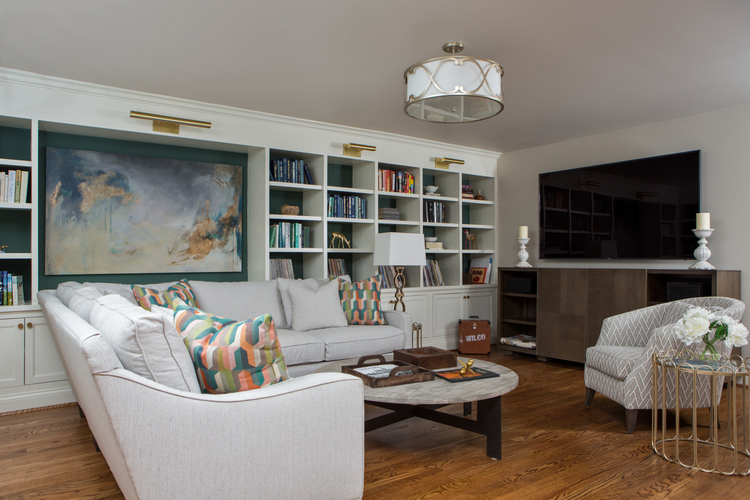 The Decorologist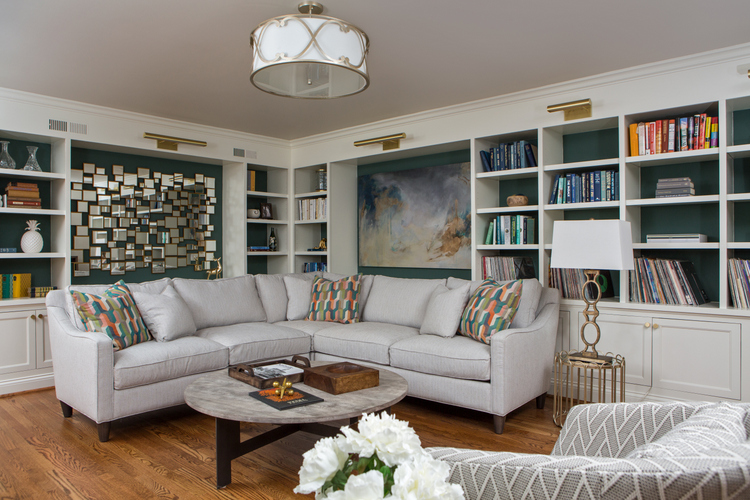 The Decorologist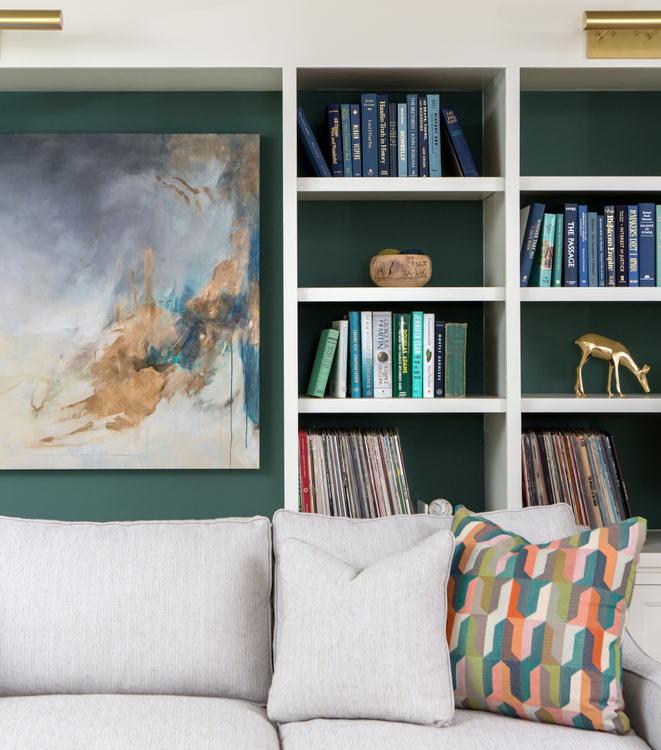 The Decorologist
So fun and glamorous, even Old Blue Eyes would approve! And I bet he'd love hanging out and playing poker in the new Pub Room: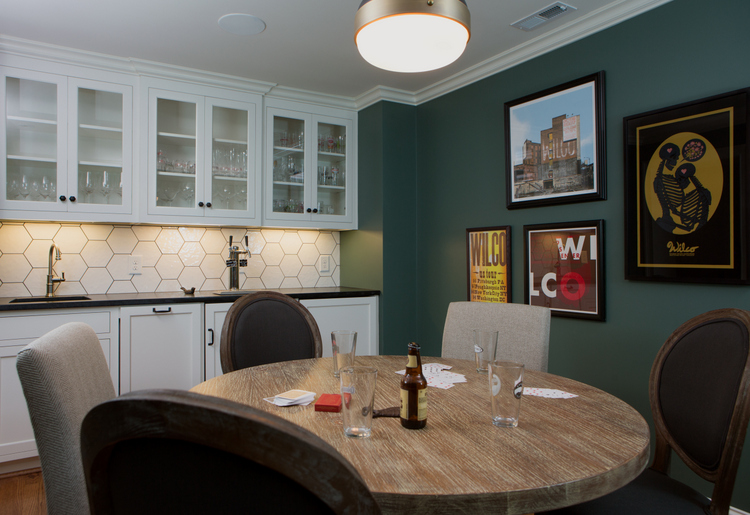 The Decorologist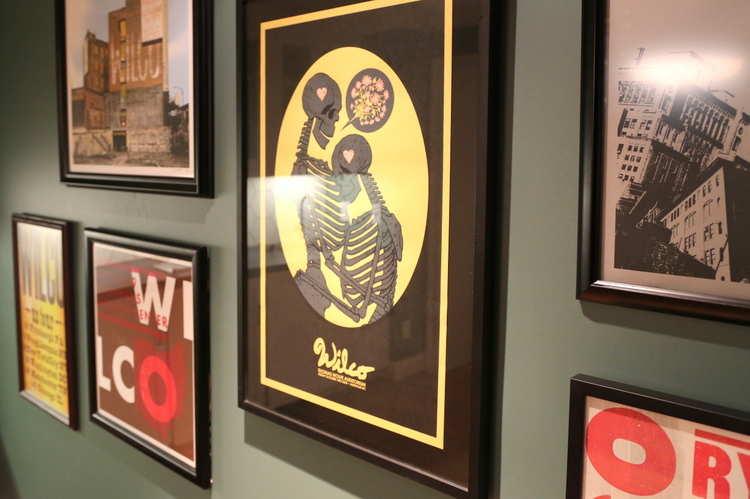 The Decorologist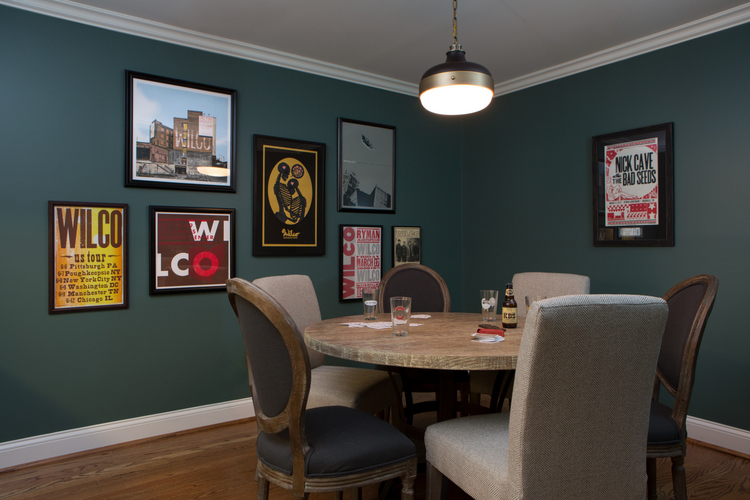 The Decorologist
Can you believe such a dark, dreary basement space could be reinvented into such a lively entertainment space? But wait – I have a BONUS surprise for you. Below was an unfinished portion of the basement that had been used as a workout space. It's not as large as it appears – that's a huge mirror across the back wall (you can see me snapping the picture).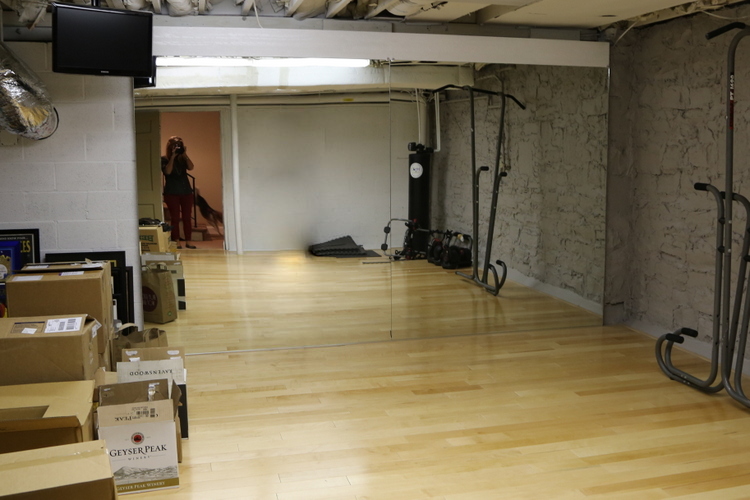 Now this space has been repurposed as a lovely wine cellar. We chose the flooring, light fixture, pub table, and art to give guests a reason to linger here!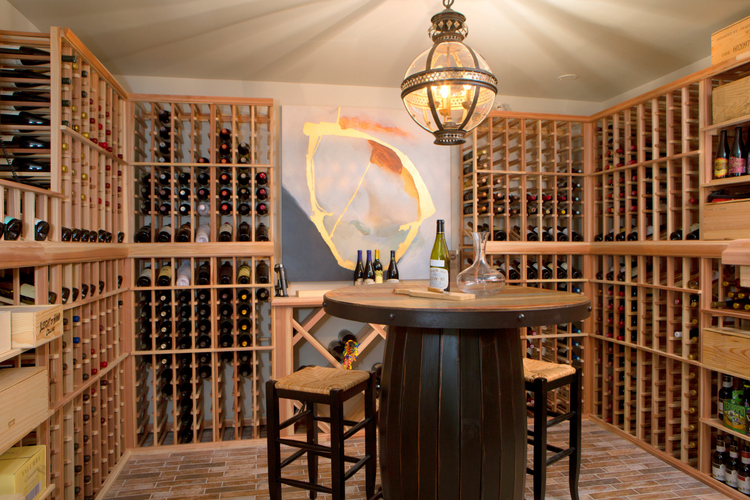 The Decorologist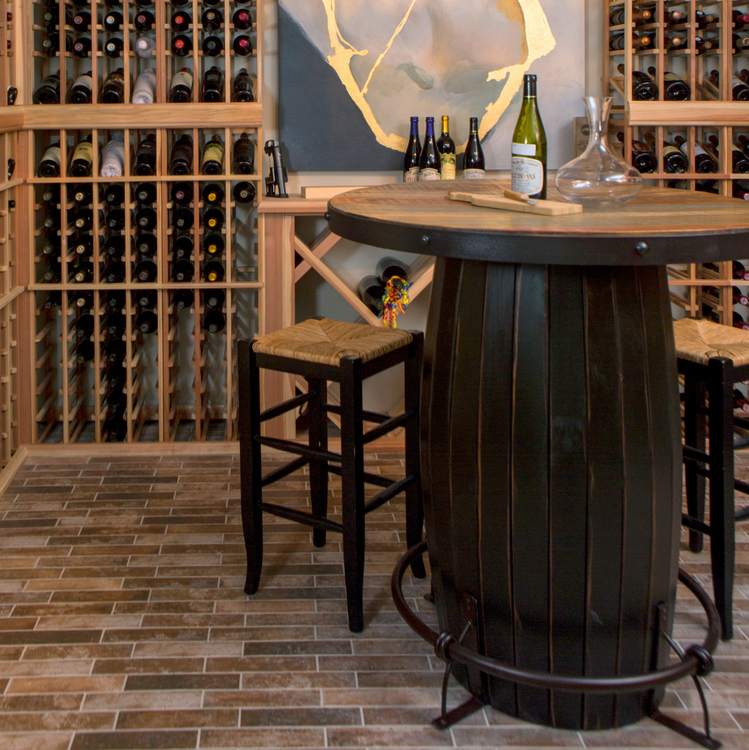 The Decorologist
I hope that gives you inspiration for what your dark, dreary basement could become! If you need my help choosing paint color, flooring, furnishings, lighting, finishes, or decor, see how you can work with me. I also offer paint color consultations online if you are long distance!
If you'd like to learn how to create amazing color palettes for any and every home, find out about my Psychological Color Expert™ certification course – it's completely ONLINE!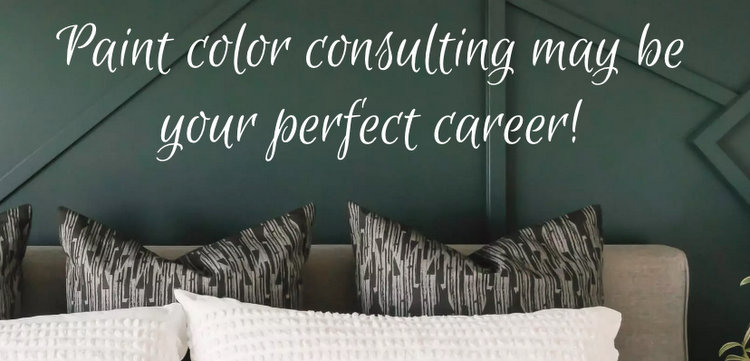 NOW is the time to get my color course,
because the price is going up by the end of the week when the whole website gets an update and my Expert Psychological Staging® course FINALLY goes online!!!