You know how I like to change things up.  Fairly frequently.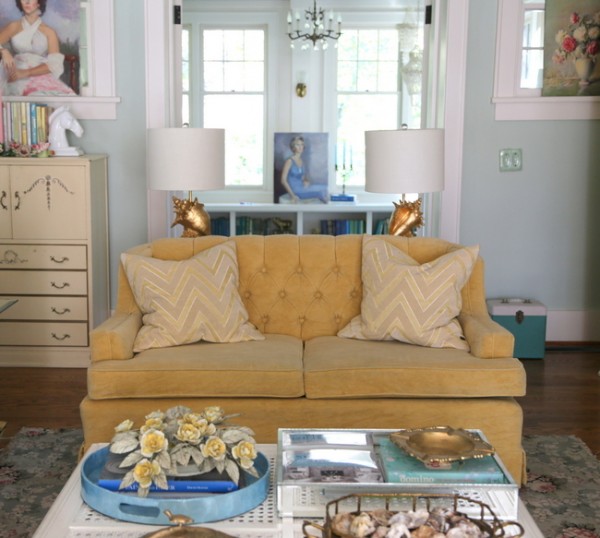 I've already changed it since my "Fall House Tour" featured on the Eclectically Fall blogger tour last week.  I actually took those photos a couple of weeks ago, so it was time for a few changes, ha ha!  I bought the gold shell lamps  at HomeGoods about six months ago, prior to a professional photo shoot of my house for a national magazine (no word yet as to when that may be published, but you know I'll let you know when I do).  I moved the lamps from another spot to a sofa table behind my yellow loveseat.  I need more light as my eyesight continues to dull now that I hit forty-five last month . . .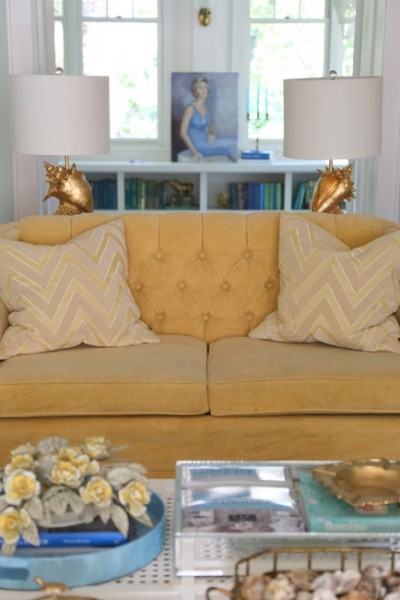 And I just love how the lamps now frame the entry to the enclosed sleeping porch beyond. There's a lot of vintage going on in here, naturally.  The tufted yellow loveseat was from last year's Bella Rustica Barn Sale in Lebanon, TN.  (Head's up:  this year's Bella Rustica is Oct 11-12, 2014 in Franklin, TN.  Don't miss it – I'll definitely be there on the 11th.)  I like to freshen up my vintage vibe with fun finds from Home Goods, like the gold shell lamps, yellow chevron pillows, white horse head bookends, and two of the trays on my coffee table.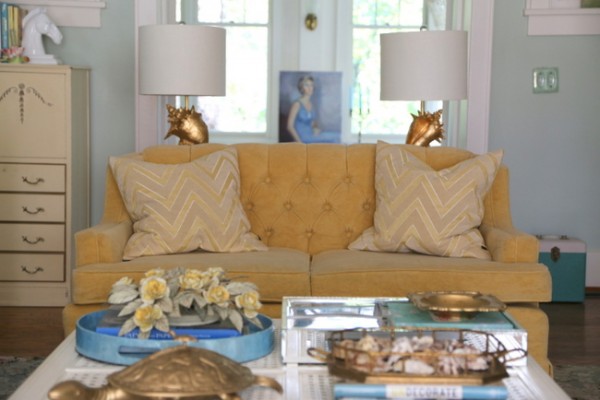 I lurve my square coffee table that I bought for next to nothing at a yard sale.  It's so fun styling it and changing up what's on it to keep in interesting. I snagged that gold ashtray from Make & Model, which is totally cool.  Even though I don't smoke.  Ashtrays feel like a strangely nostalgic throw-back, don't you think?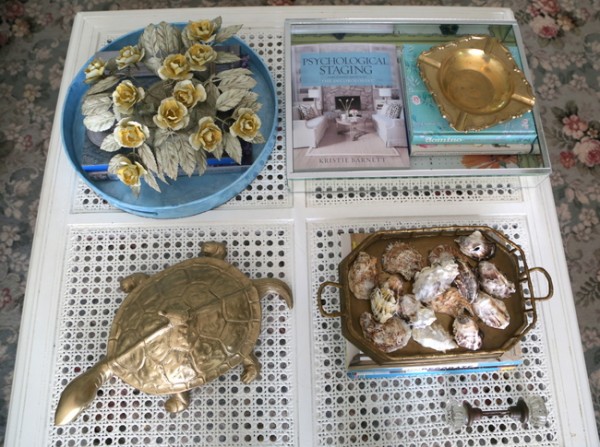 You'll see I have a really funky tole light fixture with yellow roses?  Yes, it's a light fixture!  That was a gift from Paula, a blog follower and a recent graduate of my Expert Psychological Stager™ training course.  It's actually a flush mount vintage light fixture, but I think it looks perfectly perfect right here!  The gold turtle?  I found that at a yard sale and painted it with this gold paint.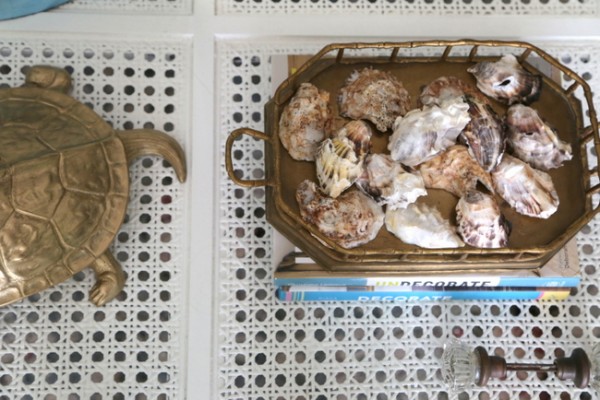 The vintage brass tray holds something very special.  You know how I sometimes choose unconventional items for decor, right? Last Friday night, the inaugural EPS™ class went to Nashville's Urban Grub for dinner.  Paula (again, Paula!) ordered a huge dish of fresh oysters.  I asked the waiter for a doggie bag for the shells, and he gave me a look I won't soon forget (he totally thought I was crazy).  I took them home, and they actually sat on my front porch in the doggie bag for 4 days. And yes, they were covered in bugs and other creepy organisms by that point. My family was disgusted, of course. I finally soaked them in Clorox bleach overnight.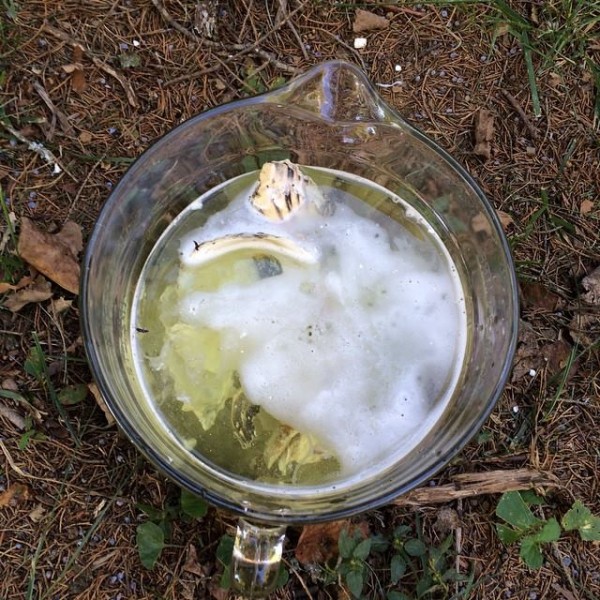 I posted the picture above on The Decorologist Facebook page, and most people thought it was beer.  Nope, Clorox.  Anywho, this is the resulting coffee table decor: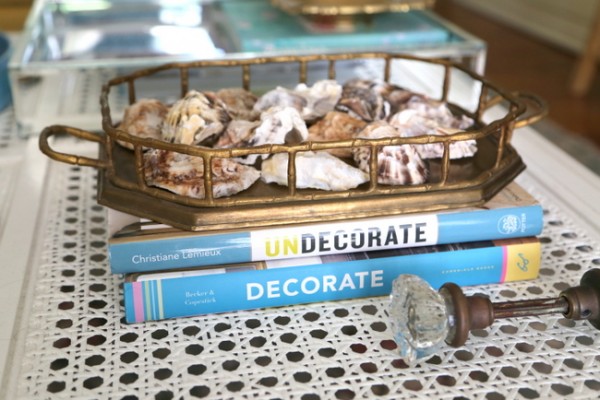 The shells are beautiful, and would have been tossed in the garbage otherwise.  And it's a great memory.  I smile every time I walk by this table. Oh, and did you notice anything else? That lovely book, maybe?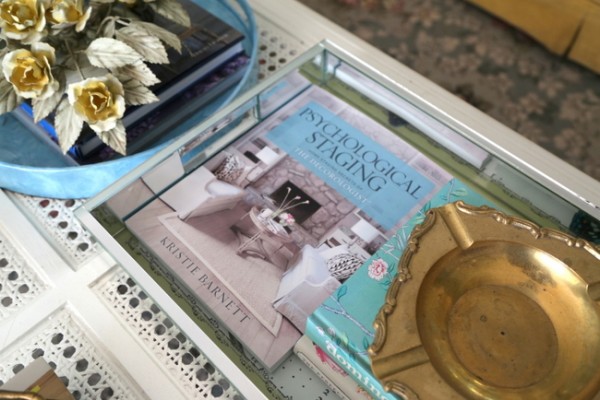 It's true.  The Psychological Staging book is DONE.  I ordered the first twenty-five for the Expert Psychological Stager™ course, but some stuff got screwed up and they weren't going to be ready until the following week.  Happily, they showed up early – like a gift dropped from heaven – just in time to place one in the hands of all of the EPS™ graduates! We've got a couple of details to take care of before we are ready to offer it in both e-book and printed version on this site.  But it's really nice to see it sitting on my coffee table, just like an honest-to-goodness coffee table book!
What's your favorite thing on my coffee table?  Answer quickly, before I'm compelled to move things around again . . .