OK, I admit it.  I'm kinda obsessed with Annie Brahler.  I've been following her for the last couple of years.  I've saved every picture from every magazine layout she's ever had of her home – she's been featured in two issues of Country Living, two issues of Home Companion (now defunct), and in Romantic Homes.  I'm sure there have been more.   Photos from this post are from those publications.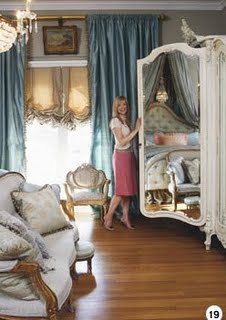 She lives in the most amazing home I have ever seen.  Annie lives in Jacksonville, Illinois.   Doesn't sound like a terribly exciting place, but check out this unbelievable Beau Arts home!!!  She lives here with her 3 perfect children, 2 perfect dogs, and presumably, her perfect husband.  She certainly has a perfect lawn care guy.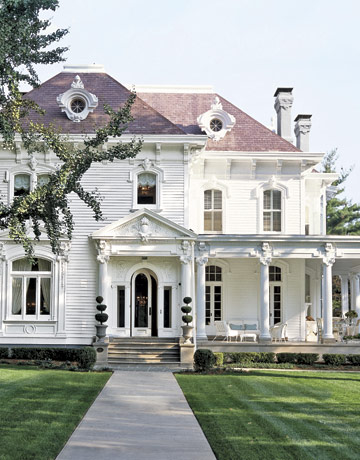 She is a huge inspiration for me in the way that she chooses to decorate and live.  Annie calls her style Euro Trash.  It's kinda like European Shabby Chic, but with more color.  It's fabulous, glamorous, and magical.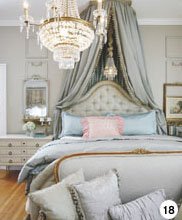 This is Annie's dining room!  Soak it up.  Nothing else I can say.  European glam at it's best.  Is she a princess, or what???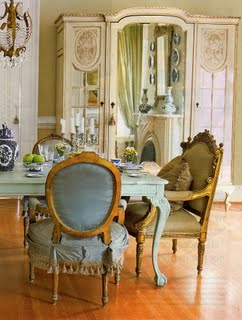 Check out Annie's website to find out about all the fabulous antiques she ships over to sell from Belgium and the Netherlands.  http://www.euro-trash.us/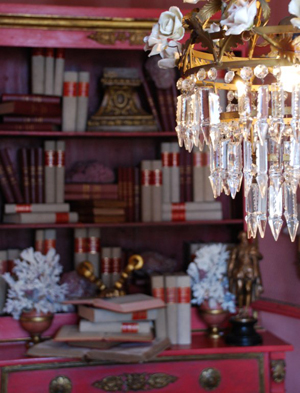 On her website, Annie Brahler shares the following decorating advice: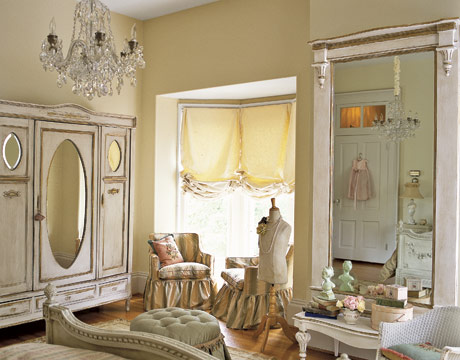 "Look To Nature for Embellishments –  When you want to add some interest to a room, just take a quick walk outside.  Candles are held in place with leaves picked fresh and left to dry to a beautiful color that only nature can offer.  A gnarled dried branch becomes a tactical sculpture in a winter kitchen along with artichokes left to dry and enjoy for the beautiful floral shape they have to offer".
"Always Welcome the Unexpected – A bit of indulgent elegance in a strictly functional space can lift the spirits. I love fresh flowers on a shelf inside my closet, a dramatic chandelier in the bathroom and silk draperies that puddle on the floor in my daughter's bedroom".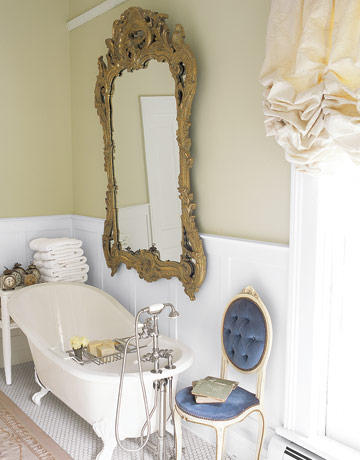 "Open Up – Open shelving is a wonderful way to enjoy the things you love everyday…display things you need in close reach right along with the bits you enjoy just for the color, shape, or texture that they possess.   Books in the same tones as your display are a great way to elevate your special things to present them. The shelves themselves can be given interest by giving them soft curves, or arranging them in a series of vertical and horizontal lines rather than the traditional stacked shelving….we also like to paint, stain, or upholster the interior of cabinets to give them a bit of an unexpected touch of special attention…it is always a ittle uplifting to reach for a sweater inside an armoire with a softly padded silk interior…"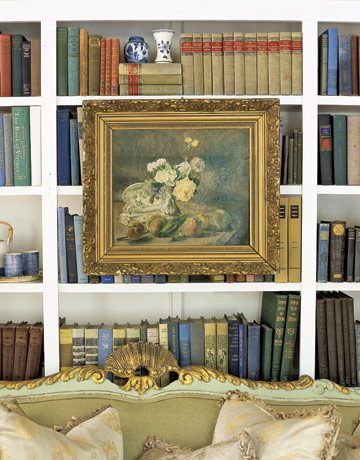 Annie says that her Dutch heritage is an inspiration in the way she raises her children and lives in her home.  Children (and dogs) are very much welcome and appreciated everywhere in the Netherlands and she feels that way, too.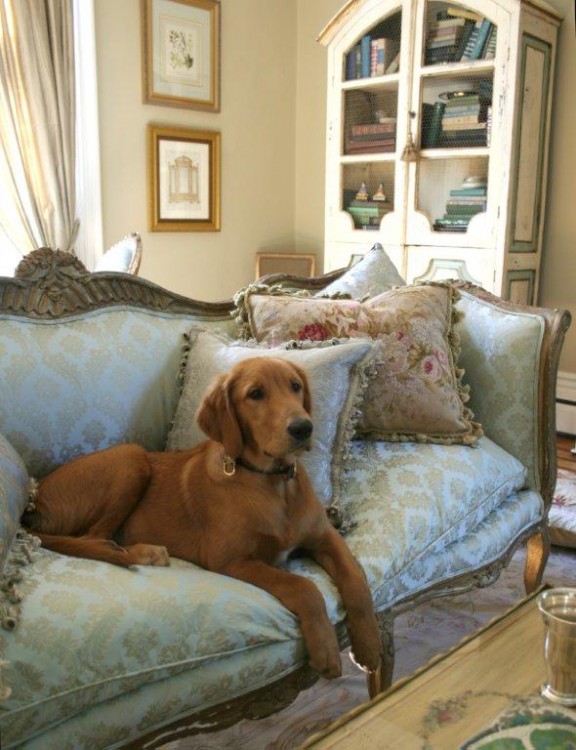 She wants her home to be beautiful, but enjoyed and really used.  "If something is not used, if it is just there for show, then to me, it is not beautiful".  Right there with you, Annie.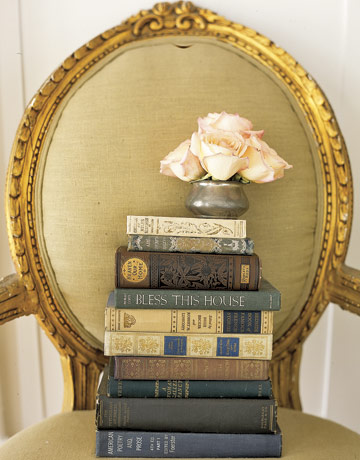 .