| | |
| --- | --- |
| | Today I'm sharing some of my favorite living rooms from House Beautiful.  Notice the black doors here and the tiny black trim piece around the top of this room.  It's those touches of black that keeps this light room grounded.  HB is one of my very favorite decorating mags.  Lots of great inspiration and monthly designer advice on paint colors.  Subscriptions are cheap – click on my Amazon Top Picks in the left column of my blog to find out more. |
This conversation area looks so cozy, but it really bugs me that the ottoman/coffee table is off-center of the fireplace.   It appears to be lined up with the cool light fixture above it, which is also off-center of the fireplace!  I'm afraid it's a pet peeve of mine – makes it difficult for the eye to rest.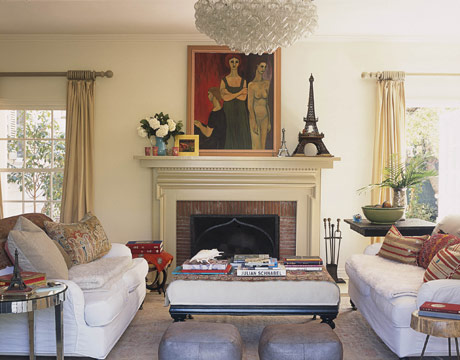 What do you want to bet this living room is in California?  Love the beautiful architecture and the retro vibe of those avocado chairs.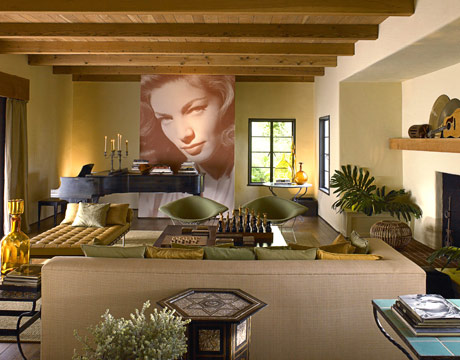 | | |
| --- | --- |
| This blue laquered living room is AWEsome.  Love the blues and greens.  So funky cool.  One of my favorite living rooms, ever. | |
| | |
| --- | --- |
| | So glam, so fabulous.  These pinky-purple walls are so yummy. |
Rustic meets refined.  Modern meets traditional.  I heart oversized hanging lanterns . . .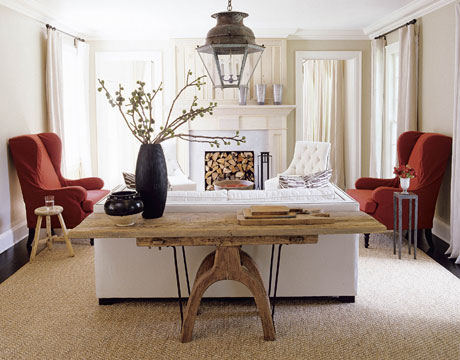 All this white with punches of lemon and lime = just right for this summery space.  Don't you love that tree of a lamp?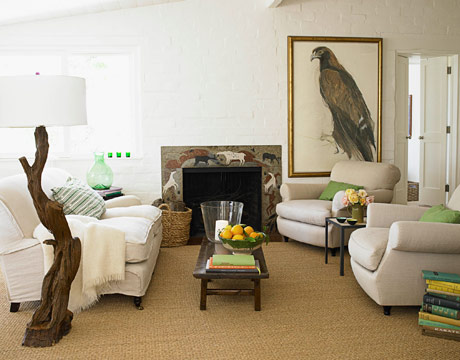 | | |
| --- | --- |
| Hope you enjoyed the inspiration.  Did you have a favorite?  Viva, House Beautiful! | |
Photo Credits:  House Beautiful
Share this Post