I've had a passion for historic homes dating back from when I was a small child. One of my favorite things to do is attend historic home tours. Taking in the craftsmanship and intricacies of the architecture, as well as seeing how the homeowner populates the home with furnishings and decoration, always fuels my imagination and plants new ideas for projects and paint colors. I'll be sharing some of those, so read on!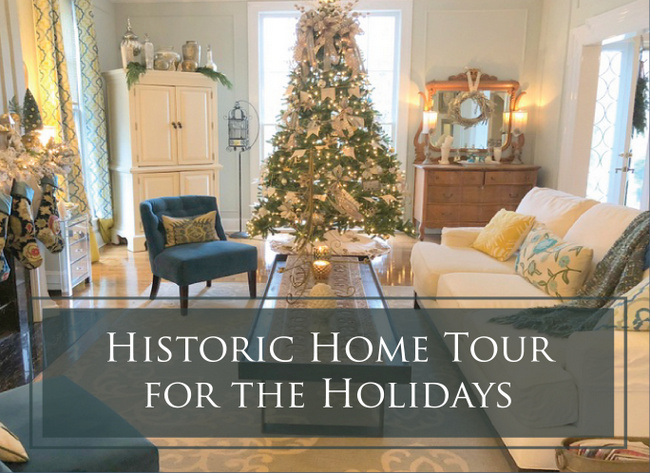 Recently, a friend and I spent a wonderful day on a holiday historic home tour a couple of counties away from where we live. The Maury Christmas Historic Home Tour is a Maury County tradition. The tour began in 1951 as the "Majestic Middle Tennessee Tour of Homes" and was held each year in the fall. Since that time, the tour has evolved into a two-day event taking place the first week of December and is the annual fundraiser of the Maury County Association for the Preservation of Tennessee Antiquities (APTA).
Entrance to Academy Hall
Can you even imagine the cost of an entry like that if commissioned today? Academy Hall was designed by Edwin Carpenter, who also designed the Maury Country Courthouse: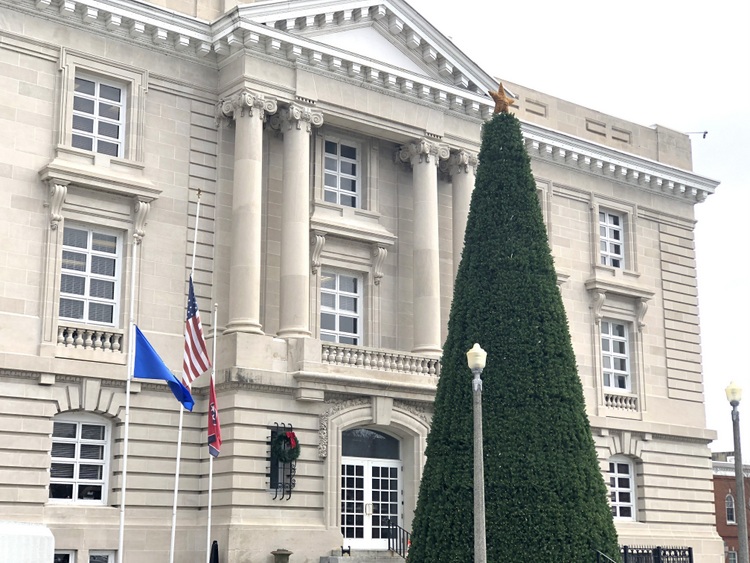 Maury County Courthouse
AND the historic Nashville landmark, The Hermitage Hotel, which is where Mr. Man and I spent our wedding night over 22 years ago!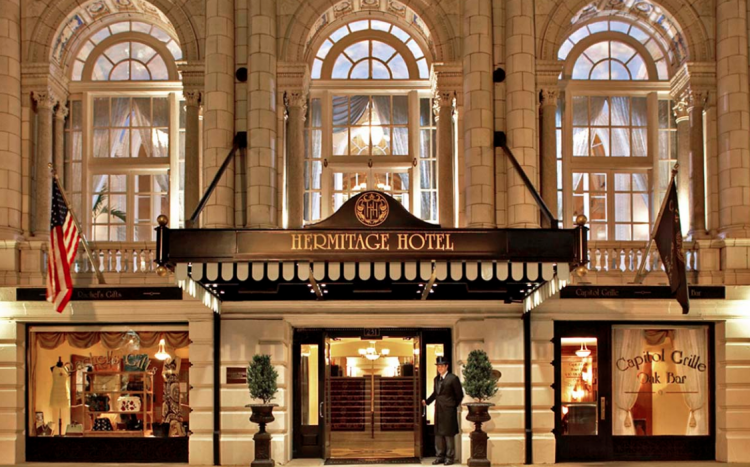 Hermitage Hotel in downtown Nashville
One of our first stops was at the President James K. Polk home, which was the first brick structure to be built in Columbia, TN. The house is a museum of Polk's life as the furnishings are those used by him and Mrs. Polk in the White House and in his law office.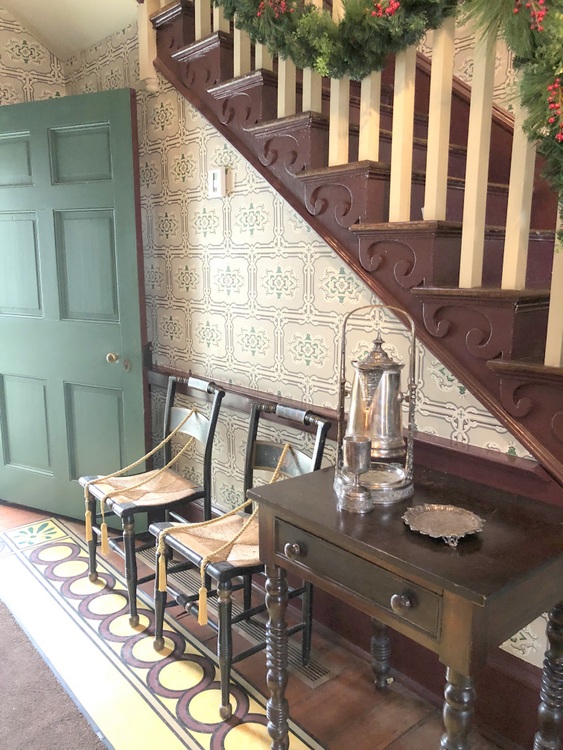 Entry of the 1816 James K. Polk Home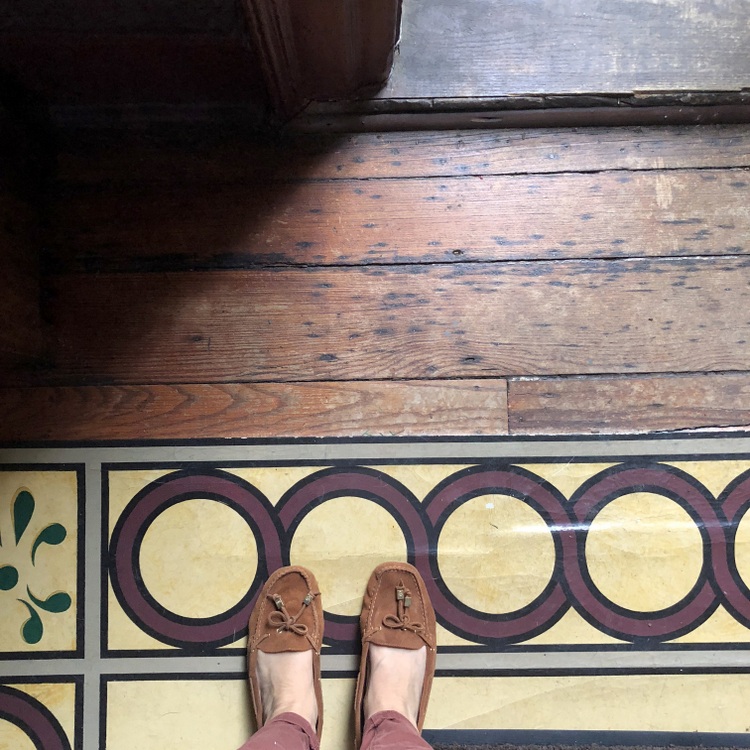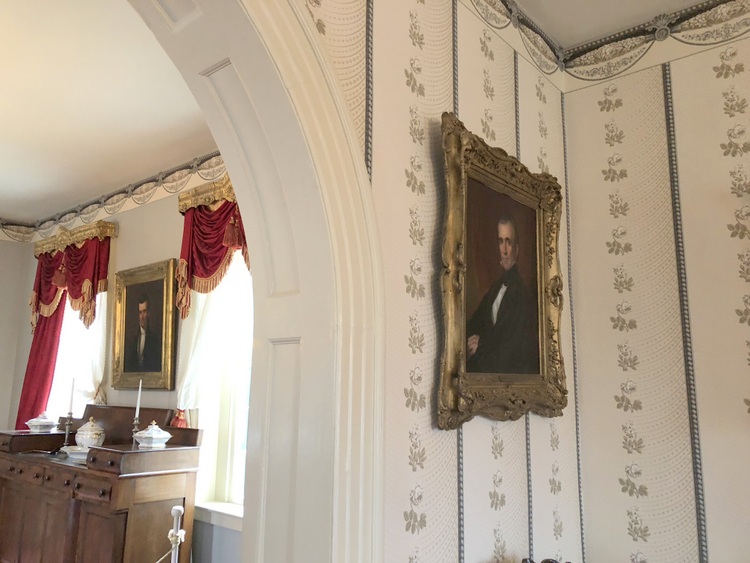 While the downstairs rooms of the Polk Home featured wallpaper with white or stained wood trim, the upstairs rooms had plain white walls with trim painted in bright colors, like this daring leprechaun green: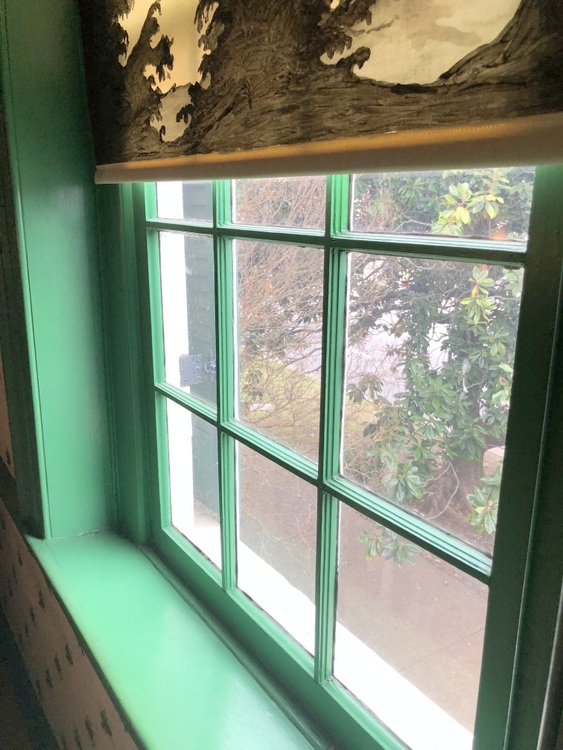 paint color similar to Benjamin Moore Luck of the Irish 588
Here's a portrait of Polk's wife, Sarah, that hangs in a bedroom with trim moldings painted in a vivid peach paint color.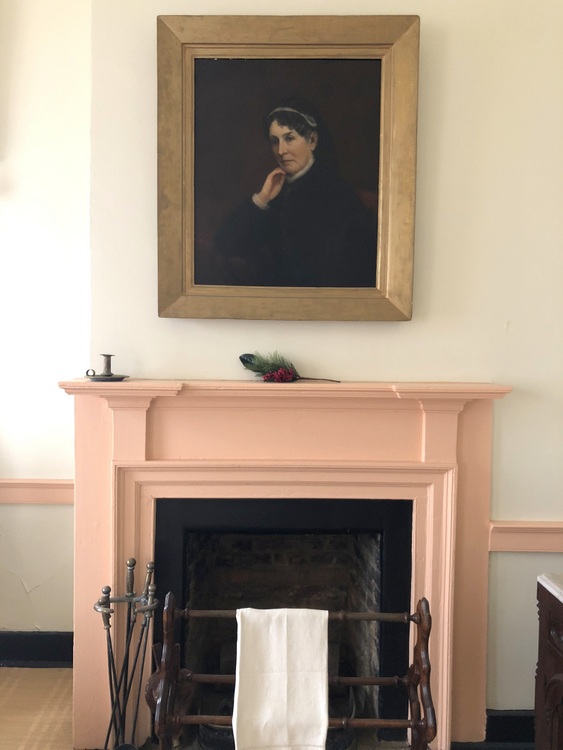 trim color similar to Benjamin Moore Hugs & Kisses 097
This carpet in the master bedroom is a replica of Sarah's favorite floor covering from her days in the White House: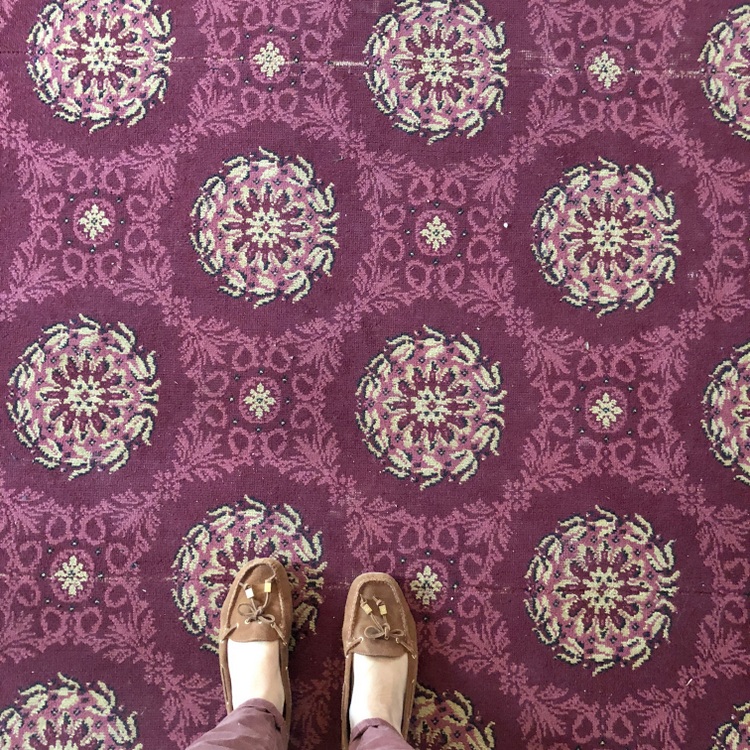 I love, love the green door in the walled courtyard behind the home.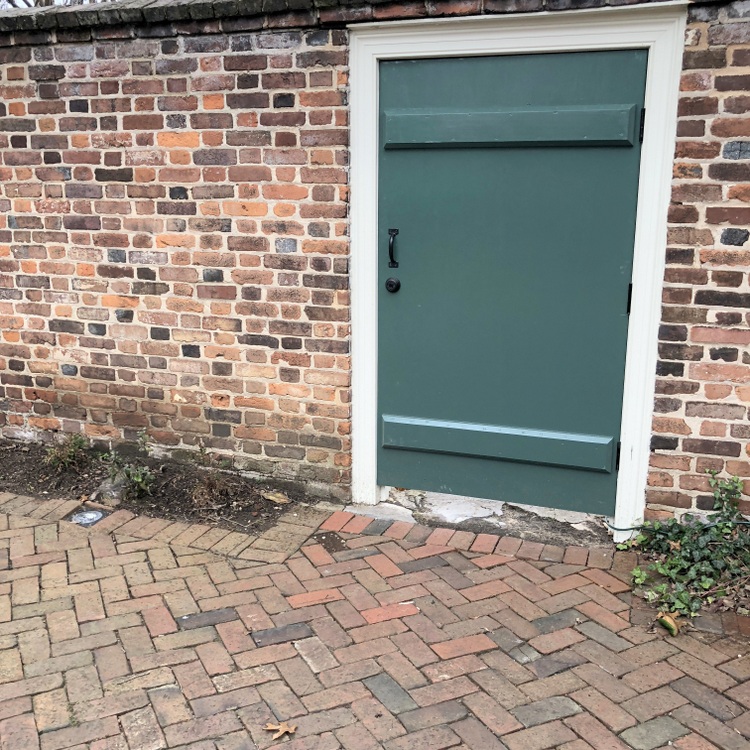 paint color similar to Benjamin Moore Tarrytown Green HC-134
Although it never belonged to a president, the home I was really excited to tour belongs to an old college friend of mine! Just take a gander at the exterior of the Esslinger's beautiful historic home: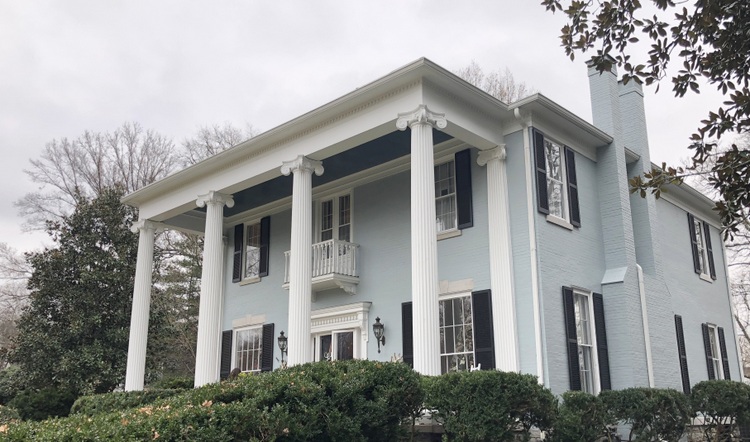 Bonnie Esslinger owns and operates Bleu 32 Vintage Marketplace in historic downtown Columbia, TN, which is in the  building that housed JC Penny from the 1930s through the 1980s. Bonnie's goods occupy 2000 square feet of the space, and she leases out the rest to 55 vendors and a cafe on the 3rd floor.  Bleu 32 is heavy on the vintage, but also include jewelry vendors, boutique clothing, art, home decor, cards, toys, and more. It is an absolute DREAM, and I could have spent all afternoon in her store!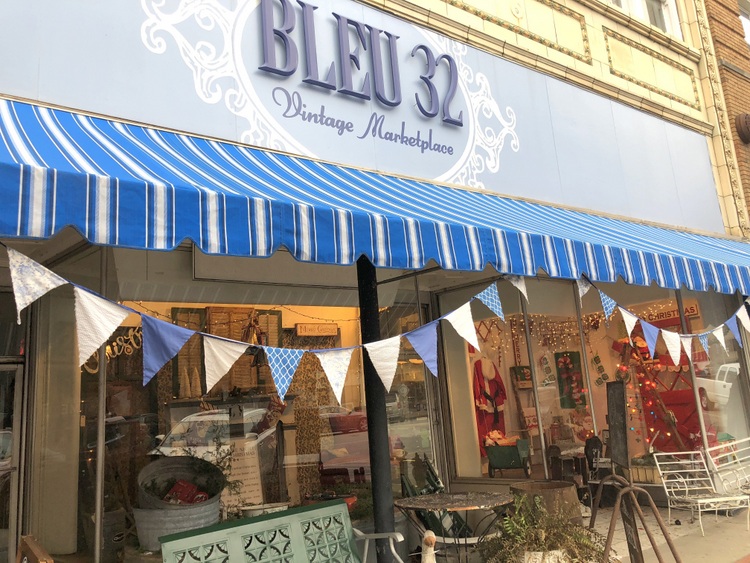 If you are ever in Columbia, you have to check it out! You can follow Bleu 32 on Instagram here. Here's a peek before we actually tour the inside of her personal home: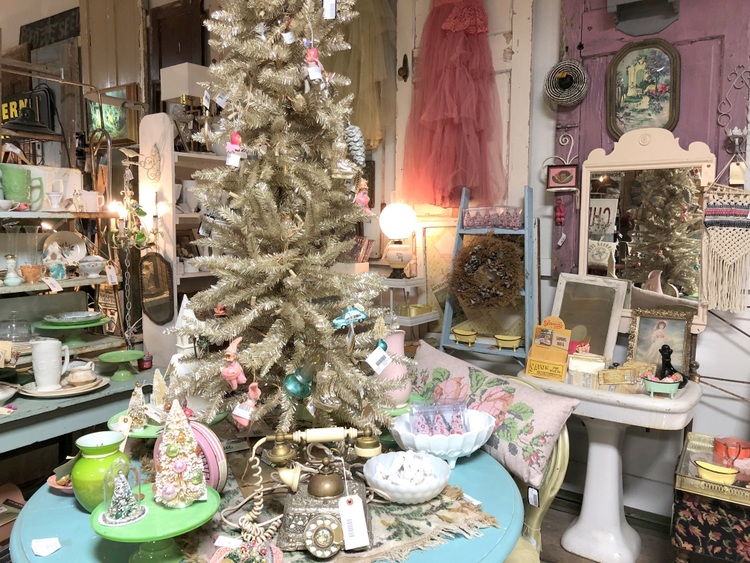 I left the shop with a couple of unique vintage gifts for friends and few bottle tree and pink elf ornaments for myself!
But back to Bonnie's house. Check out this staircase in her entry, and the stunning black base molding: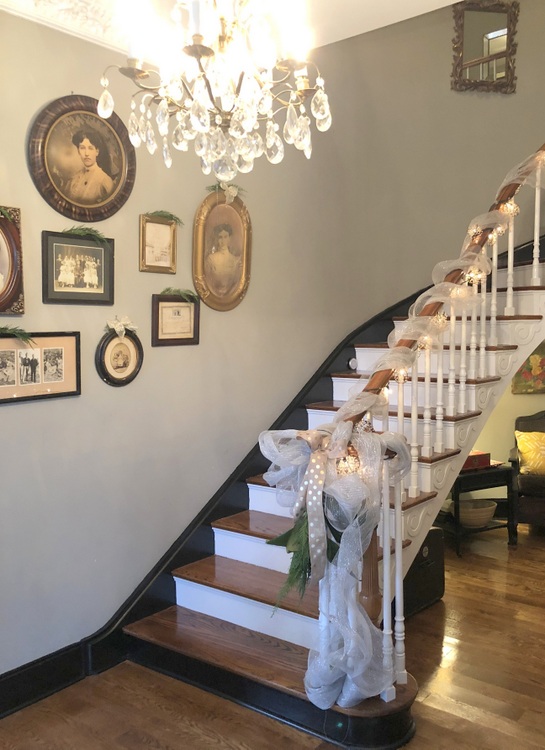 Bonnie and her husband bought their 1914 home seven years ago and are only the third family to own it. The curved staircase, exterior columns, and porch were added to the mail order American Foursquare in the 1950s.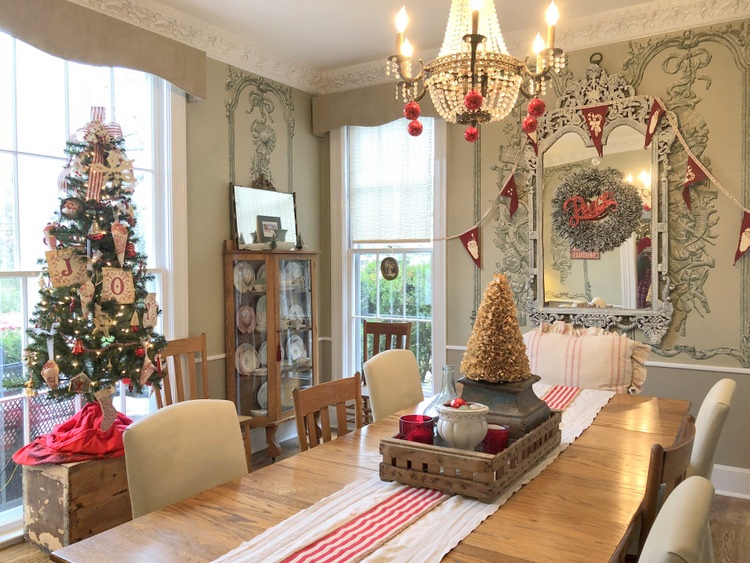 I'm not sure, but I'm betting that's when this AH-MAZING crown molding and box moldings were added.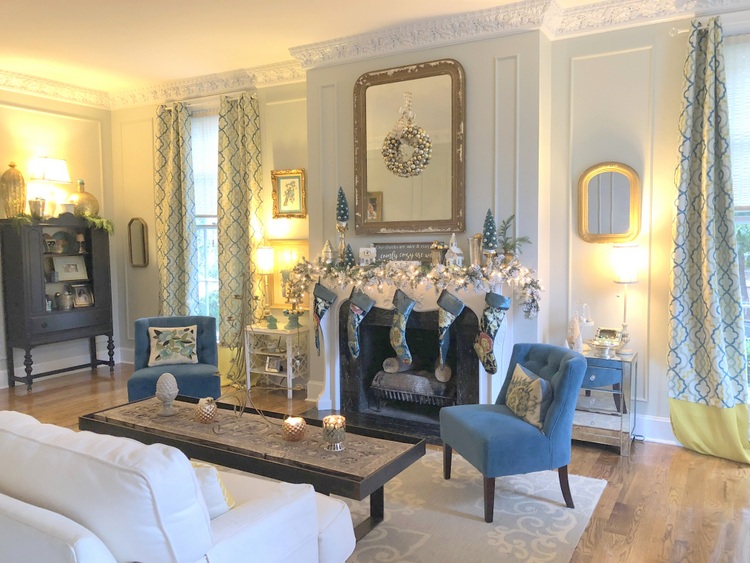 paint color similar to Sherwin-Williams Frostwork 0059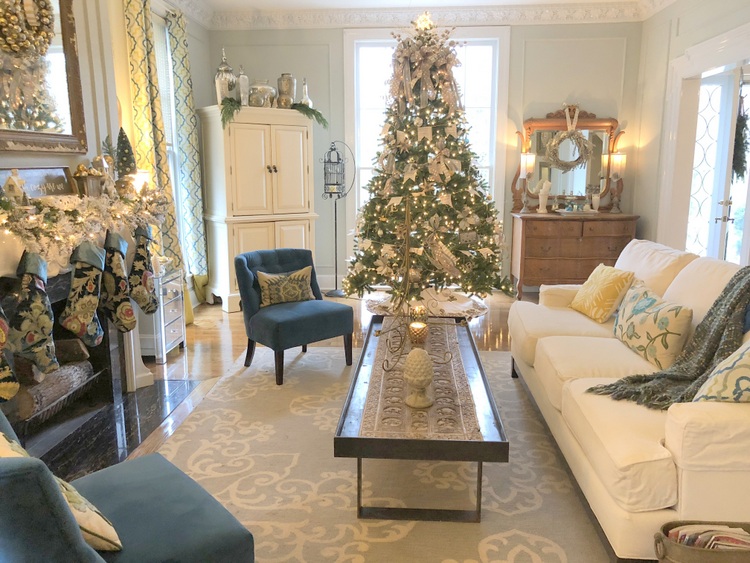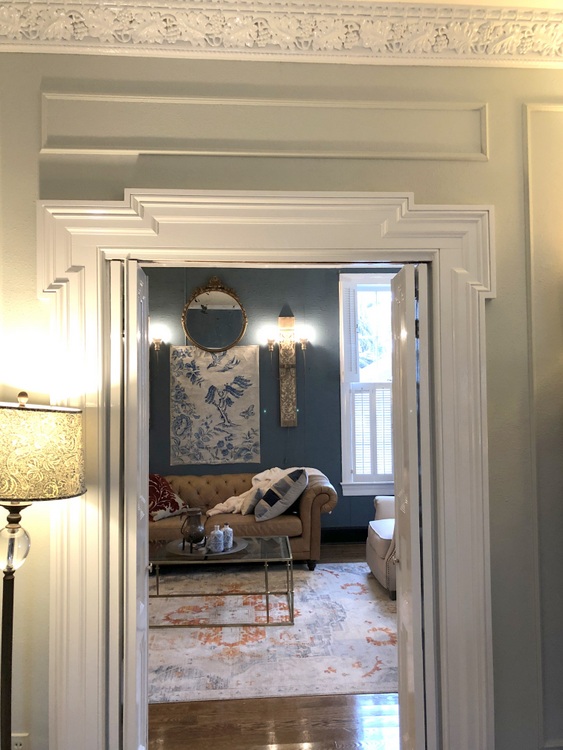 I'm really excited to show you the "updated" kitchen, because most people completely miss the mark when they renovate a period or vintage kitchen. Not the Esslingers! Their recent kitchen renovation marries modern functionality with period charm. And all her vintage collections certainly help with the charm. Check out the vintage aprons tied to the backs of the purposely mismatched bar chairs: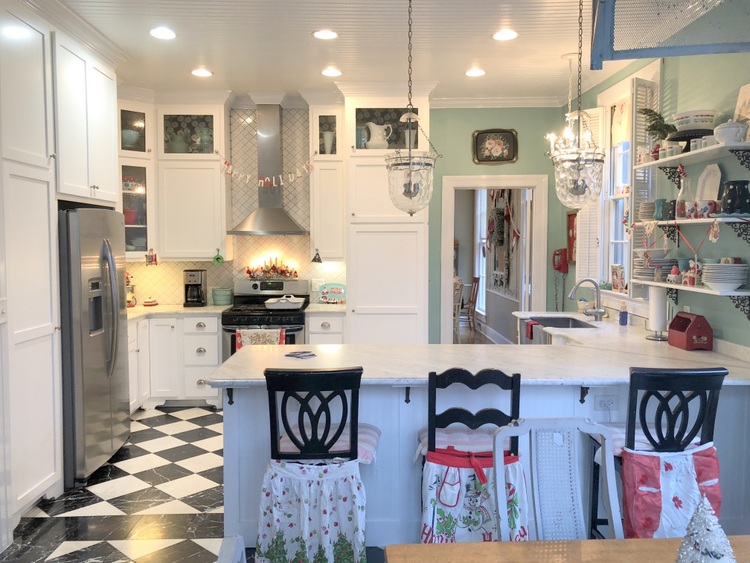 paint color similar to Sherwin-Williams Halcyon Green SW6213
The Esslingers gutted the kitchen's metal cabinets and asbestos tile flooring. Bonnie says the best thing they did was tear down the wall in between the kitchen and breakfast room which was hiding those gorgeous windows and all that light!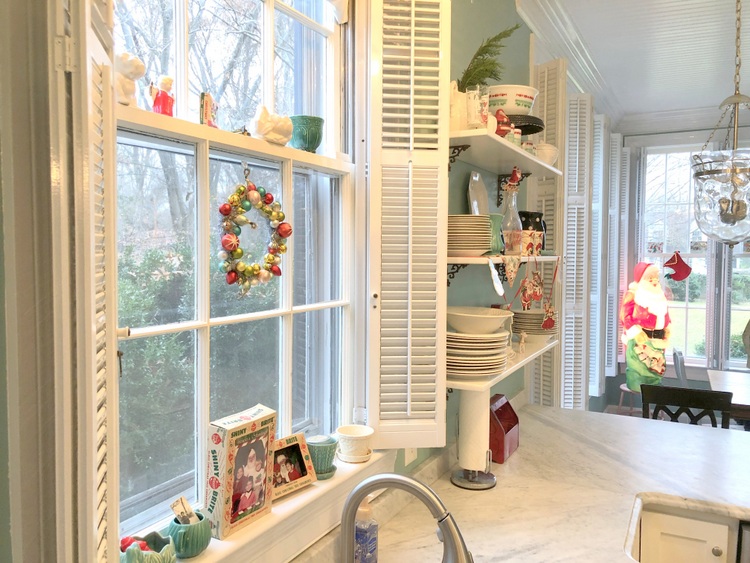 Oh, how I would love to have such beautifully preserved vintage plantation shutters like these!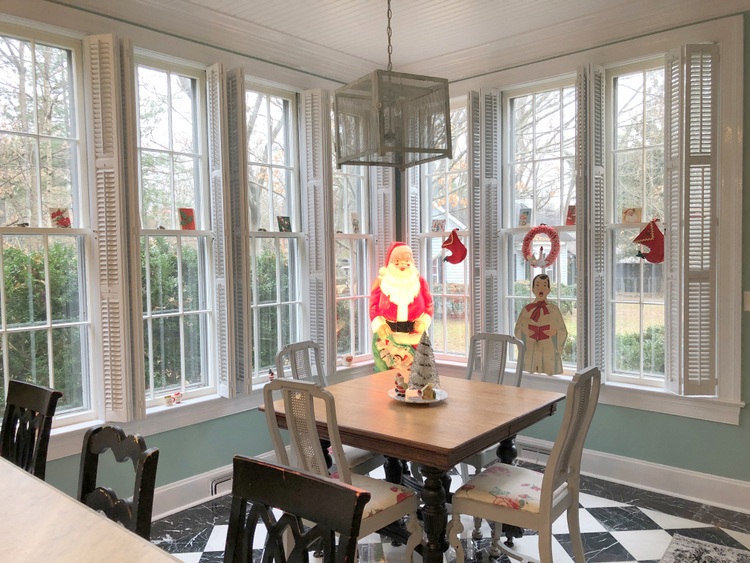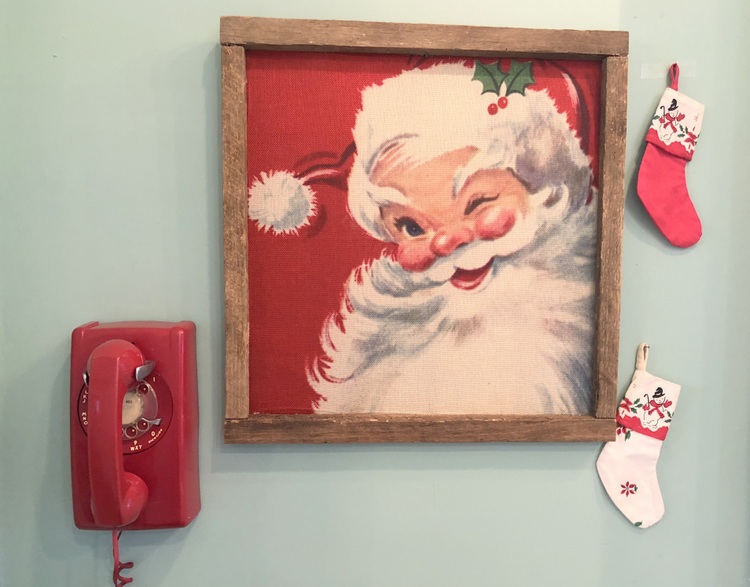 The Esslingers also renovated three out of the four bathrooms, while carefully retaining all the period details possible. The chalkboard paint on the walls is a fun touch, and the contrast draws attention to the beautiful trim molding.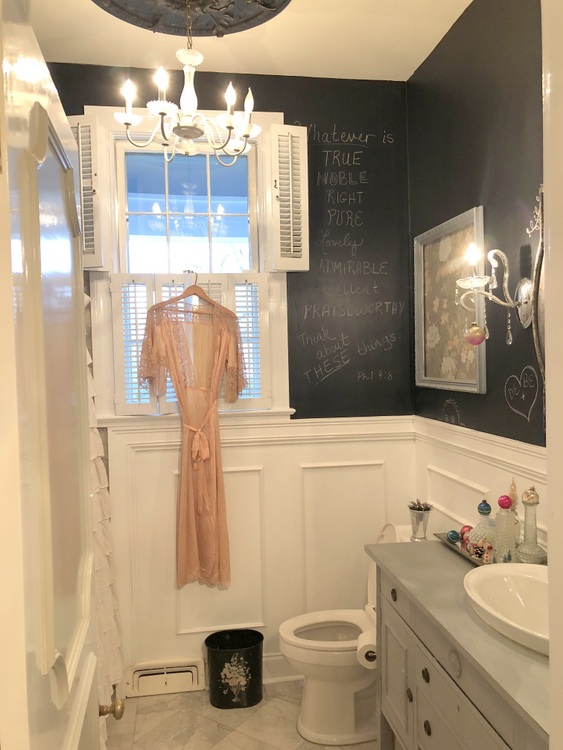 About 95% of Bonnie's decor is from her shop or yard sales – her addiction and passion that led her to opening a vintage store in the first place!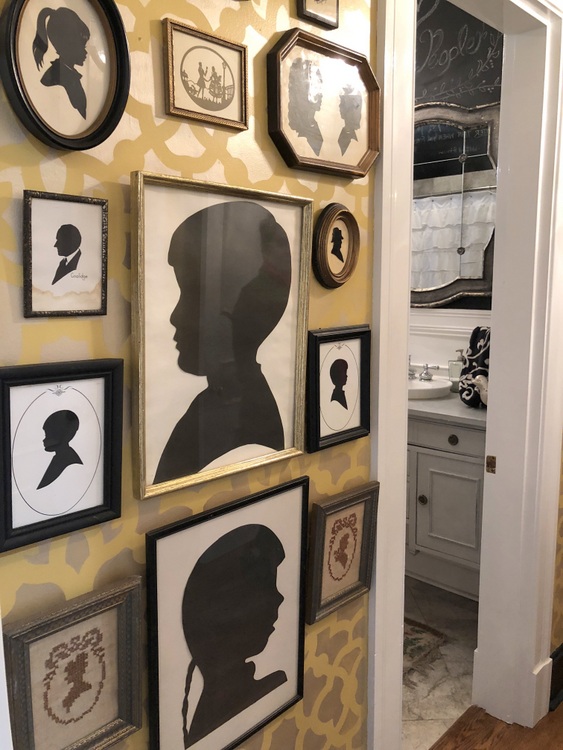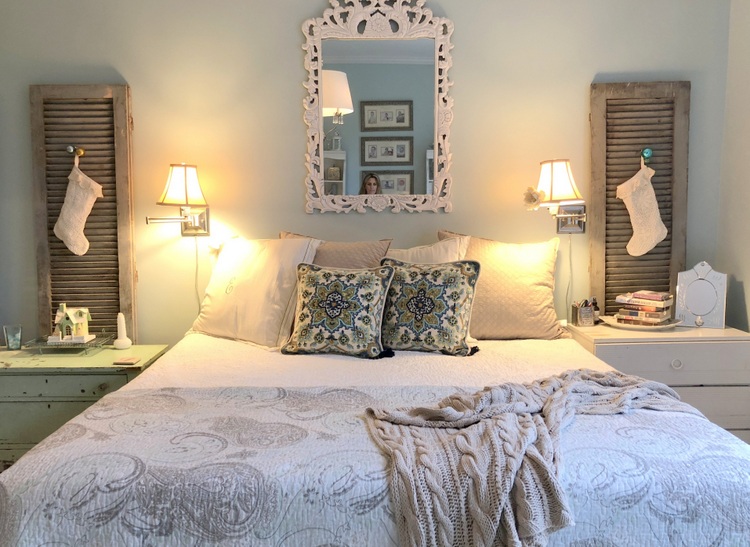 I obviously spent a lot of time at Bonnie's home, but let me show you some more great highlights on the historic home tour!
The original part of this home built in 1833 was designed by Adolphus Heiman, who also designed the historic Belmont Mansion in Nashville.
similar to Benjamin Moore's Dunmore Cream HC-29
It is also known as The Clock Home because of the extensive collection of antique clocks inside: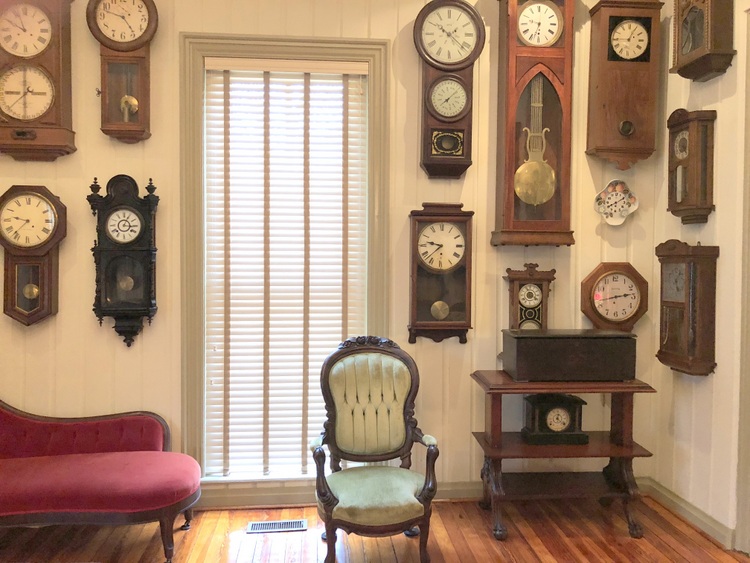 The homes on the tour were full of amazing stained glass and other unique architecture.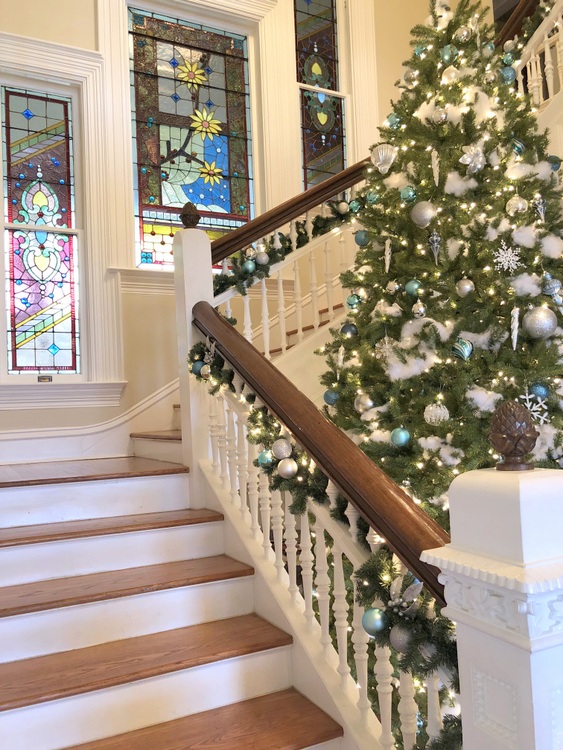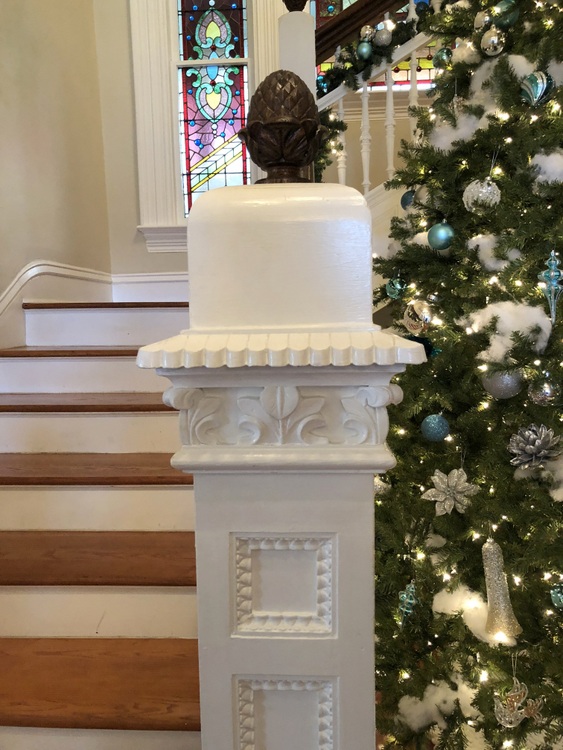 And the fireplaces. Oh, the fireplaces. Several of the homes had one in practically every room. This Arts and Crafts Style example was probably my favorite: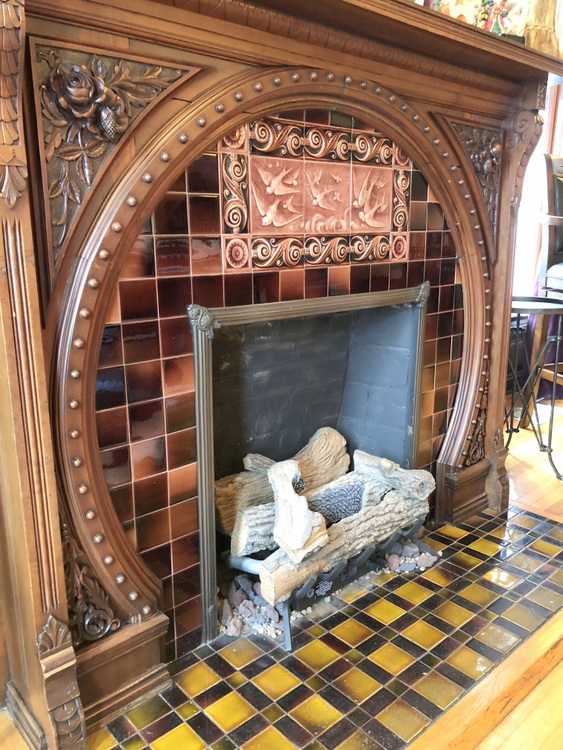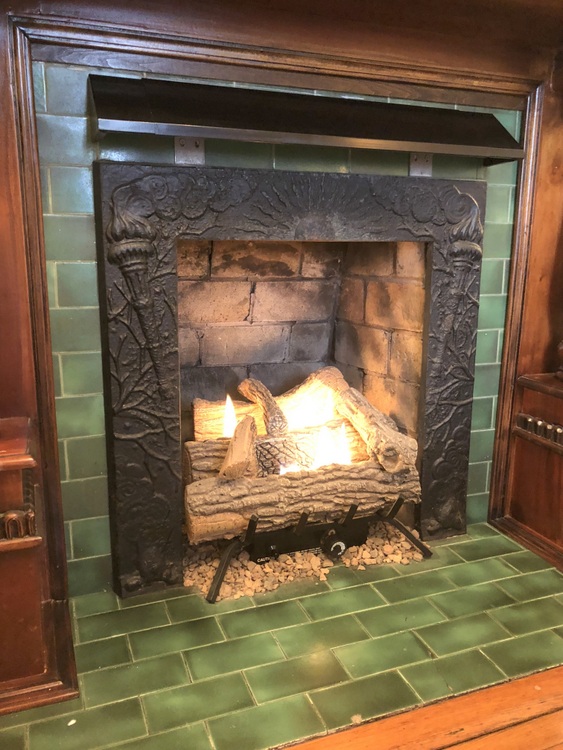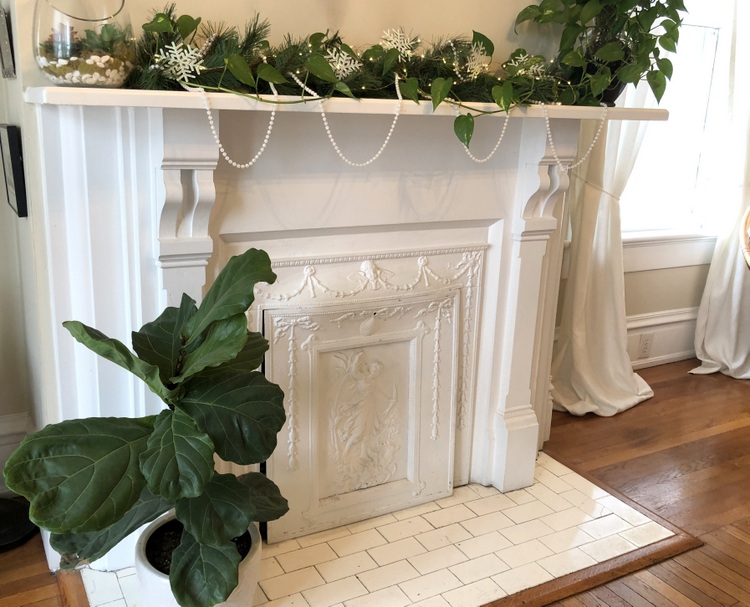 Check out this wonderfully creative Christmas tree alternative in one on the bedrooms on the tour: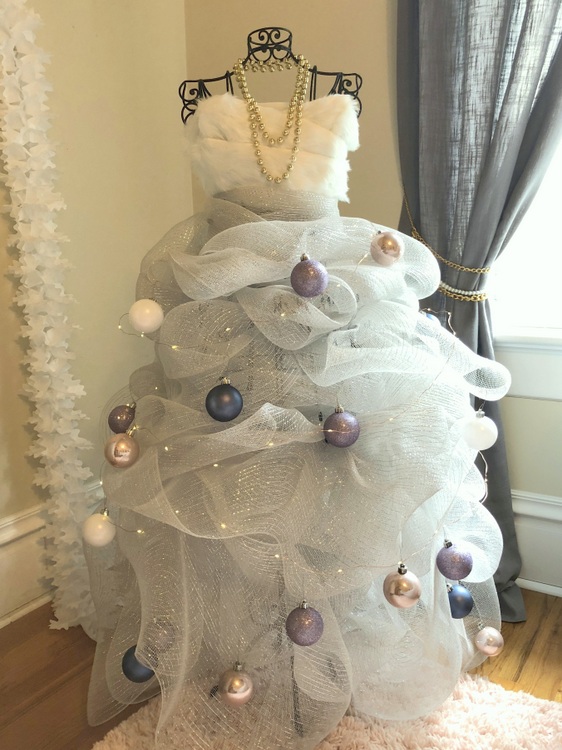 Downtown Columbia has some of the most beautiful historic homes and buildings. I was totally envisioning what it would be like to live there.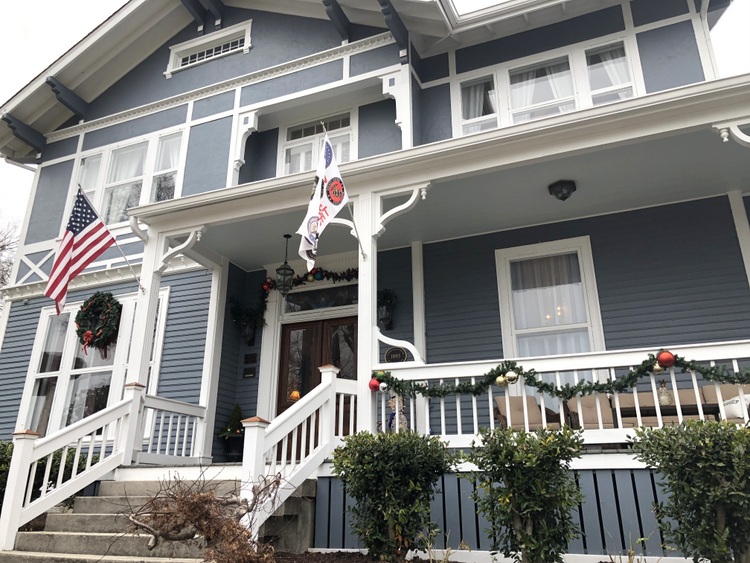 similar to Benjamin Moore Spellbound 1659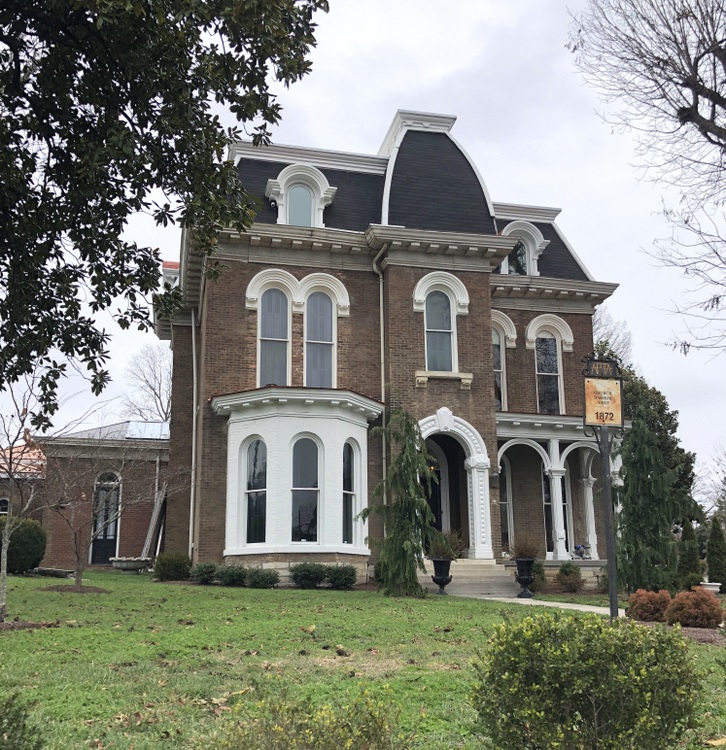 gorgeous 1872 Italianate home – not on tour
Heck, I'd even move into this beautiful home – and it's currently a funeral parlor!!!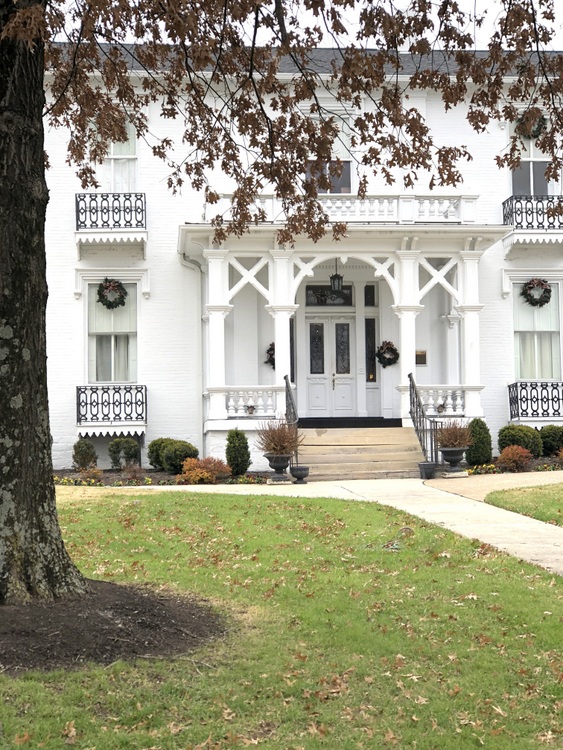 Can you imagine the children bounding down this staircase on Christmas morning?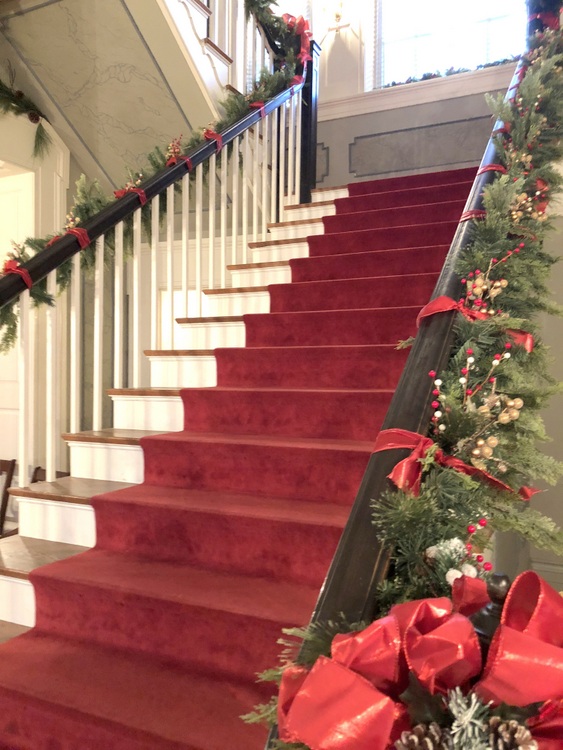 Rippavilla Mansion, Maury County, TN
Or hosting Christmas dinner in this dining room in the Rippavilla Mansion?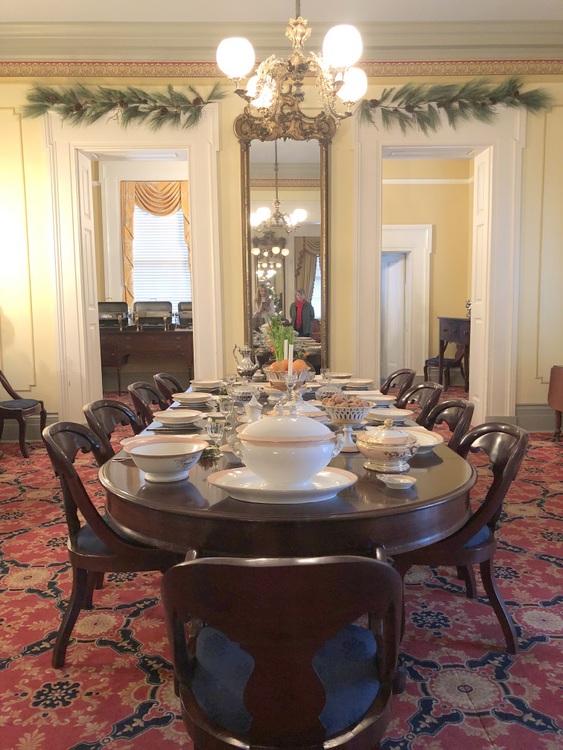 We didn't make it to all the homes on the tour because I locked my keys in the car midday and we had to wait for AAA to come to the rescue. We missed touring the idyllic Pullen Farm, where I've stayed many times and is currently for sale. You can check out one of several blogposts I've written about it here.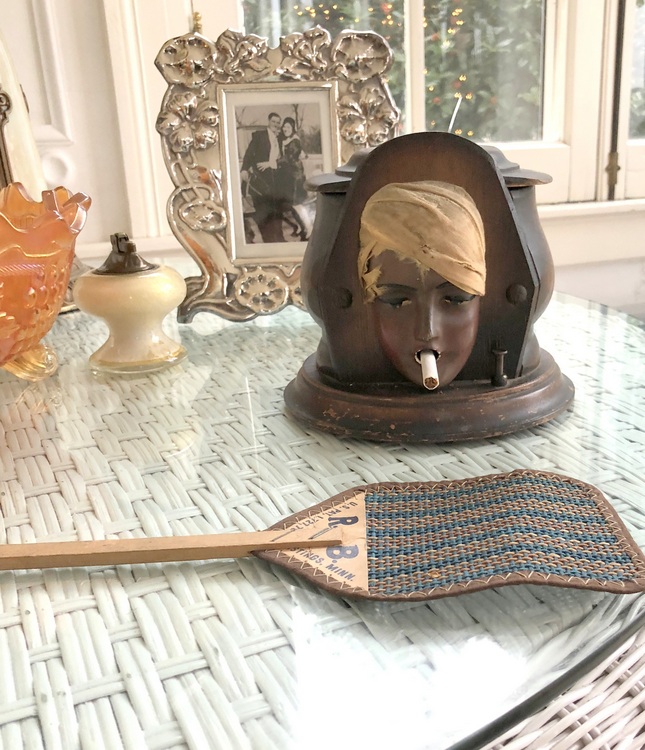 I hope you enjoyed Maury Christmas Historic Home Tour. I believe it may become a new Christmas season tradition for me!
If you want to learn how to choose the right paint colors for your home, my instructional video can help. Find out more here. And don't forget, our March 14-16 Expert Psychological Stager certification course is open for registration here!