Last February, I visited American architect Frank Lloyd's Wright infamous home, Taliesen West.  Nestled in the desert of Phoenix, Arizona, Taliesen West was not only the home in which he spent much of his last 20 years – it was, and still is, a school of architecture.  Frank Lloyd Wright started an apprentice program in 1932 and eventually used his students to help build his dream of a "desert camp."  Students were and continue to be required to live on-site in desert shelters they build themselves.  Former students are also able to retire to Taliesen West to be among fellow architects and, I suppose, to bask in their glory days.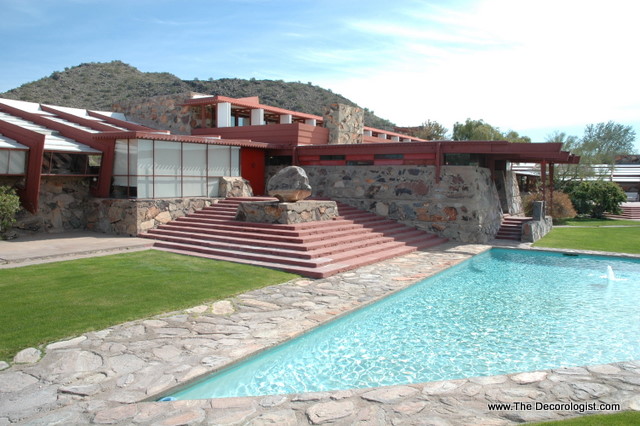 Taliesen West
FLW was quite a character – you either loved him or hated him, or possibly both.   He was unbelievably arrogant.  He was famous for his use of flat roofs, but even more famous for his flat, LEAKY roofs.  Despite the obvious problem, he continued to build houses with horizontal roofs anyway.   In fact, after he had lived at Taliesen for a few years, his living room was so leaky he installed INDOOR GUTTERS to catch the water.  Oh, my.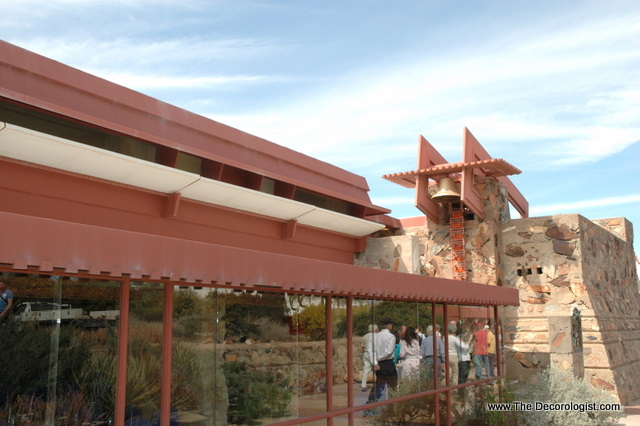 Outside of the Design School Drafting Room
FLW is credited with the invention of skylights, recessed lighting, the carport, steel frame doors, mitered glass, and stained concrete, among other things.  He never bothered patenting any of his inventions, though.    What I find most interesting about Wright was that he always insisted on designing and building the furnishings for the homes he built, much of which were built-in and completely focused on function.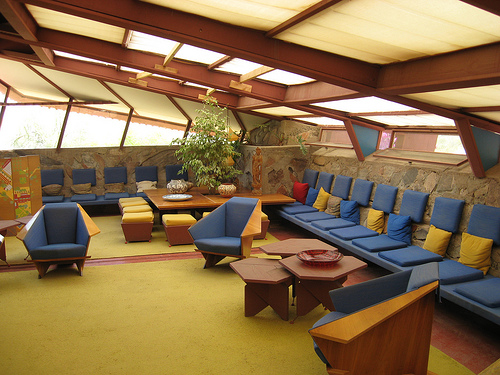 Frank was all about using organic materials gathered from the site of the proposed building.   He actually hated the idea of using glass at the time he built Taliesen West, and when he first built this office he installed canvas panels in place of the glass you see now and redwood beams in place of the eventual steel replacements.  The original materials were beyond impractical in the harsh climate and, besides the obvious water issues, he often had to deal with wild animals and snakes getting inside his home.  Yikes.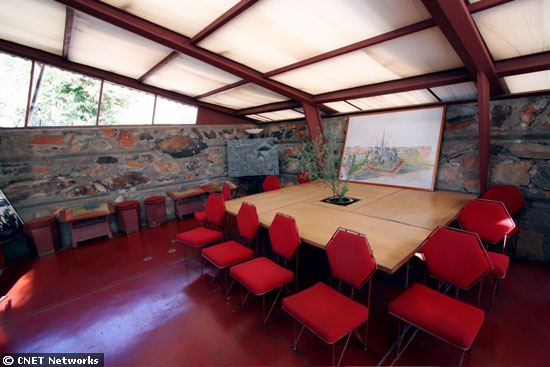 Frank was quite a whiz when it came to acoustics, too.  This Lecture Hall on the property is built in such a way that it has the most amazing acoustics – someone can stand at the front, turn their backs to the audience, and speak barely above a whisper and still be heard by students in the back.  Nary a microphone, people!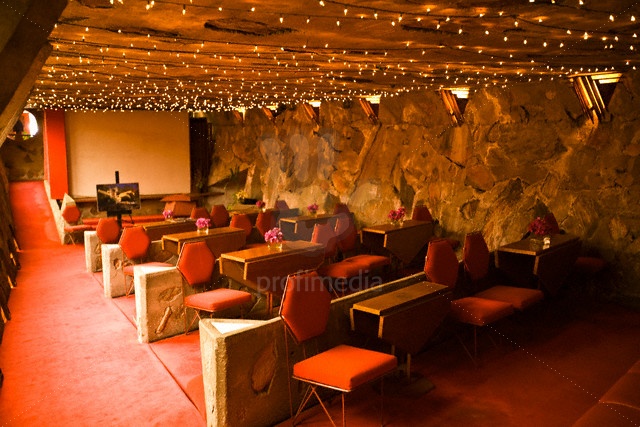 Design School Lecture Hall at Taliesen West
This was Frank's bedroom.  Small and cozy, very simple.  He considered ornate decoration and extraneous trimmings to be offensive.  A twin bed on either side of a divider – the more private one was for night, and the one in the open part of the room acted as a daybed for naps and lounging.
I will again be in the Phoenix area at the end of September.  This time I am looking forward to staying at the historic Arizona Biltmore.  Wright first visited Arizona in 1928 to consult on the designs of the Biltmore, and within 10 years decided to build his winter home, Taliesen West.   If you are in the area and would like a Color or Decoration Consultation from The Decorologist, contact me ASAP at [email protected] to schedule!