Last week my family spent an afternoon in Cave City, Kentucky on the way to visit my in-laws.   If you've been on that stretch of interstate, you've likely almost run off the road after spotting this life-size dinosaur replica right at the exit.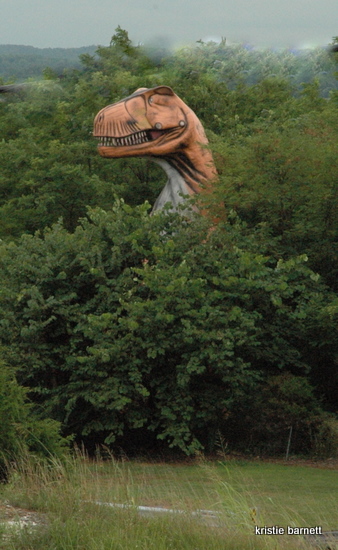 In its heyday, Cave City was full of family fun and quirky roadside attractions:  Dinosaur World, Guntown Mountain, haunted houses and mazes, waterslides, putt-putt golf, bumper cars, train rides, etc.  Several of those are still in operation, but most of them are not.  Bigger and flashier amusement parks like Kentucky Kingdom and Beech Bend have all but sucked the life out of this once-booming tourist area.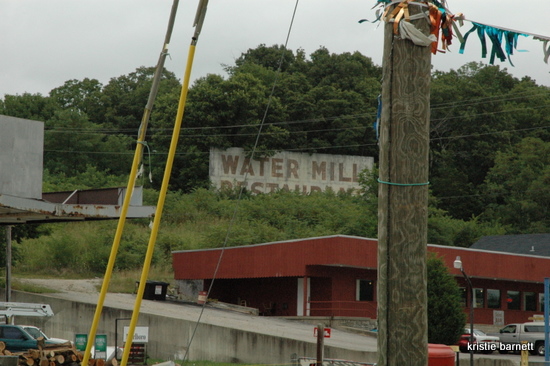 I've always had a strange attraction to abandoned buildings.  I always want to stop and look at abandoned houses, abandoned barns, even abandoned businesses.  I can't help but wonder who left them there just rotting away.  Why haven't they been sold or torn down?  What were they like in their day?  Who just walked away?  So Cave City was some kind of strange and twisted delight for me, replete with abandoned roadside attractions.   I just couldn't resist snapping a few pictures to share with you.  This abandoned souvenir store is appropriately named "Off the Beaten Path."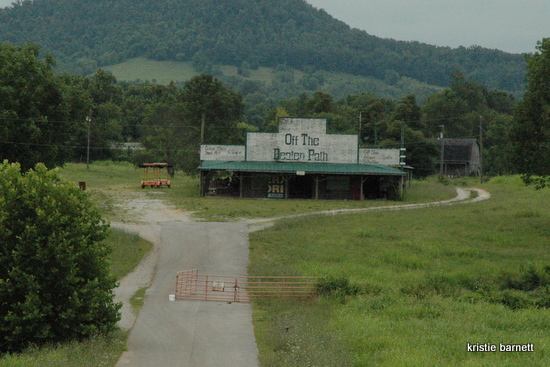 This is the old door at a no-longer-used entrance to Onyx Cave.  You can still enter the cave through the cave souvenir shop (which we did).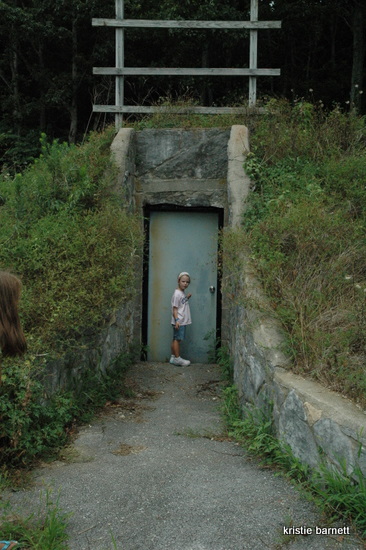 Nothing like a little hillbilly golf.  The sign is still in pretty good shape, but the actual golf course hasn't faired as well (as you'll see below).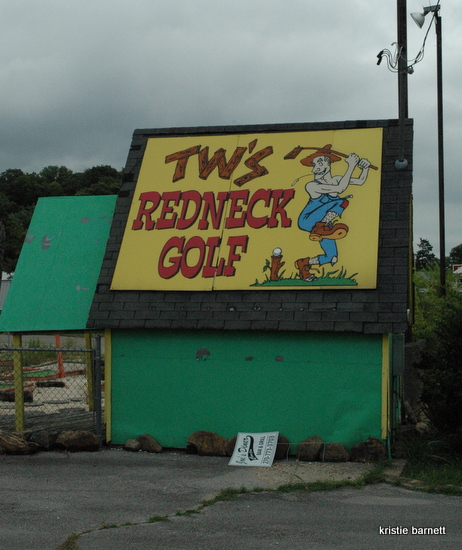 Yes, that's a bathtub and toilet right in the middle of TW's Redneck Golf.  Not sure if they were part of the original golf course, but I suppose there's a "you're-a-redneck-if" joke in there somewhere.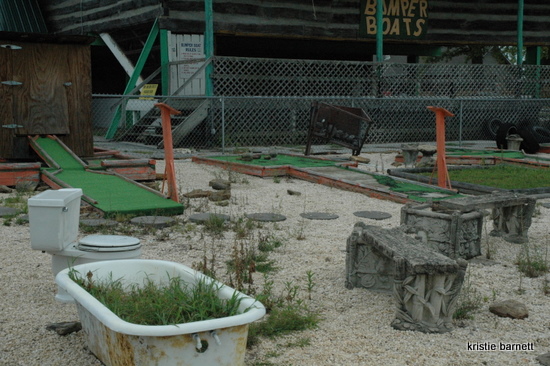 The discolored rhino and gorilla still guard the parking lot of this abandoned arcade.   No one has played Pac-Man here in a long time.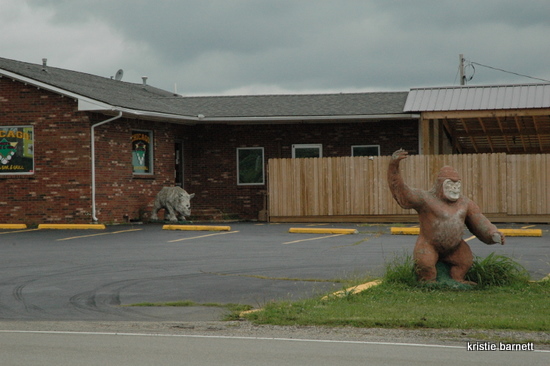 This roadside teepee built in the 1970's was probably the backdrop for a lot of snapshots for tourists.  Who knew that Native Americans used hollow-core doors?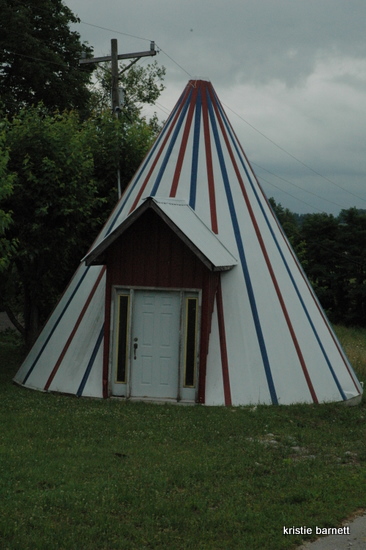 This souvenir shop/trading post is still in business.  There's just nothing I can say that is clever enough to capture the essence of this photo.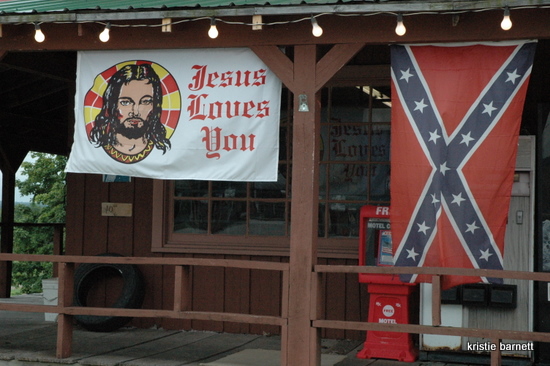 I guess some people are still buying firewood around here, because that truck doesn't look very old.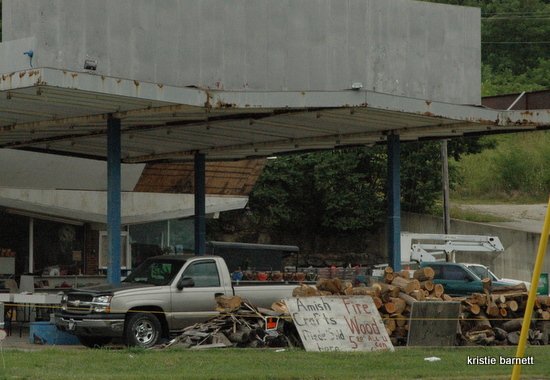 The dark skies above these colorful but abandoned shops seem appropriate.  I love the kitsch of all of this, but there's also a melancholic nostalgia about this place that haunts me.   It calls to mind childhood family trips to Pigeon Forge before Dollywood and outlet malls.  Does anyone else remember Hee-Haw Village?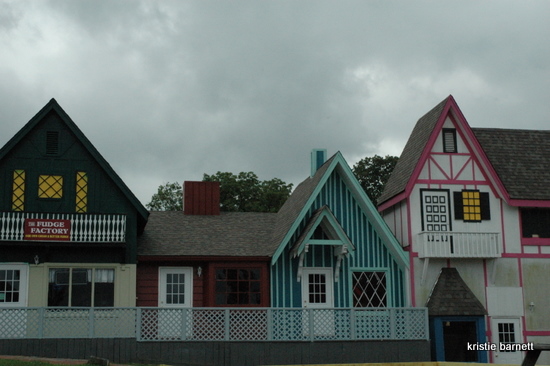 I think you can safely say that this haunted house is a whole lot scarier now than when it was in business.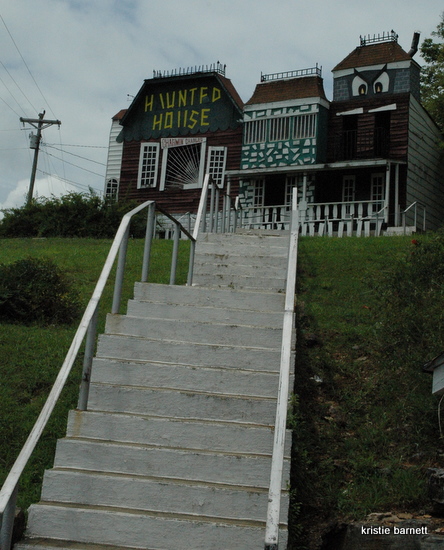 I cannot understand why any thinking person would abandon one Pizza Hut and build a new one right beside it.   Does that make good business sense?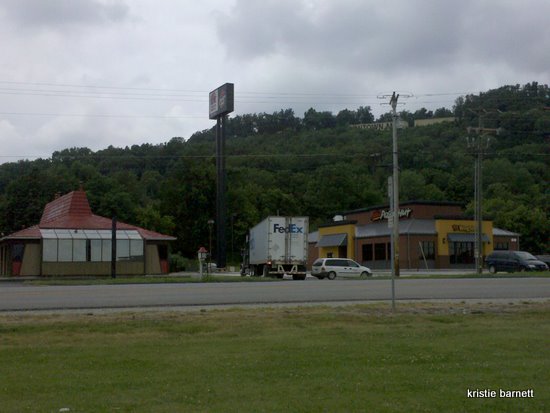 Don't get me wrong.  There are several attractions that are still alive and . . . well, they are at least still alive.  Dinosaur World, Guntown Mountain, Kentucky Action Park, Mammoth Cave, various souvenir shops, and fast foods joints are among the businesses that are still in operation.  And maybe they will survive another decade if they capitalize on their strengths.  Because there are at least a few of us who are willing to pay a few bucks to spend some time in an honest-to-goodness ghost town.  And there's a lot less traffic and shorter lines than in Kentucky Kingdom or Dollywood.
Share this Post