Happy Monday!   Today the amazingly-talented Annette Tatum will be guest-blogging for me.  Annette is a textile designer, author of

The Well-Dressed Home

, and mother of four.   Her design philosophy stems from her belief that your home should be a reflection of your lifestyle, which includes how you dress.  Her lovely blog features inspiring fashion and home decor ideas, as well as trends and fun decorating tips.   Annette helps you  explore your inner "fashionista," bringing a piece of the catwalk into your home!  Enjoy this wonderful post and check out her special offer at it's conclusion:
"As outlined in my book, The Well-Dressed Home , my design philosophy is all about layering. I believe that your home should be a reflection of the styles you wear and the lifestyle you enjoy. So instead of choosing this season's latest fashion craze when deciding on a design theme, why not allow your own personal wardrobe to inspire the décor?
For example, in my closet I have a lot of vintage and romantic pieces. I love vintage for its gently faded blues, floral-inspired periwinkles, and delicate silver accents. And then there's romantic… a heartfelt Romeo and Juliet fairy tale of tea-party florals, Rodarte dresses, and pink pastels paired with their voluptuous color palette counterparts.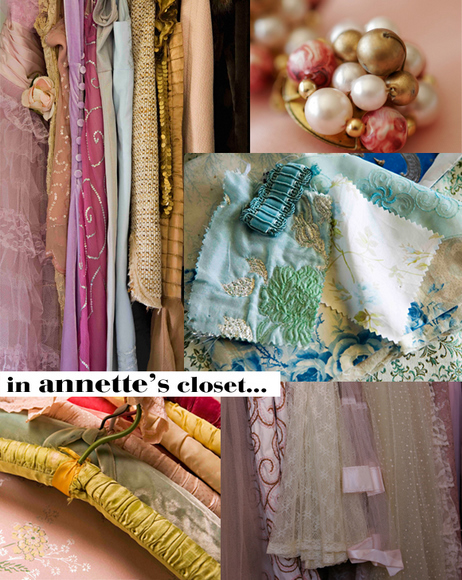 So when decorating my home, I looked to these themes to inspire the décor. I created these collages, which I call style files, to gather and organize my inspirations. I recommend creating one before designing a room, as it provides a visual interpretation of the motif, and allows you to judge its cohesiveness.
The picture below illustrates my thought process when decorating in the casual and romantic styles. See how this lovely lace pale pink dress influenced the textures and patterns in this design board, which inspired the room to the right.

Notice here how the elegant gold and cream shades translate from the runway to the room…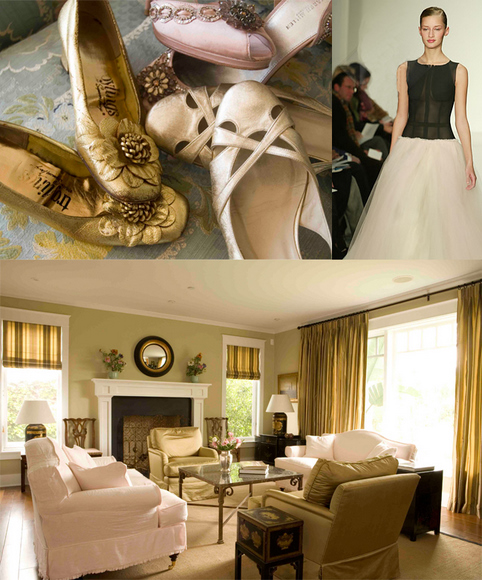 And the collage below, a visual interpretation of vintage and romantic styles inspired by their corresponding pieces in my wardrobe, influenced the pale pinks and gentle neutrals in this vintage inspired bedroom. Pink… it's the perfect neutral.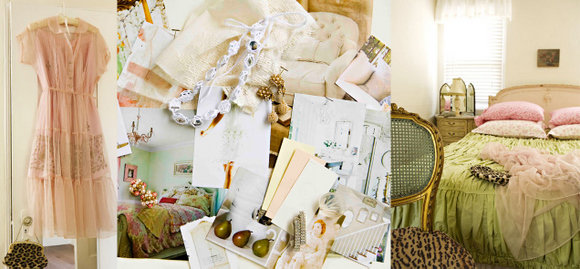 All of these photos are from my book, The Well-Dressed Home. If you'd like to see more, visit our blog at www.annettetatum.com/blog, or purchase the book, The Well-Dressed Home, at www.annettetatum.com/book.
And exclusively for The Decorologist and The Well-Dressed Home blog readers, use the coupon code "home" to get $5 off the original price of a signed copy!"
Thank you, Annette, for sharing your vision and these lovely images with us!  I encourage my readers to check out her blog and order her gorgeous book today.