I think children's birthdays are magical.  A simple theme can be developed into something truly special that you and your child will never forget.  For my daughter's 4th birthday, we decided to make it all about butterflies.  And what little girl doesn't love butterflies?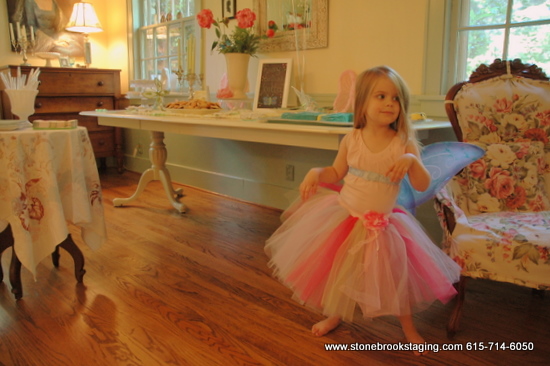 So, let's start with the decor.  I actually have lots of butterfly ornaments that I use on my Christmas tree, so I pulled those out to start.  The colors were pink, creamy white, light green, and pale blue.  Pink, white, and green balloons and faux flowers made the dining room feminine and airy.  For this party, I shoved my dining room table against the wall to serve as a buffet for the food and to provide more room for guests to mill around.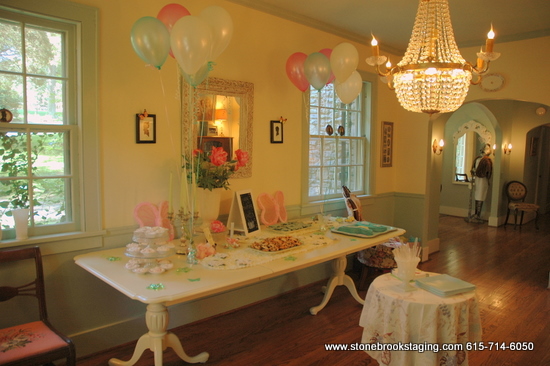 I used colored chalk on a chalkboard easel that I got for $3 at a yard sale.  Those flower thingees laying on the table are a pair of table runners with applied flowers and fabric petals – they kinda have a lily pad effect, but it works.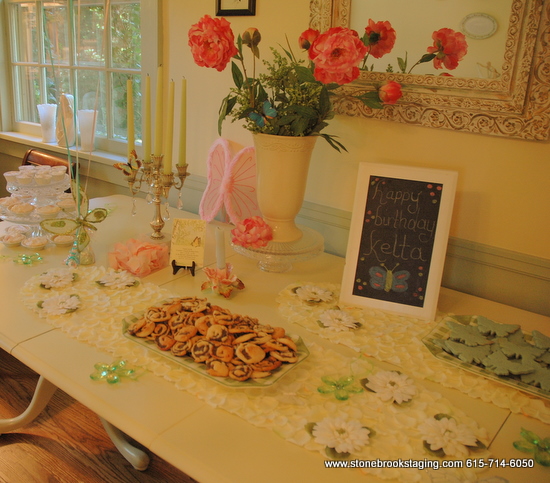 I found a picture out of a vintage children's book and scanned it to create a custom butterfly invitation.   The invite read "Flutter On By to the Barnett Butterfly Garden for Kelta's Birthday Party" with details and rsvp information.  Feel free to download the one I created which can be customized for your own butterfly birthday party.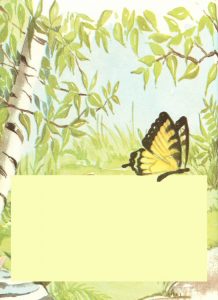 We served "Butterfly Nectar" to the guests.  In other words, Juicy-Juice.  It's all in the presentation – I found these foam craft flowers in bulk at Michaels, punched a hole in the middle of them, and stuck a short straw through.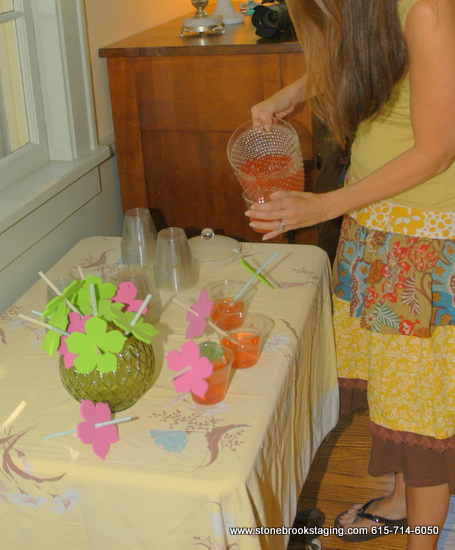 This cake was soooo easy.  Really!  I made a large round cake, cut it in half, flipped the halves over, and carved out the "wings" on the outsides of the two halves.  A twinkie and colored Twizzlers created the body and antennae.  The details on the wings included some flat candy sprinkles and clear sugar sprinkles.  JoAnn's has lots of colored candies that you don't find most places that really simplify my cake decorating.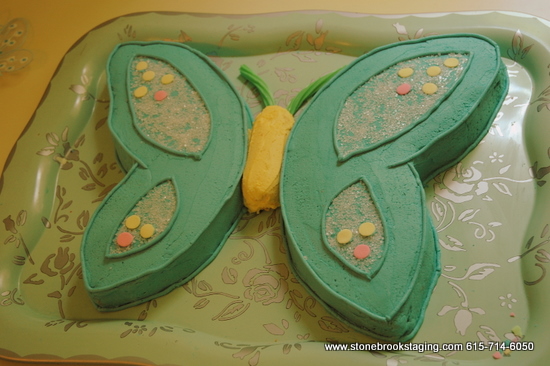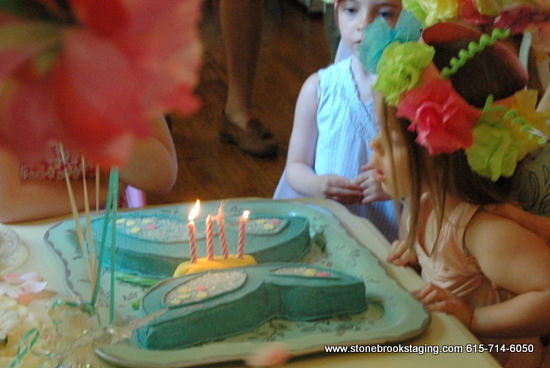 Other food included these frozen strawberry salad cups (recipe at end of post), sausage pinwheels, and butterfly-shaped cookies.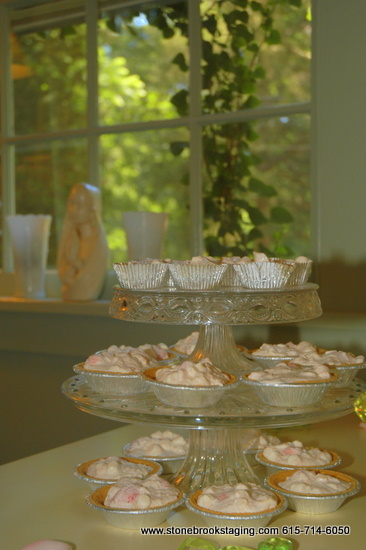 For my delicious shortbread recipe that I used for the butterfly cookies, look here.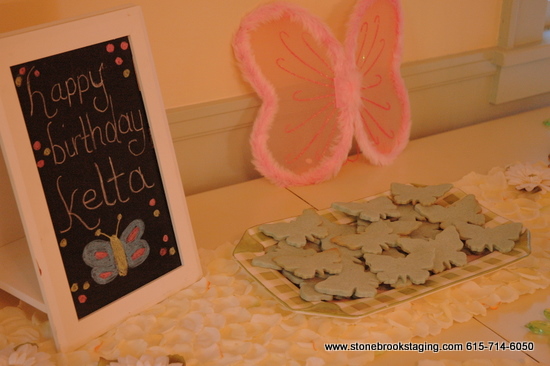 In another room, I set up a table for crafting.  I borrowed and bought enough butterfly wings for all the girls to have their own pair and scattered them around the table.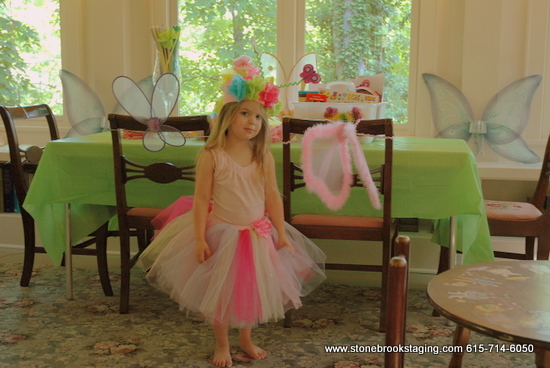 Now, older girls might be able to do these themselves – but I premade little tissue paper flowers for them to glue to headbands to create their butterfly "hats."  I simply cut out uniform squares of tissue paper, stacked 5 pieces, and accordion-folded the paper.   I secured the middle of the folder papers with a twist tie, then began separating the tissues to form the petals of the flowers.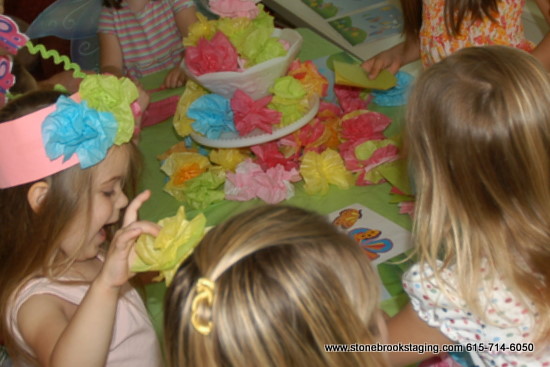 I helped the girls twist pipe cleaners around pencils to make antennae while they cut out pre-printed butterflies and glued them to ends of the pipe cleaners.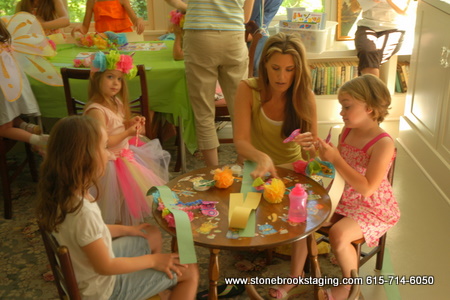 With butterfly wings and floral crowns, the girls look all aflutter!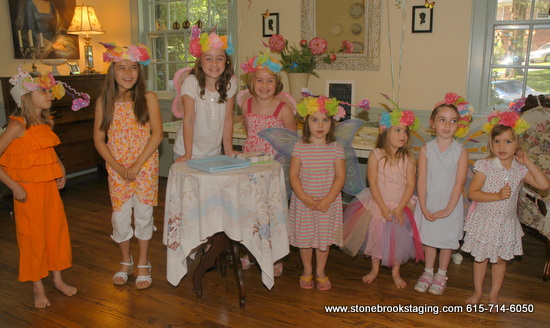 Everyone colored beautiful butterflies that I downloaded from here.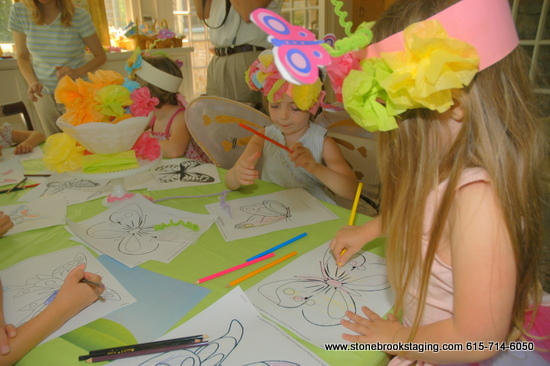 The girls also made a lovely stained glass butterfly with wax paper and crushed crayons.  The instructions from Enchanted Learning are here.   Afterwards, the girls went outside to take a swing at the candy-filled butterfly pinata.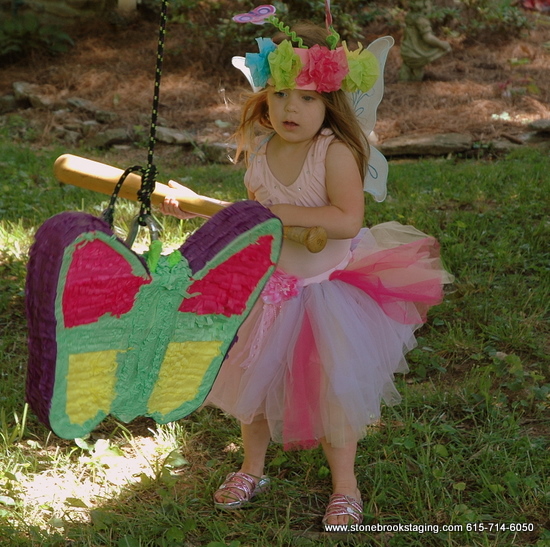 Goody baskets were filled with a butterfly puppet, butterfly tic-tac-toe games, a mini windchime, butterfly bookmarks, and a butterfly sucker.  The baskets and contents were mostly from Dollar Tree, except for the tic-tac-toe games from the Target dollar aisle and suckers from Oriental Trader.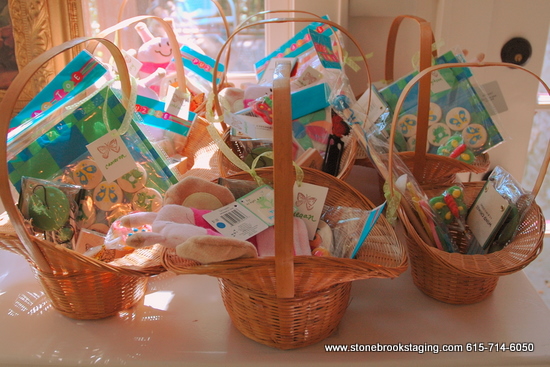 Hope you liked this party proposal!  Click on the pics below for more details from the butterfly party.
Recipe for Frozen Strawberry Salad Cups:
diced pint of strawberries
1/2 small can of condensed milk
pineapple tidbits
2 cups cool whip
2 chopped bananas
Mix berries and milk.  Fold in pineapple, bananas, and cool whip.  Freeze in aluminum baking cups on a tray at least overnight.  You can make these weeks in advance if you like.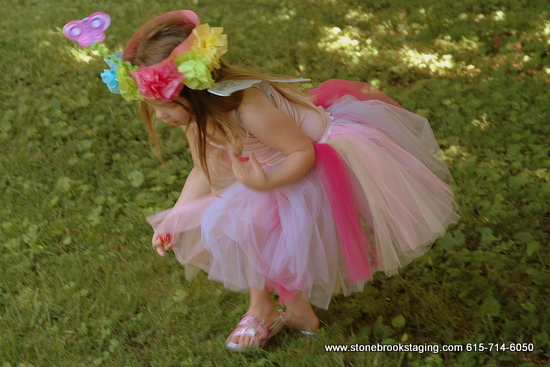 .