If I've seen one brown leather sofa, I've seen 682,000 of them in my clients' homes. Like a big brown hole in the middle of the family room, the brown leather sofa can suck the light and the life out of an entire room.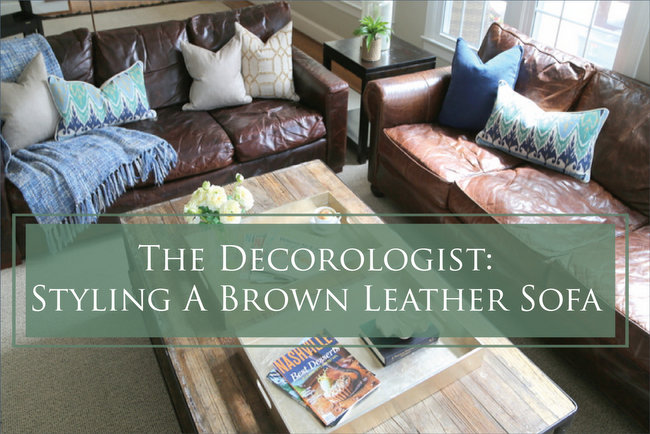 But it doesn't have to be that way! Here are some trips and tricks to bring that leather sofa to life with some inventive styling:
1) Lighten It Up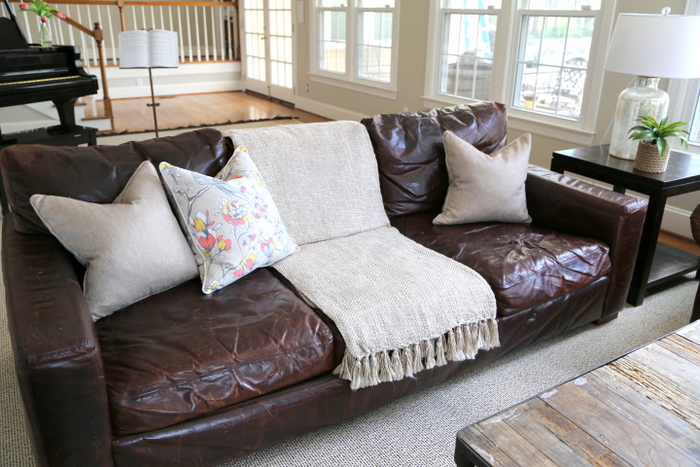 pillows and throw from HomeGoods
To lighten up the sofa, start with a light-colored throw or blanket. Fold it lengthwise and place it down the middle of the sofa, tucking it into the sofa cushion in the middle. Next, add a pair of light-colored solid pillows – one on either end of the sofa. Finally, add a patterned pillow to liven things up. Although I only used one in this scenario, you could use a pair of patterned pillows on either side in front of the solid ones.
2) Add Some Color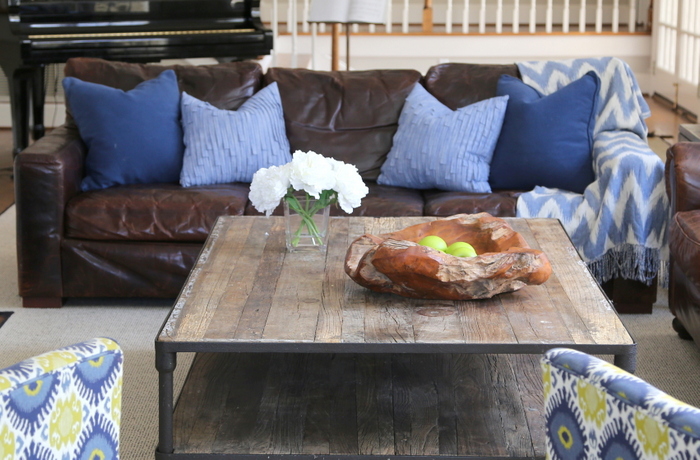 The Decorologist
Get out of the rut of only using neutrals on your brown leather sofa. I decided to use blues because the room already had that color throughout. Start off with a patterned throw and casually toss it over one end of the sofa to soften it. Next, add a pair of solid colored pillows – one on either end. Finally, brighten it up with a pair of lighter colored pillows with some texture in front of the solid ones.
3) Give It Some Pop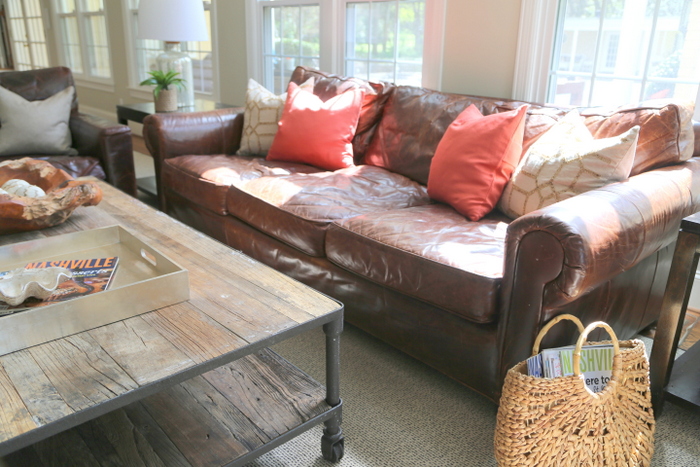 Start with a pair of textured neutral pillows, one on either end of the sofa. Then add a pair of solid orange (or other bright accent color) pillows to create a color pop against the dark leather. Just make sure you repeat that new color in accessories or decor elsewhere in the room.
4) Mix Things Up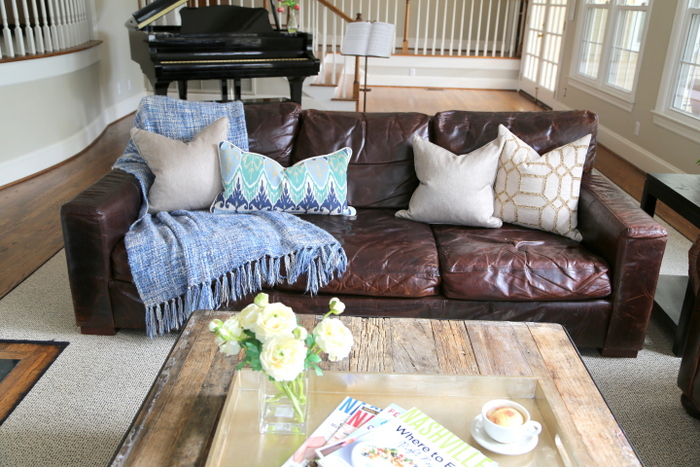 The Decorologist
Take the boring out of your brown leather sofa by adding a mix up of pattern, color, and texture. This will give the sofa an eclectic, bohemian vibe that works great for a family room. Drape a textured blanket over one end and add a few pillows of different colors and patterns. Make sure to add a different shape (such the lumbar pillow I used) to make the arrangement feel more casual.
5) Choose the Right Materials
Unlike other upholstery, leather is non-porous slick material. That means things tend to slide off of it, like pillows. If you'd tried to use poly-filled pillows on leather before, you know what I'm talking about. Here's the trick:  ONLY use down-filled pillows in textured fabrics. Slick fabrics like raw silk will slip off faster than water off a duck's back. Plus, down-filled pillows hold their shape better with a nice little karate chop. I found all of the pillows and throws in this post at an affordable price at HomeGoods!
I'd love to see photos of how you've styled your brown leather sofa – just snap a photo with your phone and post them in the comments below!