My friends, the dining room is getting smaller and smaller. A recent study by the National Association of Home Builders (NAHB) asked single-family builders how they distribute the finished floor space in their typical new homes. In an average new build, the dining room accounts for about 7% of the total square footage of the home. That's not much more than what is allocated for the master bathroom (6%)!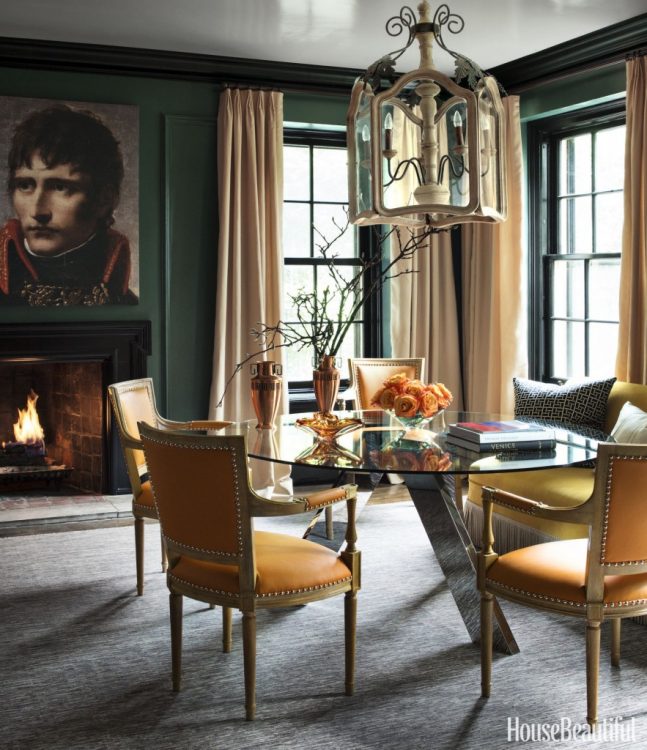 True, builders know that we don't often eat in "formal" dining rooms anymore, so the square footage is more needed in the kitchen or family room. These new smaller dining rooms are typically square or nearly square, similar to the 1960-1970s ranch home neighborhoods that are prevalent across America. But, guess what? Most dining tables available in retail stores are rectangular – a shape that is best for a rectangular room! Of course, a nice long rectangular table can seat many guests, especially when there are leaves in the table that can be added when extra length is required. But what good is a long table if it's too small for the small square dining room?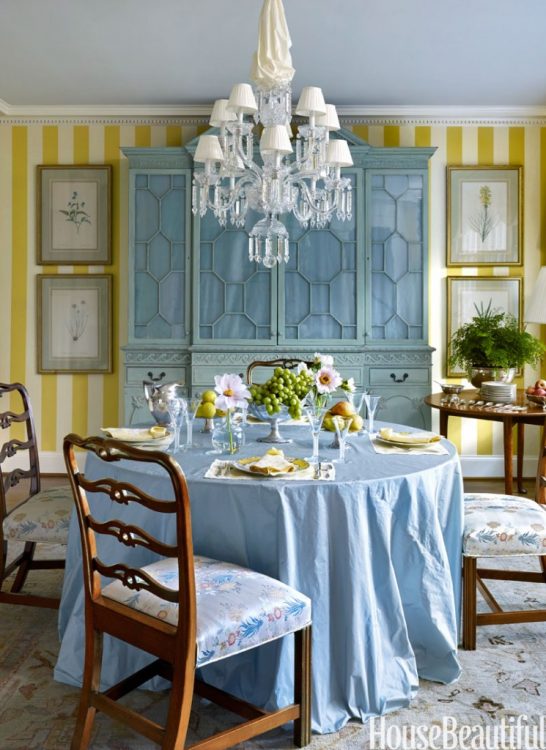 Miles Redd via House Beautiful
When you're deciding what size table to use in your dining room, there's more to consider than just how many people you want to be able to seat. Although we'd all love to seat twelve people at the dining room, if you don't have enough room to circumnavigate the table, it's just not gonna work.
If you have a square dining room, your best choice in terms of both form and function may be a round dining table. Unfortunately, it's not as easy to find a round dining table compared to a rectangular dining table.  A round dining table is easier to find in 48 inch diameter (or smaller) size, but these only accommodate four to six people. If you're like me, you want to accommodate at least eight for a dinner party.  A 60 inch diameter round dining table will get you seating for six to eight comfortably, but again, there are fewer options in that size.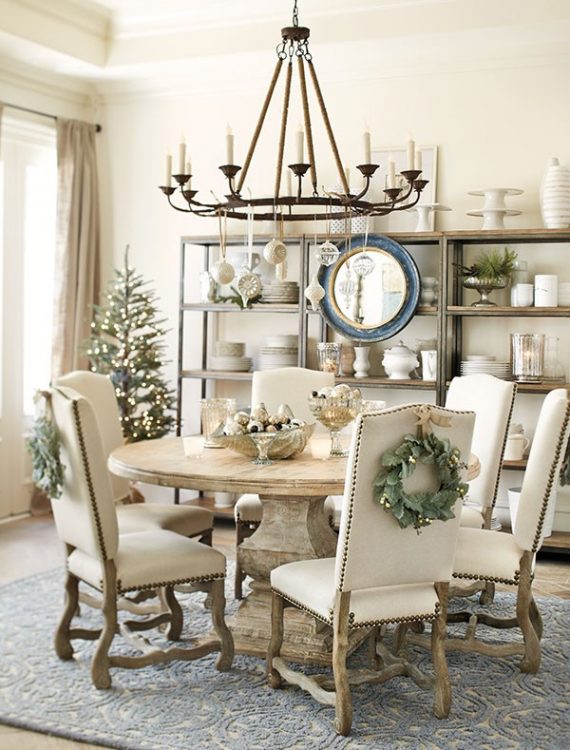 Go ahead and eliminate a round dining table option that has legs around the perimeter of the table – these legs will eat into your chair space and make it difficult to squeeze in as many guests. You want to avoid your guests bumping their own legs on the legs of the table! Be sure to look for a pedestal table, which means it has a broader support is in the middle of the table, rather than smaller, multiple legs around the perimeter of the table.
If your dining room is small, the best thing you can do is to get narrow, upholstered parsons chairs. They tuck nicely under the table, and you can have them custom covered in any number of beautiful fabrics. They're super-comfortable, and the fabric on the chairs really adds a lot to the dining room that may be lacking in pattern anyway. If you leave off the arms, you will have plenty of room for six to eight chairs. I find that conversation is much more lively around a round table, because you can all see each other easily!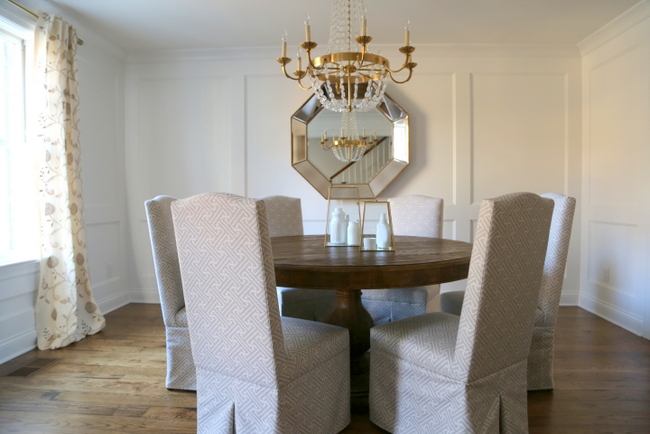 The Decorologist
For my client's new home, we chose skirted parsons chairs in a custom fabric to complement the lovely curtains we had made for the room. The 60 inch round dining table from Restoration Hardware is set for six, but will accommodate two more chairs. I made sure the chair fabric worked in the nearby living room, so that the dining chairs could be used for extra seating for large gatherings in the other room, as well.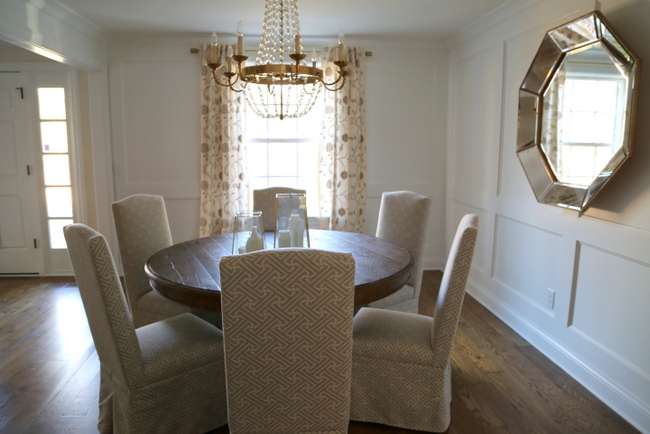 The Decorologist
If you're lucky, you may be able to accommodate a narrow buffet or credenza on the back wall facing the entry of the dining room. This will provide some nice storage for dishes and serving pieces. You can place lamps on either end of the credenza and art in the middle of them as a focal point – or a mirror to reflect the light fixture.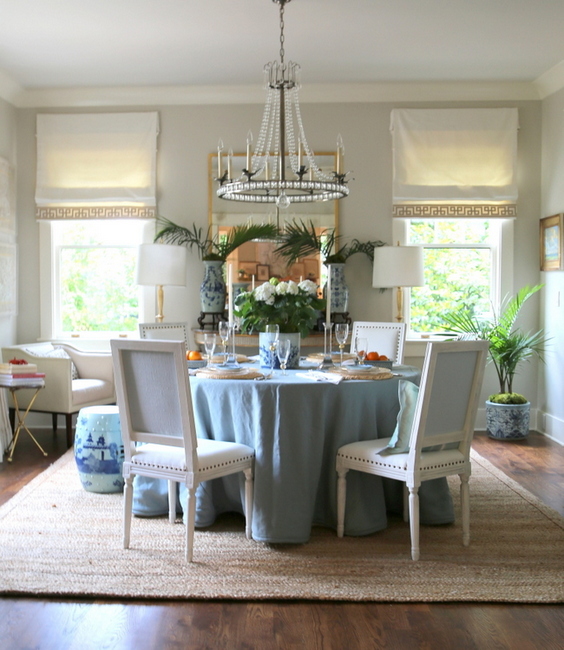 Lila Pryor Frank Interiors from the 2016 O'More Showhouse
Keep in mind: if you decide on a smaller round dining table with a leaf, most end up becoming ovals rather than a larger round. I prefer to get the largest table the room will allow and just leave it that way all the time so I don't have to drag out leaves and extra chairs for parties.
Spots are beginning to fill for my spring Expert Psychological Staging course, so don't miss your chance to kick-start a new career doing what you love every day!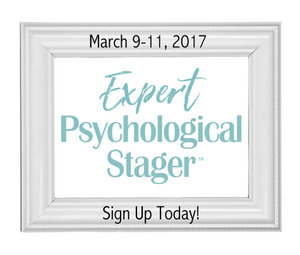 Share this Post