I was invited for a personally guided tour through the new Southern Living Showcase House in the The Grove in middle Tennessee. The home was designed by architect Mitchell Barnett and built by Hatcliff Construction, which has been a part of the Southern Living Custom Home Builder Program for 9 years.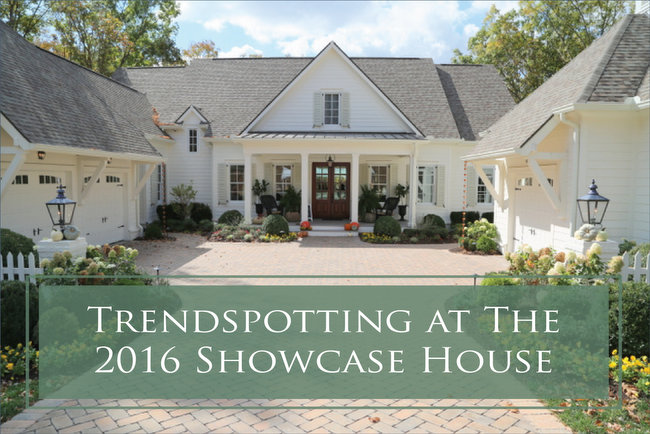 As I took in the spaces during my tour on Monday, I noticed there five recurring design trends that I saw throughout. You'll see why I call them:
The Five M's of the Southern Living Showcase House
1. Mixed Metals
If you read my blog, you know that mixing metals in very on-trend. However, the number of metals mixed in the Showcase House might surprise you.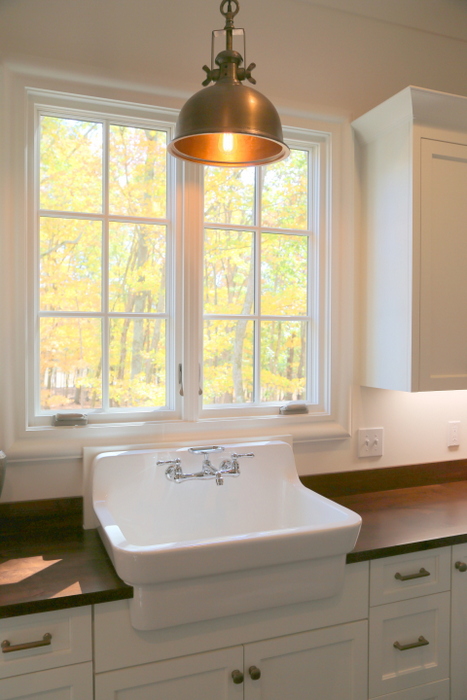 copper + nickel + antique gold
Iron, nickel, copper, and antique gold were mixed with abandon, even in small areas like bathrooms. The differing metals gave the spaces character and were tempered with a very neutral backdrop.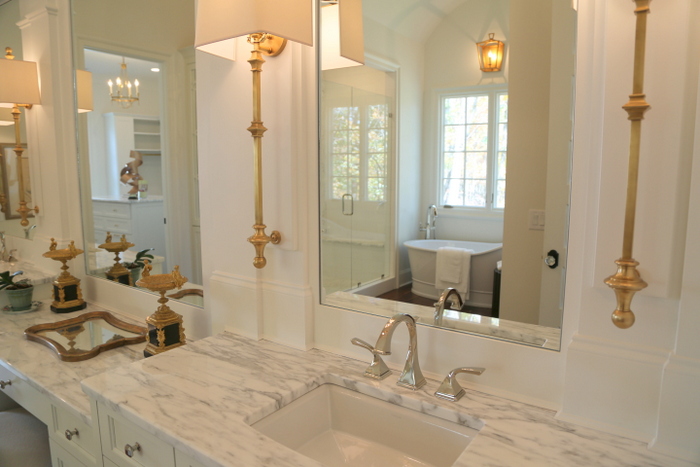 gold + nickel + black
All the bathrooms were white and gray, with marble and quartz surfaces. If there had instead been lots of warm granite and earthy tile, the look would have been too busy and jumbled.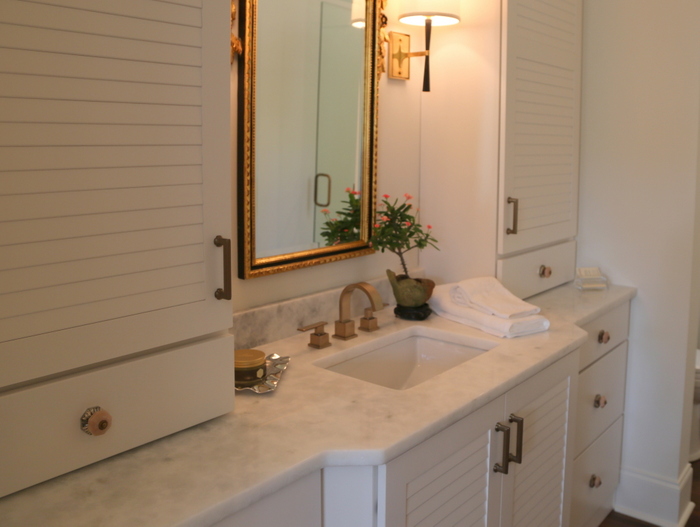 burnished gold + black + oil-rubbed bronze
I typically keep my mixed metals down to two or three at the most,  but as you can see, it is somewhat of a personal artistic choice.
2. Mixed Tiles
Mixing tiles in bathrooms and showers is nothing new, but the Showcase House mixed the textures and shapes of the tile, rather than the colors. Marble and white/gray porcelains dominated the home, keeping things fresh and light.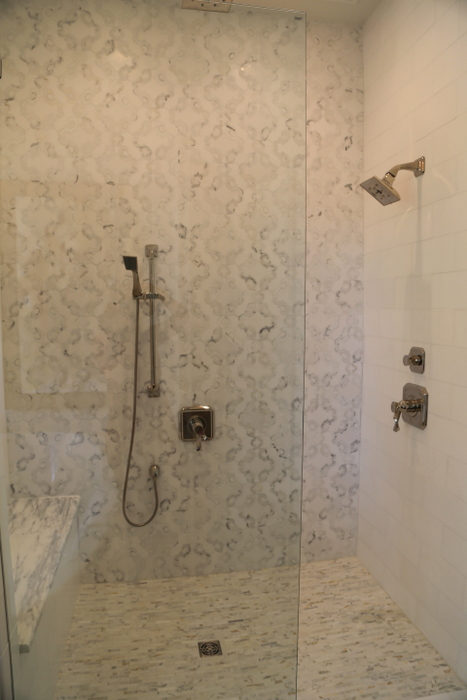 four different tiles in one shower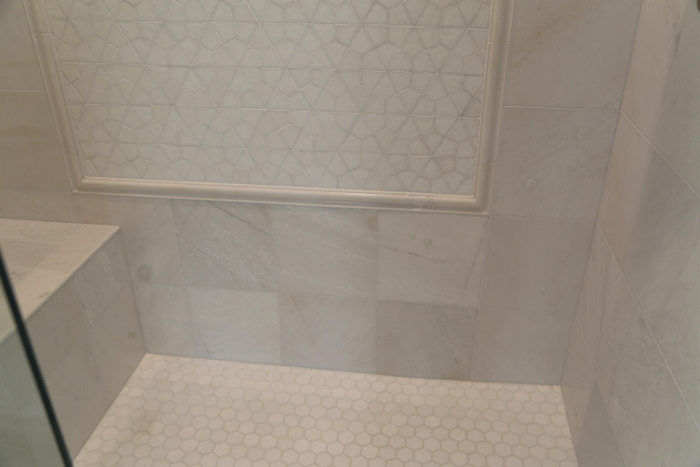 three different white tiles in shower
I noticed that all of the grout was white, which could suggest a tiring of all the gray grout we've been using the last couple of years? I don't know about you, but I think a little light gray grout would have nicely defined this scallop tile.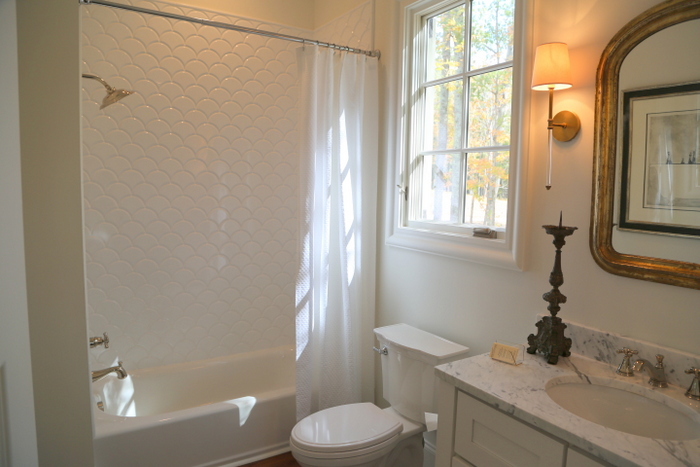 3. Marbled Surfaces
I've already mentioned the marble and quartz surfaces in the bathrooms, but there are many other marble-like surfaces throughout the Show House. These include the kitchen counters, tabletops throughout, and even lamp bases.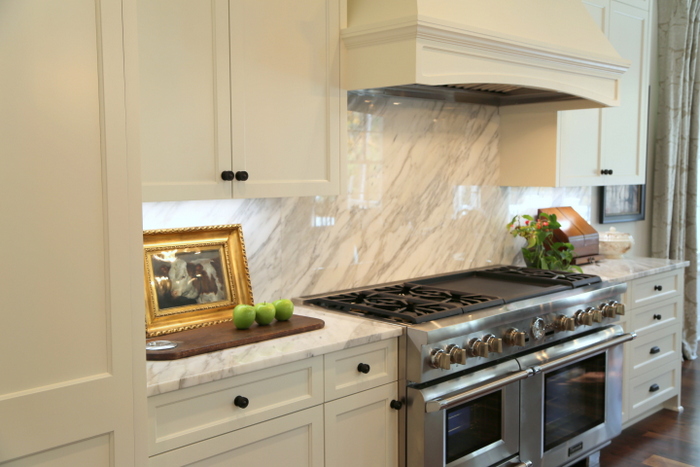 Calacutta Gold Marble on counters and backsplash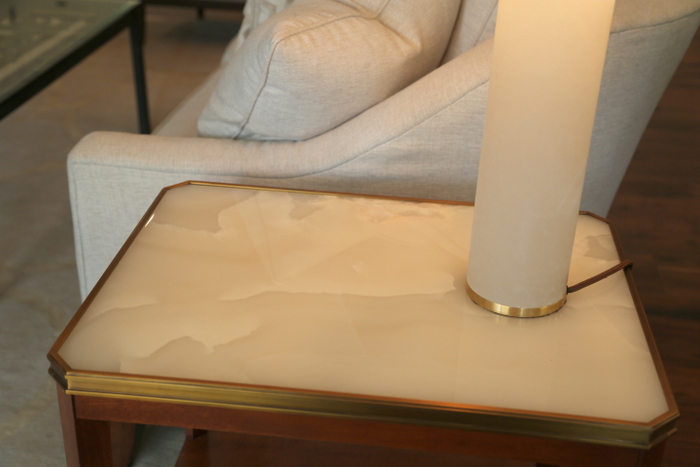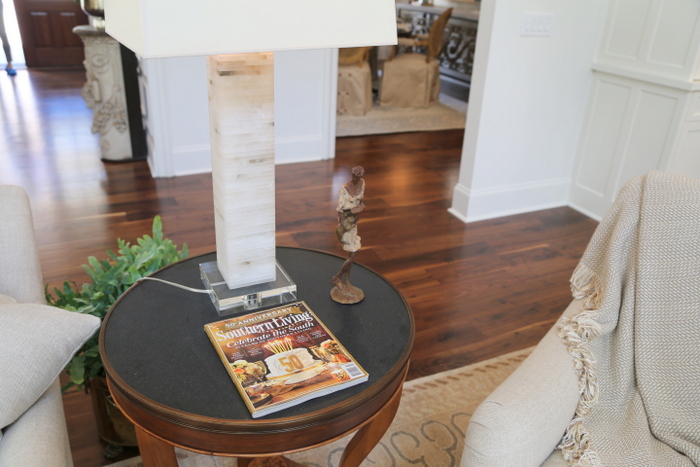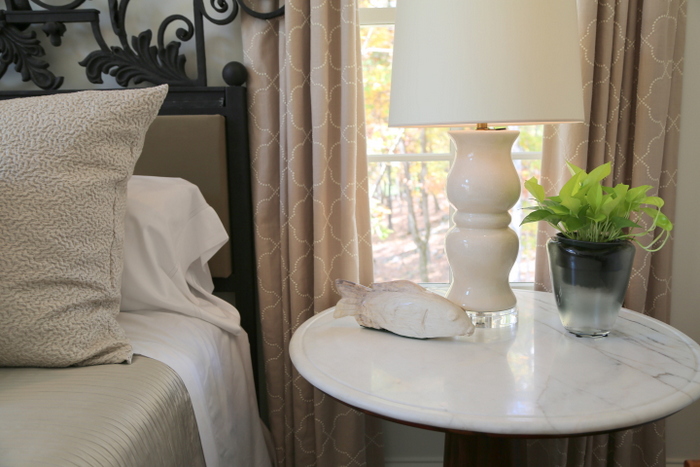 4. Moulding on Wall Surfaces
One of my favorite things about the Southern Living Showcase House is the creative use of moulding on wall surfaces. There is classic box moulding in formal areas like the dining room,
fretwork on the ceilings of the stairwells (this is my favorite!),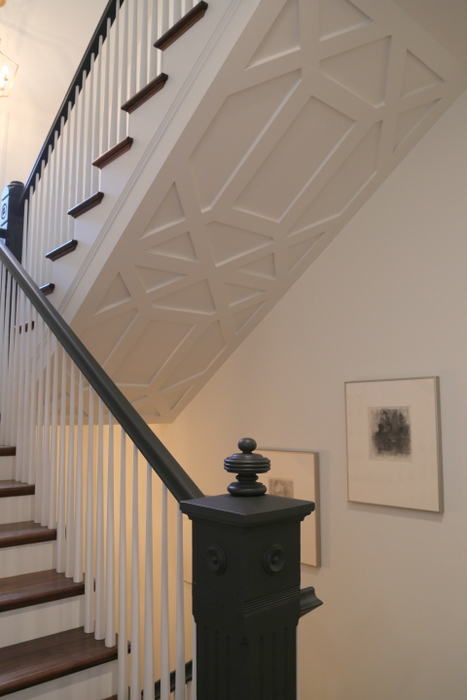 vaulted barrel ceilings, beadboard, and even an arts and crafts inspired wall moulding in the golf garage. Yeah, you heard me correctly. There's a mini-garage just for the golf cart and golf supplies.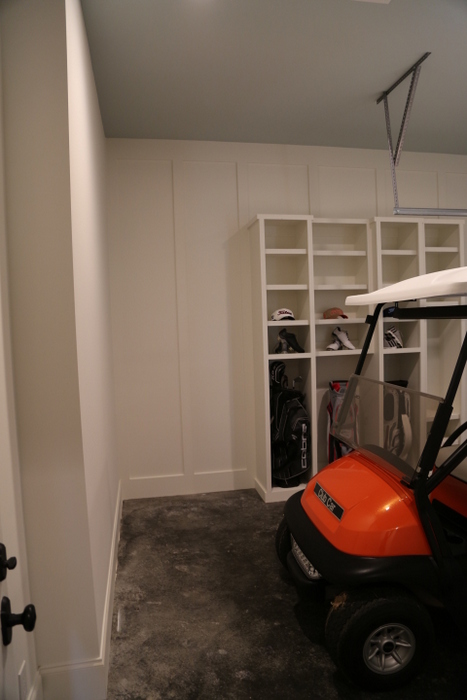 5. Mellow Bedscaping
Following the ongoing trend of less formal bedding, the Showcase house featured lots of layered, neutral bedding. Bed linens were casually folded back, blankets and throws were tossed across their ends or corners, and this guest room even featured a knotting of a blanket at the corner creating a most interesting effect: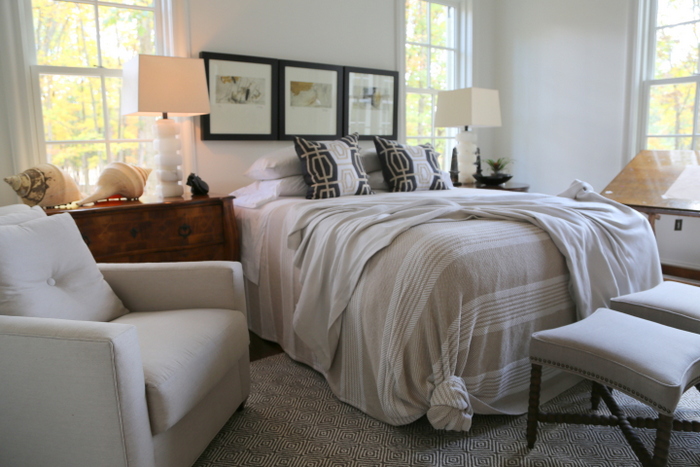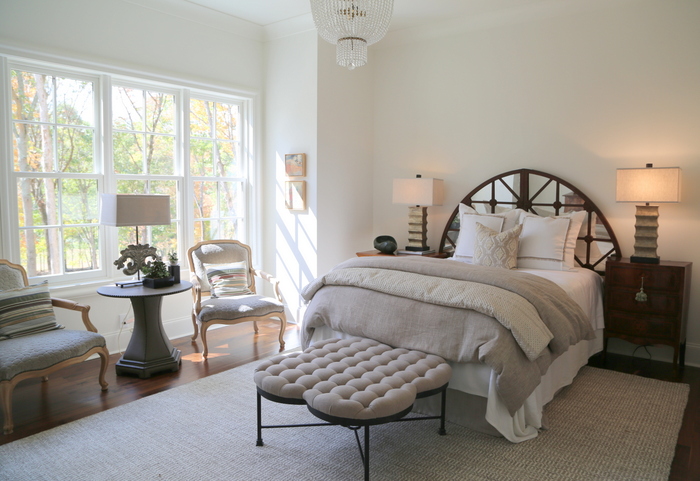 bed linens by Bella Linea
Ok, in case you haven't noticed, this house sports a whole lotta WHITE. Which is a huge trend – two of the big paint companies named a white as their 2016 Color of the Year.  However, there are some smidgens of interesting paint colors that I will show you in the next blogpost. I'll share all the paint colors, both interior and exterior, so stay tuned!
Kudos to Hatcliff Builders, Architect Mitchell Burnett, and Davishire Interiors for this beautiful and inspiring home.
The Southern Living Showcase house is open seven days a week from 10-4 October 14-30 at 6200 Wildings Blvd, College Grove, TN. For more information, go to groveliving.com.