Seems like people are more interested in paint colors than ever before, so I thought I'd share the Sherwin-Williams paint colors used on both the interior and exterior of the Southern Living Showcase House that I toured in The Grove earlier this week.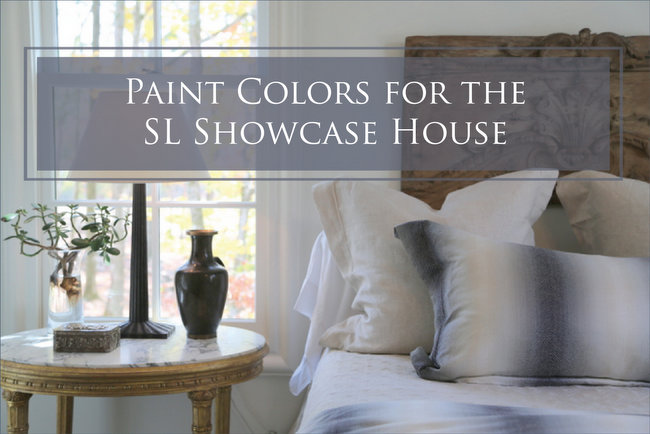 The facade of this home is particularly welcoming and even cozy, because it's structured like a u-shaped courtyard. The light-colored shutters and beadboard porch ceiling lend southern charm.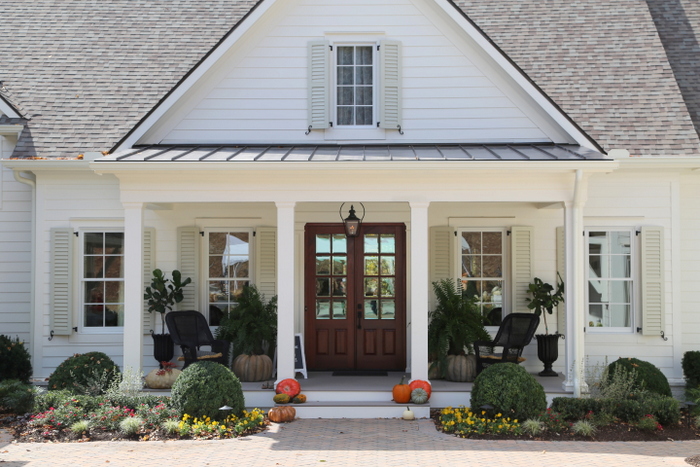 The shutters are painted in Sherwin-Williams Ancient Marble. The porch ceilings are all Sherwin-Williams Rainwashed.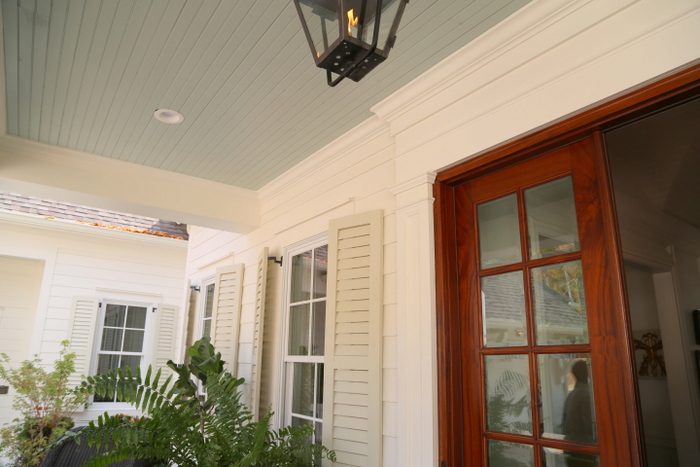 The exterior siding and trim is painted Sherwin-Williams Dover White. Notice the copper rain chains on the side of the garage.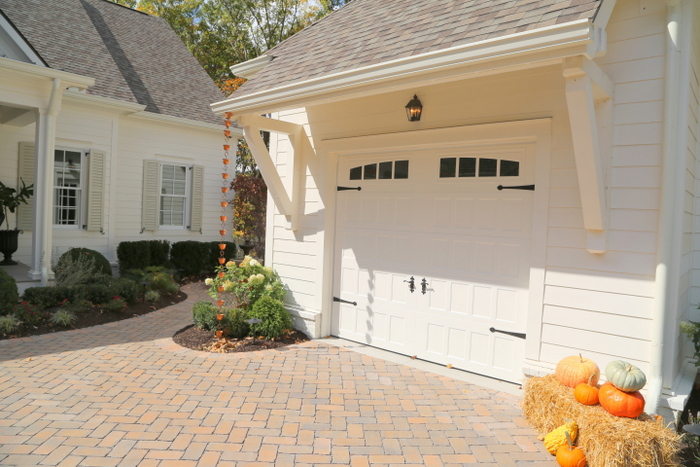 The vast majority of the interior is painted in Sherwin-Williams 2016 Color of the Year,  Alabaster. While there is no doubt that whites and off-whites are trending for interiors, you have to be willing to add lots of fine furnishings and decor to make it feel finished. If you have one ugly or particularly colored piece, it will stand out like a sore thumb against a white backdrop.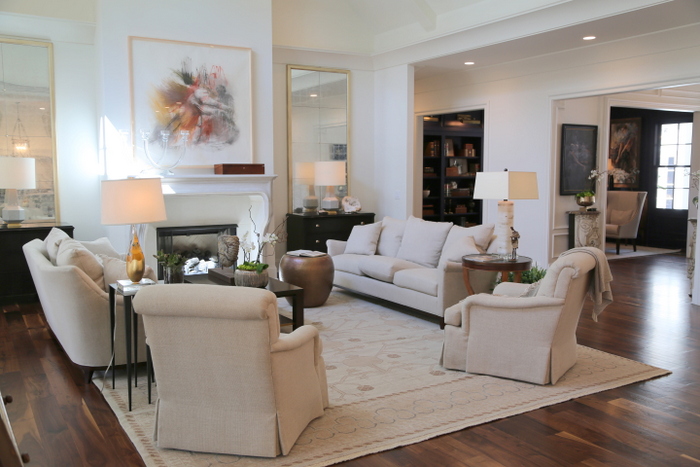 Sherwin-Williams Alabaster has a slightly yellow undertone. If you like this white paint color, be careful not to get it mixed up with Benjamin Moore Alabaster, which has a pink undertone.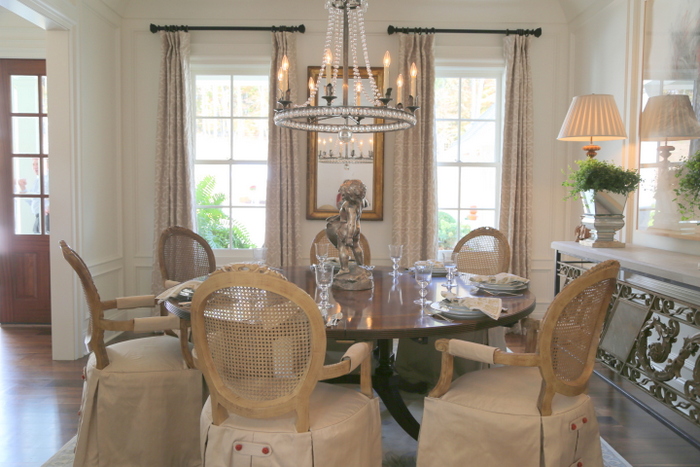 All the bedrooms are painted the same white as well, so I won't bother showing you those here. The library is the boldest room in the house, painted in Sherwin-Williams Old Navy. Be careful with this color, it definitely leans a bit towards purple: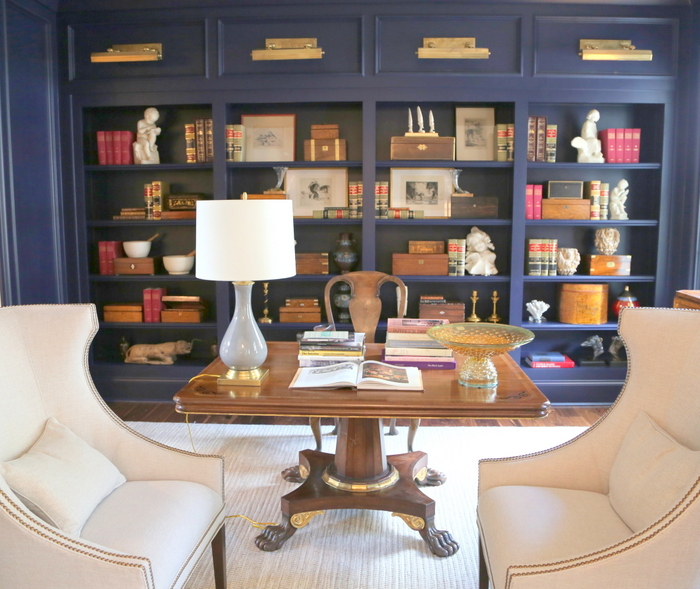 There are a few instances of blue painted ceilings on the interior of the house, including this back hallway.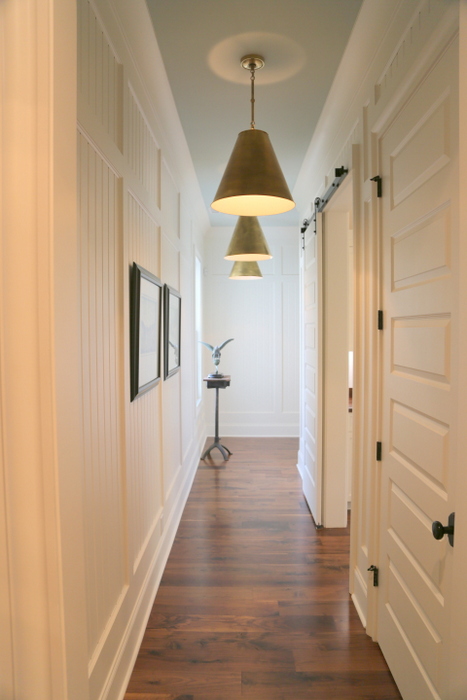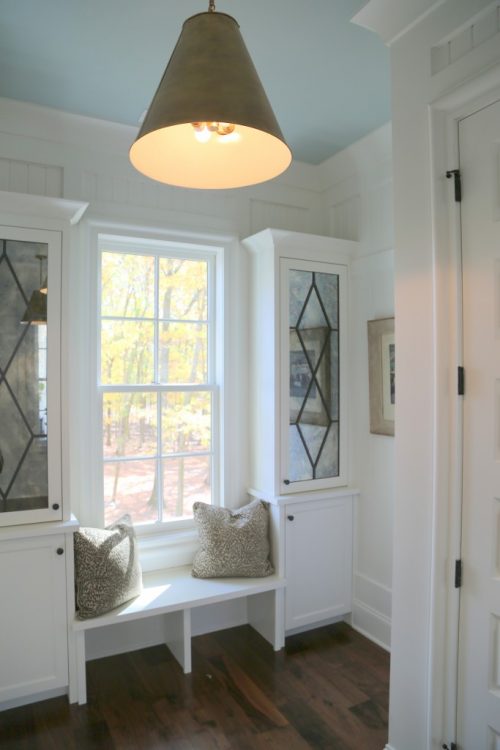 ceiling is Sherwin-Williams Rainwashed
This dramatic powder room on the main floor is Sherwin-Williams Iron Ore. And check out the wall moulding here: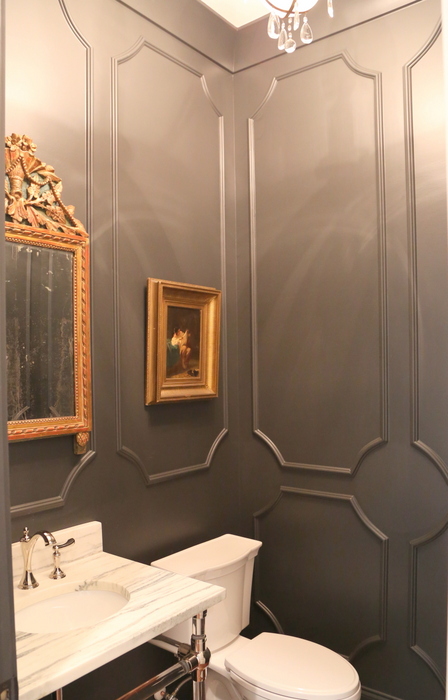 Sherwin-Williams Iron Ore is also the color of the handrails and newel posts on the stairs.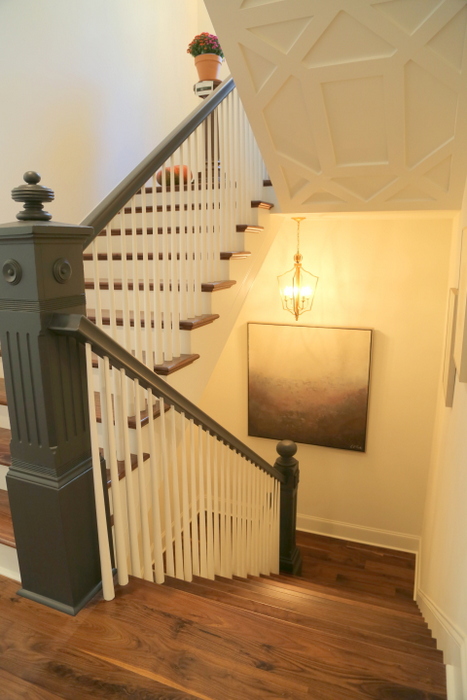 While most of the bathroom cabinets are painted white, this one in the guest bedroom is a lovely gray blue. I love the effect of the gold drawer pulls against this color. This is a prefinished color option from the manufacturer of the cabinet, so it's not a Sherwin-Williams color. It's similar to Benjamin Moore Intrigue.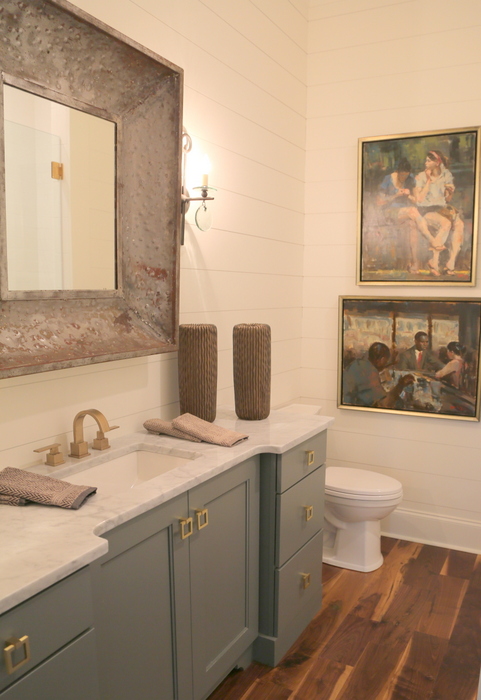 To see more of this house, check out my previous post.
On a related note, I was invited to develop the color palette for Carbine & Associates' soon-to-be-built House for Hope in Franklin, TN. I have to tell you: it's been a real struggle to get the designers on board with my paint colors. Most of them want to do white walls, white trim, and white ceilings. Do you prefer a mostly-white color palette in a home? Or do prefer a tasteful but varied palette?