There are a whole lot of things I love about this bedroom. It's the master bedroom of a home where I designed 95% of the interior. Living room, dining room, office, breakfast room, bonus room, and FIVE bedrooms. This room is painted Sherwin-Williams Oyster Bay, and it's the one of two rooms in this house that I actually DIDN'T choose the paint color. So, to start my list: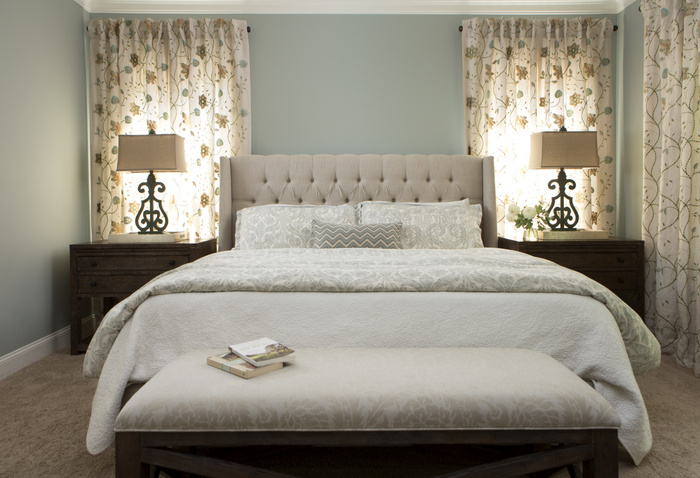 design by The Decorologist, Sqft Photography
1. the paint color: Sherwin-Williams Oyster Bay SW6206
The room was already painted this color, and it's one I've used many times and still love. So while we changed color in practically every other room of the house, we left this lovely hue.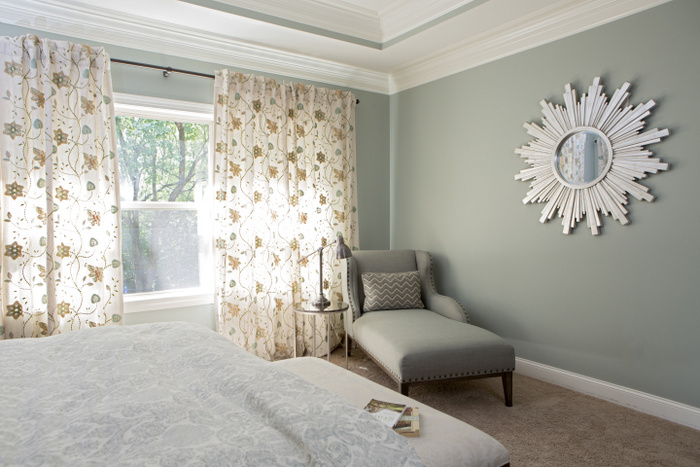 2. that reading chaise
Every woman (especially one that has five children!) needs just this kind of place to put up her feet and relax with a good book.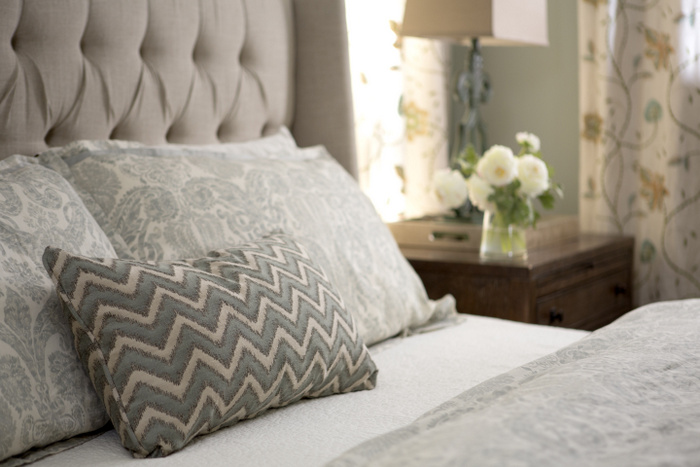 3) the upholstered headboard
Maybe it's because I've been sleeping in the same antique bed with its wooden headboard since I was 19 years old, and I'm hankering for a new one myself. I want a bed with an upholstered headboard – maybe tufted, maybe not. This one is perfectly lovely and neutral, and it's just right for this soothing bedroom. Would you believe it's from Home Decorators? I'm on the look out for one for myself that is colorful and patterned. I'm kinda in love with Tobi Fairley's Lucy bed through CR Laine.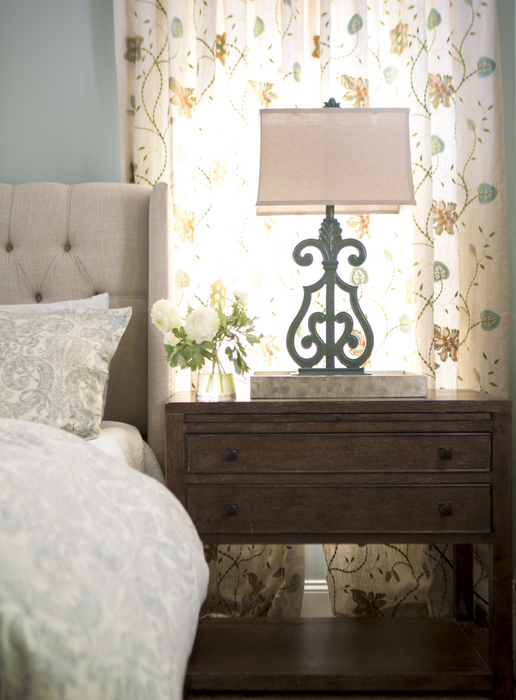 I absolutely love this shot!
4) the symmetry
Oh, how I love symmetry in a room. Especially in a master bedroom. The bed centered between the windows, the pair of lovely side tables, the a-mazing lamps. Occasionally I will ground bedside lamps with trays, like I did here (both are from Home Goods). All the little things that end up cluttering side tables – like tissues, reading glasses, Chapstick, and chocolate wrappers – are corralled and less visible!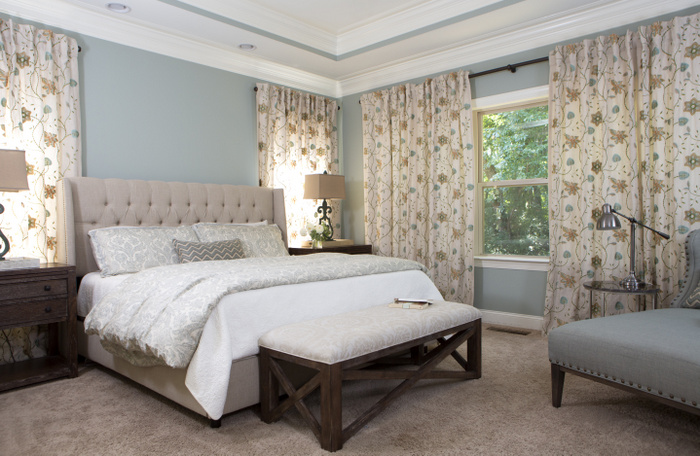 5) the draperies
Curtains can be complicated and often expensive, but WOW, they can truly finish a room in style! I chose these semi-custom panels that tied in to literally every color in this space. Can you imagine how bare this room would look with just blinds? Oh yeah, let me show you the before of the room: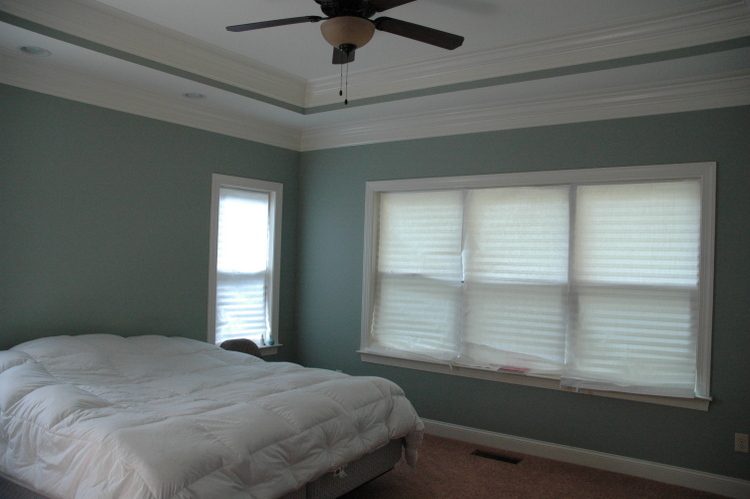 before
So, did you figure it out? Did you figure out the one thing that I hate about this room? Ok, hate is a strong word. But there is one thing that bugs me. Let me give you the shot of the whole room again. Look carefully: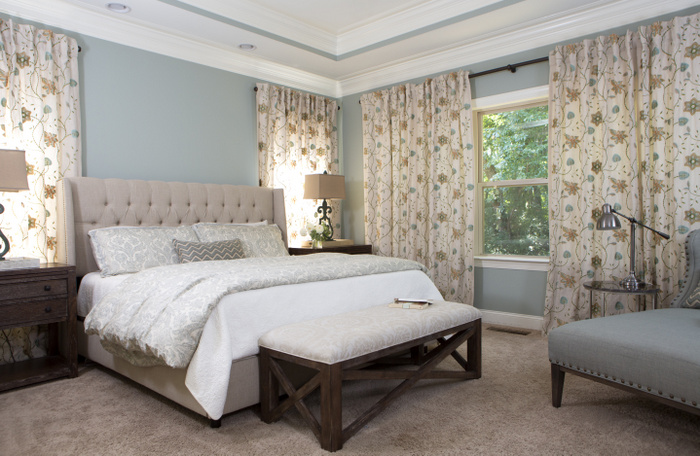 I think I may have shared some of this room before but I can't for the life of me find the article where I did, so maybe I dreamed it. If I did, the photos weren't nearly as good as these that were recently professionally shot, so how could I not share them?
So here's what bugs me about this nearly perfect room: that tiny strippy-stripe of Oyster Bay paint in the tray between the crown molding and lower ceiling. It was already there, cause that's how painters finish them out – unless you specifically tell them not to. You know how I feel about racing stripes in tray ceilings, right? So that's it. The rest is perfect, and the homeowners are as happy with it as I am!
What's your favorite thing about this room?