How are you guys doing this week?  I've been go-go-going like crazy lately, so I thought I'd catch you up on some fun stuff in decorology land!  I sometimes forget that the tidbits I share on my Facebook page never get to my readers on the blog.  Maybe you need to be following me on Facebook here!   Over the weekend, my "Front Porch Makeover" was featured in a 1 1/2 page spread in The Tennessean.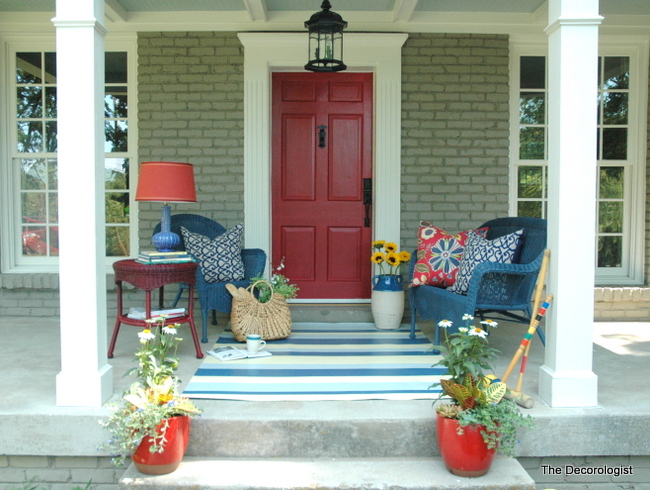 The Decorologist's Front Porch Makeover!
 Good thing my kids were in the East Tennessee mountains running from bears and bungee jumping (who has grandparents that cool???) so that I could focus on making over a front porch in record time and 105 degree weather (yes, after 2 hours of styling a porch in the boiling heat I posed for a photo that ended up in the Style section of The Tennessean).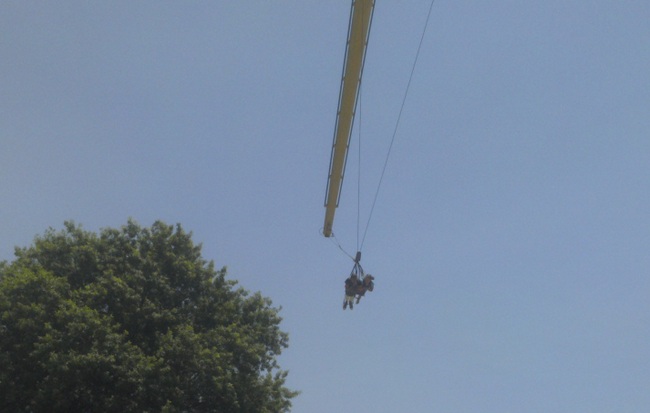 My firstborn and my neice about to take the plunge
In spite of my being a hot mess (literally), the fabulous Shopping Diva, Cathi Aycock, made my week by telling me she had a total girl-crush on me.  That's a compliment I'll take!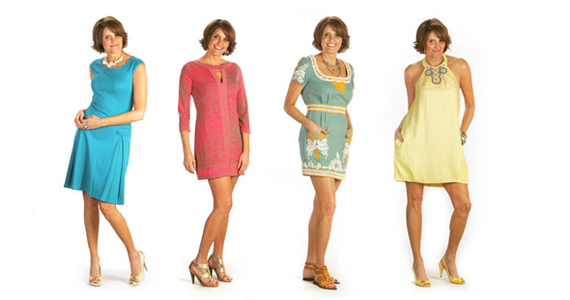 The Tennessean's Shopping Diva, Cathi Aycock
Last Tuesday evening, I spent the evening with about 30 of my newest friends to share 2 hours chocked-full of color advice at my first "How to Choose Just the Right Paint Color" class at Kirkland's Floor to Ceiling here in the Greater Nashville area.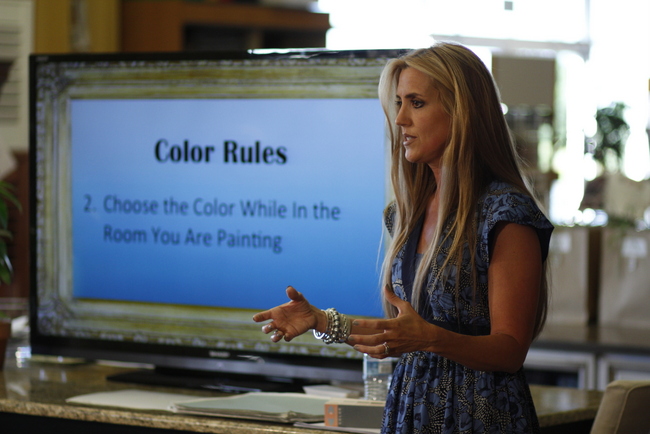 The Decorologist's Color Class – photo by Matt Barker
I had sooo much fun and am pretty sure my students did, too!  I hope to do another class like this sometime in the fall.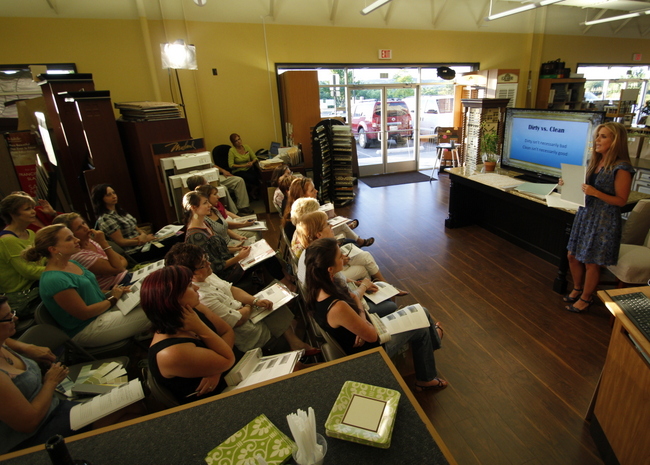 Benjamin Moore Color Class presented at Kirkland's Floor to Ceiling – photo by Matt Barker
As you may know, I've been writing for the premier design and remodeling website, Houzz.com, for the last  couple of months.   Check out my latest article on how to create an awesome hallway with pattern here.
In addition to all these exciting things, I have continued to meet with both new and ongoing clients working up new color palettes for their homes, better furniture and art arrangements, and shopping for just the right items to finish out their design plans.  Of course, I hope to share some of those results with you here soon.  I'm totally exhausted just thinking about the last couple of weeks.  Maybe I need a vacation???