| | |
| --- | --- |
| | Happy Friday!  Today I'm sharing a Decorologist makeover of a darling 7-year-old girl's bedroom. |
This is where we began – a new house with existing paint and all the things brought over from the former home.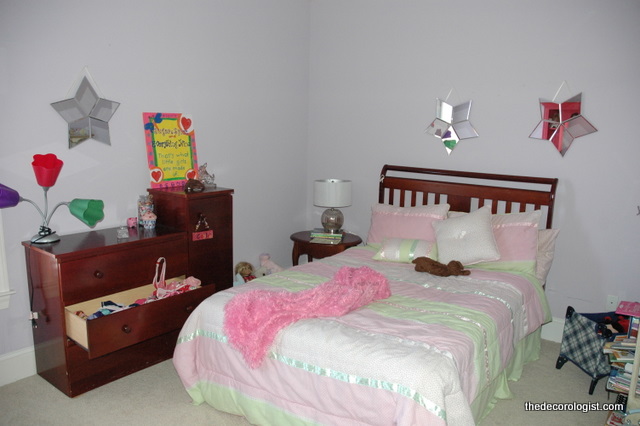 Girl's Bedroom Before
Mom recently bought this painted hutch for her daughter's room.  It's super-cute, but the color is a difficult one to tie into the room.  Kind of a melony-hot pink.  It didn't work at all with the existing light pink bedding.  And there was too much really dark brown furniture.  Side-by-side is the worst.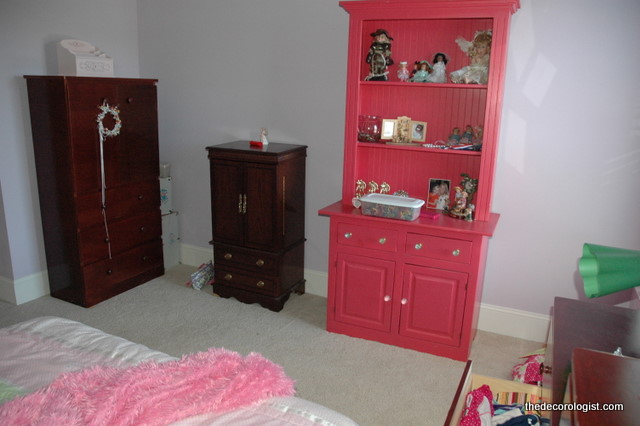 Melony-Pink Hutch
What to do, what to do?  First thing I did was decide on a new furniture arrangement, which resulted in one small piece of furniture leaving the room.  Then I made a short list of what was needed to pull this room together.  New bedding that tied in with the existing wall color.  Then something to tie into the melony-pink hutch (NOT easy).  And wall art.  In terms of new items, that's all we needed.  As a Nashville decorator, I know that about an hour in HomeGoods would take care of that!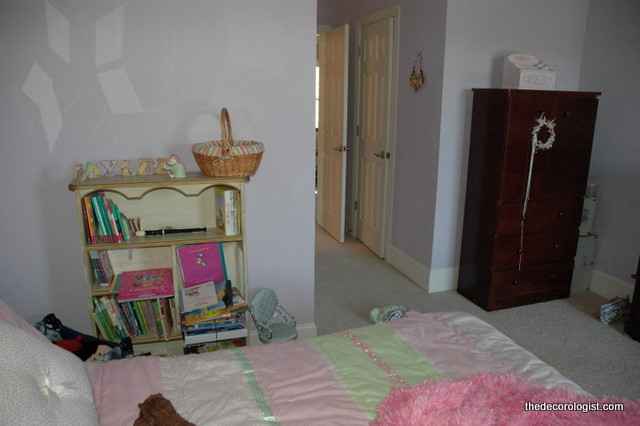 Girl's Room Before The Decorologist Makeover
It's easy enough to order complete bedding/furniture/accessories from catalogs.  But here are the drawbacks:  it's expensive, it's impersonal, and then your room is simply a photocopy of countless other children's rooms.  I believe it's important to use things with meaning and history, then carefully edit what you have and selectively add special items that pull it all together.  So, let's start at the entry to the room.  Here was the entry before: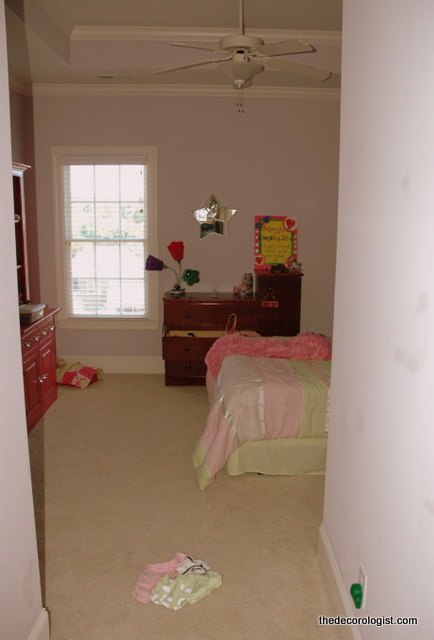 Bedroom Entry Before
In addition to a whole new furniture arrangement, I chose bedding that was a darker, grayed-down version of the wall color so that the room would feel a bit more sophisticated.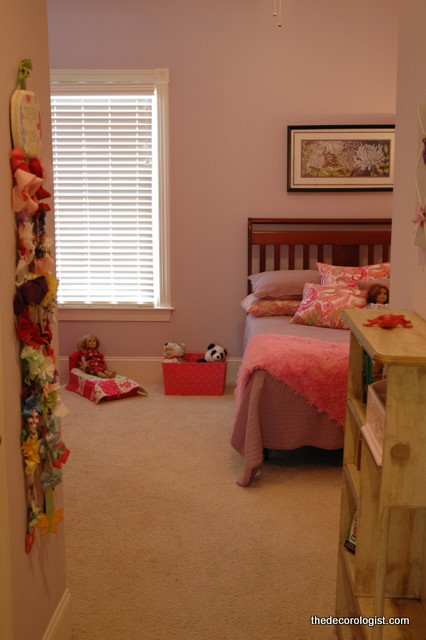 Bedroom Entry After
Notice how the color on the walls looks richer than the before photo?  It's the same color in the second photo (Benjamin Moore's Easter Ribbon 1381), but the darker colors added to the room and the new lamp lighting enrich and warm the space bigtime.   So, here's the bedding before: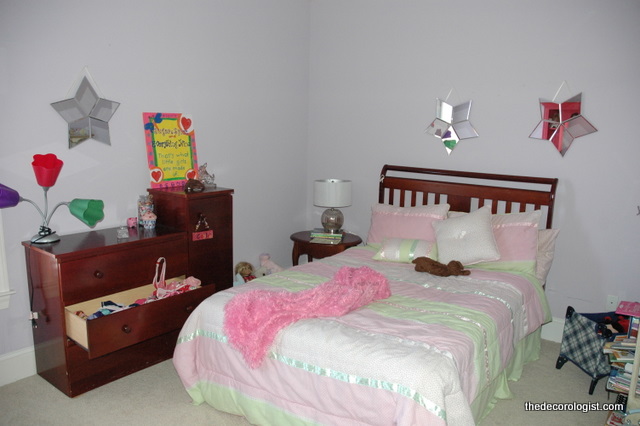 Girl's Bedroom Before
We kept the furniture, cute silver lamp, and mirrored stars.  We purchased new bedding, one new lamp, 2 pieces of wall art, and 2 woven toy baskets – all from HomeGoods.  Here's the after of the new bedding and styling.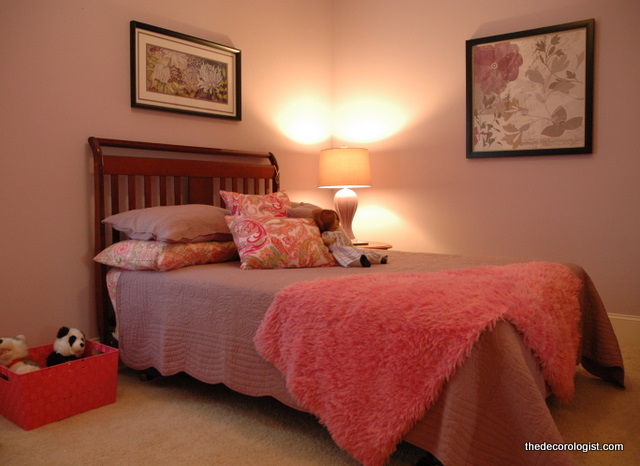 Purple and Pink Bedroom by The Decorologist
Here's the other side of the room before, once again: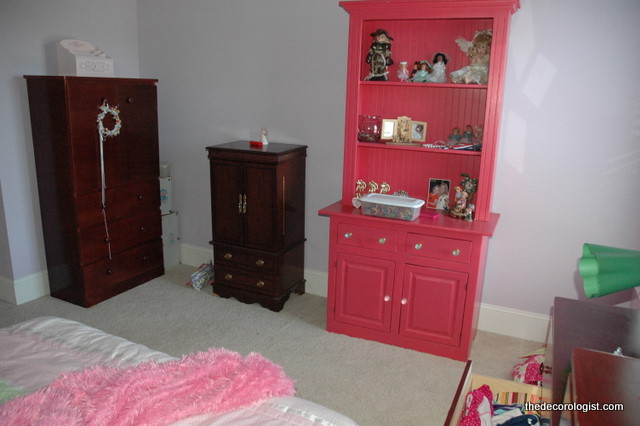 Bedroom Before
 And here it is after I finished: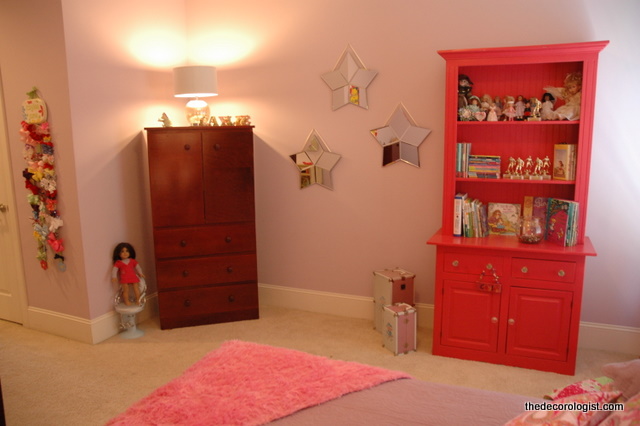 Bedroom After
The pillows were the key to tying this room together, in regard to colors.  I found these funky paisley pillows that not only worked with the purple bedding, but brought in a mixture of pinks – including that difficult melony one – to make the whole room feel cohesive.  Then we lucked up and found almost identical sheets (but my another maker!).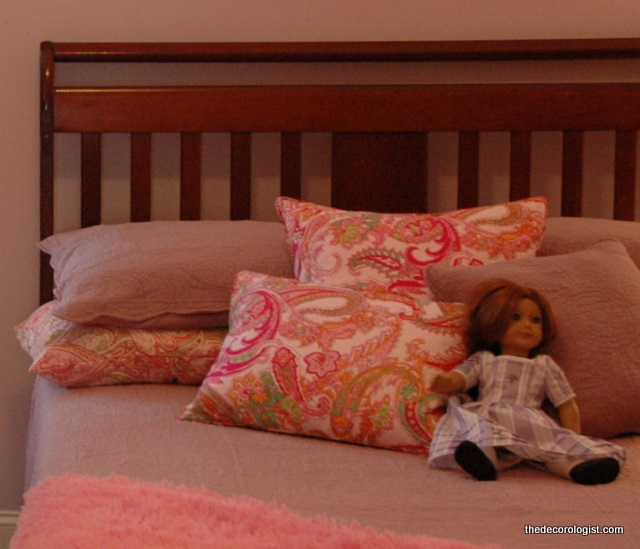 Purple Bedding & Paisley Pillows
That and the 2 melony-pink toy baskets were enough to make that hutch feel like it belonged in the room afterall!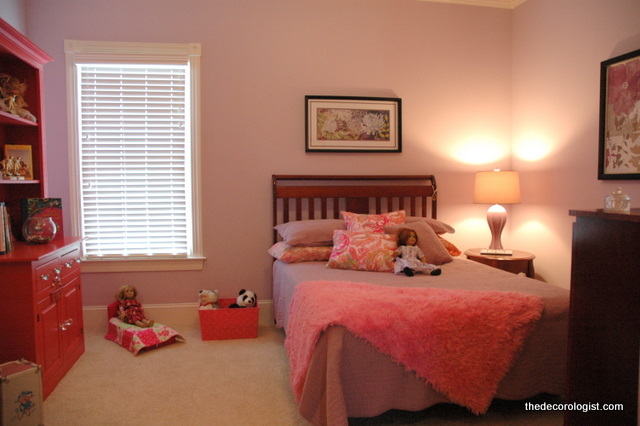 Little Girl's Room by The Decorologist
Almost makes me wish I were a little girl again!  Don't you just want to come over and play?