I typically begin Design Consultations by walking through the home and talking with my clients about how they use their space and how it functions for their family.  And more times than not, I find that people let their home's floorplan dictate how they live in it.  Even when it really isn't working for them!  In this home, we actually switched around 3 rooms – today I'm going to share 2 of them.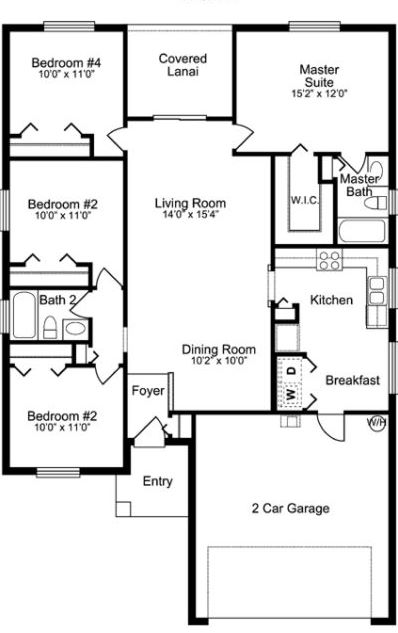 Random House Floorplan
This is the dining room before I started switching everything around.  This room is carpeted, which doesn't make it ideal for a dining room – especially when there's a space open to the kitchen that is hardwood (it was being used as a living room).   The homeowners LOVE color, especially bold color.  They favor modern design, but with a retro twist.  They are artlovers, as well, and the husband is a gifted artist, so  it just seemed as though their home should have the feeling of an art gallery.  Art galleries typically have a neutral backdrop so that the art really stands out – so we decided to mute the background a bit and add bold punches of color.
Dining Room Before 
The homeowner had a desk tucked back in a corner of her bedroom where she used her computer.  As we talked, it became obvious that with two small children, it would make more sense to have her office area in a place where she could monitor family activity better as she worked.  So, we started moving around the furniture . . .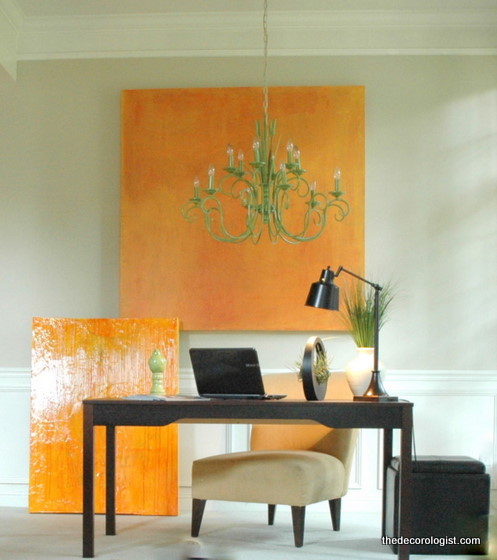 New Office, Old Dining Room
After some creative arranging, this former dining room is now a perfectly lovely office space. Can you believe this is the same room?  Here it is from another angle: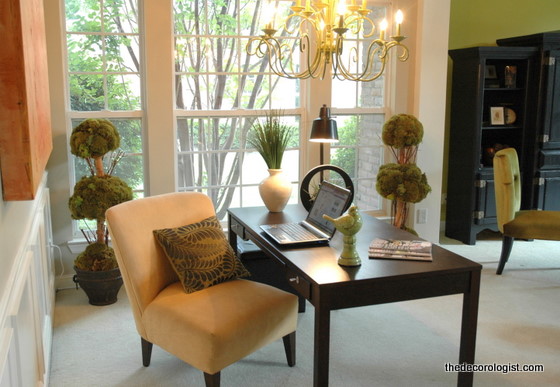 The Decorologist
Ok, let's look at the before of that room from further out.  This shot was taken during the day, and you can see how very bold the color was.  At this point, we had already moved the dining table out and started playing around with the office set-up.  The sheers on the windows were dated and almost country.  There is a large tree outside the beautiful windows here, so they really didn't need the sheers for privacy.  We just took them down completely.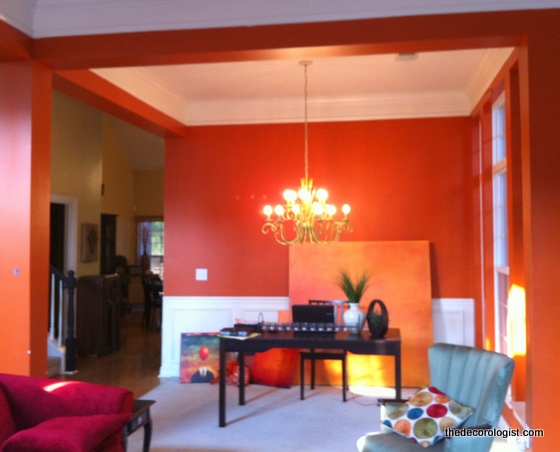 Office Before
A new paint scheme began developing and some of the walls went neutral.  I highlighted some of the more interesting architecture by selectively using a pumpkin color (Benjamin Moore's Topaz 70) that worked well with their art, rather than the red-orange they had before.  You can see it in the left portion of the photo below.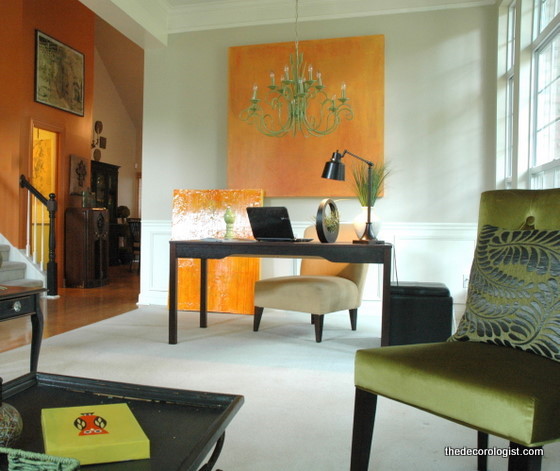 The Decorologist
Aren't these windows gorgeous?  The tree is a perfect privacy screen, so why not just let the light flow in and bring the outdoors in?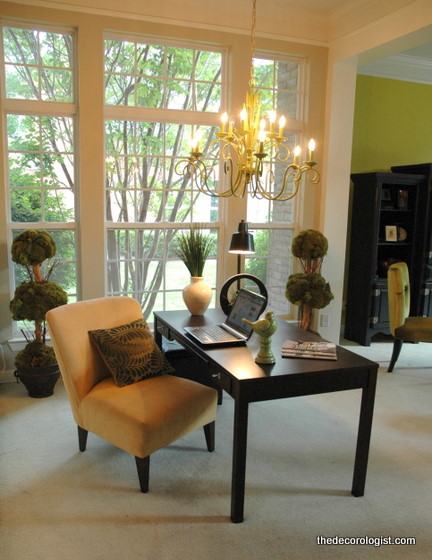 The Decorologist
No more working in isolated dark corners!  Now this busy mom has a beautiful place to work adjacent to the living space where she can keep an eye on the entire household.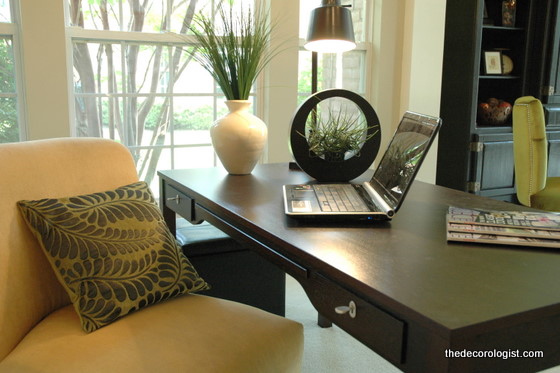 New Office by The Decorologist
Now, if you are wondering where the dining room went:  This is where the previous living room was.  The space is open to the kitchen and has hardwood floors.  You can see that the furniture is a bit off-balance from the natural focal point of the room, the fireplace, which made it feel a bit crowded.  Although the homeowners wanted a modern look and feel, they weren't achieving that with Porter's Tobacco Road, a favorite wall color of every major builder in Franklin, TN in the mid-1990's.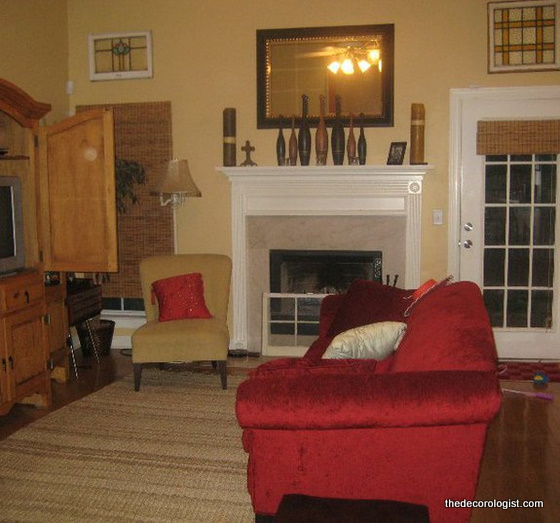 After replacing Tobacco Road with a more modern neutral, the fireplace was highlighted with Benjamin Moore's Kiwi 544 with a rectangular block of color extending to the ceiling, which actually added an architectural element that didn't previously exist.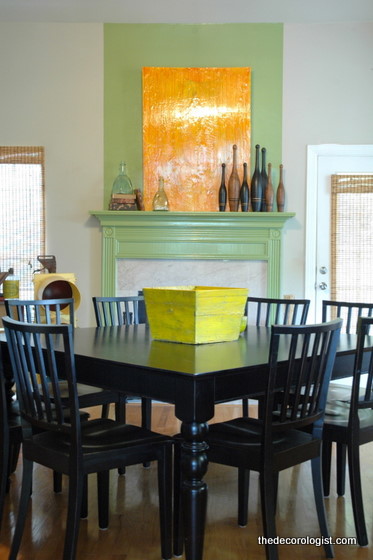 New Dining Room 
With the square Pottery Barn dining table now on an angle, this new dining room lines up perfectly with the fireplace and is the favorite place for family meals, homework, and craft projects.
Cutey-Pie Homeowner
The homeowners are enjoying entertaining friends and family even more than ever since they threw caution, and their floorplan, to the wind.  If you'd like to see more of this space, click here and "like" The Decorologist on FaceBook so you can check out additional photos from this makeover.  Stay tuned to find out where their living room went . . .
If you need a Greater Nashville interior decorator and color expert, contact The Decorologist to schedule an appointment!