>
design by Castle Homes
The master bedroom features a fabulous hanging light fixture that certainly makes a statement. It's a bit unexpected against the painted planked ceiling, and I love it.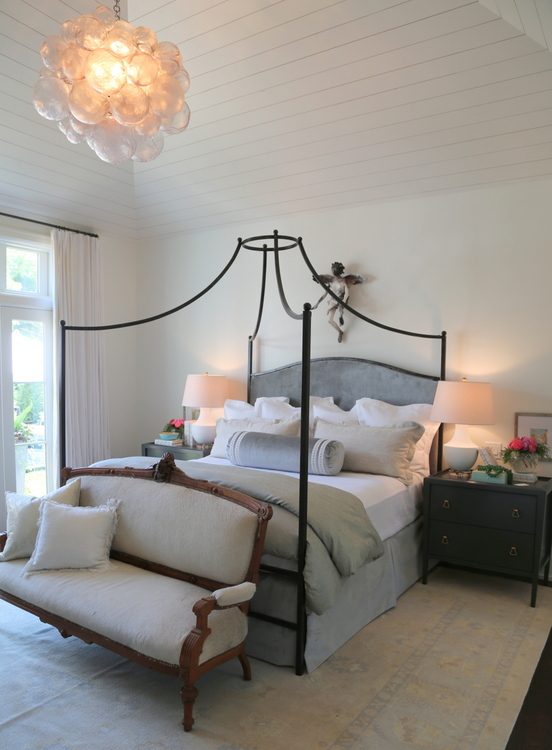 Symmetry
I'm a huge fan of symmetry. It's the basis of Psychological Staging™, for goodness sake!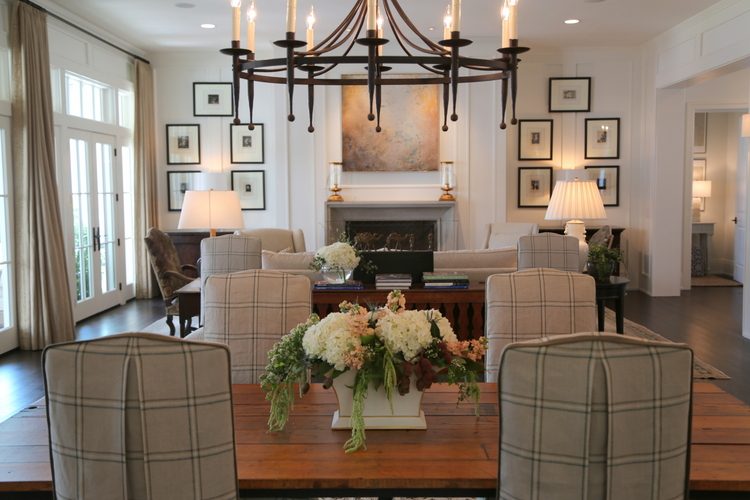 Julie Couch Interiors, Andy Detwiler photography on back wall
This is the gorgeous feminine (and very symmetrical!) office at the top of the stairs, between the guest rooms.

Symmetry in design makes you feel calm and at ease in a space. It also directs your eye to the architecture, as well as to the views beyond windows and openings.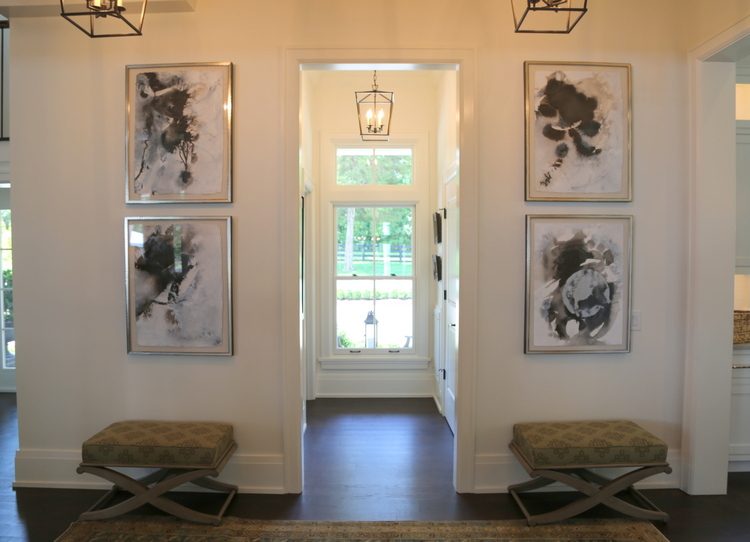 Ottomans and Tiny Tables
The most repeated design element I noticed in the Nashville Symphony ShowHouse was the ottoman or tiny table. The incredibly functional element was everywhere.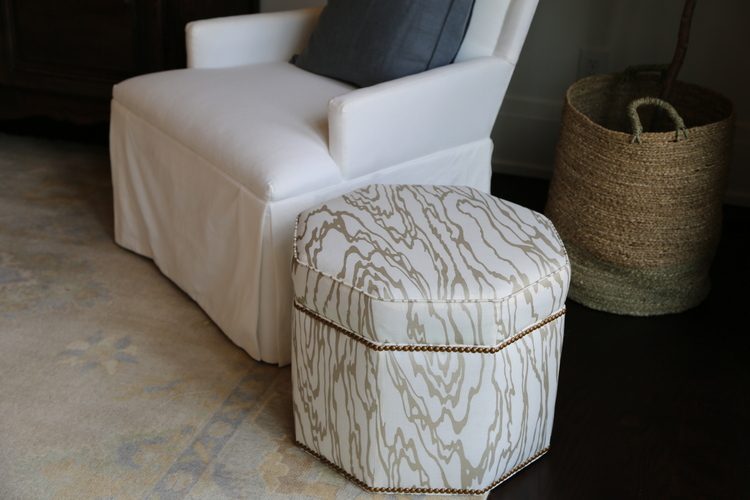 Ottomans are flexible seating options that can be tucked away when not needed.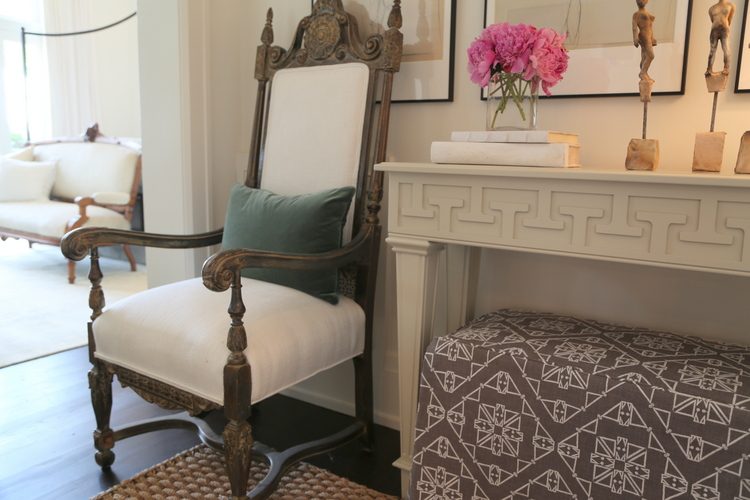 Tiny tables are a great spot for a cup of joe beside a chair.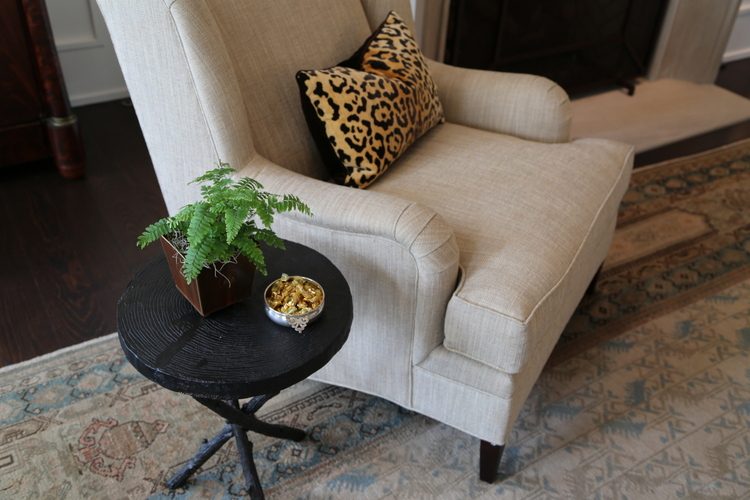 I loved how they used low wooden benches for bedside tables in the upstairs bedrooms. And of course, they tucked an ottoman beneath!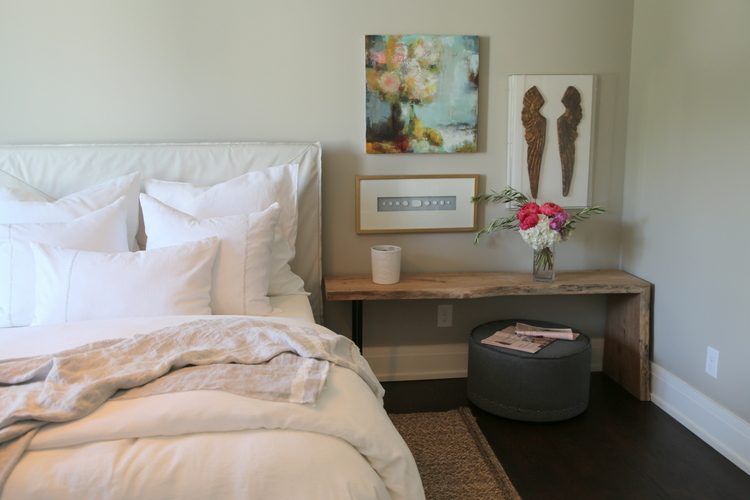 Here's another ottoman tucked into the HUGE laundry room off the kitchen – a little desk spot if you care to check Facebook while waiting on the spin cycle.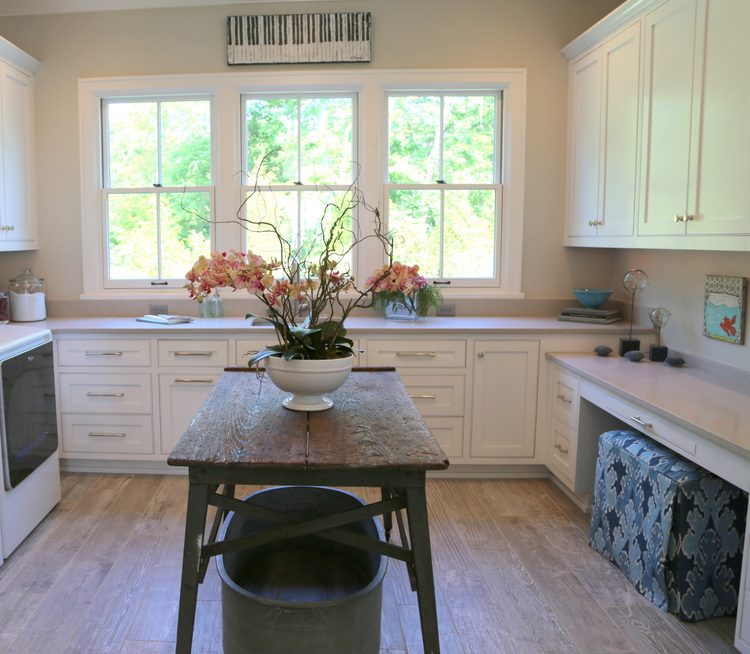 design by Castle Homes 
In addition to touring this fabulous home, I got to hang out with some pretty fabulous people! Here I am with the darling Carmen Johnston of Carmen Johnston Gardens & Southern Living Contributing Garden Editor: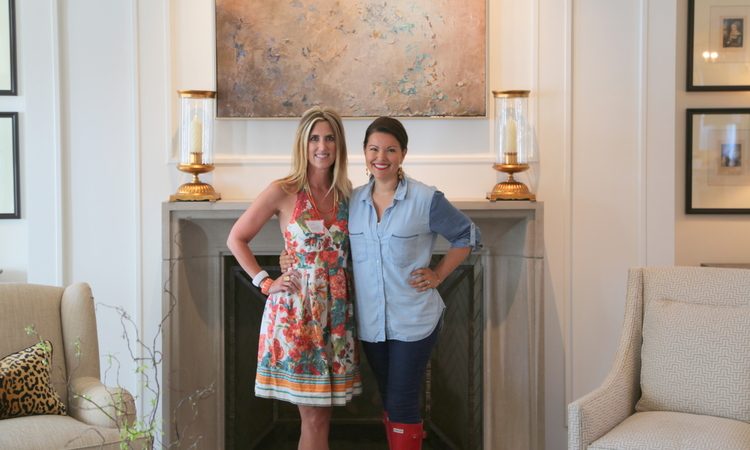 Kristie Barnett & Carmen Johnston
I've met Carmen on a couple of occasions, and she is always so sweet and helpful to those of us with a black thumb. She gave us a hands-on tutorial for planting our very own container garden at the Garden Party!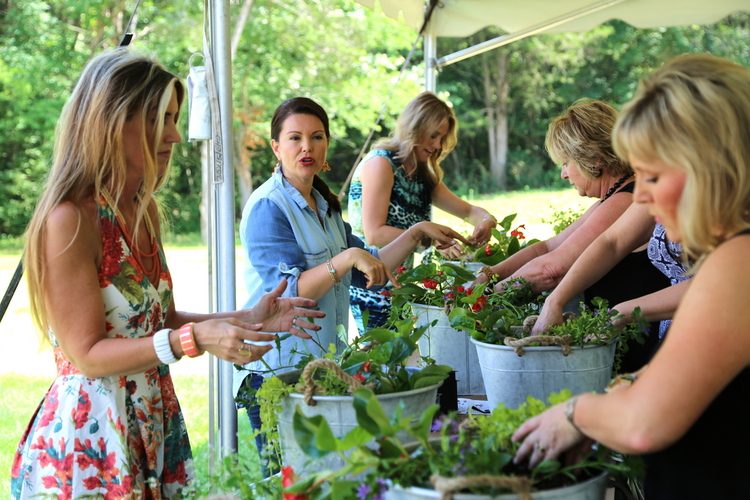 Her top tip for container gardening? Choose something tall, something thick, and something trailing, and plant in a triangle formation. This is what we planted in our container gardens: Blue Fan Scaevola, Diamond Frost Euphorbia, Dragon Wing Begonia, and Creeping Jenny. It's all Greek to me, but I'm going to do my best to keep it alive on my front porch!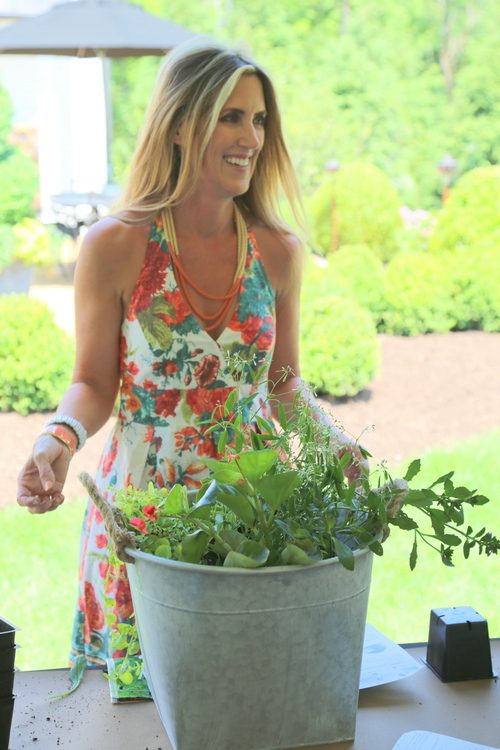 The party was catered by Miss Daisy's Kitchen. Daisy King is a southern icon if there ever was one, and every proper southern lady owns at least one of her cookbooks!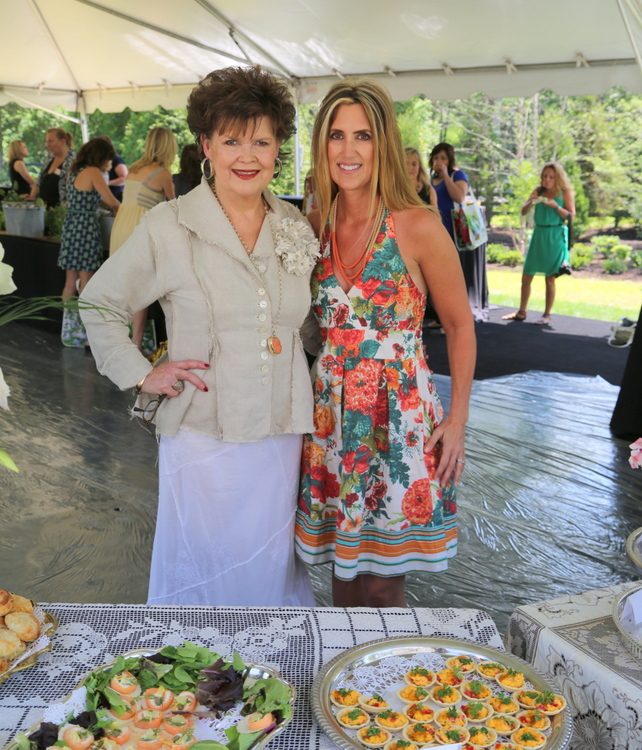 Miss Daisy and The Decorologist
Troy B. Marden of PBS's Volunteer Gardener was gracious enough to give the attendees signed copies of his beautiful book, Southern Gardener's Handbook.  Troy will be at the ShowHouse on June 20th from 11-1 for a book signing onsite.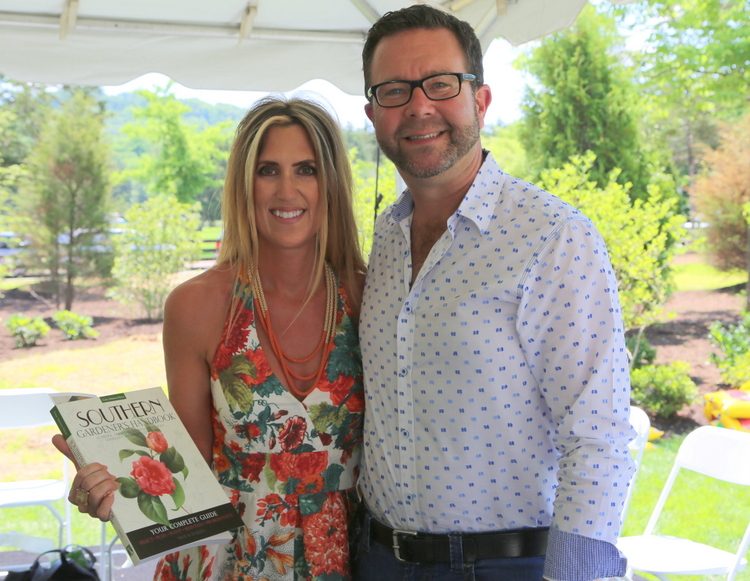 The Nashville Symphony ShowHouse is open to the public NOW through June 28, 2015. You don't want to miss this special home tour presented by Castle Homes and benefiting The Nashville Symphony! The ShowHouse is open daily from 11 a.m. until 6 p.m., and admission is $15 per person.  Find out more here.
The Showhouse made the cover of the latest edition of Greater Nashville House and Home, which I picked up at the tour. While scanning through the magazine, I found that one of my recent kitchen designs had been featured inside. That was a happy surprise to finish off a lovely day at a Garden Party and ShowHouse tour!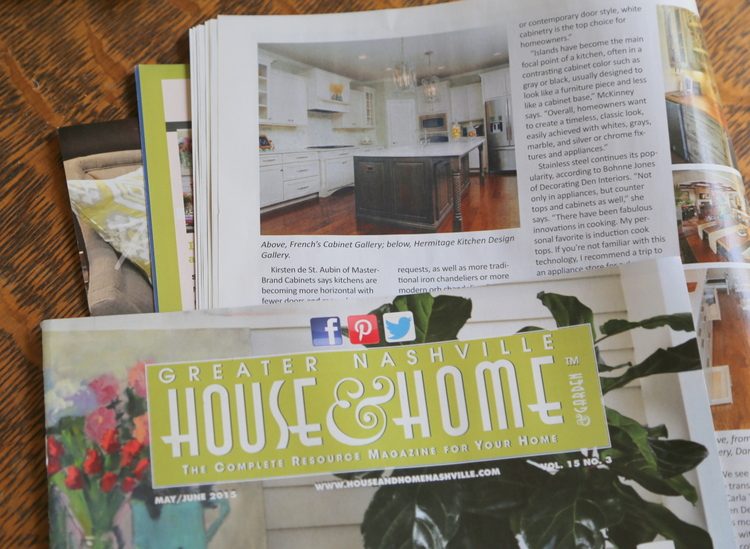 -->
Last Wednesday, I attended an invitation-only exclusive sneak peak of The 2015 Nashville Symphony Showhouse and Garden Party. This beautiful home represents Southern living at its finest, and I thought you'd like to see what high style looks like "in the country." The 5,556 square foot home is described as "southern contemporary folk style," […]