I must tell you – I always go kicking and screaming into fall.  I prefer sunny skies and warm weather, which is one of the reasons I live in the South!  But here we are, smack dab in the middle of the fall season.  I might as well make the best of it, so today I wanted to share some befores and afters that illustrate how cozying up your home can give you the perfect place to curl up on a crisp fall morning with a hot cup of coffee.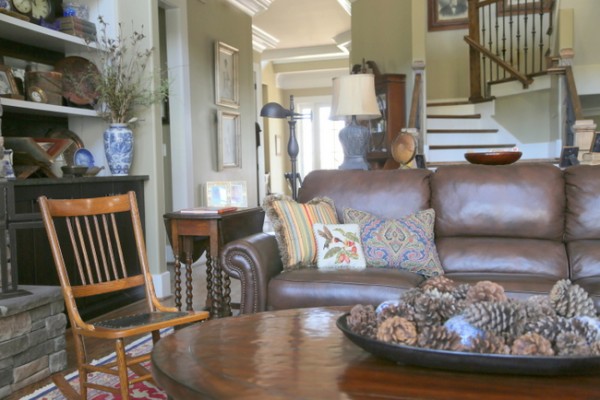 At the beginning of the project, my client knew she wanted new furnishings more in keeping with the larger home she and her family had purchased the year before.  However, she had already painted the main area in several colors and still was not satisfied with her choice.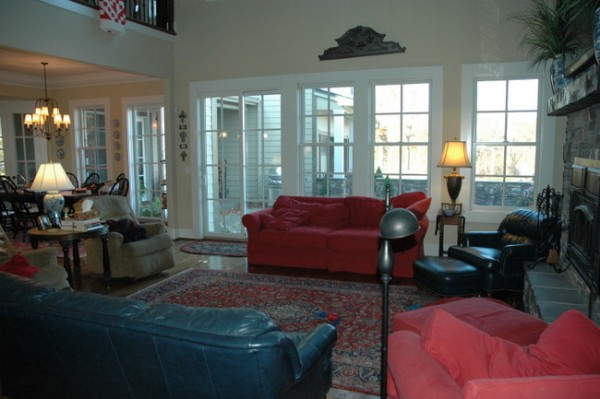 before
The yellow-gold was one of her favorites from a previous home, but it didn't really relate well enough to the very prominent, stacked stone fireplace.  The color palette looked very primary – yellow, red, blue.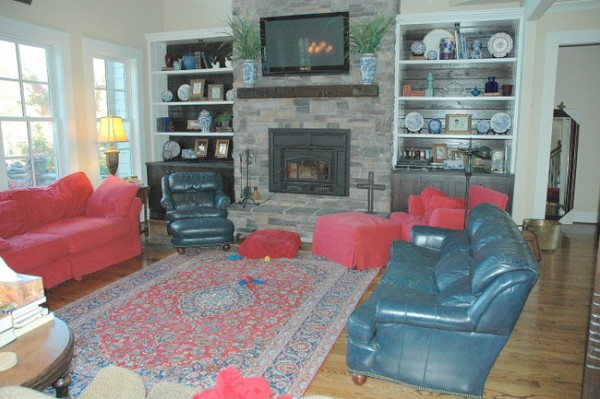 before
Not only is this client very sensitive to color, but she's also sensitive to lighting conditions.  Much like myself, she needs lots of natural light or she can begin to feel a bit gloomy.  The challenge was to find the right color that felt warm and cozy (which she wanted) but didn't hamper the natural light in the space (which she needed).  We finally agreed on a medium green-gold that related better to the stone fireplace and gave the space a more current color palette.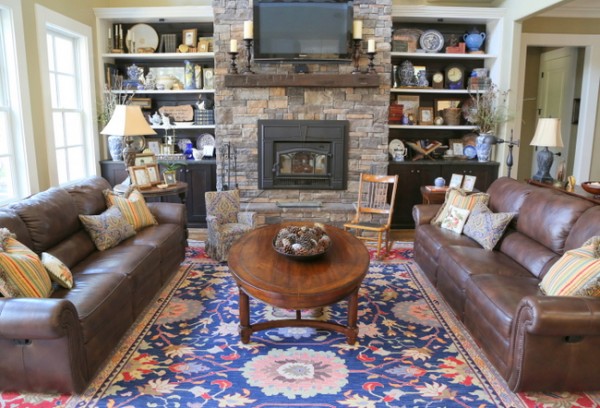 after 
More than just the paint color changed here.  A vibrant new rug, a pair of leather sofas, and a gorgeous oval coffee table grace the great room, all centered on the commanding stone fireplace.  If you have dark leather upholstery in a space, it's important to choose a bright rug to anchor it and light-colored pillows so that you don't end up with a big brown hole in the middle of your room.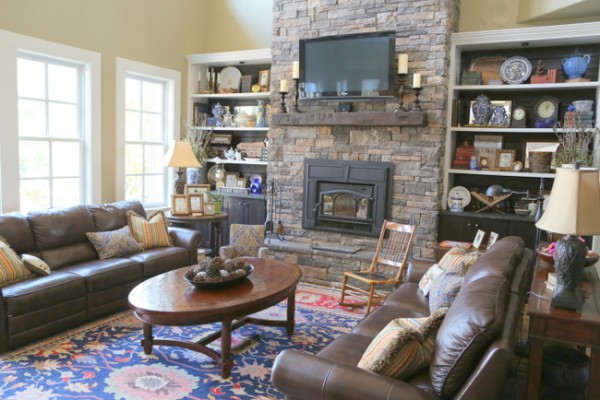 Who wouldn't want to curl up on this sofa in front of a roaring fire and read a decorating magazine or latest novel?  And notice that child-size chair to the left of the fireplace – we chose a fabric that tied in but didn't compete with the rug.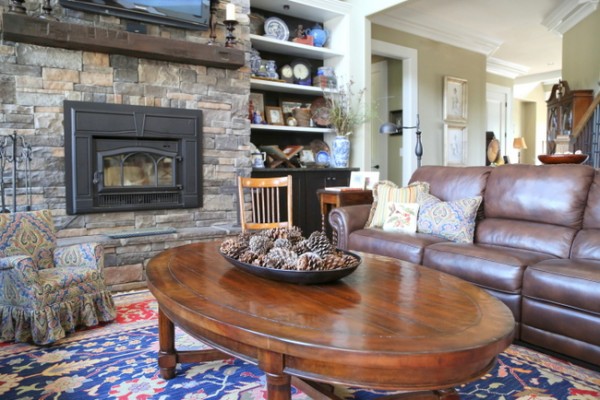 A large bowl of pinecones adds to the autumn ambiance.  The bookcases are backed with dark barn wood, and we layered in all the clients' family treasures to create a story that reflects the history of people who live here.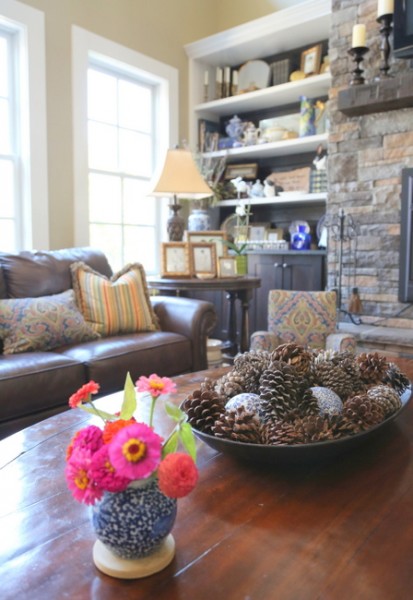 Clocks, books, blue pottery, and family photos are among the many collections that we were able to group and display in the bookcases.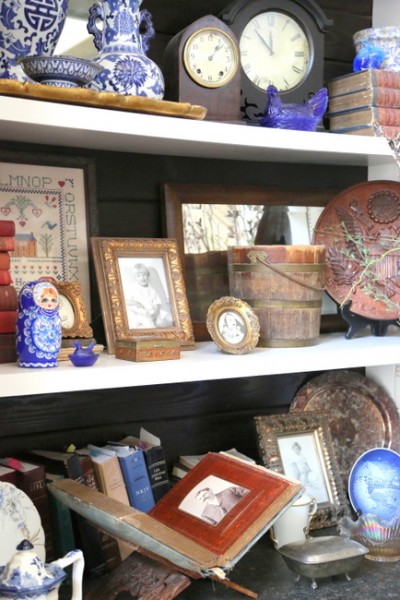 My client ordered the petite embroidered pillows online, and we chose fabrics and trim to create these custom pillows that help cozy up the leather sofas.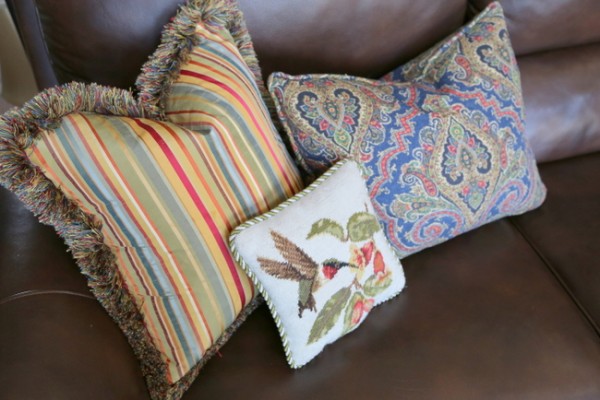 I got to accessorize to my heart's content with the antique books and collectables she had in abundance.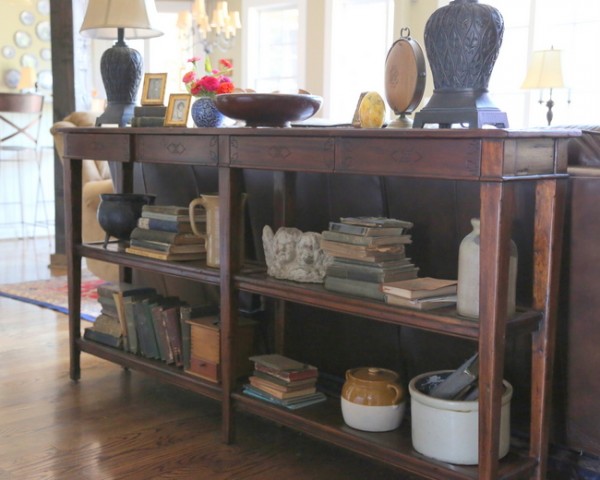 Here's what we did in the adjoining breakfast room.  I absolutely loved creating the plate grouping of my client's gorgeous blue transferware collection.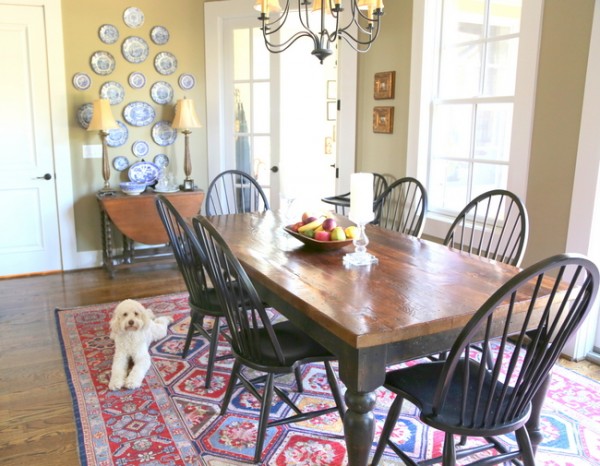 It's all about the details in this home.  This is the baker's rack I staged in a corner of the breakfast room.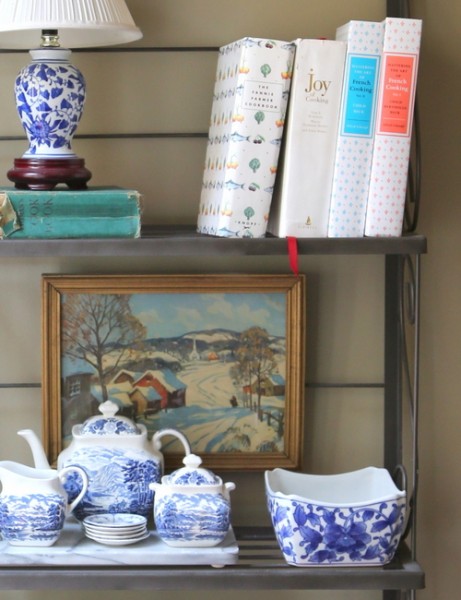 If this isn't comfy and cozy, I don't know what is.  I think the pup certainly agrees!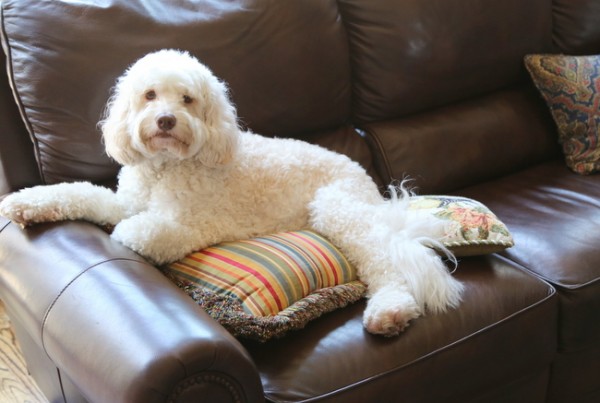 Do you change your decor to cozy up for the fall season?  What do you add to your decor to warm up your space?  Stay tuned for the before-and-after of this home's master bedroom in an upcoming post.