Home Depot's most popular line of paint, Behr, has introduced several new palettes in their 2011 Color Trend Forecast.  One that caught my attention is called "Boudoir Goth."  I never would have guessed the Twilight Saga and vampire craze would have spawned it's own paint palette, but it appears to have!  And I'm definitely picking up on hints of Steampunk.  Here's the brooding description by Behr:
| | |
| --- | --- |
| | "A deconstruction of the ethereal conception of beauty has brought about the creation of a style all about dark elegance.  Shadow and mystery draw you in, while deep colors and exotic ornamentation keep you guessing about what comes next.  While the defining features of architectural luxury remain, the overall style is open and accessible. |
Elements of glamorous Victorian decor have been updated with modern renditions.  Chandeliers lose their brass plating in favor of a platinum finish.  Chairs, dressed with pearls and eyelet lacing, have sleek contemporary lines.  Silver flatware is replaced with golden brilliance.  Detail embellishments take on a notion of fantasy when rendered in mirrored surfaces and crystal sparkle.
Hues are cast with shadow and mystery.  Navy sinks deep into the obscure depths between blue and black.  Luscious raspberry and deep grape are the berry-colored forces that bring this palette to the edge of gothic glamour.  The traditional wooden dining table takes on a surprising new dimension when painted with a coat of vivid magenta.  Medium and dark gray are the balancing acts in the scheme, acting as a replacement for black to support the rich, deep accents."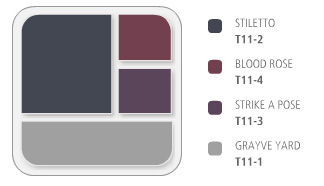 Check out those color names!  "Grayve Yard" –  can you say that with a straight face?   If you want to know more about Behr's Boudoir Goth and other new collections, click here.  Just in time for Halloween . . .
Photo Credits:  Behr.