Happy Labor Day!  I'm actually working for awhile today, but then I'm going to come home and make myself relax.  Today I want to share a few things that I picked up from an estate sale last week!  First up, a pair of mounted animal horns.  The guy I bought them from asked me if I was going to make knives out of them.  He said lots of people do that.  I told him of course not, I'll probably hang them in my dining room.  He looked at me kinda funny.  Anyway, I also snagged the two vintage brooches pictured beneath the horns.  One is  gold leaves and the other is a yellow fabric rose.
I love vintage Christmas ornaments, and I have a small collection of deer.  So I was thrilled to find this sweet pair: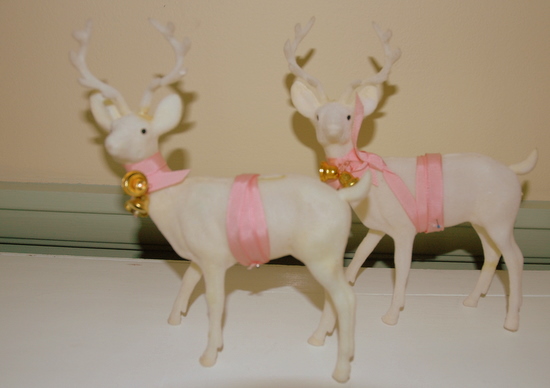 | | |
| --- | --- |
| | Ok, this is really cool:  I decided last week on my next Cooking Club theme.  I'm hosting it the first week in November.  My mother-in-law gave me the great idea to do an "Election Day," theme since elections happen to fall in that week.  So, how happy was I when I stumbled across a wad of small American flags?!  $2 for 40 – not bad! |

Do you do estate sales?   What have been some of your favorite finds?
Photo Credits:  Kristie Barnett.