| | |
| --- | --- |
| Carl Larsson was a prolific Swedish artist whose paintings of his own home interiors have inspired homeowners like me  for over 100 years.  Carl and his wife Karin were given a small house by Karin's father in 1888 in Sundborn, named Lilla Hyttnäs (little furnace).  Is this a fairy tale, or what? | |
| | |
| --- | --- |
| | Carl and Karin decorated and furnished this house according to their particular artistic taste and also for the needs of the growing family (they had eight children). |
| | |
| --- | --- |
| Because of  Larsson's paintings of its interiors, this house has become one of the most famous artist's homes in the world, and is the epitomy of  Swedish interior design.   Carl was heavily influenced by the Gustavian style, but his version was much less formal and incredibly liveable. | |
No doubt the Arts and Crafts Movement originating in England in the late 1800's impacted his sensibilities, resulting in the most charming and family-friendly style you can imagine.  What child wouldn't love a magical built-in cabinet bed like this?
This home reminds me so much of my own former home on Robin Road.  I loved experimenting with bold but cozy color combinations, homespun collections, and my husband's burgeoning carpentry skills.  It was certainly not sophisticated or the least bit elegant, but it was a fun house.   I had a similar bank of windows that ran across the back of the open living/dining room area of my 1945 cottage.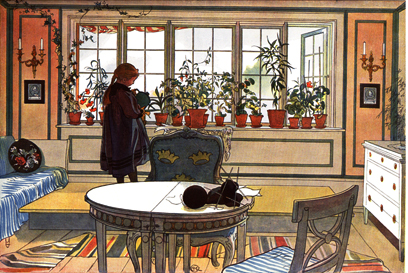 This is another painting of the same room, but at a later date.  I love to see how the furnishings and room arrangements evolved over time, just like they do in real life!  I love the large table used as a desk facing out the window, as well as the daybed that looks perfect for a cozy reading spot or afternoon napping place.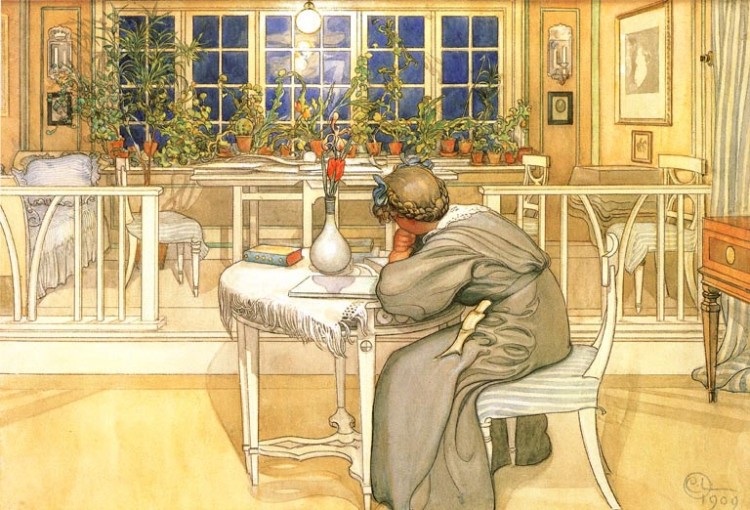 And here is a photograph of the room today.   A gentle evolution of a family room over more than a century.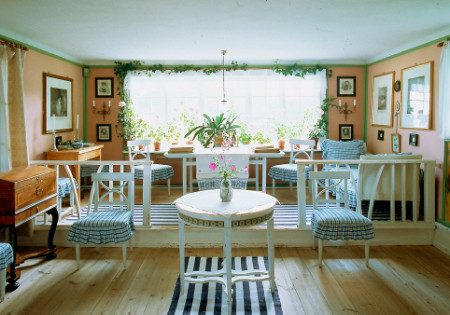 When Larsson painted this bedroom, he remarked that he had heard that the most healthy place to put the bed was in the middle of the bedroom – but that he had no idea why!  Look at the built-in bookshelf along the top of the room.   White walls with bold red trim, then highlighted with the teal in the background of that bookshelf.   Why not?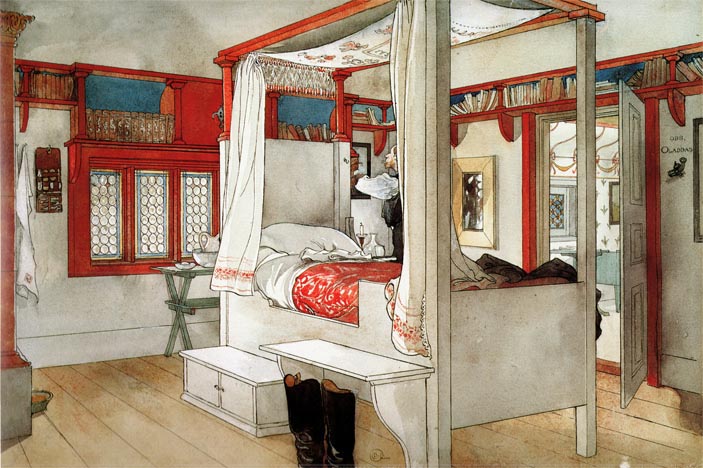 Here is the bedroom today.  And that bed is still in the middle of the room!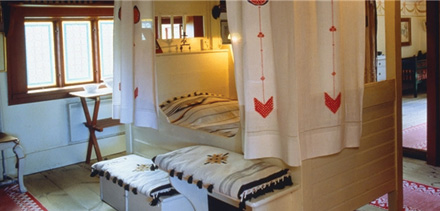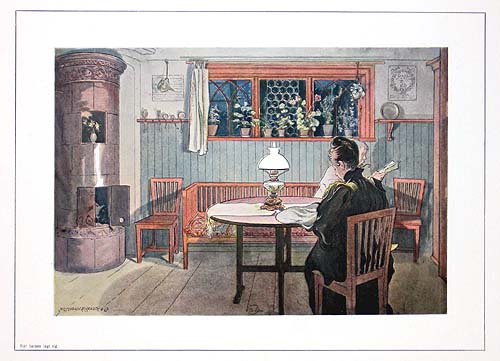 | | |
| --- | --- |
| Have you noticed all of the tiled Swedish stoves in this house?  You sure don't see those babies around these parts. | |
And here's the dining room as it is today.  Same leaded windows, same red china hutch.  Is it just me, or can you totally see Santa and Mrs. Claus living in this house?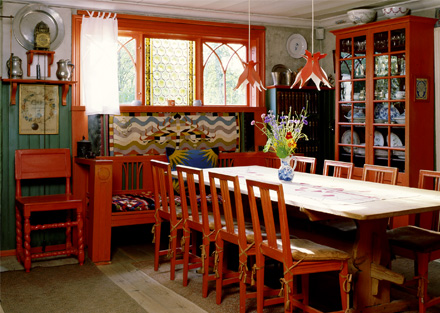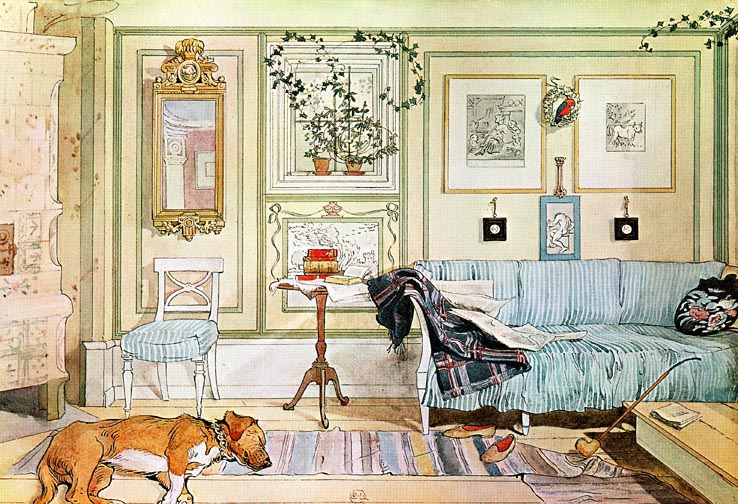 The descendants of the Larssons still own this house and open it for tourists each summer.  Maybe someday I'll be able to see it in person, but for now I have to rely on Carl's paintings and the few photographs I could dig up of their wonderfully charming home.
For more of Carl Larrson's interiors, click here.
Photo Credits:  Attic Mag, Inner Sanctum, Visit Sweden, Looby Lu.