Last year, I hired Allison to help manage my growing business and to keep me from losing my mind.  I had become overwhelmed with the amount of email I had to swim through every day, and with the scheduling and invoicing that were sucking the joy out of my life.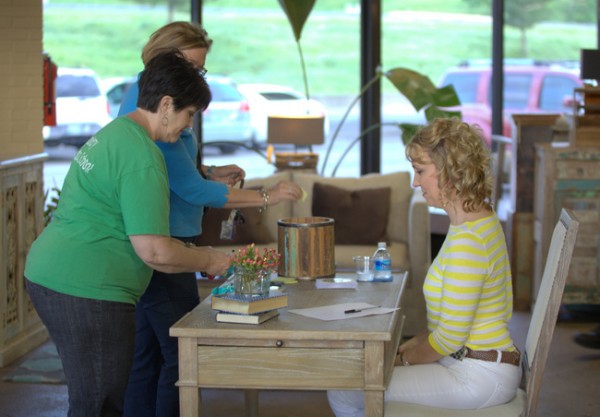 Allison welcoming attendees at my Furniture Arranging Workshop at Merridian
Allison has lived in her current home with her family for about a decade.  When she told me she wanted a change in her family's home, I knew that new paint colors could help her gain a fresh outlook on her space.  Here are a few "befores" of the living area that opens into the kitchen: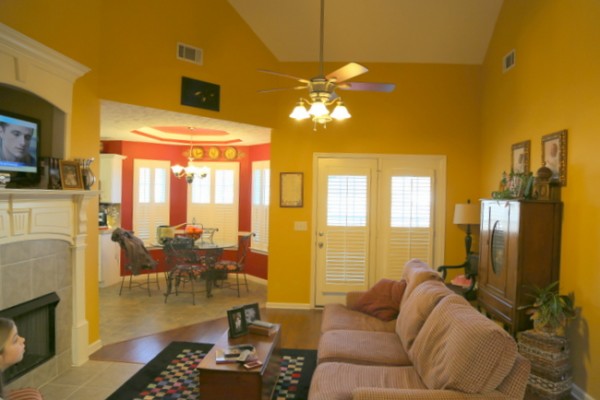 gold and red color scheme before – oh look, there's Peeta!
We spent a day analyzing the architecture, deciding what could be changed or replaced within her budget, choosing a new and cohesive paint palette, and picking out a few new pieces of furniture.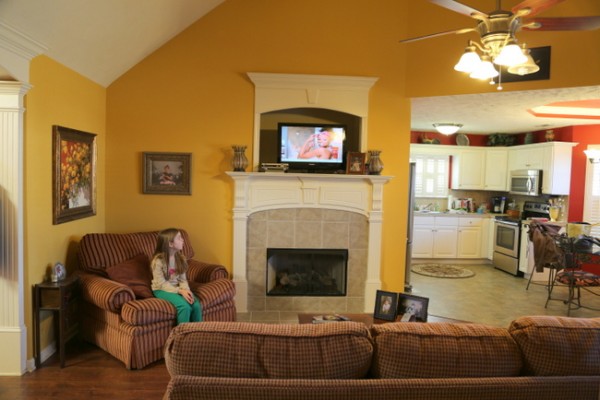 pink undertones in the fireplace tile, yellow undertones in the kitchen floor
Every home has its challenges, and Allison's included the following:
1) heavily textured ceilings – You shouldn't paint those, or should you?
2) odd angles  – How might you downplay those?
3) melamine cabinets – Can you alter those in any way?
4) fireplace tile that clash with the nearby kitchen floor tile – Do you have to rip out one or the other?
Oh, and did I mention?  There's a pesky little thing we like to call a budget.  Sure, anybody can rip out fireplace tile, flooring, cabinetry, etc. and just replace them with upgrades – provided they have a limitless budget!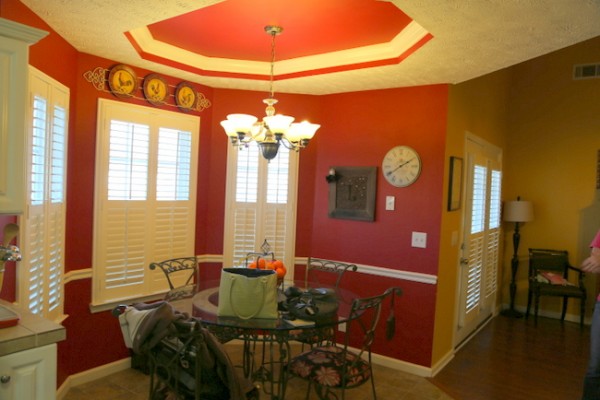 kitchen before
Well, I certainly have a plan as to how to address these challenges, and Allison and I will share them here as we go along.  Today, I can show you how we reconciled the fireplace tile issue.  Here's the fireplace before: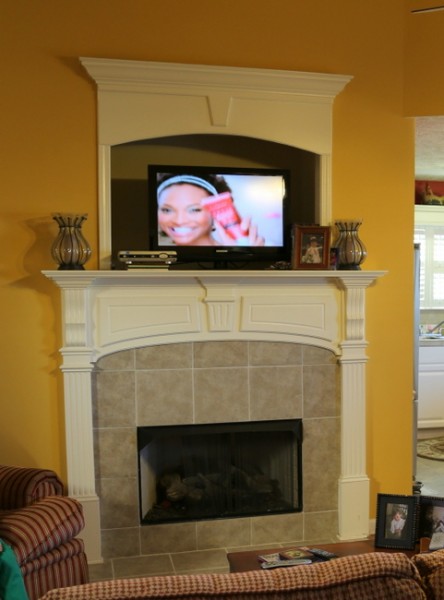 see ya later, bossy tile!
The tile is still there, of course, it has just been painted out like the rest of the fireplace and no longer clashes with the nearby kitchen floor.  And I suppose you see a peek at the new wall color, too, in this picture Allison snapped with her phone: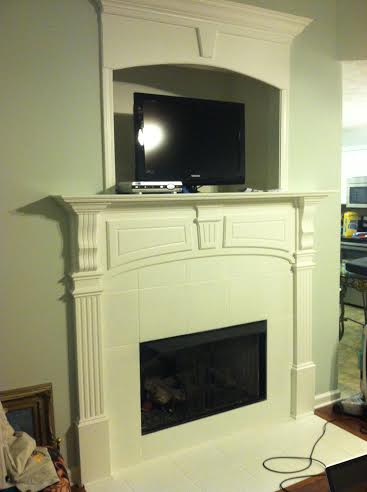 fireplace after
Stay tuned as Allison moves forward with our plans.  The new color palette includes a backdrop of gray-blue with yellow and red accents, so that she can still use some of her accessories.  While the former color scheme and placement made the space appear smaller and accentuated the odd angles, the new one will visually expand the space and de-emphasize the odd angles.  Here are a few of the furniture pieces I chose for Allison's "new" living room: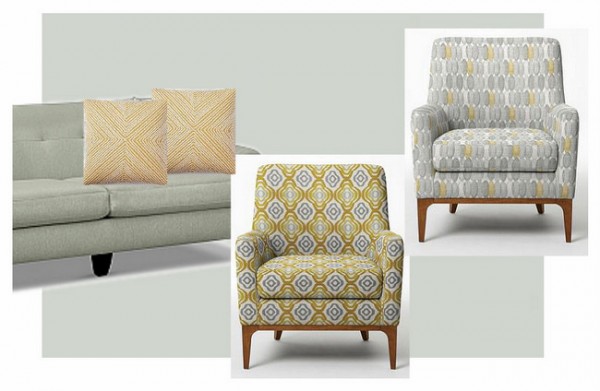 living room mood board
I think a pair of either of these chairs will bring in a bit of yellow for her, but in a more current way than the former gold walls did.  Which one do you like best?
Share this Post