I received a package yesterday with some of the prizes from Benjamin Moore that I won in the 2013 Color Trends contest on Olioboard last month. I got a couple of new paint fandecks, three gallons of paint, and a $100 paint credit for Benjamin Moore paint here in town (Kirkland Floor to Ceiling in Cool Springs, in case my local readers wonder where the nearest retailer is). Unfortunately, I wasn't able to claim the biggest part of the prize: a free pass to celebrity designer Tobi Fairley's MBA Design Camp.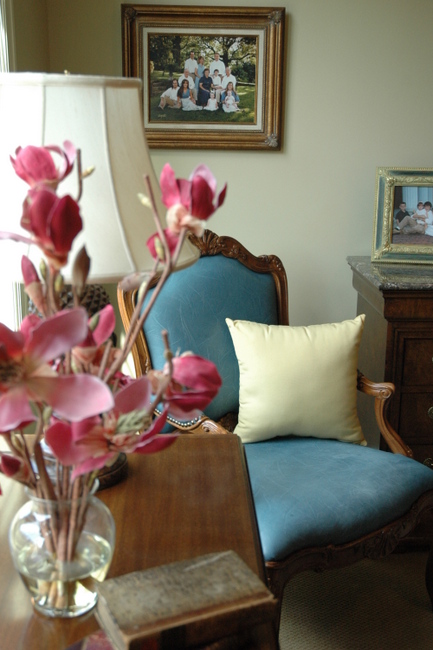 Unfortunately, the camp took place in early January right smack in the middle of a medical crisis for one of my close family members. I just needed to be here and couldn't leave town for the three-day design business workshop. I was definitely bummed. However, I was really glad that I instead got to use my skills and talents to help my uncle readjust to a new setting by downsizing his furnishings into an assisted living facility. We were fortunate to be able to get him in the absolute nicest place you can imagine. This facility has beautiful gathering places, a gourmet coffee shop, lot of great activities, and a luxurious dining room.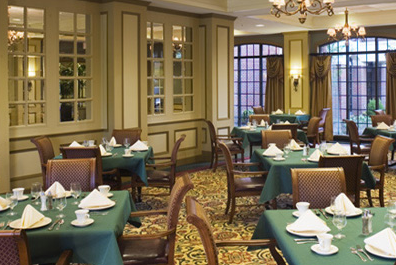 The Cumberland Dining Room
The one-bedroom assisted living unit is about 30% of the size of my uncle's previous home. The space is small, but nice and bright with great windows.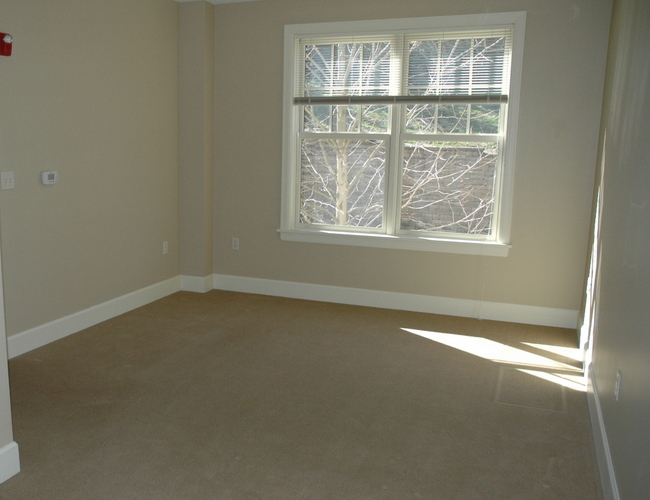 Living Room Before
My younger sister and I had to make choices about what to take and what to leave. We wanted to create a place that felt like home and that best suited his physical needs. Of the three available sofas, we chose to take his firm leather one so that he could get up and out of it easily and could be cleaned easily if there were spills or soiling.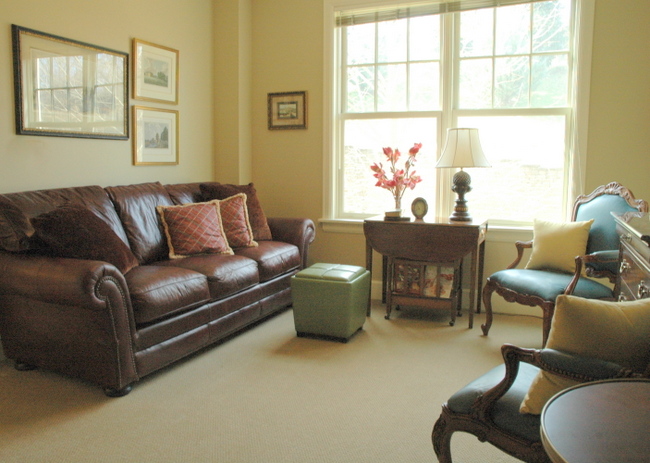 Living Room After
I would have loved to include a beautiful wool rug, but since that might be a tripping hazard, we had to leave it in his former home. We also chose a pair of blue leather side chairs for the seating area, and one brown leather chair to use in his breakfast area.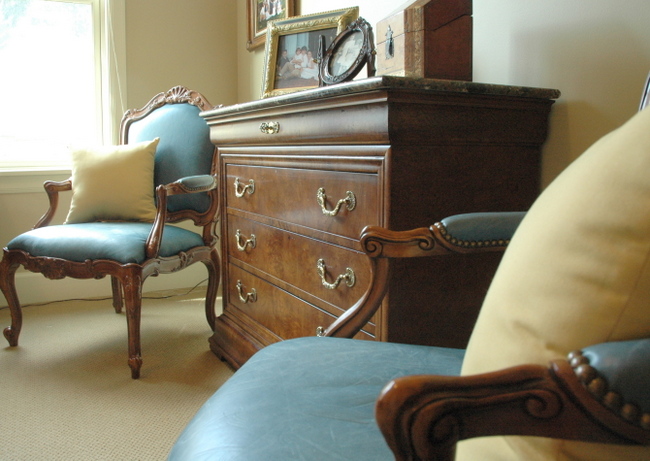 Living Room After
Downsizing is a lot like home staging – you are looking to pair down the unnecessary and less attractive things so that the most appealing and functional things move forward in the space. When downsizing, you need to think about including furniture pieces that provide good storage, like narrow dressers and bookcases where you can store useful items and display meaningful momentos. Below is the "before" of the bedroom: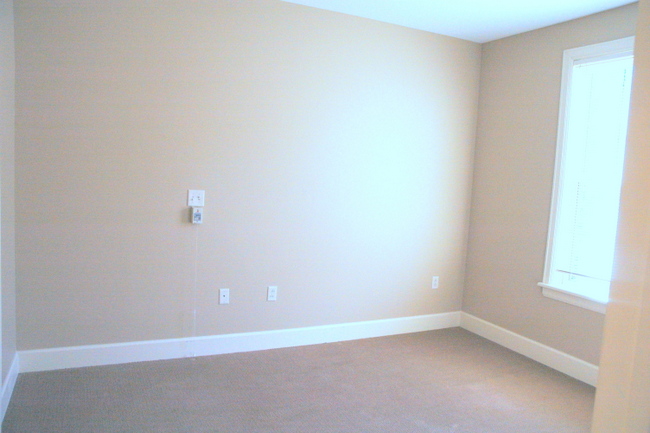 Bedroom Before
We brought in his own bed and other furnishings, but decided to give him some fresh bedding and pillows from HomeGoods for his new place. After a month in the hospital and a nursing facility, he's finally getting a good night's sleep.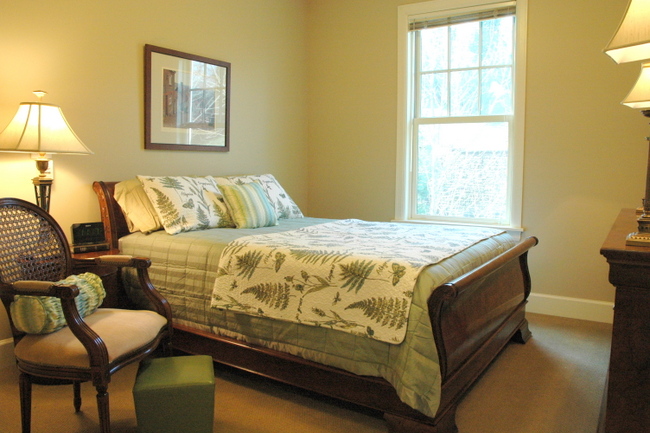 After Bedroom
My uncle was a very successful businessman, and always likes to sit at a desk to do his paperwork. Rather than a round breakfast table, I decided to purchase a small desk to give him a space to sort his mail and write. I don't have a photo of the desk in place, but here's the one I chose from American Signature: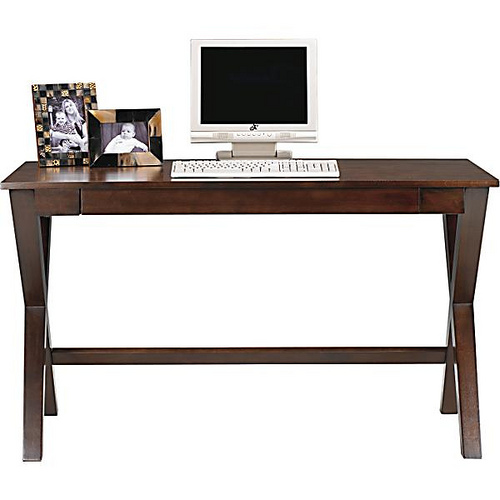 desk from American Signature
It only took two days for American Signature to have it delivered to their store for me to pick up, which was great for the time-sensitive situation. His leather chair looks great with this smart wooden desk. There's a lot of leather in there, but he is a man and at least we were able to mix it up with color!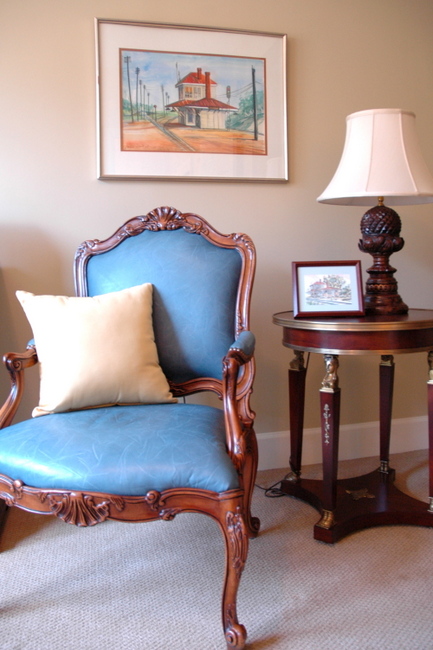 I dig the blue leather!
You know, it's the little things that make a place feel like home. Maybe it's comforting colors, familiar photos, art collected during memorable times in your life.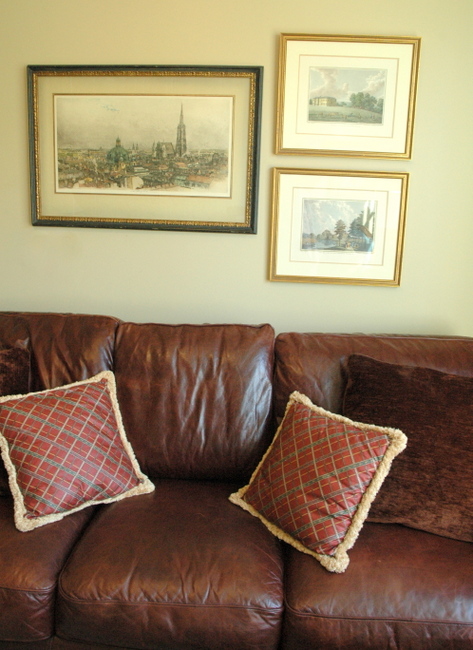 I think my uncle is really pleased with the results, and he says his new neighbors are all raving about his new apartment! It made me happy to be able to help him create a space that feels like home. Sometimes we need to miss out on some good things in order to take part in the important things. Don't you agree?
Share this Post