Yesterday started out hectic.  I woke up at 4:00 a.m. and couldn't go back to sleep, worrying about all the things I committed to do this week and how I was letting things go undone.  Finally got back to sleep around 6:00.  Mr. Man woke me up at 7:30, which meant I had 30 minutes to get out of the house and head to Arrington to install my Make-A-Wish Christmas Tree for the Kings Chapel Parade of Homes.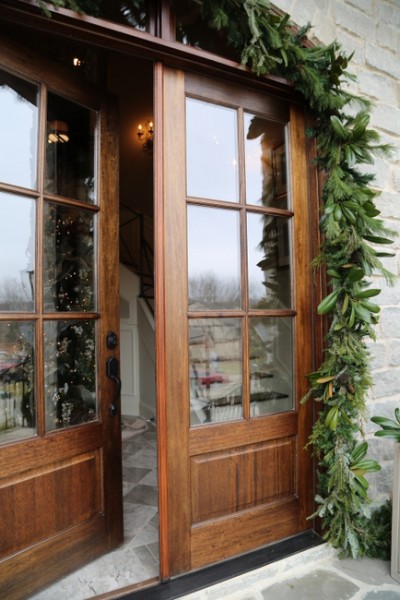 Allison met me there.  She seemed a little overwhelmed, too.  Did I tell you she just moved into a new home last week?  We re-did her house back in the spring, and when they put it went on the market recently to get into a better neighborhood it got 6 offers in 3 days!  Needless to say, she had to move more quickly than she had anticipated.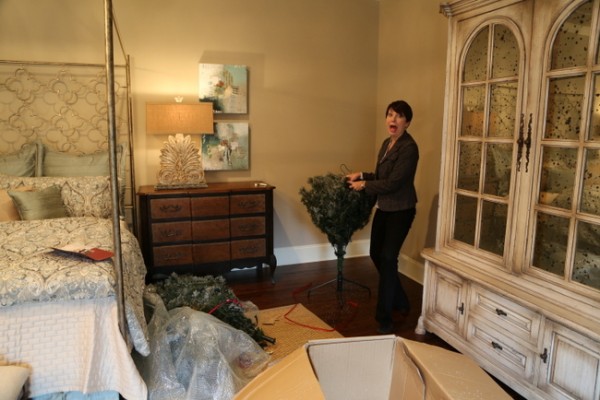 Anywho, we assembled the tree and found the top portion to be badly bent.  Badly.  Randy Arnold of Arnold Homes, LLC was able to strong-arm it for us and we got the top in place without looking like that sad tree from The Grinch Who Stole Christmas.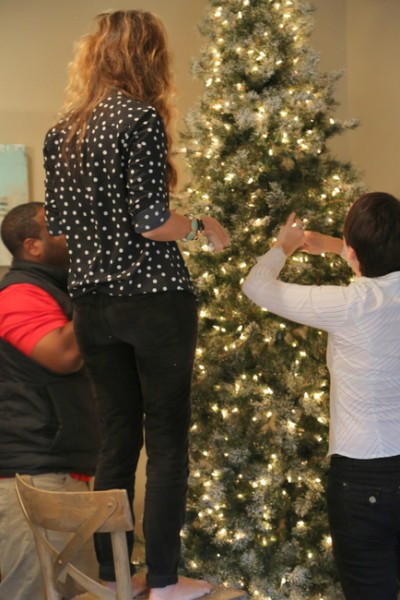 Allison and I both wore black pants and ended up covered with white flocking.  I found flecks in my hair before bed last night, so I'm guessing I looked like I had a major case of dandruff for much of the day. Oh, well – all for a good cause!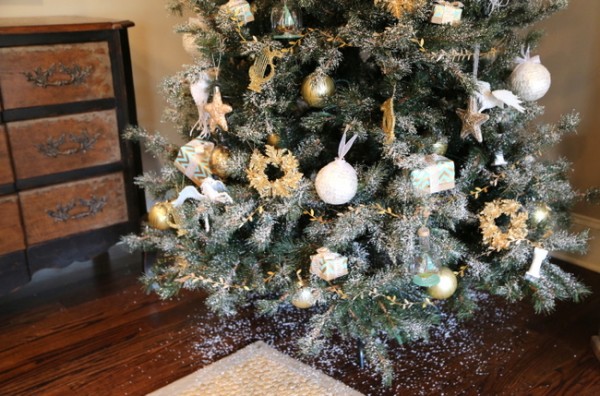 The tree turned out really pretty, which is a relief.  I've never really done a "themed" Christmas tree before, and this Greek theme was a bit of a challenge!  I'm thankful for all of you who left comments and sent emails with ideas for the tree – it was SO helpful. Here it is before we plugged it in: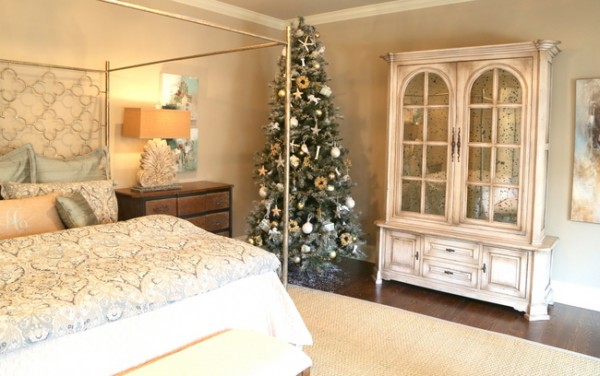 And here it is with the tree skirt and all lit up: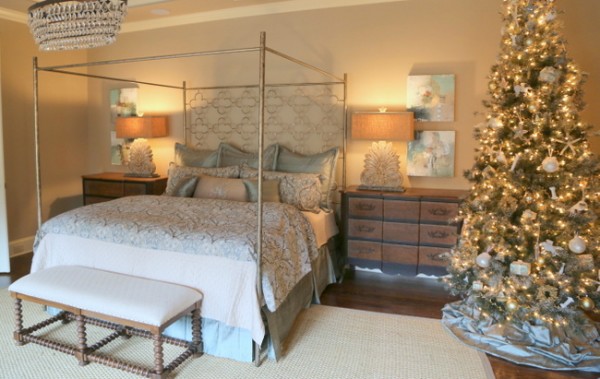 I think it integrated really well into the Arnold Homes master bedroom, designed by Julie McCoy.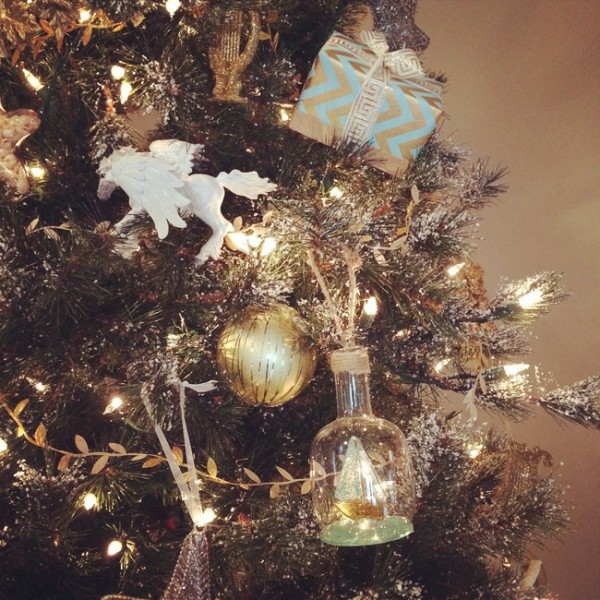 After we finished the tree and cleaned ourselves of flocking, Allison and I got to tour the four designer homes before anyone else! I'm sure Allison couldn't have gotten away with this if other people had been touring: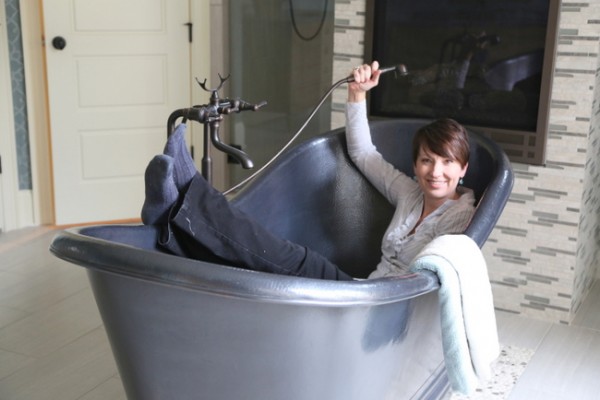 Allison should be a Kohler model, don't you think?
A bunch of great home bloggers were invited for a meet-up and High Tea at the Kings Chapel clubhouse.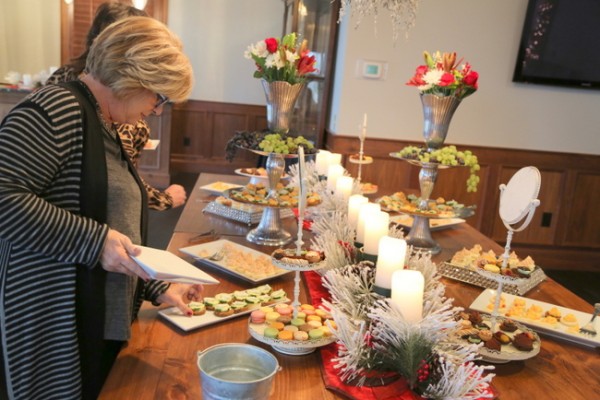 You can see I was hungry.  And I went back two more times. At least. The food was really small.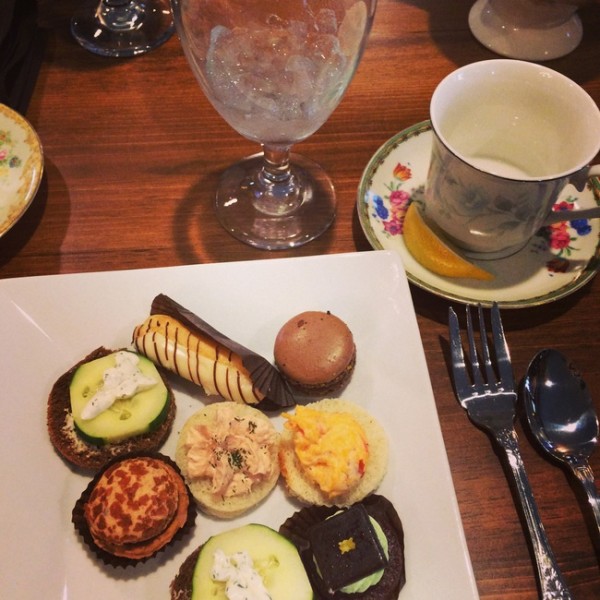 This table represents home and style bloggers, like Kari Ann from Thistlewood Farms, Leslie from Chaotically Creative, and Liza Graves from Style Blueprint, public relations folks like Nancy and Dana from Forest Home Media, and Parade of Home designers Lauren and Kara from ReFresh.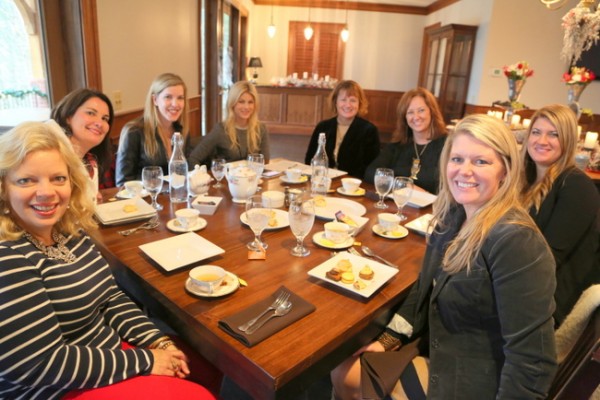 I have to thank the sponsors, including Arnold Homes, LLC, Balsam Hill trees, and Kirkland's for supplying the items for the Greek Christmas tree.  It will be auctioned off for Make-A-Wish Middle TN during the Parade of Homes.  Do any of you locals want a really special tree?  Here are the gals from Kirkland's, giving me a gift bag – aren't they the cutest??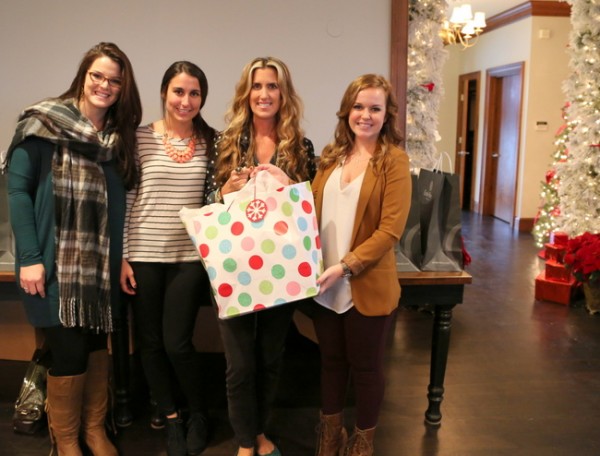 Allison and I made a little video about the tree and a few ideas for decorating your own Christmas tree – please excuse any blurriness in the close-ups (still trying to figure out how to use the video function of my camera):
The tour runs through December 6-21.  Watch for my next blog about all the design trends I spotted at the designer show homes! Now to get back to readying myself for A Vintage Affair at Haven Farms this Friday night and Saturday in Mt. Juliet, TN. I've got 2 FREE ticket to the Preview Party for Friday night for the first 2 readers who ask for them!