Decorating my Make-A-Wish Christmas tree last week afforded me to unique chance to tour the designer homes on the Kings Chapel Parade of Homes before anyone else!  There were plenty of design trends that I noticed throughout the beautiful homes.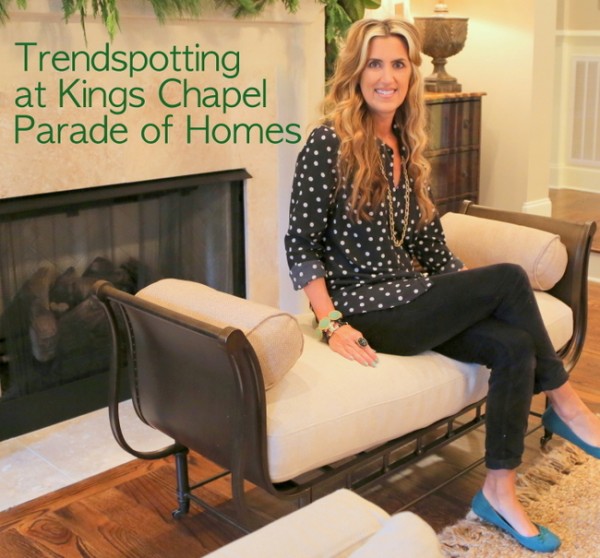 trendspotting by The Decorologist, Kristie Barnett
Dramatic Ceilings
Many of the rooms in the homes featured amazing ceiling designs, like this tobacco stick mansard ceiling in the Gregg & Rains home.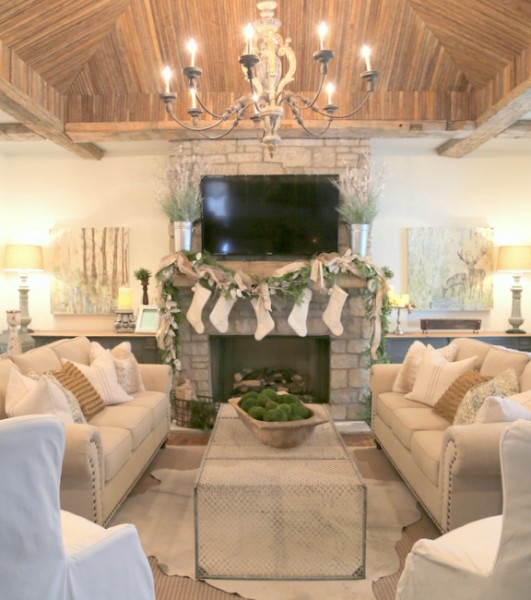 design by ReFresh, Lauren Blalock and Kara Blalock
Painted ceilings were also featured, with my favorite being this dark dining room ceiling.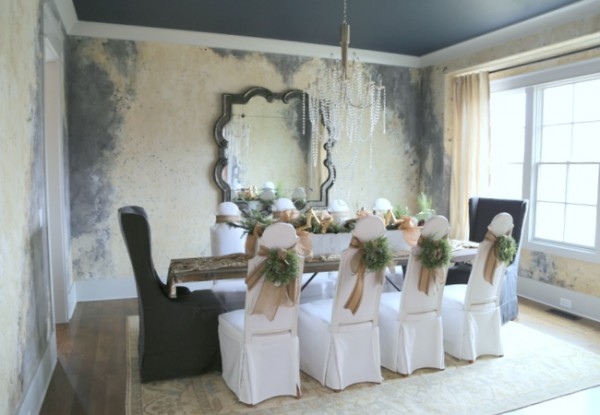 custom faux finished walls by Bella Tucker
This master bedroom ceiling is lined with white-washed barn wood, which helps balance out the femininity of this space.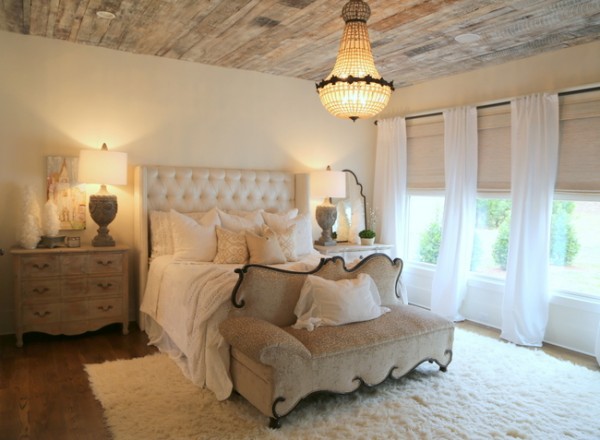 Outdoor Lighting Indoors
Statement lighting was huge – in more ways than one.  The hanging light fixtures were often the driving force of the rooms, and I also noticed a lot of over-sized outdoor light fixtures being used to great effect indoors.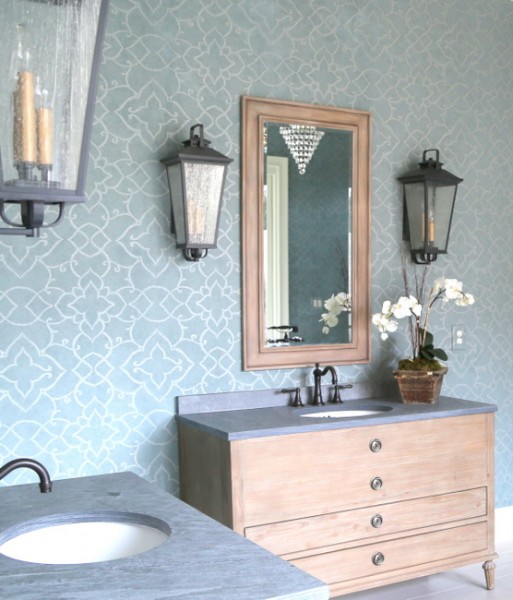 design by Julie McCoy
An outdoor light fixture may come in the larger size you need and be perfectly appropriate in an unexpected application, like this nursery in the Arnold Homes, LLC home.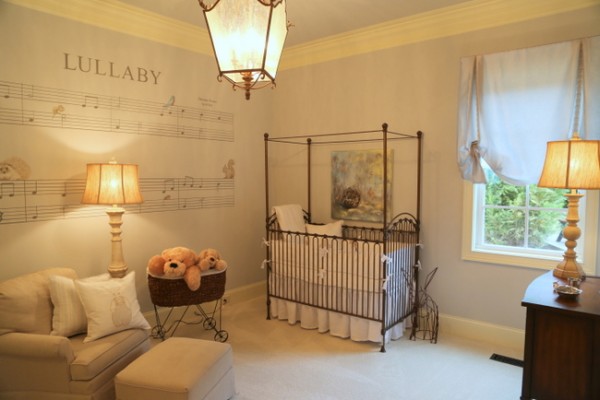 wall mural by Heather S Thompson
Texture on Walls
Throughout the home tour, I saw plenty of stuff going on on the walls besides paint, including board and batten walls like this guest room.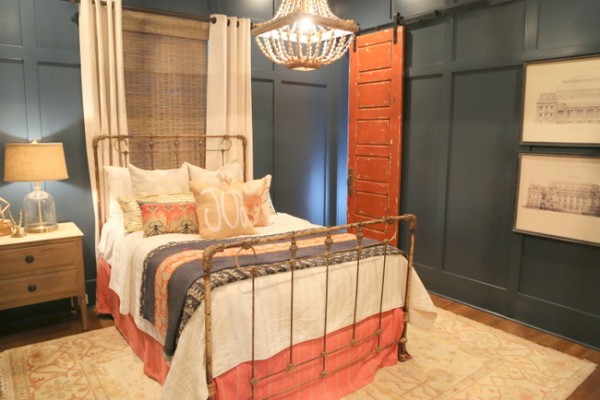 design by ReFresh
I spotted it again in this dramatic office space: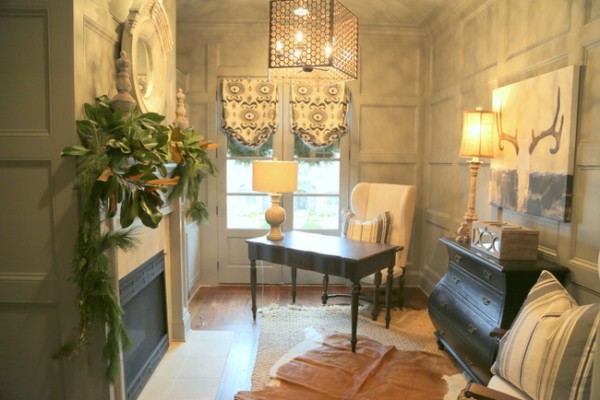 design by Julie McCoy
Other wall textures included seagrass wallpaper, barn wood, and interior brick.  I think the brink is warm and stunning in this stairwell!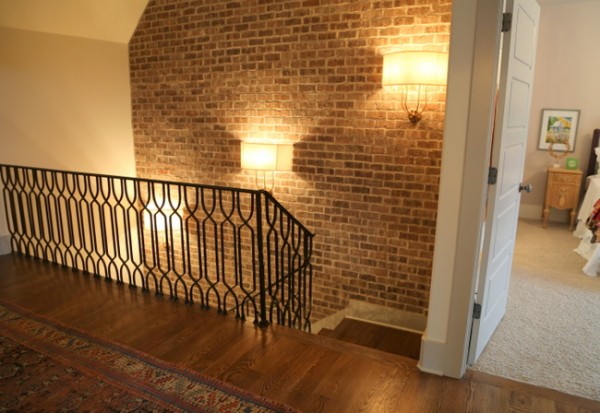 stairwell lighting by Graham's Lighting
Quatrefoil Motif
Geometric patterns are still trending, but they seem to be calming down a bit.  Patterns that stand the test of time are interpretations of classics like the quatrefoil motif I noticed in several places, like the in headboard of this master bedroom.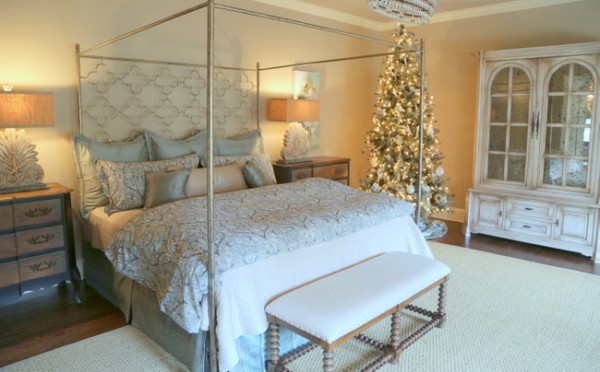 design by Julie McCoy
Deer Decor
Depending on who and where you are, the deer decor throughout the Parade of Homes may evoke delight or dismay!  Faux or naturally-shed antlers were everywhere, and the iconic deer head motif is a recurring theme.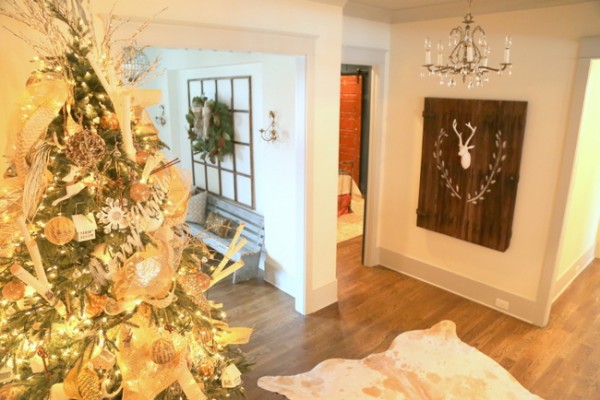 Coral as an Accent Color
Although I also saw a lot of orange, I definitely noted a move in the coral direction as an accent color.  It looks particularly happy in combination with blues of all shades, from spa blue to navy.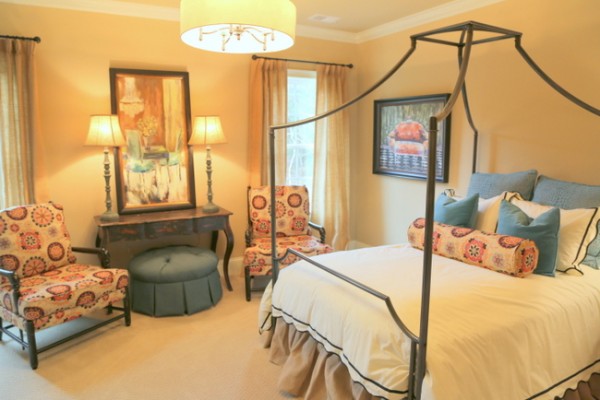 coral and blue guest room in Arnold home
Pampered Pets
The lucky folks who purchase this home on the Kings Chapel Parade of Homes are going to love this very luxurious pet shower located in the main floor laundry room.  Also a great spot to rinse off muddy feet and dirty little children . . .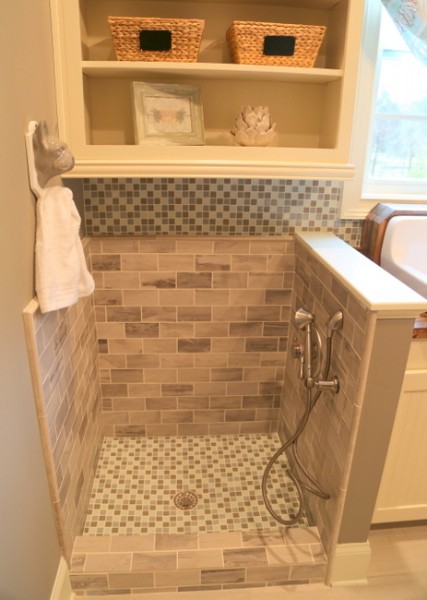 The clever builder, Randy Arnold of Arnold Homes, LLC, integrated a special away room for pets in the wainscotting of the great room.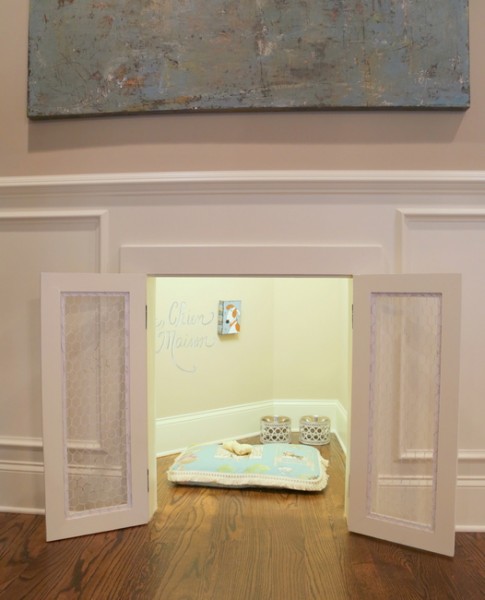 indoor dog house
To give you a better idea as to the scale of this space, here's my assistant Allison in a pose I believe she will soon be regretting: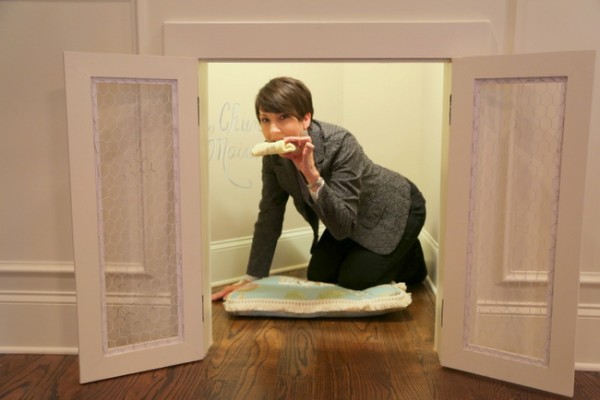 Don't miss your chance to tour the Kings Chapel Parade of Homes, December 6-21, 2014 in Arrington, TN.  The cost is $12 and a portion of the proceeds goes to the Make-A-Wish Foundation.  You may even want to place a bid for one of the four Christmas trees in the silent auction!