You may have heard the big announcement last week.  You know the one. Pantone's 2015 Color of the Year. My first inclination was to NOT write about it because it doesn't deserve the attention because it is a hot mess.  Yes, that's my professional opinion.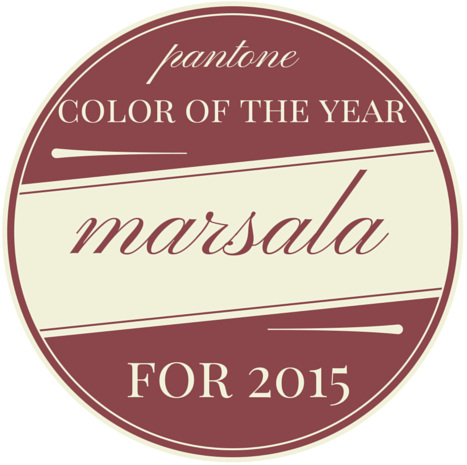 even the graphic looks dated via
Then I watched as all the reactions came in – designers, color consultants, bloggers, journalists, homeowners, etc.  Marsala drew strong reactions – either strongly negative or strongly positive. The negative reactions were nothing short of side-splitting hilarious, so I spent some time compiling my favorites for you:
"It belongs on a drywall accent wall in a low rent mattress store with particle board nightstands scattered about. It belongs in an eye doctor's office waiting room circa 1992. It belongs nowhere."
"Reminds me of pair of Toughskins pants I sported as a kid growing up in the 1970s."
"Looks like the interior color of an eighties pizza parlor- I keep expecting to see paintings of grape vine leaves and bottles of chianti."
"It looks like the ugly inside of a commercial building or the outside color for a cheap 1990s townhouse."
"I love Marsala… In a pot with chicken or in my wine glass. Short of that I wouldn't use it."
"Looks like dried menstrual blood."
"Hey, the 1990's called.  They want their color back."
"They renamed "mauve". That's one heck of a marketing campaign…"
"Well, they certainly did dig deep, but if I were them I'd fill that hole in again."
"It is depressing and a hot, muddy mess."
"My guess is the pantone people spent too much time playing candy crush while on the clock….realized one day they were not gonna make the deadline and picked THIS out of a hat containing many colors."
"It looks like someone poured milk in a glass of red wine…..just before it curdles."
If red wine had anemia this would be the color.
"This is one of the ugliest colors that even exists. Is this choice a joke?"
It's a color that makes you want to go to Olive Garden or order Tampax in bulk.
"It does make you wonder if they all sit around some late afternoon, drink a whole lot, then get the hysterical giggles as they try to top each other in the 'let's see if they'll buy this one' contest."
"Nice, looks like disemboweled intestines."
"If you had painted something in the 80s mauve (also ick) and let it sit and get dirty for 30 years, you would have Marsala."
"I can appreciate it, being a former OR nurse. CREEPY."
"This is my maroon graduation gown after being accidentally Cloroxed."
"Oh lovely, the color of kidneys is HOT this year."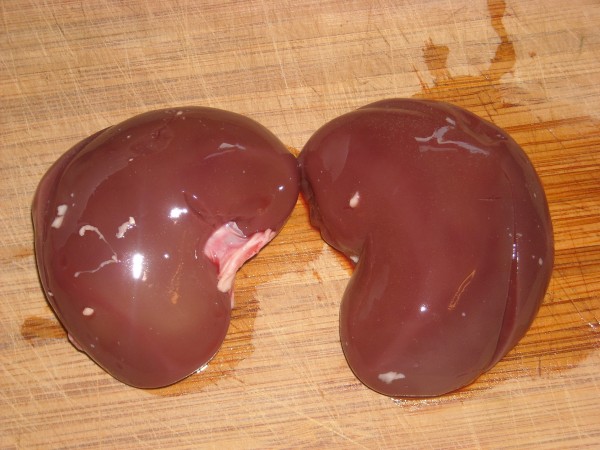 The positive ones were interesting, too.  It seemed like some people were doing everything they could to bend over backwards and figure out a way to MAKE Marsala work.  Many of those people may be trying to justify the choice they made 10-25 years ago, and now they want to believe they were 20 years AHEAD of the trends and have no need to change it now. It's fine, of course, if you love that color, keep it!  But just because you love a color, that doesn't make it on-trend.
Look – in my opinion, the "Color of the Year" should be so good that no one has to bend over backwards to make it fit in.  There should be beautiful images already in the design world that show how fabulous it is, without having to come up with far-fetched ideas as to force it into on-trend decor.  It should already be there.  House Beautiful is one of my favorite magazines, and it features some of the most on-trend designers and has increasingly become more focused on residential paint color.  Here is a collage of some of this year's covers, filled with on-trend colors: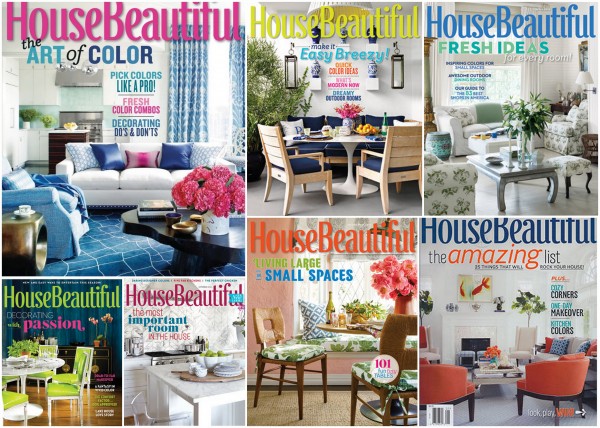 no body organ color to be found
Every room I've seen posted since the announcement with Marsala in it either looks like it was designed in the 1990s or else there is a smidge of some reddish brown in a corner and the writer is like, "see, look, in the far corner, there's a teeny-tiny piece of Marsala!  Don't you just love what it does for this room??!" Uh, NO.  Google it – you'll see what I mean.
Below is a "modern" kitchen painted in Marsala. Does it read cutting-edge, on-trend?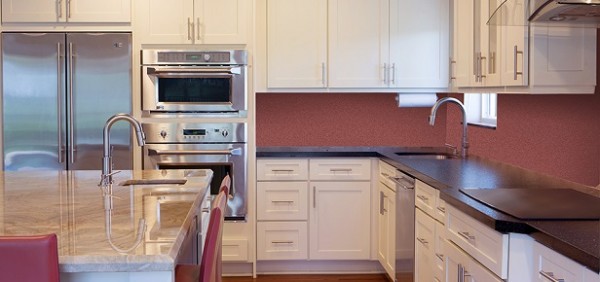 source
I'm just not seeing it. A bonafide "Color of the Year" shouldn't be chosen just because it's a color that NO ONE would ever guess prior to the announcement.  And I'm starting to think that's what Pantone is doing now – just picking a color they don't think anyone would guess, because they so badly want it to be a surprise.  Just like last year's Radiant Orchid. Have you seen that color in bedding, pillows, fabrics, ANYTHING home decor-related?  I haven't either, and that was 2014 Color of the Year.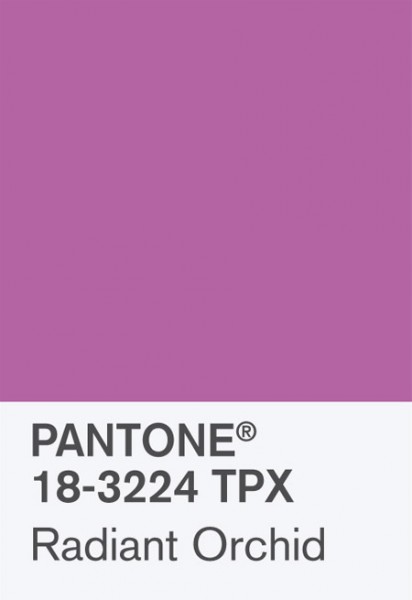 I've been digging burgundy since last fall for nail polish and clothes, but you are not going to catch me specifying it for wall colors anytime soon.  And Marsala is not even burgundy or oxblood.  It's a faded pinked-out red.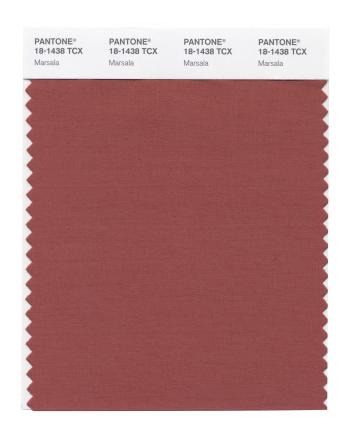 I spend a good deal of my professional time choosing colors to cover over Marsala with something that looks NEW.  Everyday Home magazine asked me to write an article about 2015 Color Trends for their spring edition, which I should be finishing up by week's end.  I'll let you know when that hits the stands, of course.
Here are some interesting posts about Marsala if you want to hear what others are saying:
http://www.washingtonpost.com/lifestyle/home/pantones-color-of-the-year-marsala/2014/12/04/1b78e0d0-7bf4-11e4-b821-503cc7efed9e_story.html
http://www.houzz.com/ideabooks/34725093/list/how-to-use-marsala-pantones-2015-color-of-the-year
http://www.adweek.com/adfreak/pantones-color-year-marsala-and-it-has-some-critics-throwing-shade-161759
http://nymag.com/thecut/2014/12/pantones-color-of-the-year-is-icky-marsala.html
http://www.lindaholtinteriors.com/2014/12/pantones-color-year-barry-dixon/
http://www.mariakillam.com/marsala/
http://hadleycourt.com/how-to-use-pantone-color-of-the-year-2015-marsala-in-interiors/
Of course, I'm dying to know what YOU think about Pantone's 2015 Color of the Year! I love to hear your opinion – positive or negative?