I can honestly say that the great room of the 2013 Southern Living Idea House is one of the most lovely, welcoming, and peaceful rooms I have ever seen.  Although I've told you much about it after I first toured the home, I can only now share photos since the August issue of Southern Living magazine is finally on the news stands.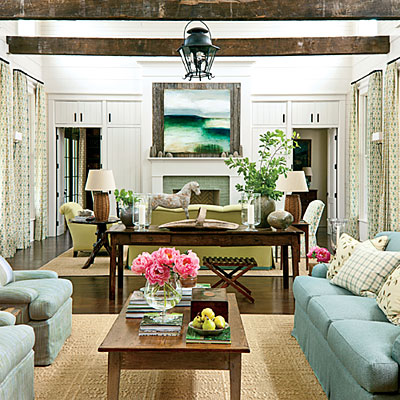 Photo: Laurey W. Glenn
The color scheme throughout the main house is shades of blues and greens, grounded with lots of warm white and neutral wood tones.  The walls, trim, and ceiling were all painted Sherwin Williams Moderate White SW6140.  The "color" all comes from the beautiful upholstery, fabrics, art, and accessories.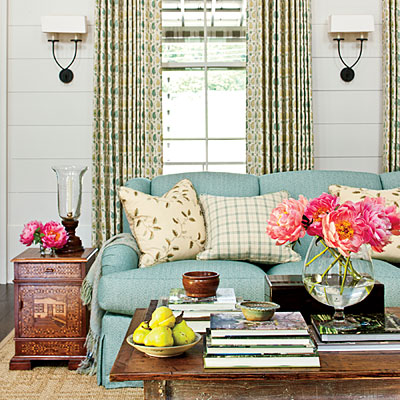 Photo: Laurey W. Glenn 
The designer, Phoebe Howard, suggests using solid colors for the largest pieces of upholstered seating, then bringing in patterns in window treatments and pillows.  One fabric (in this case, the window treatments) should tie in all the colors in your palette.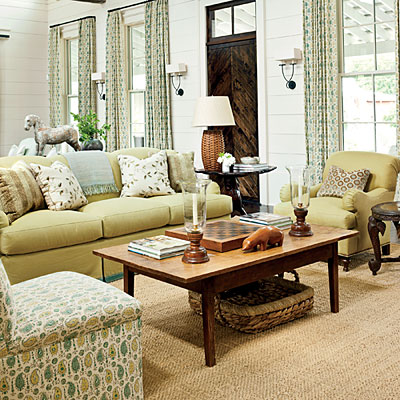 Photo: Laurey W. Glenn
The great room adjoins the kitchen, where the cabinetry and island are painted in a surprisingly dark color: Sherwin Williams Pewter Green SW6208.  The wall color is Oyster Bay SW6206, and the ceiling is Spare White SW6203. I love how the large white glass ceiling fixtures take center stage with the Pewter Green backdrop.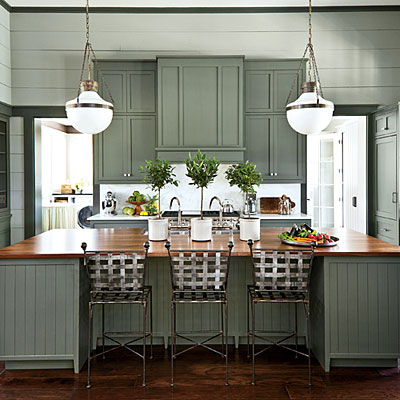 Photo: Laurey W. Glenn
The effect in this kitchen is lush, warm, and enveloping.  The dark cabinetry looks beautiful with the lighter Calacatta Gold countertops and backsplash.  The light knobs pop off the dark green, as well.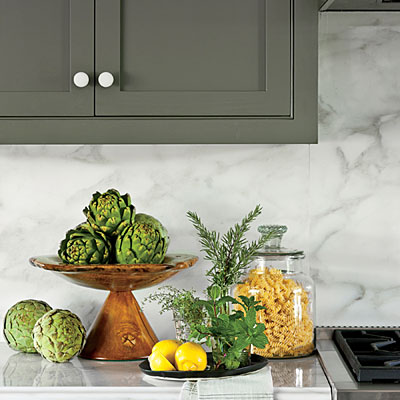 Photo: Laurey W. Glenn
Phoebe used the same dark olive green on the walls and trim in the cozy study, Sherwin Williams Palm Leaf SW7735.  She recommends starting first with the objects in a bookcase to establish balance, but using mostly books so as not to clutter it with knick-knacks.  For more ideas for bookcase styling, read my article here.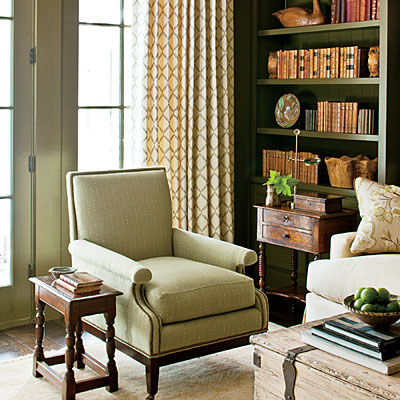 Photo: Laurey W. Glenn
The light-filled bedroom walls and trim are painted Sherwin-Williams Olympus White SW6253, while the ceiling is Ice Cube SW6252.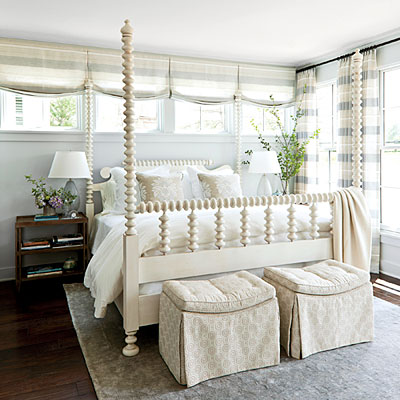 Photo: Laurey W. Glenn
Word to the wise:  don't judge a paint color by its name!  You might think a color named Olympus White reads white, but as you can see, it reads light gray-blue: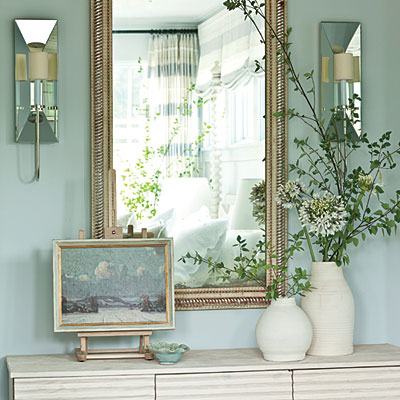 Photo: Laurey W. Glenn
My favorite bedroom is found in one of the guest houses, or "bunkies."  The gorgeous wallpaper is Shangri-La Hydrangea (SL-103W) by Elizabeth Hamilton.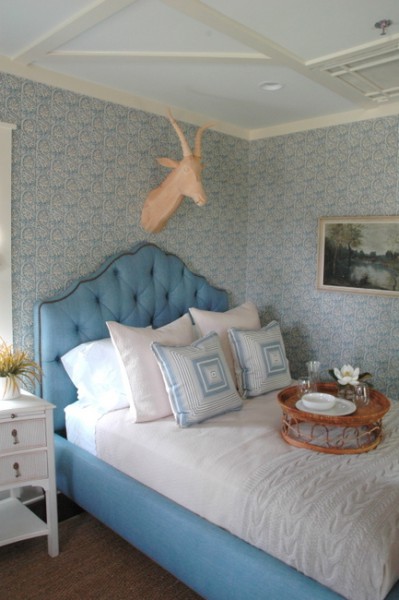 photo by Kristie Barnett
Beautiful spaces and beautiful paint colors throughout!  And as we know, paint color can make or break a design.  If you want to learn how to choose just the right paint colors for your own home, order my Color Workshop Video today!