It's October 1st, so you know what that means?  It means Halloween decorating!  With the days getting shorter and the temperature dropping, it just makes sense to start spooking the house up as I mourn the dying of Summer.
Over the last several years, my Halloween decorating has been inspired by two people:  Martha Stewart and Andrea Ferrell.   Both ladies enjoy Halloween decorating that leans towards the "natural macabre."  Today I highlight Martha, I hope soon to highlight the lesser-known but equally fab Andrea Ferrell.
I'm so excited to try this bleeding candles trick!  Take some white candles, stick them in a bucket of sand, light a red candle, and let the wax drip down the white candles.  Genius.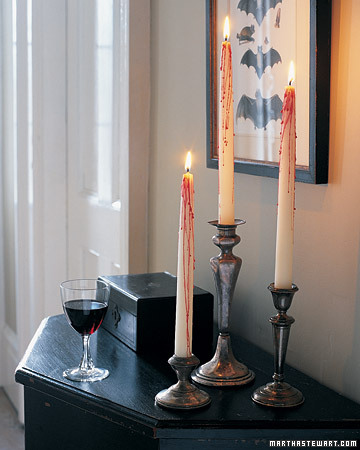 What's spookier than silhouettes of feared pests – like bats, rats, and spiders?  And check out the runny black border around the top of the walls – now that's creepy.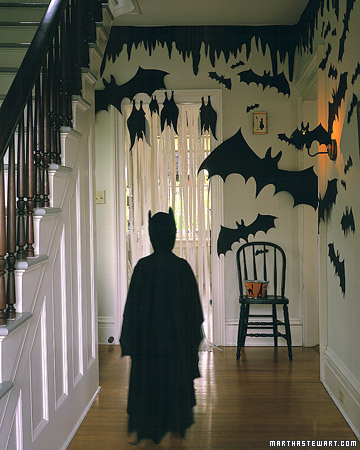 I use tons of the spider-webs-in-a-bag stuff, but this year I bought some cheesecloth like this.  It's easier than stretching the other to look realistic – you just drape it, maybe rip it a little, and add a few dried leaves like Martha does here.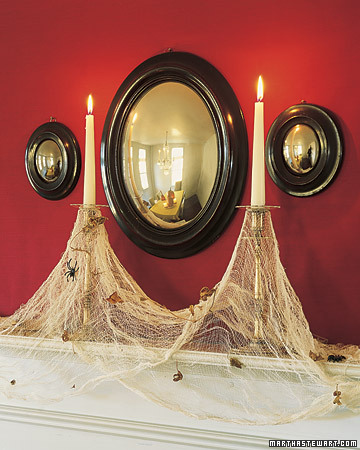 You gotta think of how you can make the most normal of things a little spooky, like floral decor.  Pick flowers and fillers in black, brown, red, and drab green.  Add in some dark dried pieces and dark berries.  Then arrange it all in old, unpolished silver urns.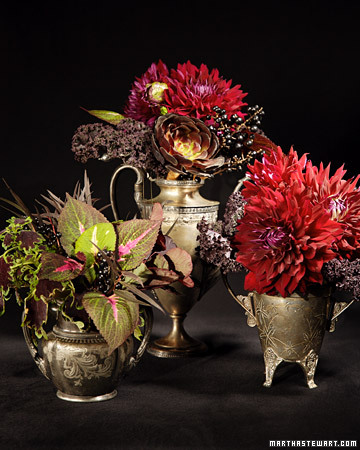 Another great effect from a paper silhouette – this time as a curtain!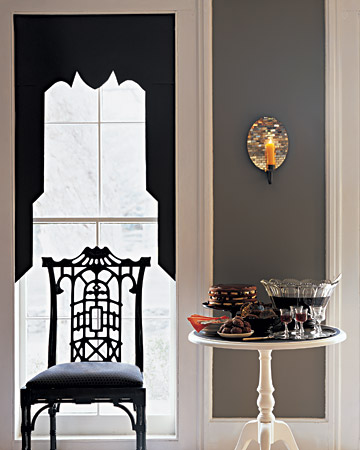 I love this naturally macabre grouping of vintage silhouettes, a phrenology head, and dried cotscomb under cloches.  Looks like dried brains – how fun is that?!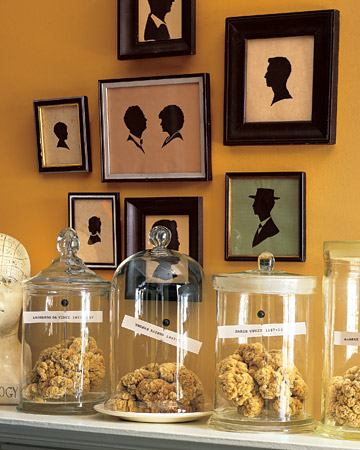 Simply lovely to spray paint pumpkins in silver or gold.  Orange doesn't go with my color palette, anyway!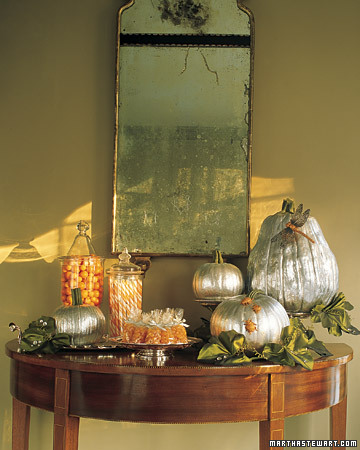 Martha likes the glittered skulls, especially when piled beneath glass.  Believe me, I'm pulling out my cake stands and cloches for highlighting my Halloween decor this year!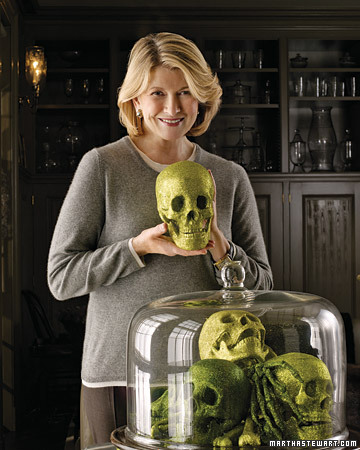 What's easier than grabbing a few dead branches from the yard to create a little Halloween tree?  This one is spray-painted black but natural is good, too.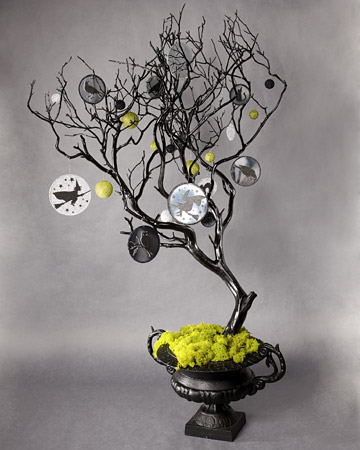 Black crepe streamers make spooky curtains in your haunted house.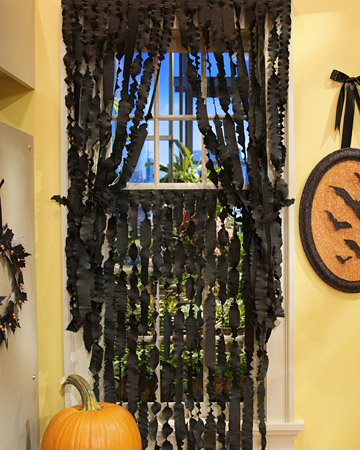 Who thinks like this?  I love it!  So now we're dying Halloween eggs a mottled brown and using them in this "rotten eggs and worms" vignette.  The worms are old fishing lures.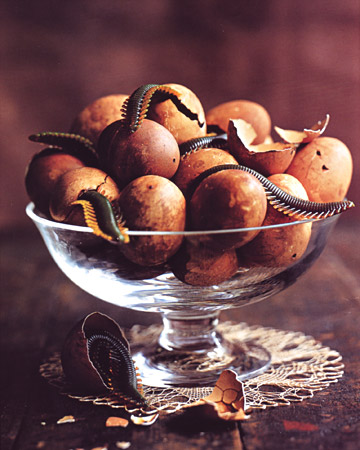 I love using what you already have and creeping it up.  Like this pewter collection.  It's all about the context – just add this bat silhouette streamer and some autumn florals.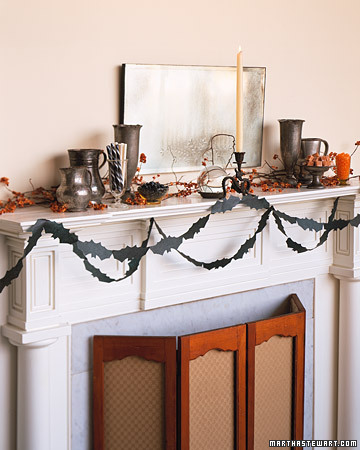 More spooky silhouettes, this time mounted above votive candles to cast some really scary shadows.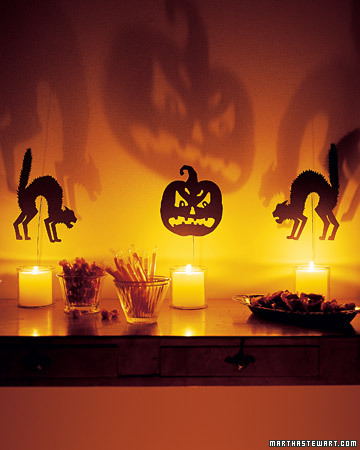 Gather dark fruit and dark-colored candles for a Halloween centerpiece.  Then add some roaches.  Nice.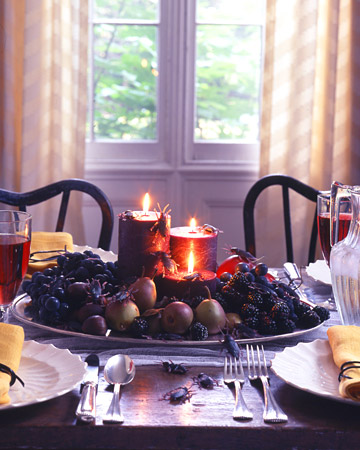 And don't forget the spiders!  Some are stickers, others are plastic toys.  It looks like these votives are sitting in some bloody liquid.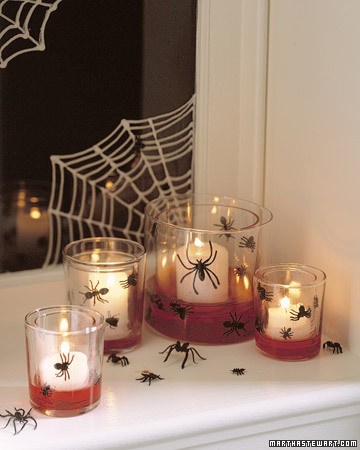 Wouldn't you love to have a dinner in this dining room on a dark, stormy night?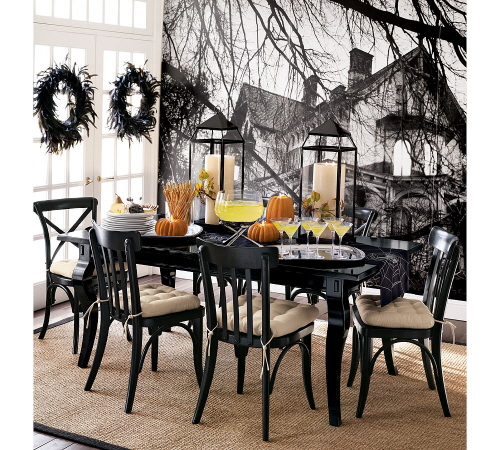 So, are you ready for the spookiest Halloween yet?
.
Share this Post