| | |
| --- | --- |
| My oldest daughter has been a huge fan of Laura Ingalls Wilder and the Little House on the Prairie book series since kindergarten.   When she turned 7,  it was only fitting to have a pioneer party for my little Half-Pint. | |
Let's start with her outfit.  My sweet mother-in-law helped me make Audrey's prairie bonnet from a pattern I found at the fabric store.  She actually helped me make 9 bonnets so that all the guests at the party would have a bonnet to take home with them!  I'm no seamstress, so this is NOT something I could have done on my own.  The shirt and skirt were found at Gymboree and totally had a prairie look.  And don't forget the 2 braids or "plaits."
| | |
| --- | --- |
| | For invitations,  I scanned a small illustration by Garth Williams in one of Audrey's Little House books.  I added a sweet border and printed them on cream card stock from Michaels.  Click the invitation to download the editable file for your own party. |
Yellows, blues, and greens were the main colors in the scheme.  I had a great quilt that was worked perfectly as a tablecloth.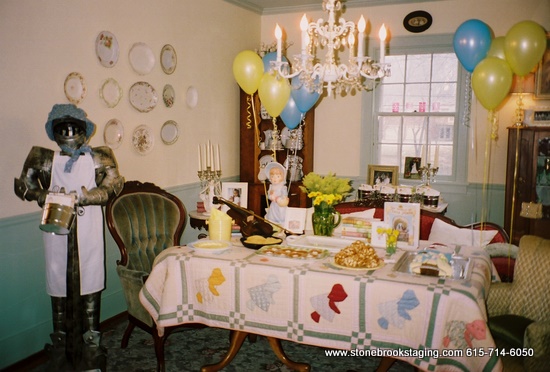 My dear friend, Cathy, loaned me the prairie girl ceramic figurine and the fiddle.   The Little House books were on display, of course.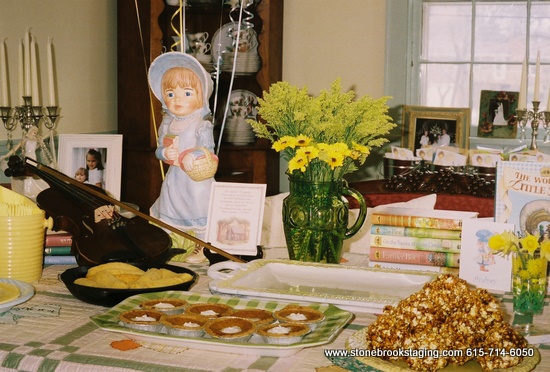 What do prairie girls eat?  Popcorn balls,  little apple pies,  pumpkin pies, and corn bread.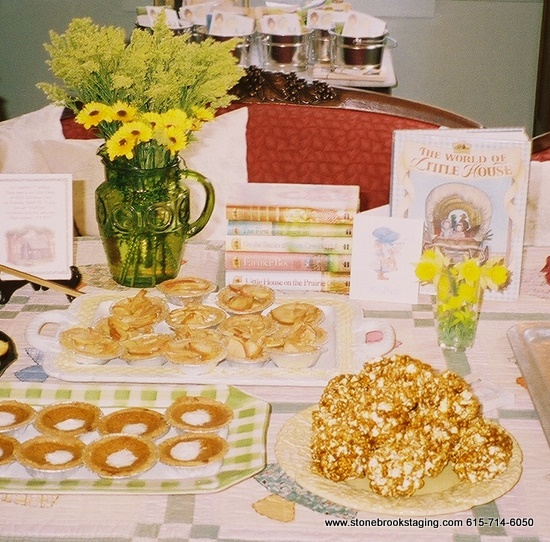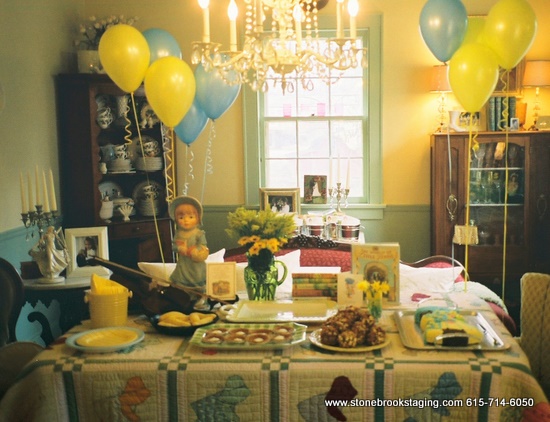 | | |
| --- | --- |
| | And, of course, cake!  I needed to make an appropriate cake for the occasion.  I found this precious Holly Hobbie cake pan on Ebay, and it just couldn't have been cuter if I do say so myself! |
| | |
| --- | --- |
| Don't these little Holly Hobbie dolls from the 1970's look like Ma, Mary, and Laura? | |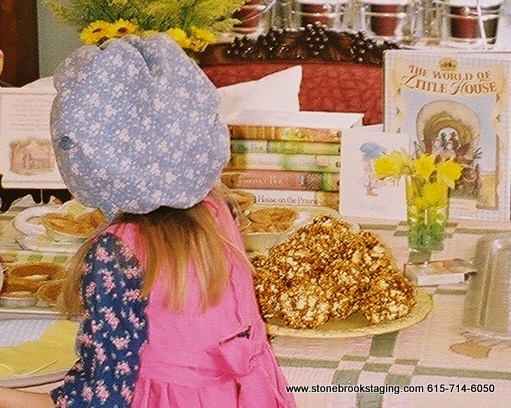 | | |
| --- | --- |
| For background music, I ordered "The Arkansas Traveler"  from Amazon.  It's great fiddle music, just like Pa used to play. | |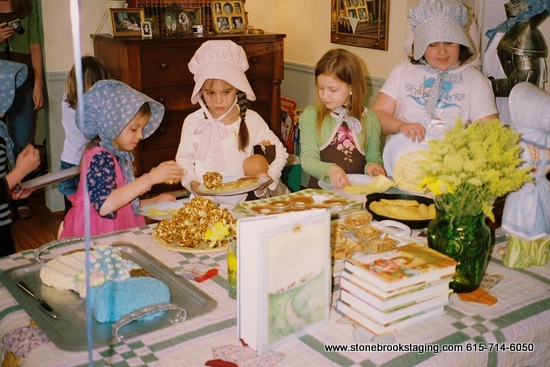 Check out all these sweet prairie girls!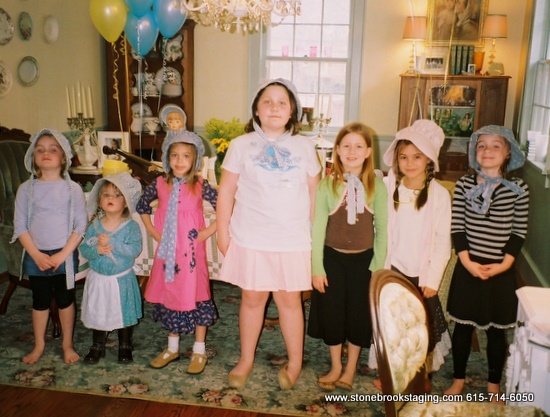 I spread several patchwork quilts on the tables in my home.  We cut out triangles of calico scrapbook paper that the girls used to create their own paper patchwork quilts.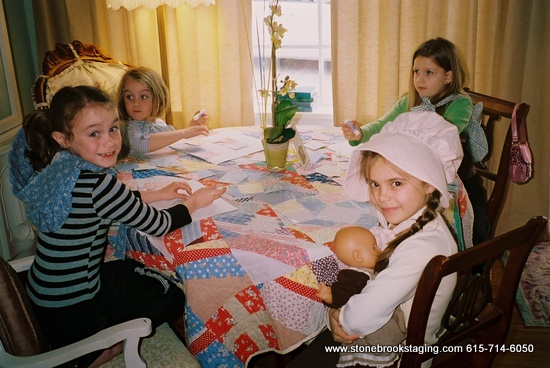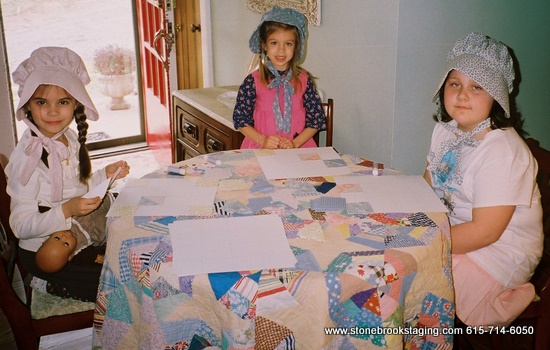 | | |
| --- | --- |
| | I taught the girls a simple back stitch so that they could sew some small bean bags like many little girls made in the "olden" days to play with.  Then they took turns having their silhouettes drawn (I hung craft paper on the wall of a darkened hallway and shined a strong flashlight to create a shadow to trace).  They cut out their own silhouettes on black construction paper and framed them with bargain bin frames. |
Each girl got to take home her prairie bonnet and a "lunch pail" filled with prairie paper dolls,  old-fashioned chalkboard slates with chalk tied with twine, and a book slipcover.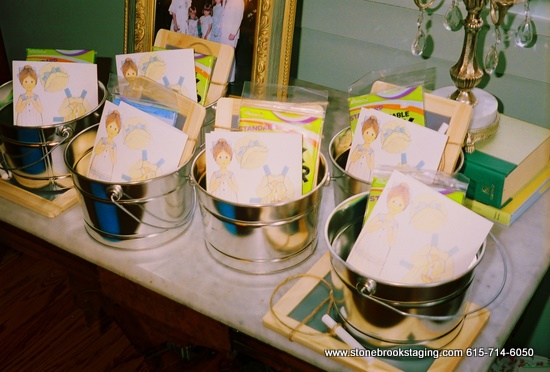 | | |
| --- | --- |
| I found a girl on ebay who makes all kinds of personalized stationery, so I ordered some with Holly Hobbie (yes, her again!) on them.  I thought this was an extra special touch. | |
Such lovely memories from this party.  Definitely one of my favorites.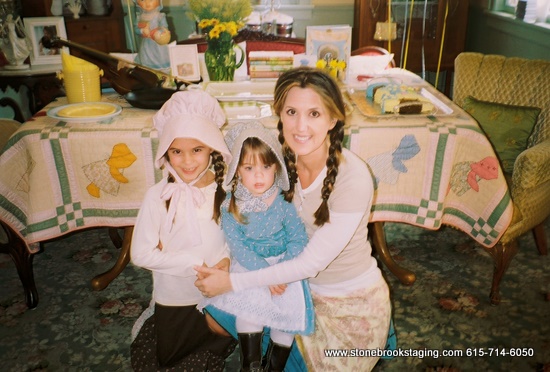 .