I'm at the beach this week, so it seems fitting to share a recent home make-over with a touch of turquoise.  The homeowner had a penchant for neutrals, but wanted to inject turquoise into her color scheme.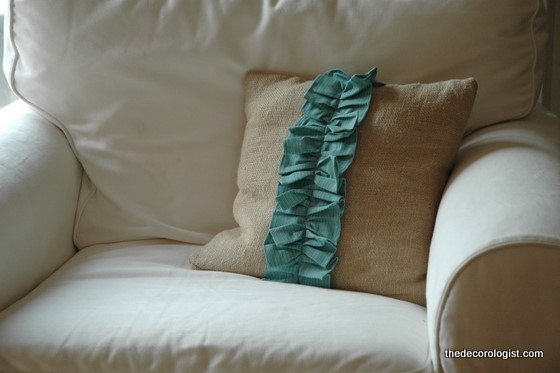 Kristie Barnett
You might recognize the living room from an old post of mine called "One Day Makover."  That one day makeover was the beginning of my relationship with this client who has been working toward making this new home her own.  This is the before of the living room: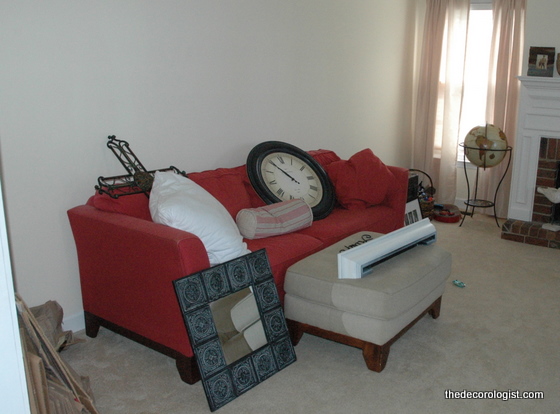 Kristie Barnett
That first day, I rearranged my client's furniture and helped her re-think how she was going to use her public spaces.  You'll see more about that in a bit.  Remember this family photo wall I created?  Since then, my seamstress made custom pillows to fit her style exactly.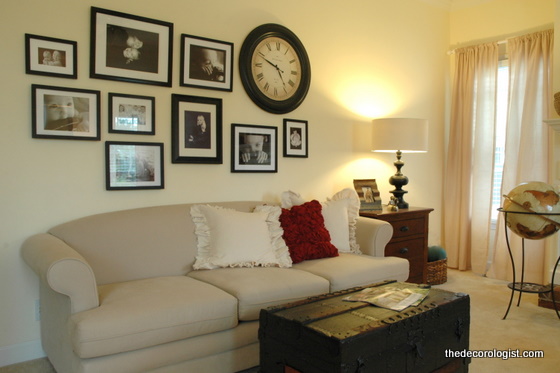 Kristie Barnett
Here's another before of the entire living room: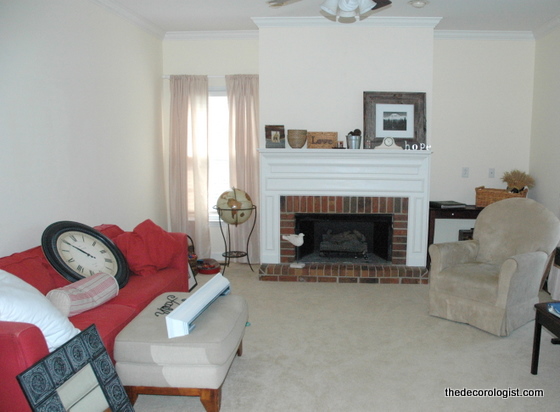 Kristie Barnett
After creating a new furniture arrangement throughout the house (no new furniture was bought), we started interjecting the turquoise color in carefully selected spots.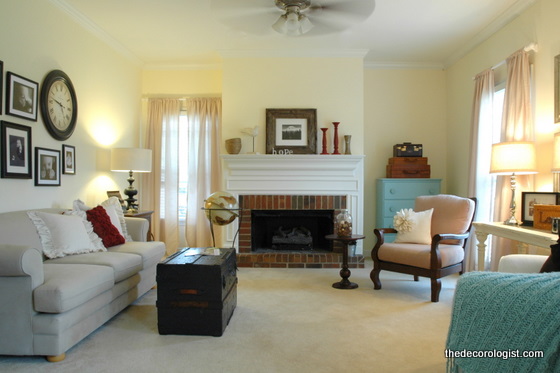 Kristie Barnett
Here's a view of the right side of the room before: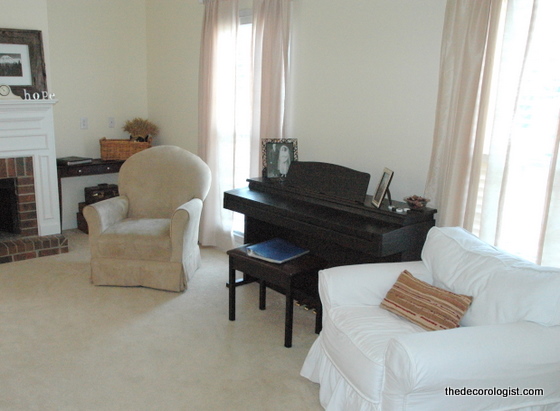 Kristie Barnett
We traded out the piano for an airy console table and a pair of lamps from the bedroom.  I stacked a couple of mirrors to reflect light and add a little glamour.  My client painted this wooden dresser stored in the garage according to my instructions.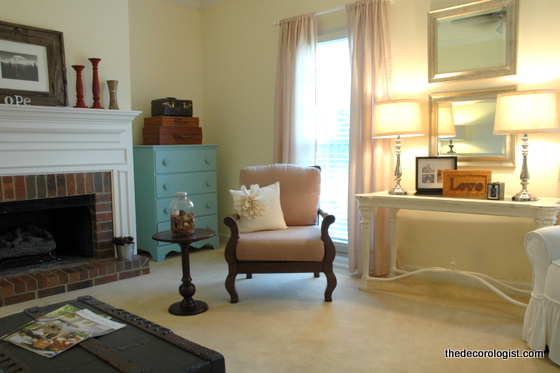 Kristie Barnett
I chose a fun Benjamin Moore turquoise called Spirit in the Sky.  One of my all-time favorite songs, by the way!  Here's another piece we decided to paint turquoise: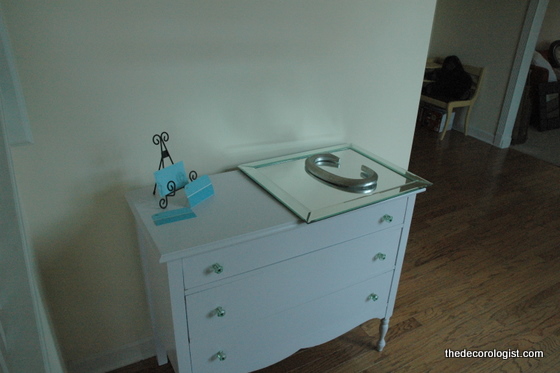 Kristie Barnett
This fun dresser makes a great spot for keys and such in the entry of my client's beautiful home.  We found the gorgeous lamp in downtown Franklin, TN.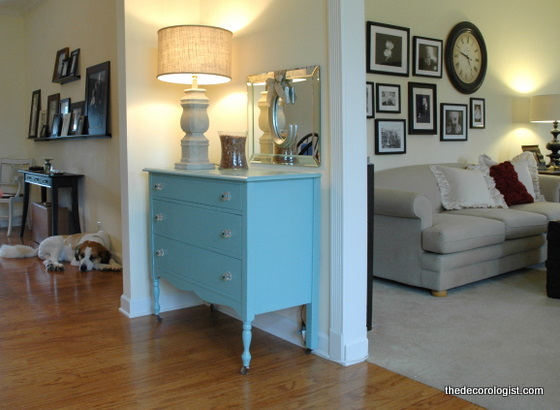 Kristie Barnett
Here's a before as you enter the home – the door is to the right.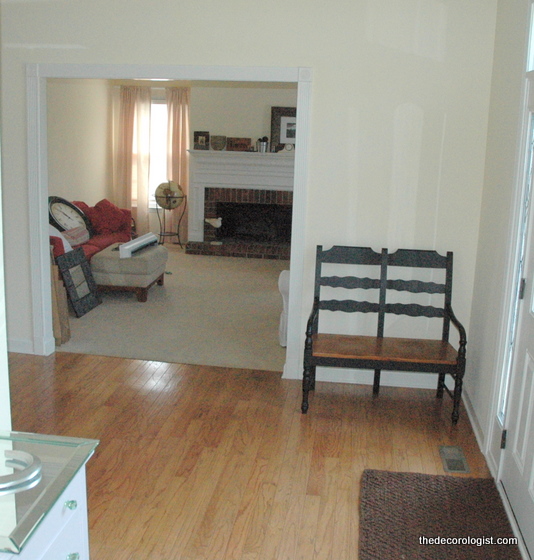 Kristie Barnett
Now the entry is warm and welcoming.   It's really important to my client to only use accessories and art that have specific meaning to her family – we used lots of family photographs and things passed down from her family of origin.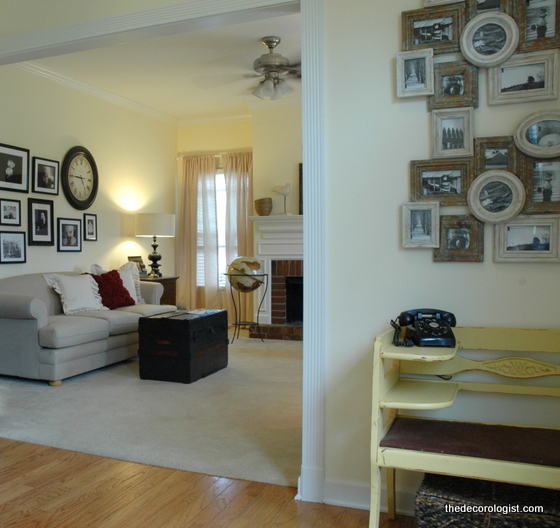 Kristie Barnett
Now, if you follow my blog you already know I like to shake up a floorplan if it isn't working for the family I am decorating for.  This was formerly a living room, but it was adjacent to another living room (which seems redundant, no?).  The previous owners of this house set their home up in a similar way, which influenced my client in how she set up hers when her family moved in.  See how the dining room is at the back of the space in front of the french doors.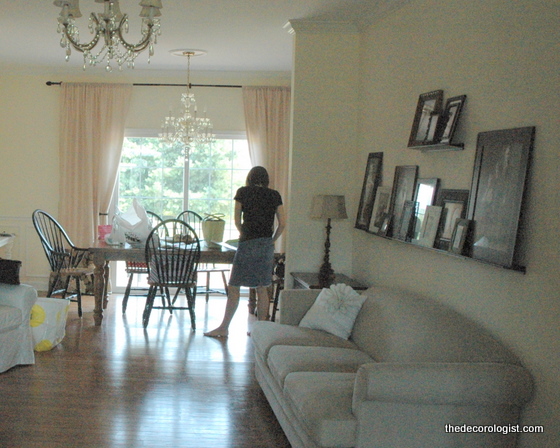 Kristie Barnett
We moved the dining room into this space, which is directly next to the kitchen.  And we exchanged the crystal light fixture with this large burlap pendant from Pottery Barn to better-fit my client's style.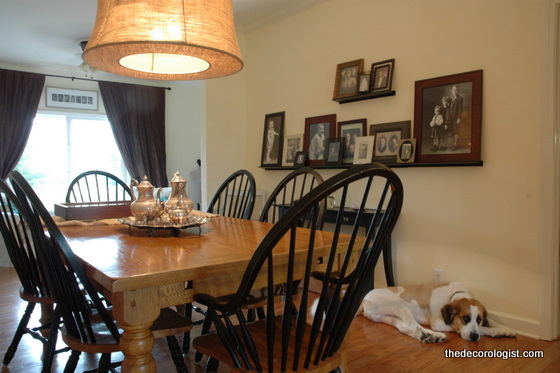 Kristie Barnett
While this area was formerly for dining: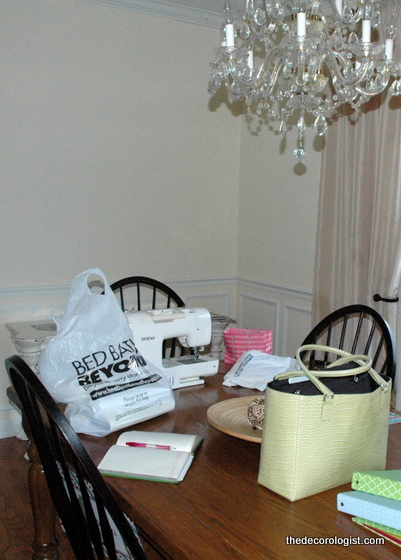 Kristie Barnett
Now it's a sitting area where my client can read a magazine as she watches her children playing in the backyard.  The bookcase (formerly dark green) was also painted in our Spirit in the Sky.   I really love the pillows – I came up with the design and my seamstress from Ruffled Linens brought them to life.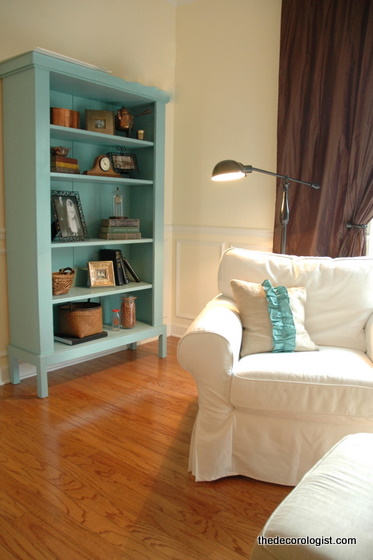 Kristie Barnett
My goal is always to take the things that are important to my client and make it all come together in a beautiful and cohesive way.   I hope that's what I've done here.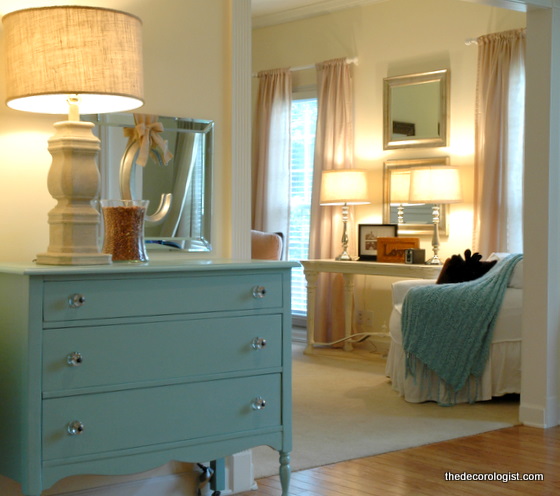 Kristie Barnett
If you need help making your decor dreams come true, contact kristie@thedecorologist.com to schedule your appointment today!