I have something of an obsession with chandeliers.  You see, I hate overhead flourescent lighting.  I mean, HATE it.  And I HATE ceiling fans.  I want to see something interesting and beautiful when I look up, something that casts a pleasant glow.  When we bought this house, it had 11 ceiling fans.   It now has NO ceiling fans.  It now has 16 chandeliers – a chandelier in every room, hallway, bathroom, and closet (ok, I don't really have chandeliers in my closets, but I would if they were big enough).   I sometimes like to alter my light fixtures so they aren't so predictable.  A little metal primer and spray paint always does the trick.
This is my Regency/Empire dining room chandelier, embellished with doves.  Scary owls perch there at Halloween, and jewel-toned decorations hang from it at Christmas.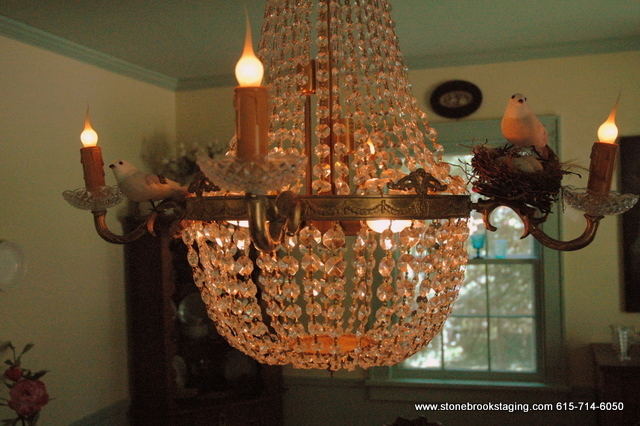 This one  is my master bedroom chandelier.  It originally had a gold finish.  I spray painted it white and hung it in my dining room for a few years.  When I got the one above to replace it, I moved this one into my bedroom.  I love how the large size of it makes a statement.  Don't ever think you can't put a "dining room" chandelier somewhere different!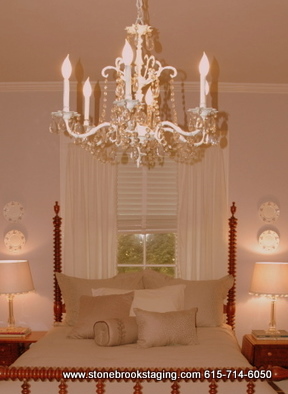 This black chandelier hangs in my downstairs bathroom.  It was originally gold.  I spray painted it white, and it was the first chandelier to hang in my dining room.  I always felt it was too small for the space.  I eventually painted it black and moved it into my bathroom.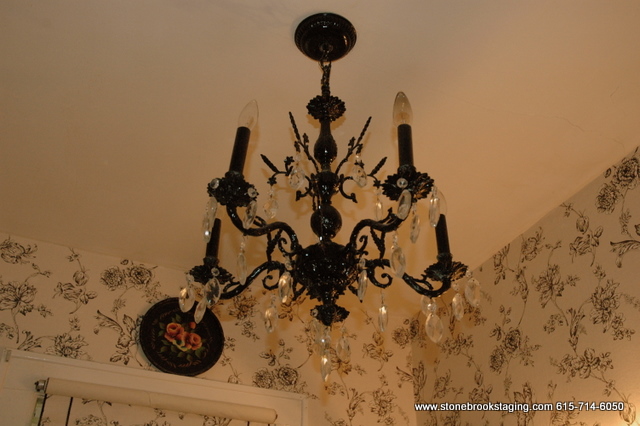 These 2 chandeliers are on my enclosed sleeping porch – I really like to see 2 chandeliers rather than 1 in a room.  Wish I could do this in my dining room.  Anyway, I found these at 2 separate yard sales.  They aren't identical, but they are pretty darn close.   I left them in their original finish.  Then, of course, there's the disco ball hanging between them . . . again, I don't want my house to take itself too seriously!   You may want to click on this picture to see it better.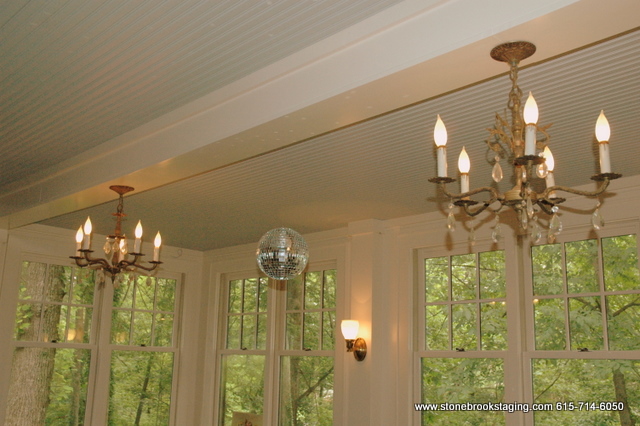 This landscape hanging light is in my husband's office.  It's not vintage – one of the few I own that are not – but I really love it anyway.  Super-unique and perfect for the feel of this room.  It's got this beautiful scene all the way around it – it was hard to decide which side to show for the best view.  It's over in a corner hanging above a side table, in place of your typical table lamp.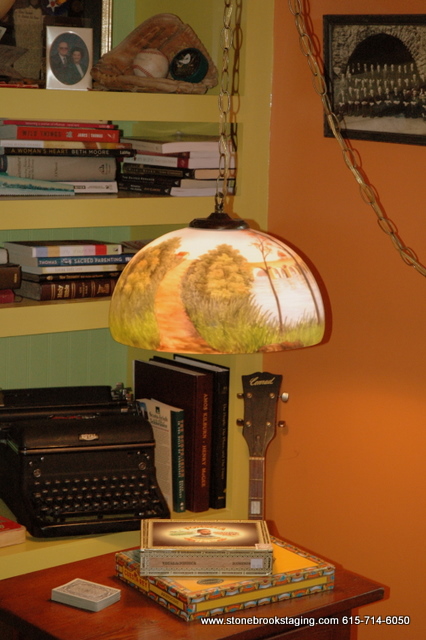 This is a tole chandelier in my younger daughter's bedroom.  It was up in my uncle's attic for years before he offered it to me.  I think it was yellow, brown, and green.  I updated the colors by using some craft paint from Michael's and children's paint brushes.  Super sweet for a little girl's room, don't you think?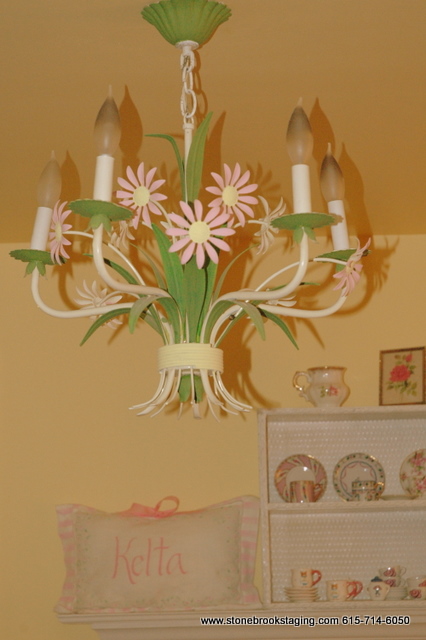 Here's another tole chandelier.  I bought this one on ebay.  It was originally orange, brown, and yellow – really 70's.  I've painted it with craft paint a couple of different times.  Finally hung it above my breakfast table in my kitchen.  It feels very kitcheny to me.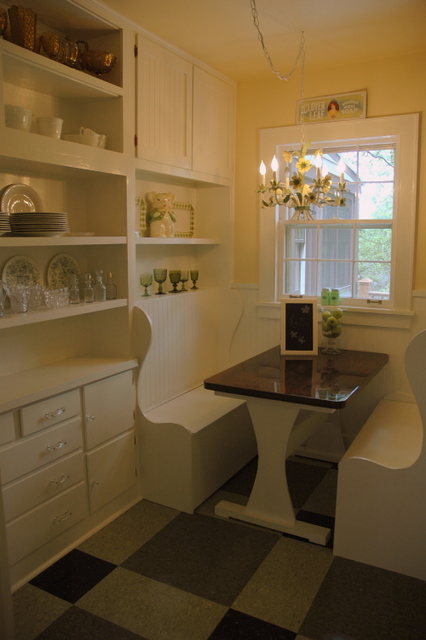 I found this super-old chandelier in an antique store.  My husband had to rewire it, then I spray-painted it pink to hang in our nursery.  I also added some vintage jewelry to sweeten it up.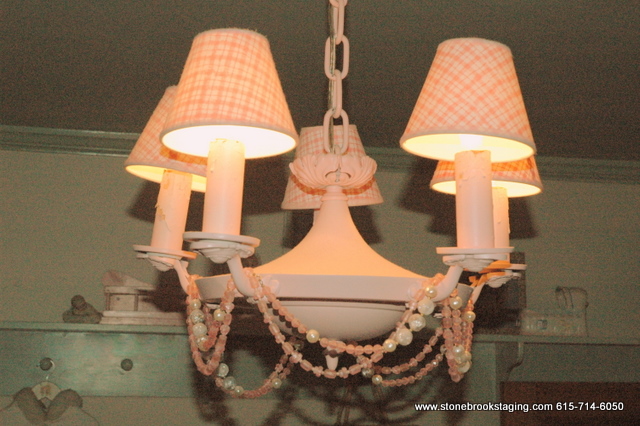 This "candelier" hangs in the center of my living room.  We don't have wiring up there, so I needed to hang something that didn't require electricity.  I actually have candle sconces that match above my mantel in the same room.  I rarely light these up – only for parties, because they might drip.  A good tip to lessen dripping – put your candles in the freezer for 3+ hours before lighting them.  They will last much longer with much less dripping.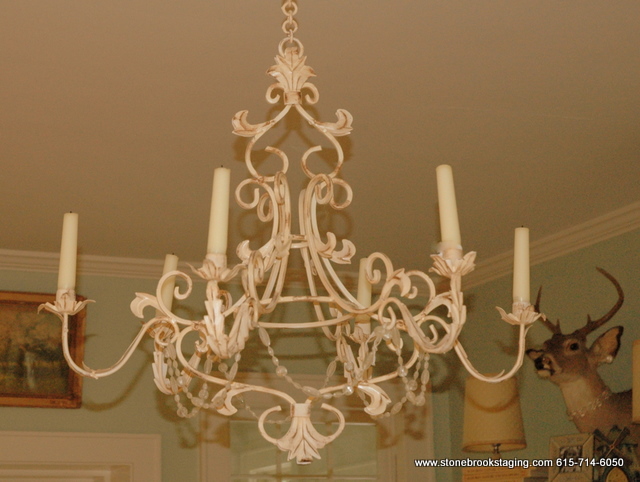 Ok, I guess this is the strangest light fixture I have.  And my current favorite.  I found it at a little shop outside of Nashville called "Hot Pink."  It kinda looks like an old lady's hat or a glowing underwater sea creature (maybe a jellyfish?).   Anyway, it hangs over a round table in my entry.  I don't have wiring in the ceiling, so I had to plug it in and rig a hook for it to hang on.  It actually has these fake flower petals glued all over it – but the shape is modern, which makes it cooler than it might be.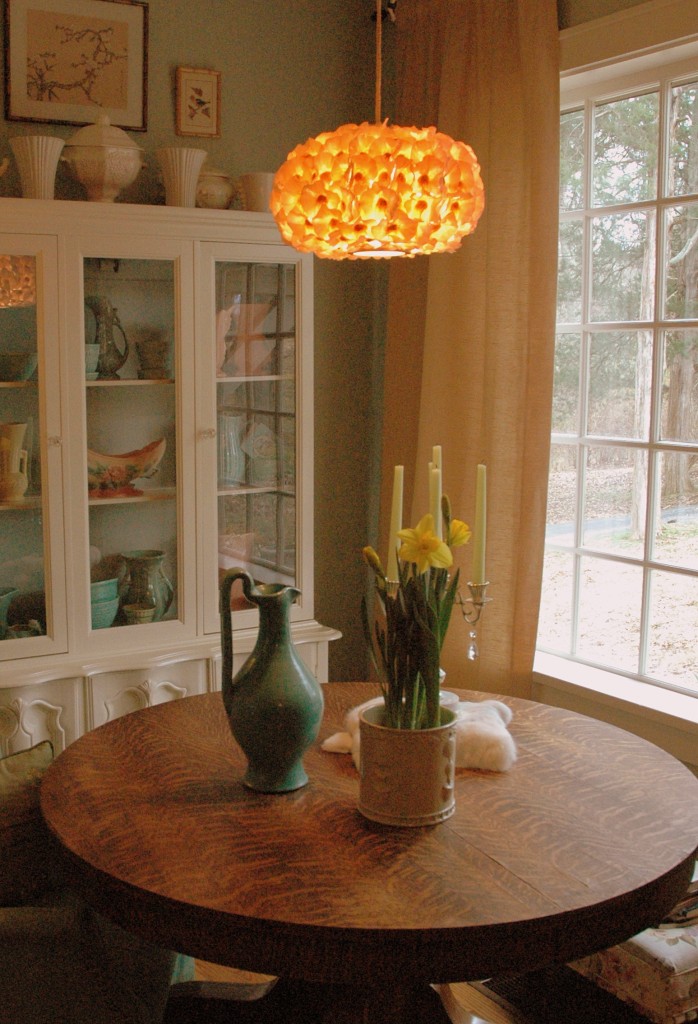 This crystal one hangs in my older daughter's bedroom.  It used to hang in the master bedroom, but seemed a bit petite to me.  I moved the dining room one to the bedroom and this one to my daughter's bedroom.  See a pattern here?  I often make do with what I have until I get what I really want, then I move what I first used somewhere else where it works even better.  I had these little cream shades and just embellished them with a little trim.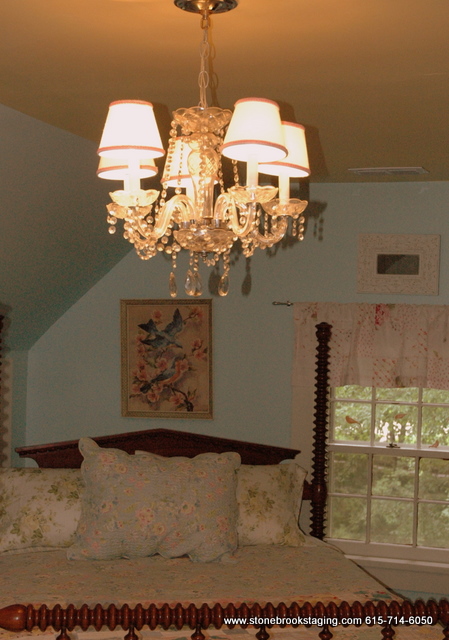 I found this funky 1970's light fixture at an antique mall in a rural town.  In the shop, it was really hideous to the untrained eye.   Fortunately, I looked beyond its sad past in a shag-carpeted love den.  It's all about context, I always say.  My upstairs hallway is painted Restoration Hardware's Atmosphere Blue and I papered my bathroom in a dark blue toile.  I knew this fixture was just what I needed to keep that area of the house from taking itself too seriously.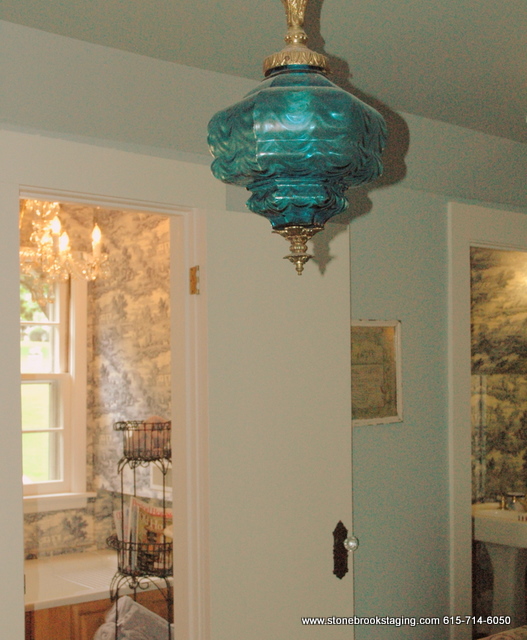 I saved the best for last.  This is the one and only original light fixture of our 1939 home.  It had been boxed up in the basement and waiting for us to rehang for over 40 years.  I've seen similar reproductions of this one in
Rejuvenation
.  Oh, crap, you can totally see the dust on this one.  Sorry – I'm obsessed, but I'm not perfect.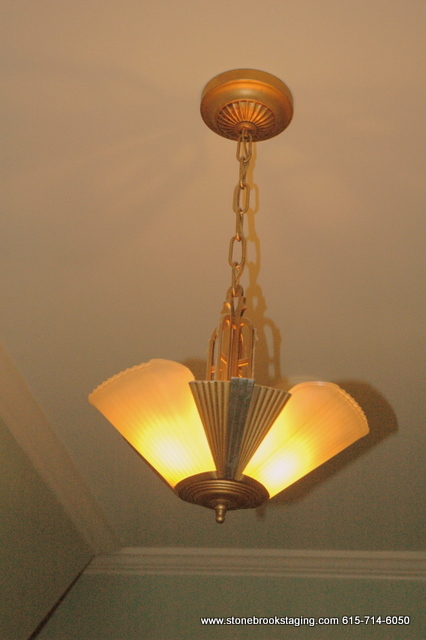 Photo Credits:  The Decorologist (formerly StoneBrook Staging).
Share this Post