Whether you're a design professional or simply a lover of home and decor, there's nothing quite like a designer home tour to get your mind churning and creative juices flowing.  This weekend I attended such a tour in the King's Chapel area of Arrington, TN.   This was my favorite home exterior – I just loved the European, old-world vibe of the dark trim and white painted brick, as well as the storybook shutters and the half-timbering.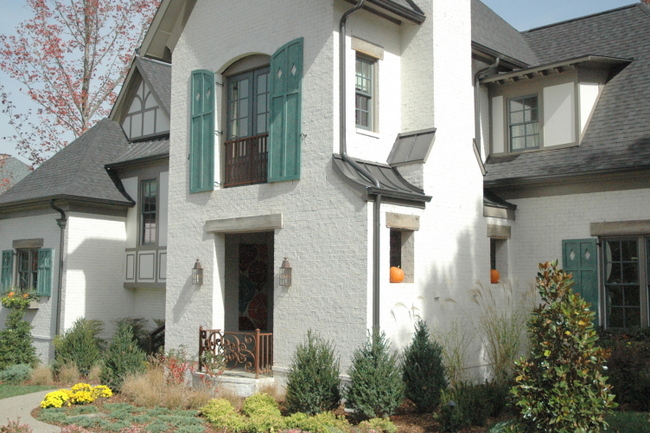 King's Chapel, Arrington, TN
I noticed several design trends that were apparent throughout this parade of homes that I thought you'd be interested in hearing about.  It was no surprise to me that the kitchens featured painted kitchen cabinets, typically with a bit of a glaze over the finish.  I saw both light and dark painted cabinets, almost always paired with a contrasting island color – which has been trending for some time.    Several of the kitchens featured vertically-oriented glass tile as a backsplash, which I think may be a bit too trendy for most.  It's one of those expensive upgrades that will look "so 2010" in about 3 years from now.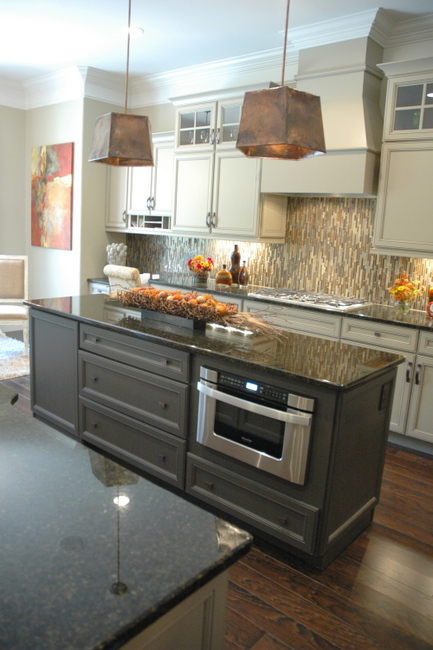 Painted Kitchen Cabinets Paired with Dark Island
Here is a kitchen where the island was the same finish as the cabinetry.  You'll notice the cabinets and island bear an "x" detailing and the backsplash tile over the stove area is quite decorative.  If you have multiple decorative features in your kitchen, it might be a good idea to keep the island the same as the cabinetry so things don't get too busy.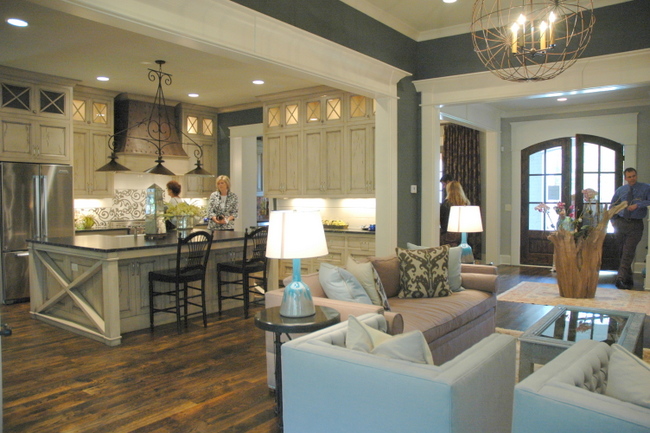 Open Floorplan Concept in King's Chapel Parade of Homes, SW Homberg Gray walls

Another trend was a definite focus on ceilings.  Barrel ceilings, painted ceilings, and wood on the ceiling were effects that brought the eye up and made the rooms appear larger.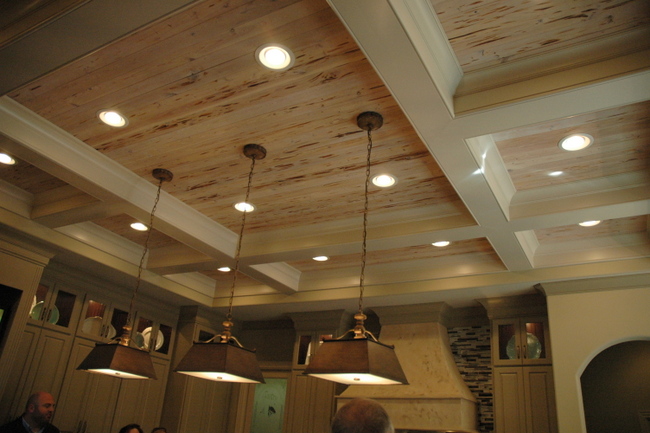 Bleached Wood on Ceiling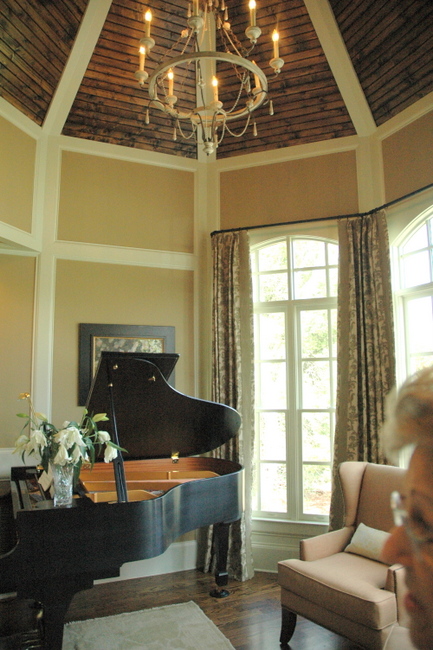 Ceiling Detail
Light fixtures were very important in setting the style in each of the homes featured on the tour.  Iron, wood, wire, and glass were popular – no crystal chandeliers here!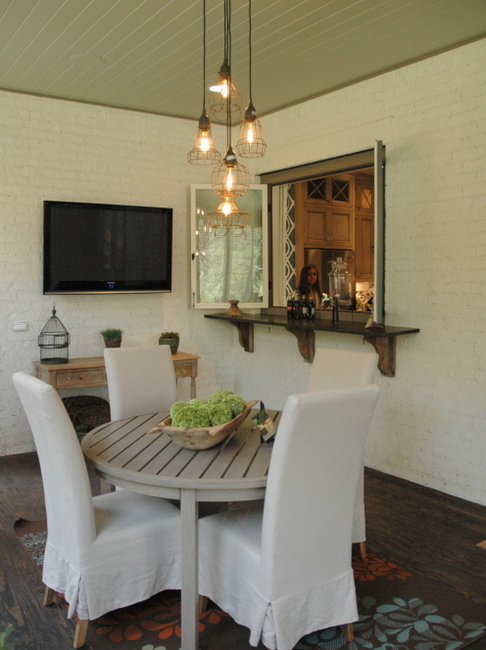 Sunporch in King's Chapel Parade of Homes
If you haven't noticed already, all the rooms had a mix of finishes in the wood pieces – bleached, limed, painted, mirrored, and rustic dark wood finishes.  The look was high-end, but not overly formal.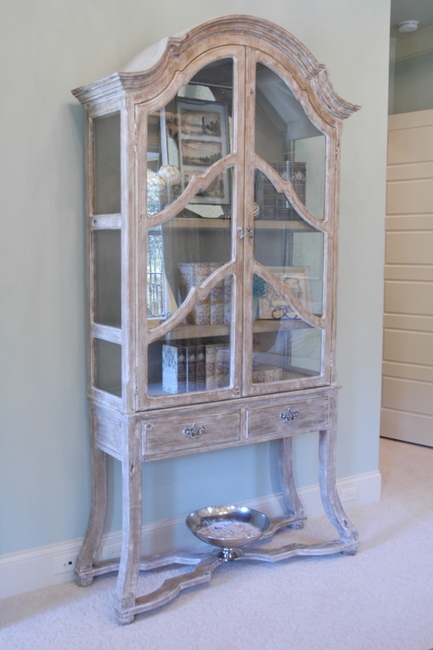 In regards to color, there were lots of brown and gray neutral tones through  the main spaces, with all shades of blues as accent colors.  I loved this stairwell with it's darker greeny-blue accents: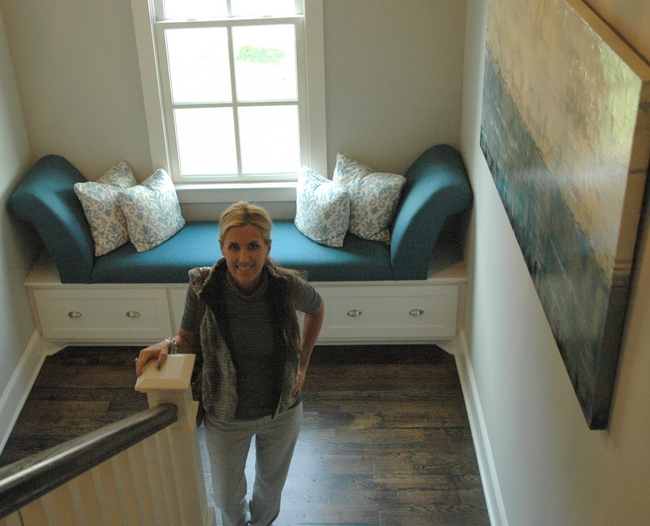 Most of the bedrooms were either light greeny-blue: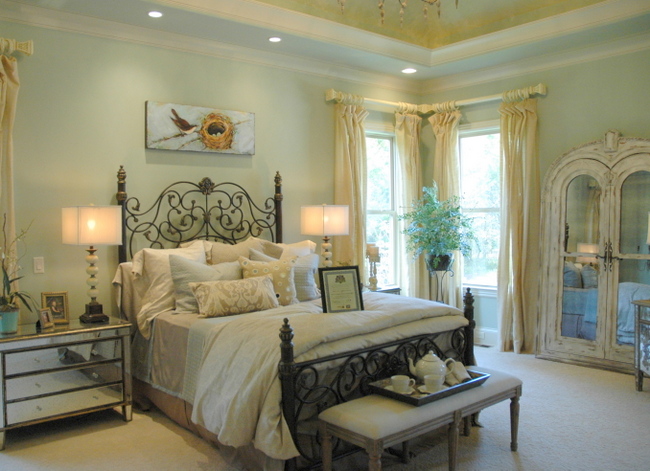 Wall Color – SW Contented, Designer – Dana Deshiell

Or tone-on-tone neutrals: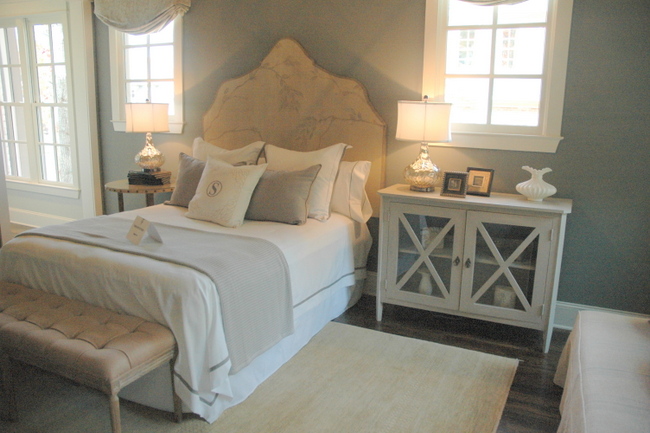 Benjamin Moore's Cos Cob Stonewall walls, Designer Marie Joe Bouffard

This light pink guest room was the exception, and I loved it!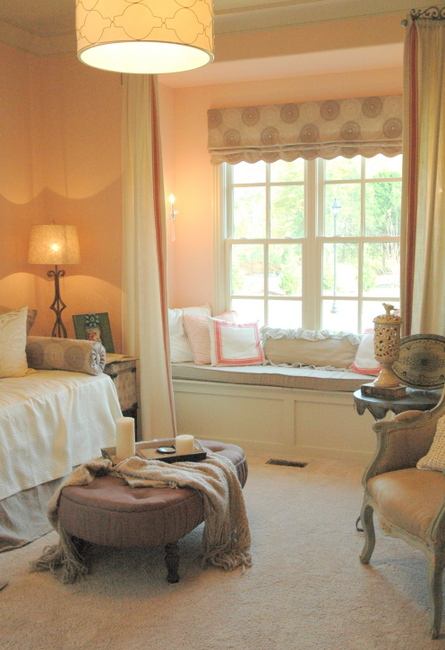 SW Romance – Wall Color, Designer Dana Deshiell
I spotted this beautiful credenza, which is currently one of the most functional and flexible pieces of furniture you can own (as I blogged about here).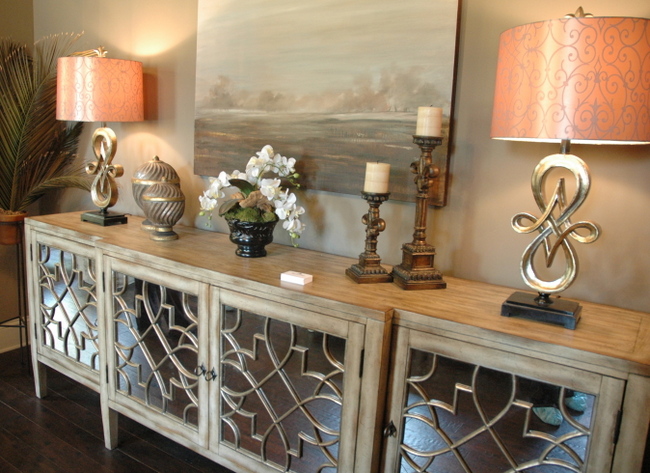 LOVE this credenza!
A couple of weeks ago I was invited to attend the VIP Awards Party to kick off the 2-week Parade of Homes.  Bryan Edwards, president of Hughes-Edwards Builders, was one of the judges of the homebuilding showcase.  Make sure you  check out his recap of the Parade of Homes.  Also check out Williamson A.M. reporter, Nancy Mueller's take on things.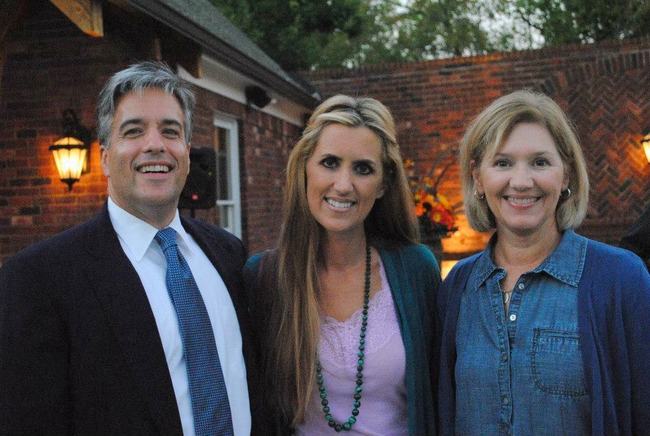 Hughes-Edwards president, Bryan Edwards, Me, and reporter Nancy Mueller
It was also fun to meet Dancing with the Stars' Julianne Hough and her lovely sisters.  Julianne recently sold her home in King's Chapel and moved back to L.A., but her sisters are Realtors in the Nashville area.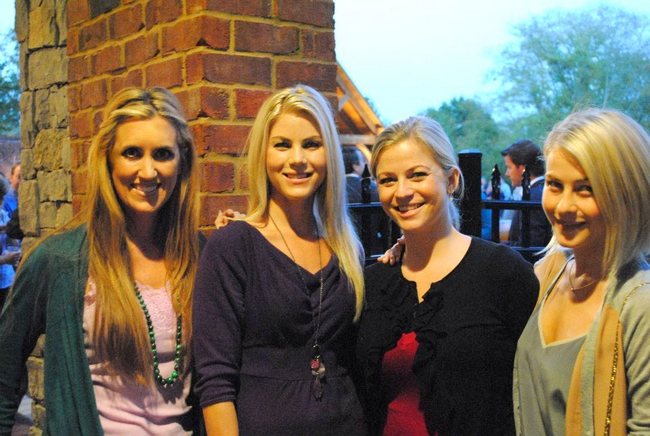 The Decorologist Hobnobbing with the Houghs – Julianne Hough is far right
So what did you think about the homes on this tour?  Did you notice anything you'd like to incorporate into your own home?