| | |
| --- | --- |
| | I heart VCT!  Vinyl Composition Tile, that is!  VCT is a finished flooring material that thusfar is used primarily in commercial and institutional applications.   Think schools, hospitals, and churches.  But it is a fantastic economical option for residential kitchen flooring.   You just have to think outside the box in regards to colors and the design you choose to lay it in.  This example required cutting the 12-inch tiles in half, then installing a random pattern of 6 colors. |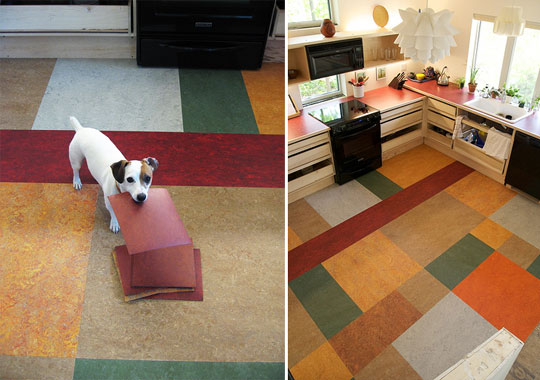 Vinyl tile is favored over other kinds of flooring materials in high-traffic areas because of its low cost, durability, and ease of maintenance. Vinyl tiles have high resilience to abrasion and impact damage and can be repeatedly refinished.   Not only is VCT easy to install (I've done it myself!), individual tiles can be easily removed and replaced when damaged.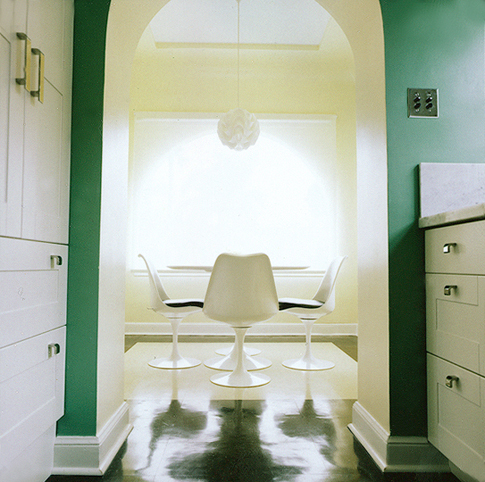 | | |
| --- | --- |
| It's available in a variety of colors from several major flooring manufacturers including Armstrong, Mannington, and Farbo.  Tiles can easily be cut and assembled into colorful and decorative patterns.  It's really all about the colors chosen and the design assembled. | |
| | |
| --- | --- |
| | In simple designs of 2 colors, I think that tiles laid on the diagonal are your best bet.  The diagonal placement increases the visual perception of space, making your room appear larger. |
| | |
| --- | --- |
| Vinyl composition tiles took the place of asbestos tiles, which were widely used in schools, hospitals, offices, and public buildings up until the 1980s.  Use of tiles and adhesives containing asbestos were discontinued when it was determined to be hazardous. Tiles free of asbestos are easily distinguished by their size – asbestos tiles were commonly manufactured in 9-inch squares. | |
| | |
| --- | --- |
| | It works great in modern and contemporary settings when laid in a confident, modern design. |
| | |
| --- | --- |
| Or in a traditional setting, like this one.  Again, on the diagonal takes it up a notch. | |
 And it works perfectly in vintage/period settings.  My husband and I installed ours in one night 8 years ago.  I chose 3 colors and experimented with lots of designs until I finally decided on this one.

 
This flooring is CHEAP.  Less than $1 a square foot (!)  It's warmer and easier on the legs than ceramic tile, looks a ton better than vinyl sheeting (ugh), and is more water resistant than hardwood.  And you can insert YOUR creativity and personality into this versatile flooring.  Hey, it even works in bathrooms, playrooms, and rec rooms.  Are you convinced yet?
Photo Credits:  KeepDominoAlive, ApartmentTherapy,  DJC, SeattlePi,  Elle Decor, TinyPics,  DeesDesignBlog,  StoneBrookStaging. 
Share this Post